Master the art of the perfect oven baked potatoes! Dive into our guide on how to bake a potato in the oven, ensuring crispy skin and a fluffy interior every time.
Ever wondered how steakhouses manage to serve up those perfectly crispy-skinned, fluffy-on-the-inside baked potatoes? With our guide on baked potatoes in the oven, you'll realize that achieving the best baked potato at home is not only doable but remarkably simple.
The secret? It's all in the choice of potato and the baking technique.
From choosing the right type of potato to prepping it for the oven, this recipe for oven baked potatoes has you covered. In just a few steps, you'll be indulging in restaurant style baked potatoes that rival your favorite steakhouse.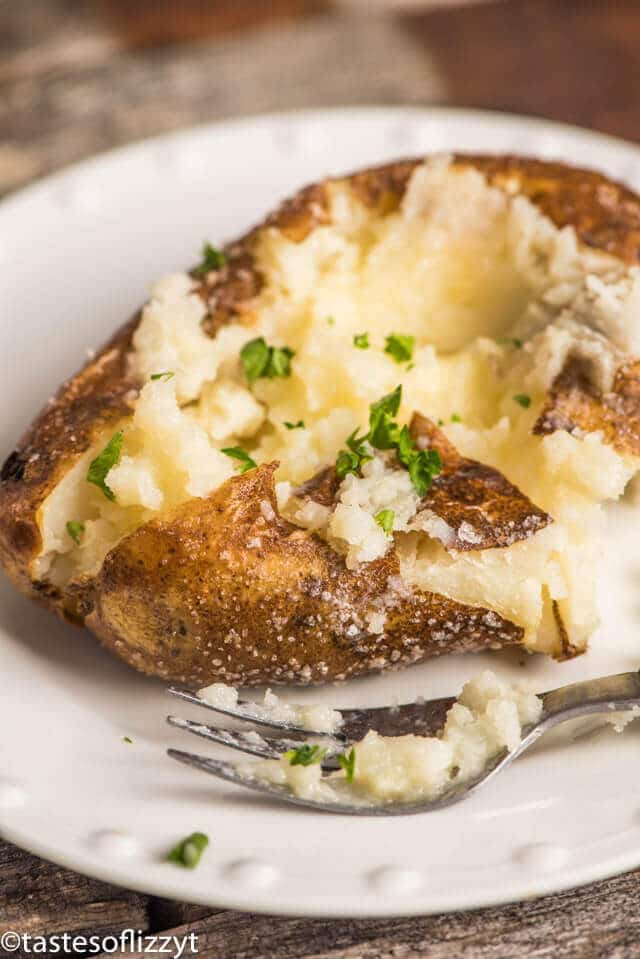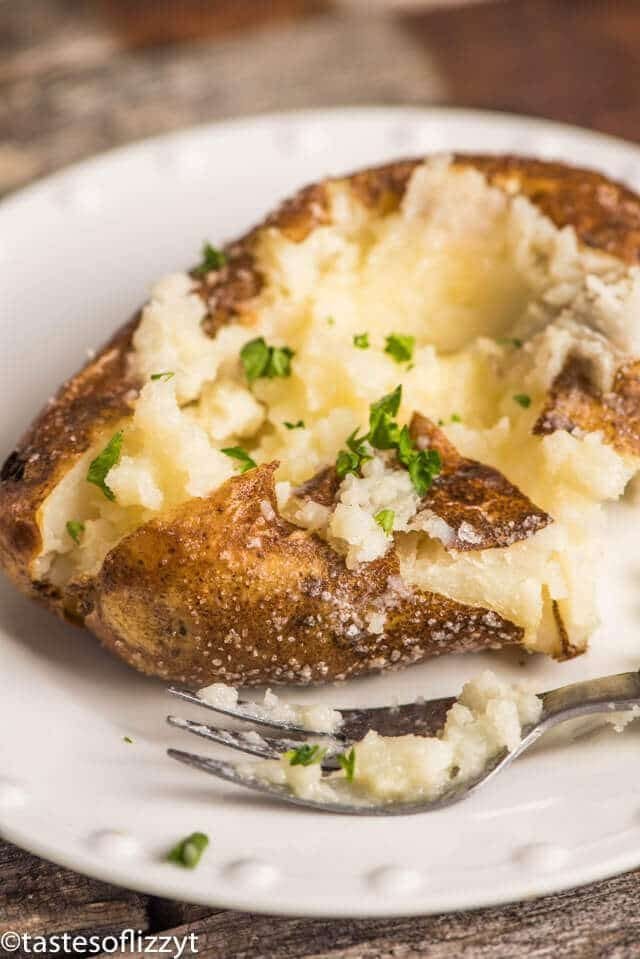 About this Oven Baked Potatoes Recipe:
Flavor: Potato. That's what you're going to taste. The oil on the skin and the salt only enhance the flavor.
Texture: Oil makes the skin crispy, the perfect texture pairing to the fluffy potato inside, just like a steakhouse baked potato.
Method: These potatoes bake in the oven. The time depends on the size of the potatoes, but plan for about 1 hour for them to bake.
We're talking the best baked potato recipe here today that takes just 5 minutes prep time.
What readers are saying:
⭐️ ⭐️ ⭐️ ⭐️ ⭐️ Jessica says, "So everyone knows I am not the "Betty Crocker" of my family, although my cooking skills are slowly improving since I have small children now….I made these potatoes exactly as your recipe and my mother in law said it was the best baked potato she has ever had. No foil is the way to go! Thanks for the recipe & helping me score some points with the MIL haha!"
⭐️ ⭐️ ⭐️ ⭐️ ⭐️ Jennifer says, "Honestly…..the best baked potato I've ever had. It was so freaking good. Like, seriously. And yes I used the bacon grease to coat the outside. Yummy!"
⭐️ ⭐️ ⭐️ ⭐️ ⭐️ Tim says, "My family loves the taste of these potatoes so much it is now in our regular dinner menu. We add avocados (and ,or guacamole) salsa, shredded cheese and whatever else you can think of and have just potatoes and mega fixings for dinner!"
What are the best potatoes for baking?
For the perfect oven baked potato, you need to start with the best potato for baking. Russet potatoes are the best for baking.
As you remember from our ultimate potato guide that we shared last year, Russets are a high starch potato that when baked, lend a light, mealy texture.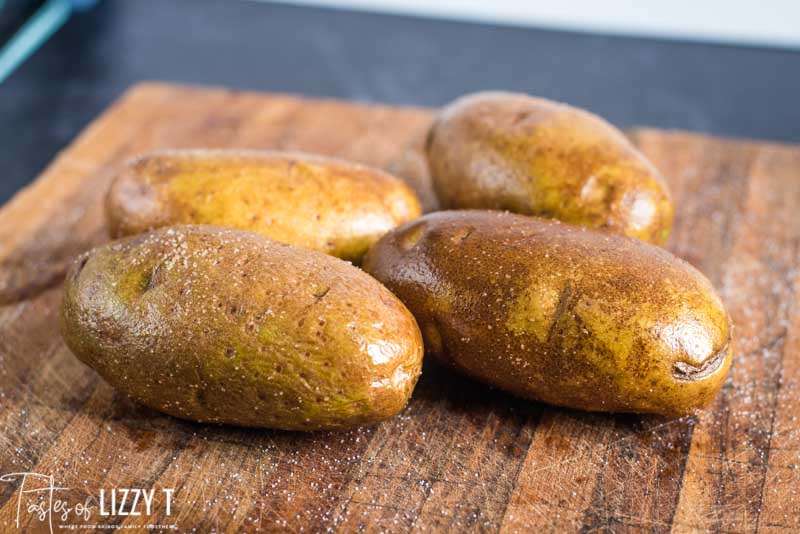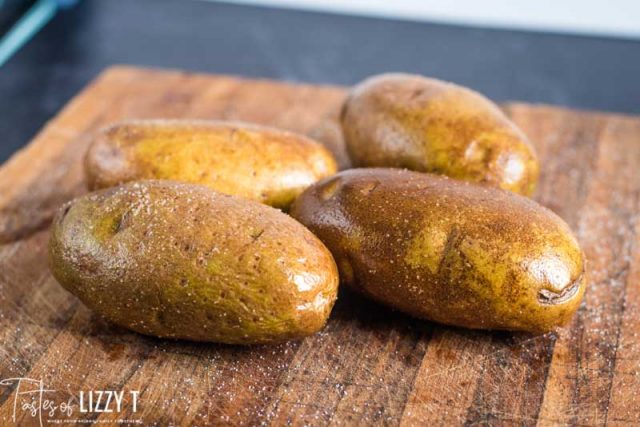 How to Bake a Potato
If you love the restaurant-style, crispy skin potatoes, here's 5 quick steps on how to make them:
Scrub the potatoes to get off any dirt, then dry them.
Pierce the potato 2-3 times with a fork or make a slit or two with a sharp knife.
Rub olive oil all over the outside of the potatoes.
Rub salt (or salt and pepper) on the outside of the potatoes. Be generous with both the oil and the salt. It's what gives the potatoes that amazing flavor and makes you want to eat the skin.
Place the potatoes on a baking sheet (line with parchment paper for easy cleanup) and bake in a preheated oven (425ºF) for about 50 minutes. We put our pan on the middle oven rack. The exact timing will depend on how large the potato is.
Pro Tip
If you are fixing bacon as a topping, cook it in advance and rub bacon grease on the outside of the potato rather than oil. It's amazing!
An alternative is to use coconut oil or butter for rubbing on the outside. Each fat gives just a little bit of a different flavor. Try several to find which one your family likes best on the oven baked potatoes.
Frequently Asked Questions
Is it better to bake potatoes in foil or not?
You will often see baked potato recipes that wrap a potato in foil. Although this works, we don't believe this is best. The potato actually gets steamed and the skin will not get crispy if it is baked wrapped in foil. For that reason, we say no foil is best!
Do I have to poke potatoes before baking?
The purpose behind piercing a potato with a fork is to let the steam escape and prevent the potatoes from exploding while baking. I'll be honest that I don't always poke the potatoes before I bake them. I've never had a potato explode on me. But…for safety, I do recommend piercing the potatoes.
What goes good with baked potatoes?
This baked potato recipe goes great with just about any main dish, but we especially love potatoes with ham, roast beef, pulled pork and steak.
How long do I bake a potato in the oven?
I like to bake potatoes at 425ºF. It generally takes a large Russet potato about 45 minutes to become tender, but the exact timing will depend on how large the potato is. And testing the potatoes is when I do pierce them with a fork. Poke the potato with a fork to ensure that the potato is soft inside.
What should the internal temperature of a baked potato be?
According to the Idaho Potato Commission, the perfect baked potato will be 210º Fahrenheit inside.
Baked Potato Toppings
Because of the flavor of the olive oil and salt of the oven baked potatoes, I'm happy just topping the baked potato with butter and a little bit of fresh parsley. If I'm feeling fancy, I add sour cream, cheddar cheese, chives and bacon.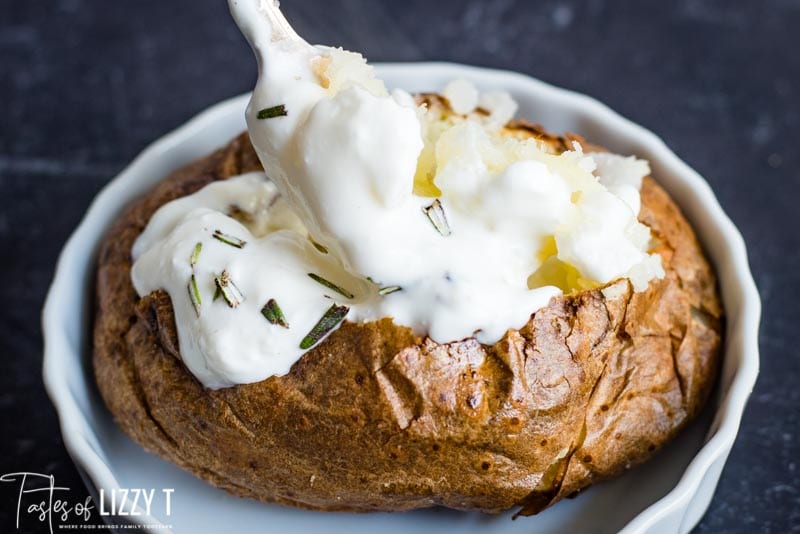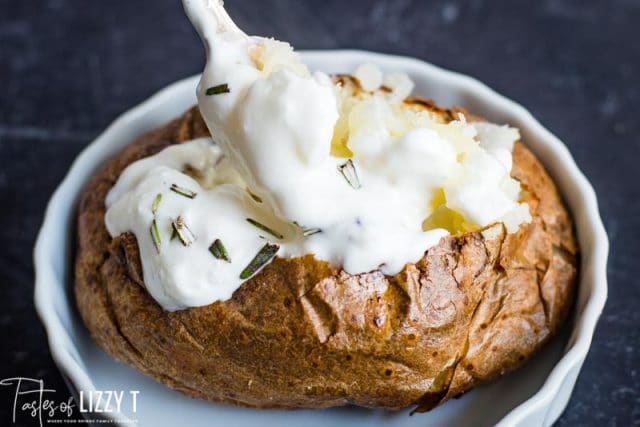 Baked Potato Bar Ideas
Loaded baked potato bars are a fun idea for a party. Here's some toppings ideas other than traditional cheese, sour cream and onions:
Broccoli and cheddar
Taco meat, black beans and cheese
Avocado (Guacamole)
Green onions
Buffalo Chicken Dip (don't knock it until you try it!)
Cream Cheese
Minced Garlic
Or keep it simple and sprinkle kosher salt on top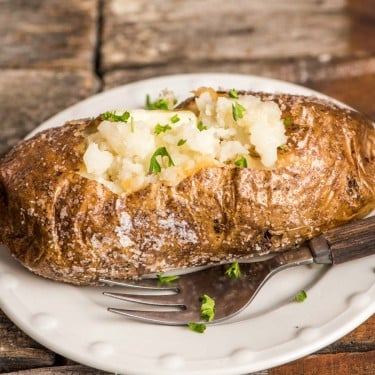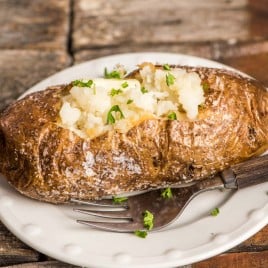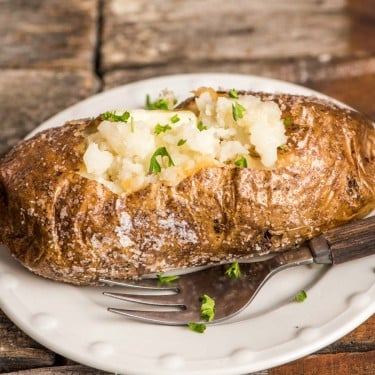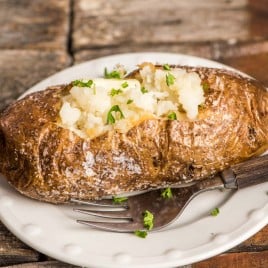 Oven Baked Potatoes
Wondering how restaurants get those perfect potatoes? Here's the hints on how to make the best oven baked potatoes with salty, crispy skin and fluffy potato inside. 
---
Ingredients
4

large

Russet potatoes

1/4

cup

olive oil

1

tablespoon

salt
Instructions
Preheat the oven to 425ºF.

Wash and dry the potatoes.

Pierce the potato 2-3 times with a fork.*

Rub oil all over the potatoes (or choose one of the other options above to rub on the outside).

Rub salt all over the potatoes. We prefer coarse sea salt or pink Himalayan salt.

Place the potatoes on a baking sheet and bake for about 45 minutes. The exact baking time will depend on how large the potatoes are. The potato should be tender inside if you poke a fork into it.
Notes
The purpose behind piercing a potato with a fork is to let the steam escape and prevent the potatoes from exploding while baking. I've never had a potato explode on me. But…for safety, pierce the potatoes.

Serve with butter, cheese, chives, sour cream and all of your favorite toppings!

The calories shown are based on one potato with no toppings, but all potatoes are a different size. To get an exact calorie count,  weigh the potato and search google for the amount of calories that size potato.  Since different brands of ingredients have different nutritional information, the calories shown are just an estimate. **We are not dietitians and recommend you seek a nutritionist for exact nutritional information.**
Nutrition
Calories:
410
kcal
|
Carbohydrates:
66
g
|
Protein:
7
g
|
Fat:
13
g
|
Saturated Fat:
1
g
|
Sodium:
1762
mg
|
Potassium:
1538
mg
|
Fiber:
4
g
|
Sugar:
2
g
|
Vitamin C:
21
mg
|
Calcium:
48
mg
|
Iron:
3.3
mg
Serve these classic potatoes alongside our corn casserole for a delicious meal.
Other Potato Recipes
Find a new potato recipe to love: