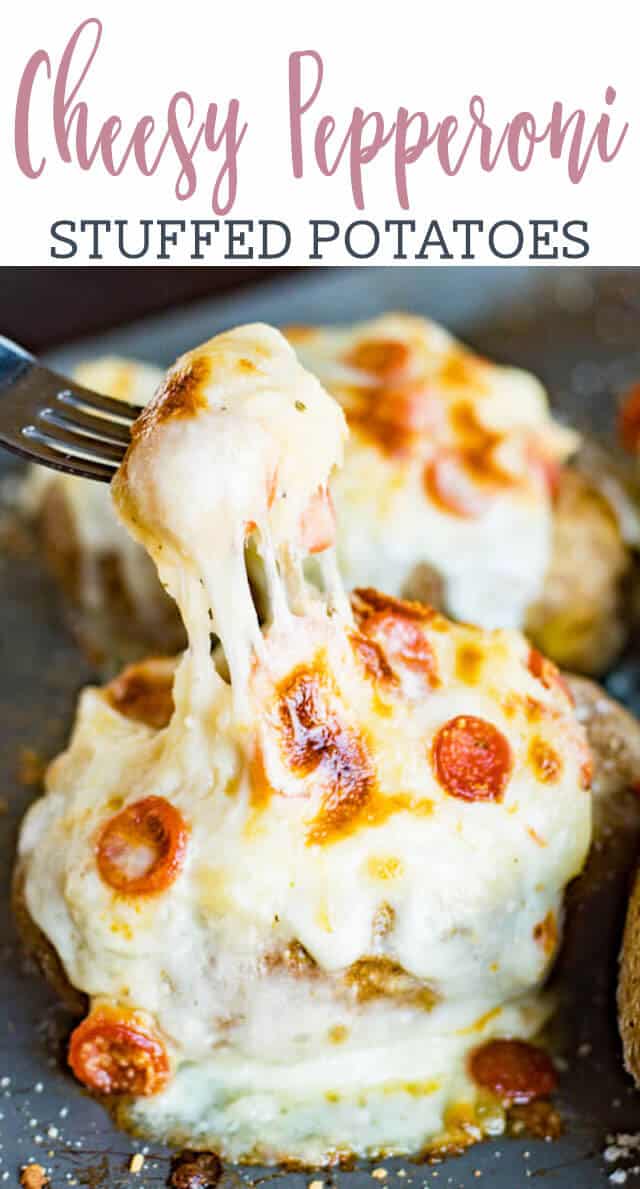 Looking for a new way to get that unbeatable pizza flavor? Try these Pizza Twice Baked Potatoes stuffed with two cheeses, pepperoni and classic garlic Italian seasonings. A gluten free way to enjoy pizza!
Have you tried our ULTIMATE classic twice baked potato recipe? If you have, you may be ready to try out a different filling! We think you'll LOVE these pizza stuffed twice baked potatoes.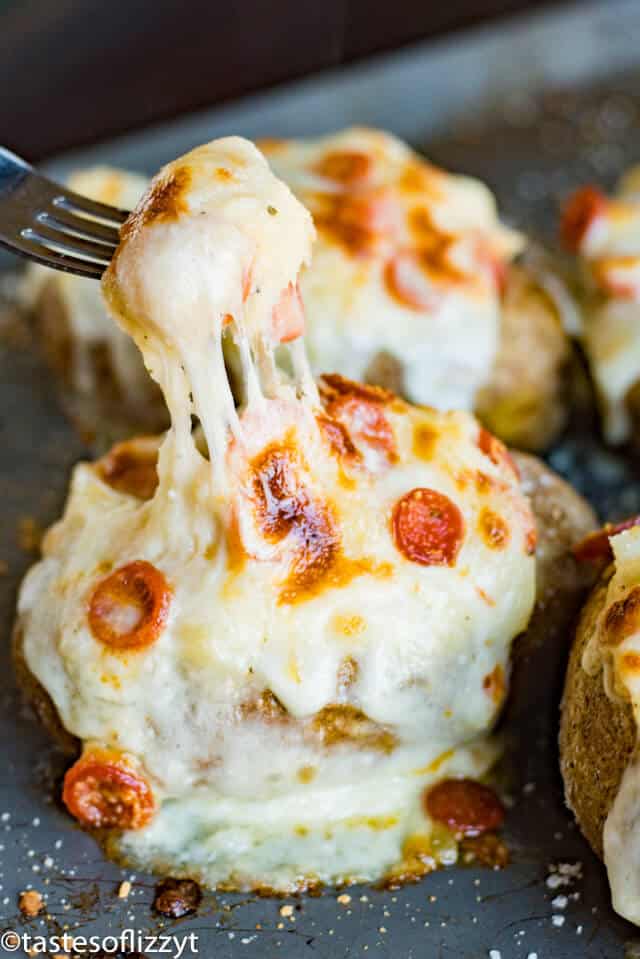 Pizza Twice Baked Potatoes Recipe
I've had this stuffed potato recipe on my mind now for several months. That tends to be how it goes with me. I dream of a delicious recipe for about a month. Then I give it a test run and see what tweaks I need to make.
Depending on our family's schedule, it maybe several more weeks or even months before I try the recipe again, but it is never far from my mind. That's how it was with these potatoes. I made them over Christmas break and needed to add a little more seasoning. We finally made the baked potatoes again last weekend and it was so worth the wait!
Stuffed Baked Potatoes
My husband has always loved stuffed baked potatoes. He likes to get creative with both sweet potatoes and traditional Russet potatoes. He'll stuff everything and anything inside…bacon, fresh veggies, mushrooms, cheese. I tend to be a little bit more safe. These pizza potatoes with mozzarella, Parmesan, pepperoni and Italian seasoning are right up my alley.
What are the best potatoes for twice baked potatoes?
Large russet baking potatoes are the best potatoes for stuffed potatoes. Russets are a starchy potato with a thicker skin than other favorites such as Yukon Gold.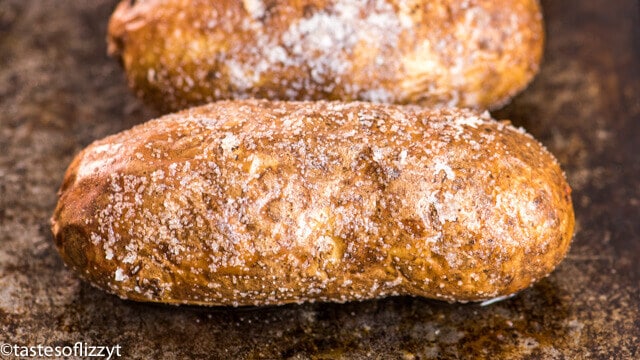 What is a twice baked potato?
Twice baked potatoes mean just that…you bake them twice. Once as a whole potato and once as a "stuffed" potato.
How to make twice baked potatoes?
Some may wish to take a shortcut and cook the potatoes in the microwave. This is indeed faster, but we prefer to plan ahead and bake our potatoes in the oven. We have a surefire way to get the skin crispy and delicious (which you can find here), making it the perfect backdrop to hold all of the deliciousness inside.
Once the potatoes are cooked, slice off the top of the potato and scoop out the potato pulp into a bowl. Be so very careful…the potatoes will be very, very hot if you have just cooked them! Be sure to leave a little bit of the potato intact with the skin. Russets have a nice, sturdy skin, but leaving some of the potato attached to the skin will help your potato hold up to all of the stuffings. I like to leave about 1/4″ of potato in the skin.
Mash the potato pulp, then add the rest of the cheese and pepperoni ingredients. Feel free to switch it up and add whatever you like on your pizza. Mushrooms, bacon, peppers….even pineapple and ham!
Stuff the filling back into the potatoes. You may end up with a little extra stuffing that won't fit into the potatoes. When this happens, I just place the extra stuffing into a greased baking dish and allow it to cook as is. Kinslee usually snags this for dinner instead of the stuffed potato. 🙂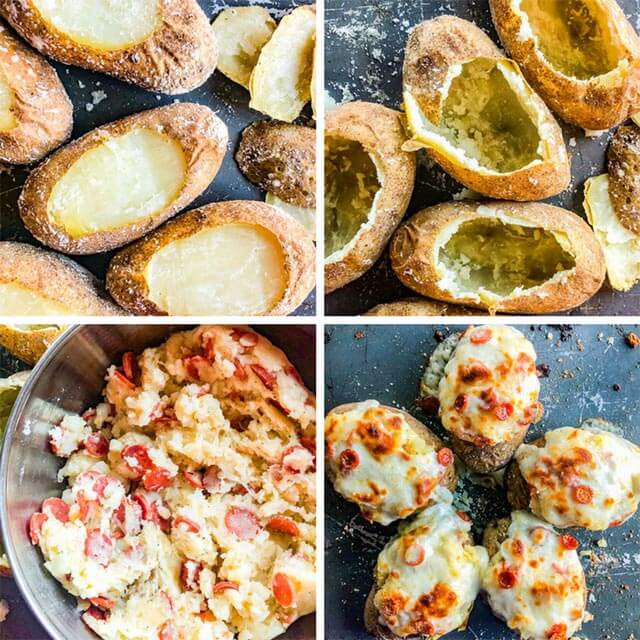 How long do you cook a twice baked potato in the oven?
If you're baking the potato in the oven, initially it will take about 60 minutes to bake, depending on the size of the potato and the temperature you bake it at.
After you stuff the potatoes, they'll bake for an additional 15 minutes until they are completely heated through.
Can you make twice baked potatoes ahead of time?
Yes! You can make twice baked potatoes up in advance for an easy dinner. Simply bake the potatoes, scoop them and restuff them with the filling. Cover them with plastic wrap and place them in the refrigerator for up to two days. When you are ready to bake the potatoes, remove them from the refrigerator about 1-1 1/2 hours so they can come to room temperature.
How long do you reheat twice baked potatoes?
If the potatoes are cold or even at room temperature, they will take longer to bake. Plan about 60-70 minutes of baking time to heat the potatoes completely through.
How do you freeze stuffed potatoes?
If you'd like, you can freeze the potatoes after they are stuffed, before the second baking. Freeze them individually so you can pull them out for dinner or snacks as needed. Allow them to defrost in the refrigerator overnight, then pull them out of the refrigerator about 90 minutes before baking so they can come to room temperature. This will give you the best results.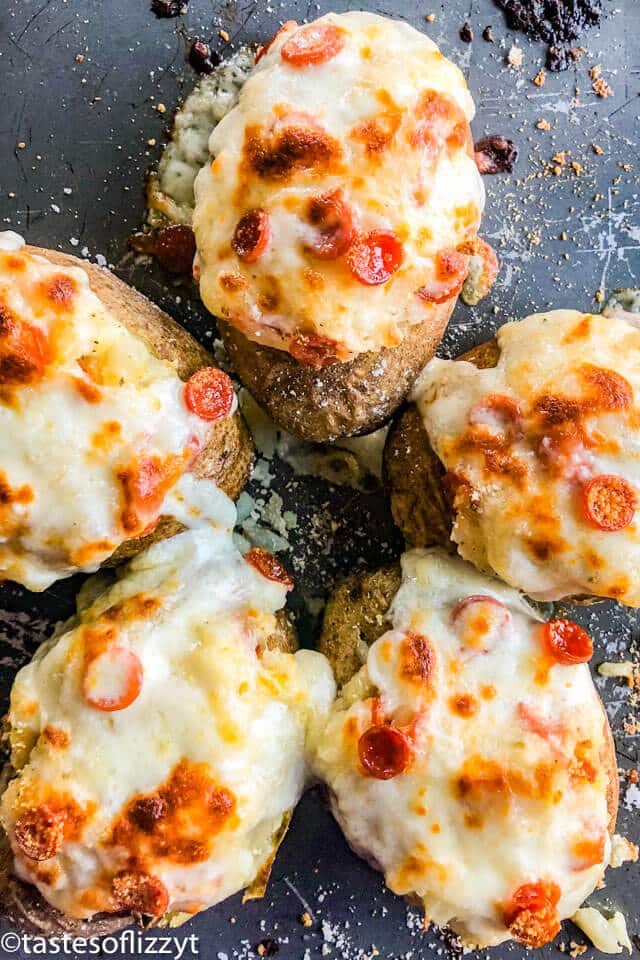 Other Potato Recipes
Tools To Make Pizza Twice Baked Potatoes
Baking Sheet

: I like to use flat baking sheets for easy removing baked goods easily.

Cheese Grater

: I 100% recommend grating fresh Parmesan cheese for this recipe. This cheese grater makes it easier than ever!

Potato Masher

: Mash potatoes easily by hand with this fine-grid potato masher.
Pizza Twice Baked Potatoes
Looking for a new way to get that unbeatable pizza flavor? Try these Pizza Twice Baked Potatoes stuffed with two cheeses, pepperoni and classic garlic Italian seasonings. A gluten free way to enjoy pizza!
Ingredients
5

large

russet potatoes

(scrubbed clean)

3

tablespoons

olive oil

1 1/2

teaspoons

salt

1

pound

whole milk mozzarella

(divided)

1/2

cup

Parmesan cheese

(divided)

5

ounces

pepperoni

(divided...mini or chopped into small pieces)

1/2

teaspoon

salt

1/2

teaspoon

Italian seasoning

1

teaspoon

garlic powder
Instructions
Preheat the oven to 400 degrees.

Rub the potatoes with olive oil and then salt.

Using a fork, poke a few holes in the potatoes.

Place the potatoes on a baking sheet and bake for about 60 minutes. *Test the potatoes part way through cooking. Large potatoes will take longer to bake, small potatoes will take less time.

Use a sharp knife to cut the top part off of each potato.

Scoop out the potato pulp from each potato, being careful to leave the skin in tact. *Also be careful that the potatoes will be very hot if they are taken right from the oven.

Place the potato pulp in in a medium size bowl.

Add the all of the shredded mozzarella (reserving 3/4 cup for topping), parmesan cheese (reserving 3 tablespoons for topping) pepperoni (reserving 3 tablespoons for topping), salt, Italian seasoning and garlic powder. Mix well.

Spoon the cheesy potato mixture back into each potato. (If there is any extra potato mixture, bake it in a small greased pan.)

Top with the reserved mozzarella and pepperoni, then sprinkle with reserved Parmesan.

Reduce the oven temperature to 350 degrees Fahreheit and bake for 15 minutes.

Set the oven to low broil and allow the cheese to brown for 2-3 minutes. Watch this closely!
Notes
The calories shown are based on the 5 large russet potatoes and using all of the cheese & ingredients listed. One serving is one stuffed potato. Two lower the calorie count, use less cheese, smaller potatoes and turkey pepperoni. Since different brands of ingredients have different nutritional information, the calories shown are just an estimate.
Nutrition
Calories:
819
kcal
|
Carbohydrates:
69
g
|
Protein:
38
g
|
Fat:
44
g
|
Saturated Fat:
19
g
|
Cholesterol:
108
mg
|
Sodium:
2177
mg
|
Potassium:
1703
mg
|
Fiber:
4
g
|
Sugar:
3
g
|
Vitamin A:
690
IU
|
Vitamin C:
21.2
mg
|
Calcium:
634
mg
|
Iron:
4.2
mg