Golden fried, skillet pizza potatoes topped with pizza sauce, gooey cheese and the pizza toppings of your choice. This is a great option for those on a grain free and gluten free diet.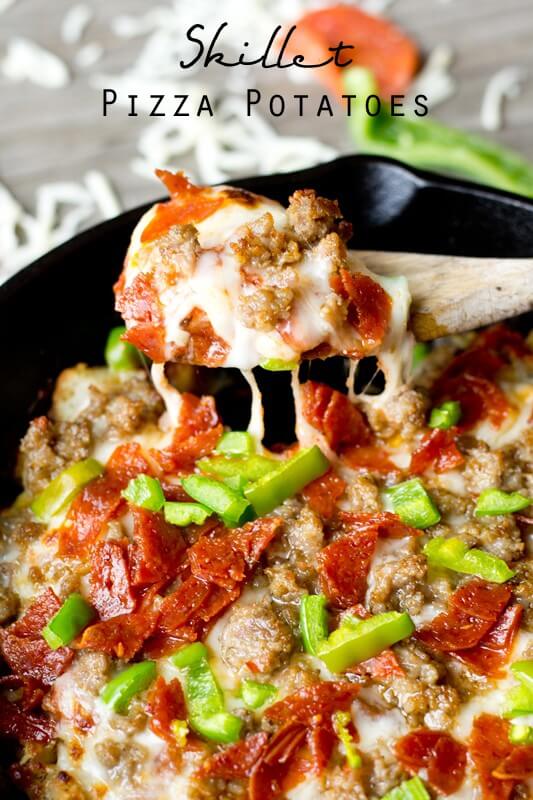 Skillet Pizza Potatoes
Welcome to my latest lunch obsession.  
Skillet Pizza Potatoes.
Crispy, golden fried potatoes topped with all of my favorite pizza toppings.
You already know of my great love for all things pizza.  From the savory sauce to the crispy crust, we've shared with you our best recipes.  Just a few weeks ago we gave you a tutorial on how to put those recipes together into a better-than-delivery homemade pizza.  And don't forget the calzones.  Oh, those calzones.  🙂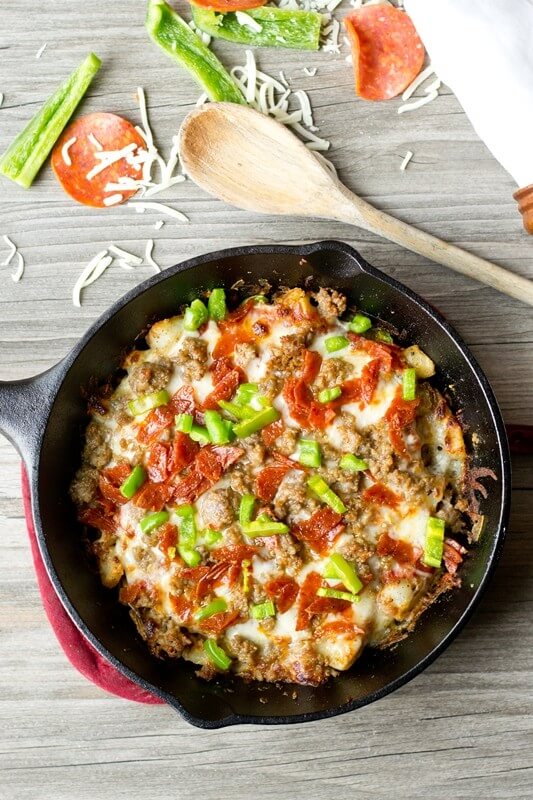 When I'm trying to watch how much grain and gluten I eat, pizza is not my friend.  A few Fridays ago I was making pizza for the kids and was totally craving that golden browned cheese and lightly crispy pepperoni, which are my favorite parts of pizza.  For some reason, golden, skillet fried potatoes popped into my mind.  Putting the two together was one of the best ideas I've had in a long time.  With these Skillet Pizza Potatoes, I get to satisfy my pizza toppings cravings without the grain and gluten that comes from a flour crust.
I knew I really couldn't go wrong with this combination, but I totally underestimated the flavor in this skillet dinner. So good, you guys.  So good that I had it for lunch about 3 times in the past week, and then made enough for us all to have for dinner one night.  The kids love it because they can choose what combinations of toppings they put on their potatoes.  Banana peppers, olives, hot peppers.  Each of their skillet pizzas have their own little touch.
You have to have a little bit of patience when you're putting this lunch or dinner together.  It takes a few minutes to cut the potatoes in bite-size pieces.  I didn't peel the potatoes. I like potatoes with the skin on and this saved me some time.
Frying Potatoes
It takes about 25 minutes for the potatoes to cook all the way through and get a nice, golden brown color.  I fried ours in coconut oil. I love frying with coconut oil. If you haven't tried it, you definitely should.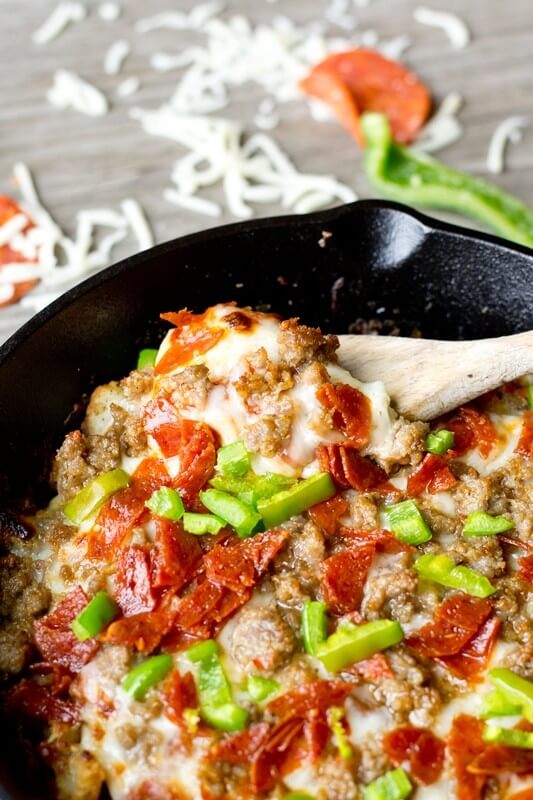 Pizza Toppings
While the potatoes are frying you can get your toppings ready.  Brown some sausage, chop peppers, add mushrooms…whatever you'd like.  My favorite toppings are sausage, pepperoni (chopped into little pieces) and peppers.
Once your toppings are on, broil your pizza potatoes for about 3-5 minutes on high so the cheese gets a nice golden brown color.  If you have a cast iron skillet, I highly recommend making your skillet pizza potatoes in it. For some reason, it just seems to taste better to me when it is sizzling in that iron skillet. Plus, you can place your skillet right into the oven to broil and not have to dirty another pan.
If you don't have a cast iron skillet, transfer your potatoes to an oven-safe baking dish, add the toppings, then broil. All together, you'll need about 35 minutes to make this from start to finish. Totally worth the wait.
This recipes makes about 2-3 cups of potatoes.  It's enough for me to eat all myself and be full enough to not need any other food the rest of the day.  Or you could share with someone you really love.
Whether you replace your pizza night with this meal or just add another pizza-themed dinner to your week, I know your family will enjoy these sillet pizza potatoes!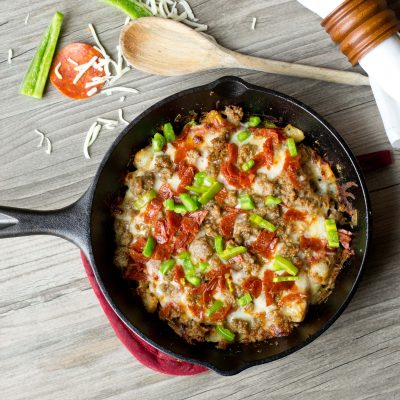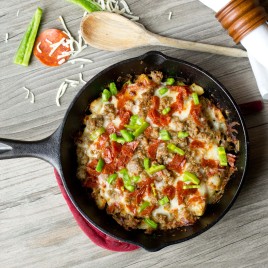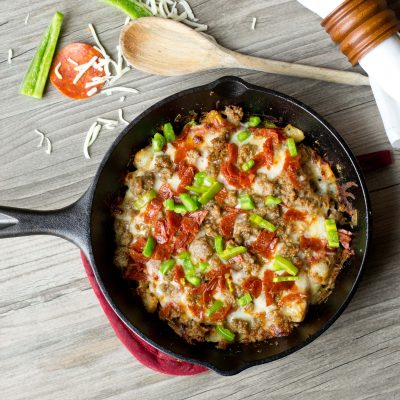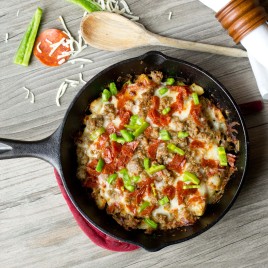 Skillet Pizza Potatoes
Golden, fried, skillet pizza potatoes topped with pizza sauce, gooey cheese and the pizza toppings of your choice. This is a great option for those on a grain free and gluten free diet.
---
Ingredients
2

cups

chopped potatoes

½ inch cubes

3

tablespoons

coconut oil

1/2

teaspoon

garlic salt

1/2

cup

pizza sauce

1

cup

shredded mozzarella cheese

15

slices

chopped pepperoni

1/2

cup

sausage

browned

2

tablespoons

chopped green pepper
Instructions
In a skillet, fry the potatoes in coconut oil over medium heat until the potatoes are cooked through and golden brown. This will take about 25 minutes. Sprinkle the garlic salt on top of the potatoes at some point while they are frying.

Once the potatoes are cooked through, remove the skillet from the heat and add the pizza sauce, cheese, pepperoni, sausage, peppers and any other toppings you wish.

Set the oven to broil on high. Put the oven rack on the highest level it will go and place the skillet on the rack. Broil for 3-5 minutes or until the cheese is golden brown. Watch carefully while it is under the broiler.

Serve while warm.