Italian Sausage Seasoning
Make your own Italian sausage at home with this homemade Italian sausage seasoning recipe. Add these savory spices to turkey, pork or beef and have delicious Italian sausage ready for pizzas, meatballs, spaghetti or your favorite Italian dish.
Do you like making homemade spice mixes? It can be cost effective to whip up your own seasoning blends at home with spices that you may already have in your cupboard. Italian seasoning, fajita seasoning, taco seasoning and pasta salad seasoning are 4 of our favorites.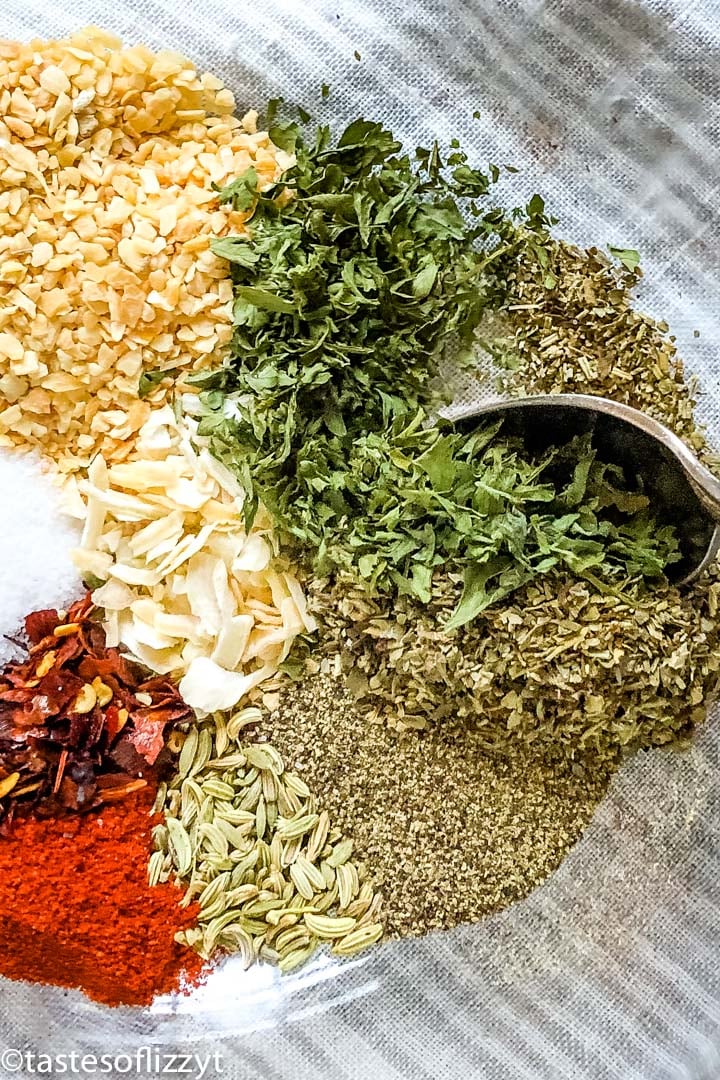 ⭐️ ⭐️ ⭐️ ⭐️ ⭐️ Reader Irene says, "Thank you for this recipe. I love it. I can't have processed foods any more as I'm a dialysis patient, so this hit the spot for me. I make sausage rolls and it works great. I use ground pork. So yummy. Thank you."
⭐️ ⭐️ ⭐️ ⭐️ ⭐️ Reader Sandy says, "I recently used this recipe to make homemade Italian sausage. I'm very picky and my favorite store bought brand is Dinos. It's no longer sold in my area. I can say without a doubt this recipe rivals Dinos. I let it sit in the fridge 24 hours to let the ingredients meld into the pork sausage. You must try this recipe with confidence that the flavors are just right."
⭐️ ⭐️ ⭐️ ⭐️ ⭐️ Reader Dina says, "I made this recipe and it was amazing and flavorful! I used ground turkey and I put it in a sausage mold and it was the perfect healthy sausage! I served it with peppers and had a healthy nutritious dinner without all of the sodium."
Why make seasoning blends at home?
When we started watching our sugar intake, we realized that so many of our favorite foods had sugar in them. Sausage was one of those things.
Now let me tell you. I love my sugar. But if I'm going to make the decision to have sugar, I'll take a donut, please. I don't want sugar in my sausage.
This homemade Italian sausage seasoning solves that problem and lets you know exactly what you're putting in to your food to season it.
What is the distinctive flavor in Italian Sausage?
Italian sausage has many herbs and spices, but fennel seed is what gives it its distinct flavor. Don't skip it. I buy whole fennel seed and crush it slightly when making this seasoning mix.
parsley
black pepper
fennel seed
paprika
red pepper flakes
salt
onion
garlic
Pro Tip
It may seem like we're cheating by adding in pre-mixed Italian seasoning. We find that most people have this in their spice cupboard already. If you don't, you can use our recipe to mix up some of your own.
Sweet Italian Sausage
If you really want a sweet Italian sausage, add a touch of brown sugar to this spice mix.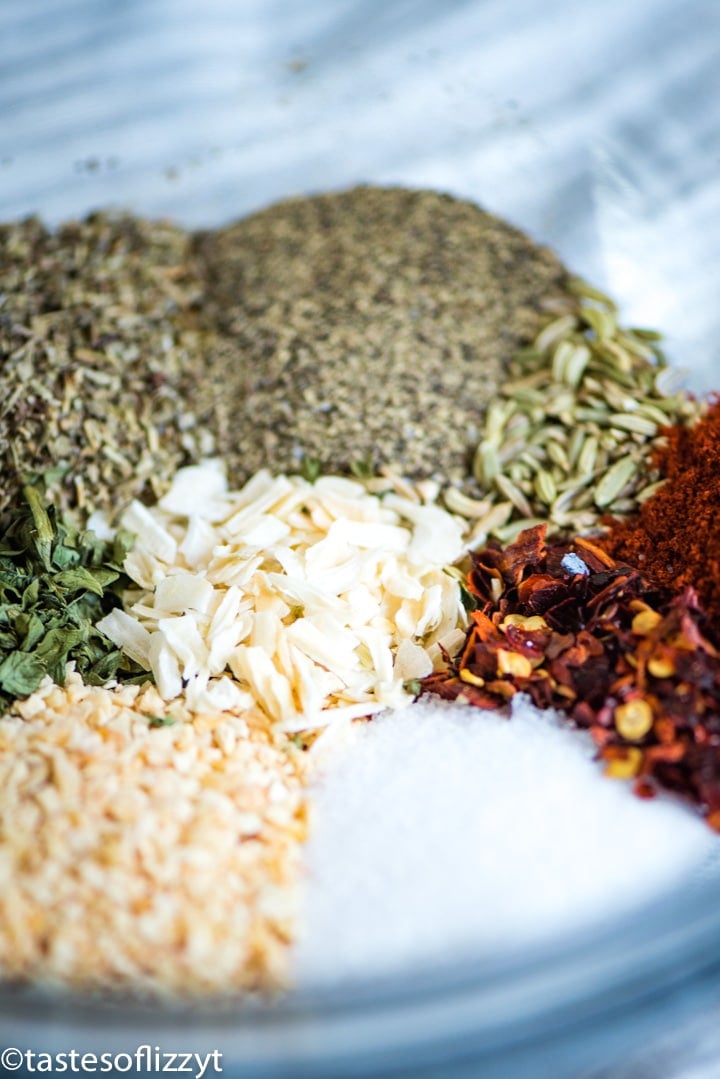 How much Italian sausage seasoning to add to meat?
This homemade Italian sausage seasoning makes enough to season two pounds of ground meat. You can use more or less, depending on how flavorful you like your food. We recommend starting by using this whole recipe in two pounds of meat and adjusting from there.
What meat do you use for sausage?
Use ground pork, ground beef, ground chicken or ground turkey, which is our preference. If you're a hunter, even venison is a great option.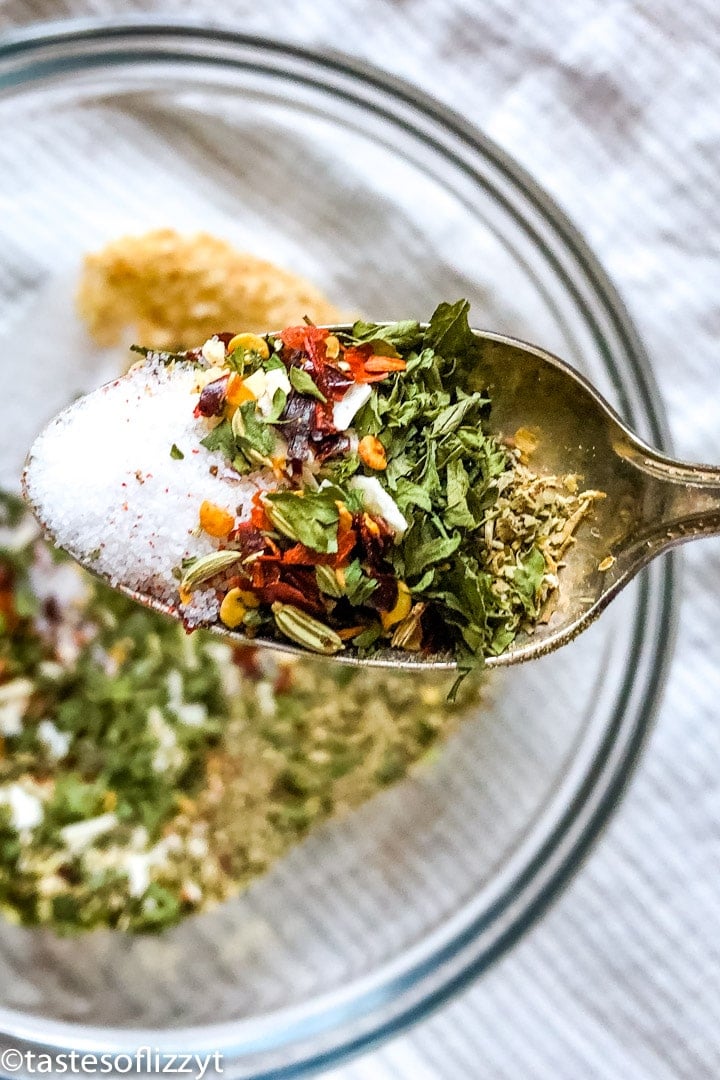 Italian Sausage Recipes
I use this Italian sausage in soup, meatballs, spaghetti sauce and lasagna. Anytime you have an Italian dish, you can substitute Italian sausage for the ground beef to give it an extra zip of flavor.
It's also great as a rub for pork shoulder.
How to Store Bulk Sausage Seasoning
I often make up a big batch of this savory sausage. You form it into sausage patties or roll it into sausage links and freeze to cook later (I actually like having an Italian sausage patty for breakfast alongside some veggies), or you can cook them right away.
You can also brown the meat and freeze it. This makes it super easy to pull out and use in sauces and all of your savory Italian dishes!
Otherwise you can store the seasoning mix in an airtight container and keep it at room temperature.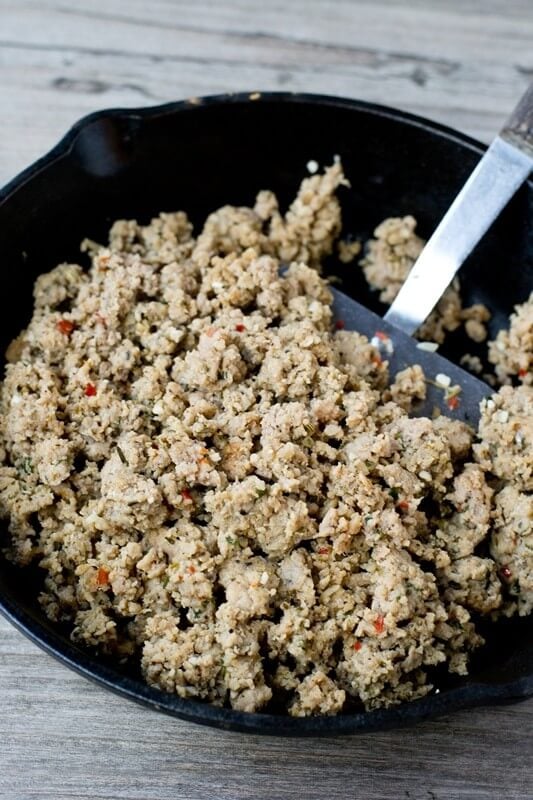 pro tip
If we make up a big batch of this, we used dried onions and garlic (or onion powder and garlic powder). If we make up a single batch, we use fresh onion and garlic.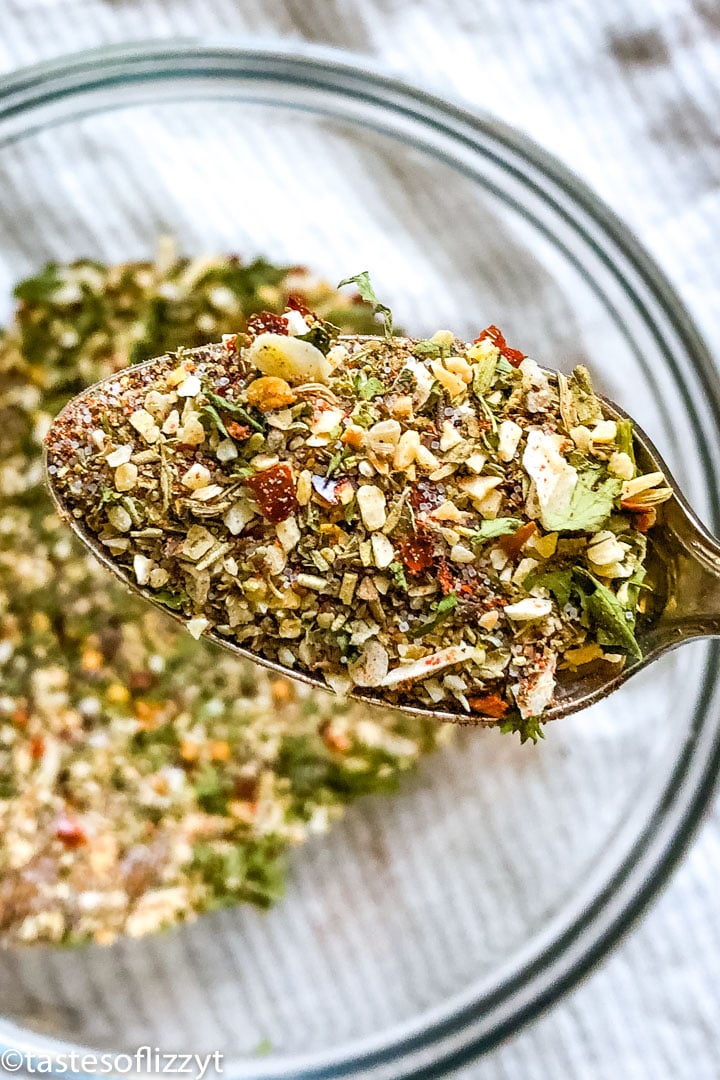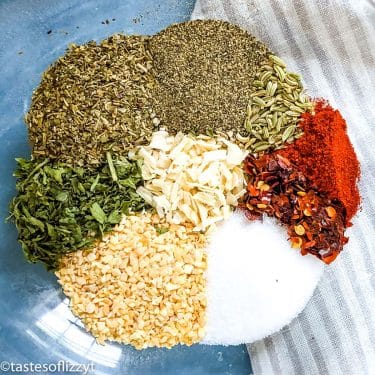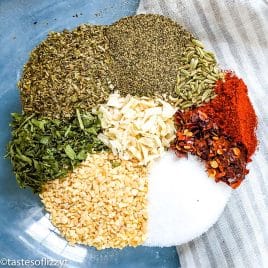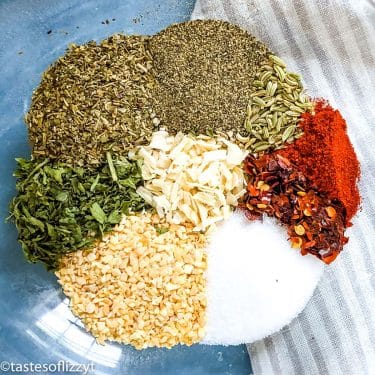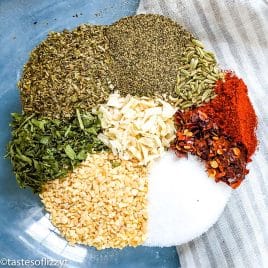 Italian Sausage Seasoning Recipe
Make your own Italian sausage at home with this homemade italian sausage seasoning recipe. Add these savory spices to turkey, pork or beef.
---
Ingredients
2

teaspoons

dried parsley

2

teaspoons

Italian seasoning

1 1/2

teaspoons

black pepper

1/2

teaspoon

fennel seed

(we use whole, but you can crush the ½ teaspoon of whole seeds or use ground fennel if you'd like)

1/2

teaspoon

paprika

1

teaspoon

red pepper flakes

2

teaspoons

salt

1

tablespoon

minced garlic

(we use fresh if not making a big batch)

1

teaspoon

minced onions

(we use fresh if not making a big batch)

2

pounds

ground beef

(or turkey, chicken or pork)
Instructions
In a small bowl, combine all of the seasonings. Add the seasonings to 2 pounds of ground beef. Brown or cook as desired in a large skillet.

Store any leftovers in the refrigerator in an airtight container.

The seasoning mix itself can be stored at room temperature, in an airtight container in the pantry.
Notes
*If you'd like, you can use all dried seasonings and make up a big batch of seasoning to store in your pantry. Be sure not to use fresh onion and garlic if you do this. Use all dried seasonings (same amounts).
Nutrition
Calories:
292
kcal
|
Carbohydrates:
1
g
|
Protein:
19
g
|
Fat:
22
g
|
Saturated Fat:
8
g
|
Cholesterol:
80
mg
|
Sodium:
662
mg
|
Potassium:
322
mg
|
Vitamin A:
145
IU
|
Vitamin C:
0.3
mg
|
Calcium:
32
mg
|
Iron:
2.5
mg