Pasta Salad Seasoning Mix
Discover the secret to top-notch pasta salads with our homemade pasta salad seasoning recipe. It makes a large batch to last you the whole summer!
Wondering what the perfect blend of flavors are that can make your pasta salad irresistible? The secret to an outstanding pasta salad lies in the unique mix of herbs and spices that are found in our pasta salad seasoning mix.
We've gone beyond the simple sprinkle of salt and pepper and drizzle of Italian dressing. This homemade seasoning mix is full of flavorful ingredients such as paprika, garlic powder, 3 types of seeds and parmesan cheese.
If you've ever had a cold pasta salad that was just missing something, this is the fix for you!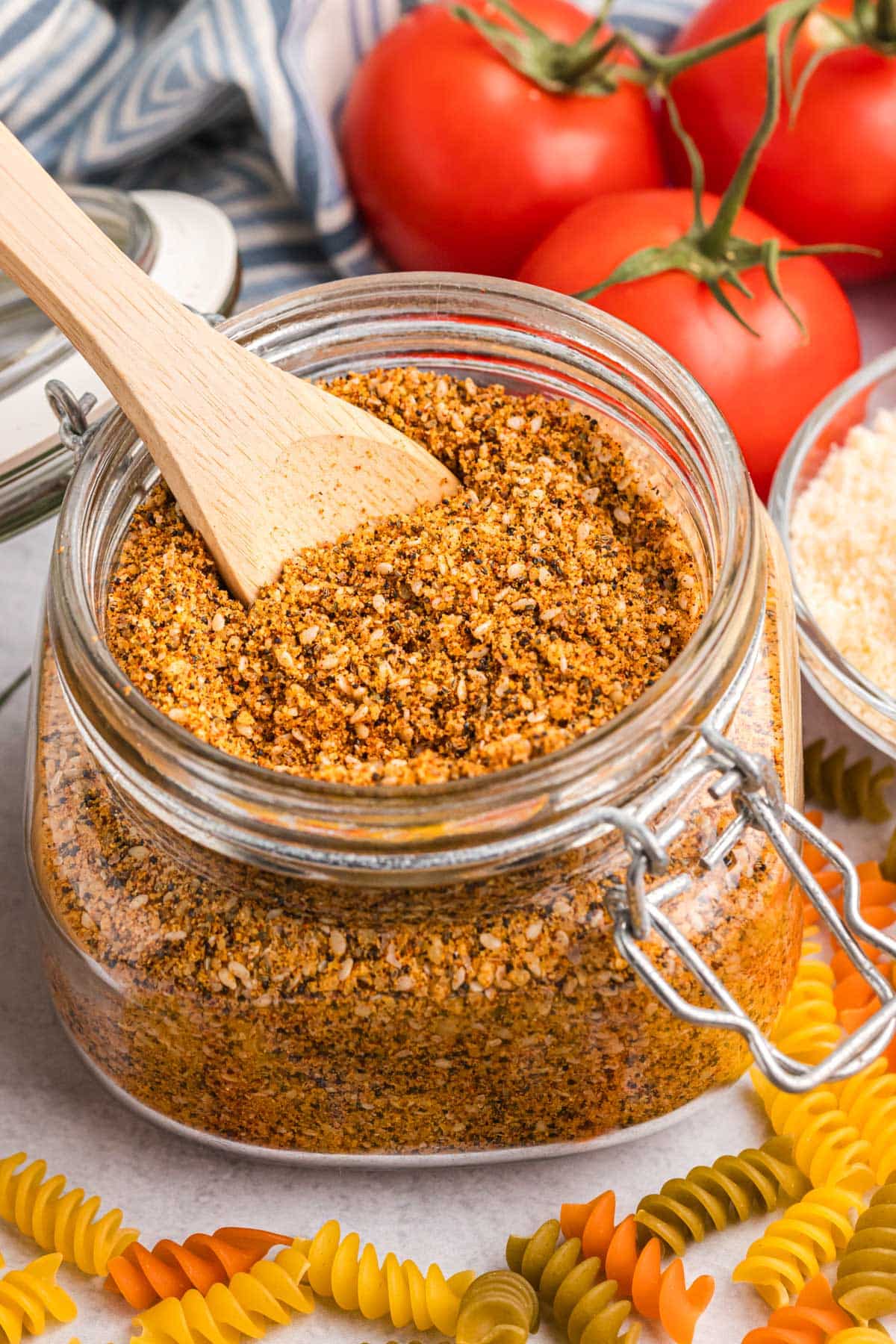 About this Pasta Salad Seasoning Mix
Flavor: Paprika, garlic and cheese are the strongest flavors in this spice mix. Add more cayenne pepper if you like it spicy.
Texture: The sesame seeds, celery seeds and poppy seeds all add texture to this seasoning mix. The cheese, when blended with Italian dressing in the salad, adds a delicious creaminess.
Method: This takes just 5 minutes to mix up, and should be stored in fridge because of the parmesan cheese. Leave the cheese out for it to be shelf stable.
⭐️ ⭐️ ⭐️ ⭐️ ⭐️ Reader Linda says, "This is the spaghetti salad seasoning I always use. I mix a big batch, but leave out the parmesan, so it stays shelf stable. Add the parmesan fresh when making the salad."
Salad Supreme Copycat Recipe
When I was growing up, my mom always used McCormick's Salad Supreme seasoning in her pasta salad. Even though Italian dressing has all kinds of zesty flavor on its own, adding this seasoning jazzes the flavor up even more.
For years I bought the little bottles of Salad Supreme, but they just don't last long for the amount of pasta salad we make each summer. I always ended up running out and not having any when I needed it.
I found this recipe for pasta salad seasoning mix and within 5 minutes had a big batch (2 cups worth to be exact) of seasoning to keep on hand in the fridge. It's the perfect amount for a pint mason jar.
Ingredients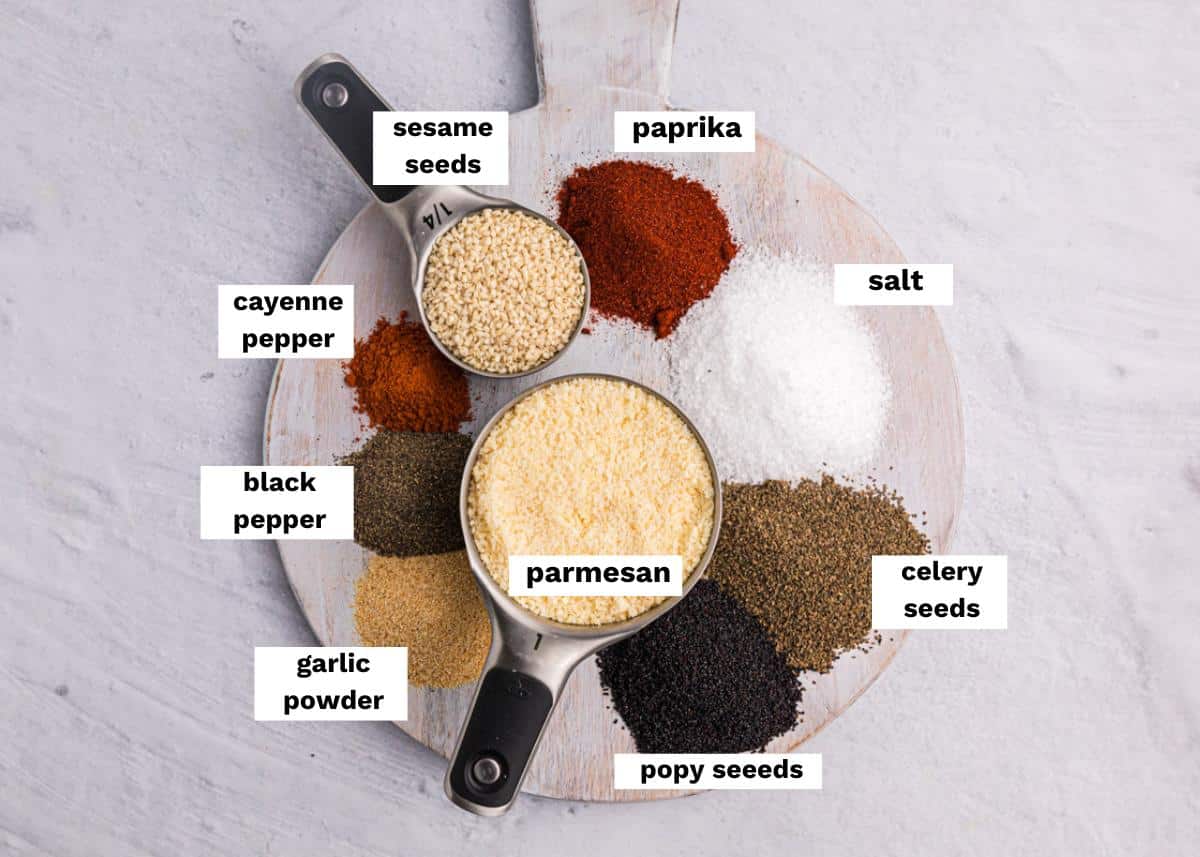 A well-rounded pasta salad seasoning has ingredients that each contribute to the flavor profile. Our recipe includes:
Sesame Seeds (¼ cup): These tiny seeds bring a slight crunch and a rich, nutty flavor to the seasoning mix.
Paprika (2 ½ tablespoons): Paprika provides a smoky-sweet peppery flavor and adds a vibrant color to our mix.
Salt (2 tablespoons): Essential to any seasoning mix, salt works to enhance the other flavors in the mix. You can add less salt if you'd like.
Celery Seeds (1 ½ tablespoons): They add an earthy, slightly bitter taste.
Poppy Seeds (1 ½ tablespoons): These bring in a slight sweet and nutty flavor.
Garlic Powder (2 teaspoons): Garlic powder is a much-loved flavor. It gives the pasta salad a familiar and comforting taste.
Black Pepper (2 teaspoons): A seasoning classic, black pepper adds a spicy kick.
Cayenne Pepper (1 teaspoon): For those who like a bit of heat, cayenne pepper adds a spicy zing. Add more or less as you'd like.
Parmesan Cheese (1 cup): Parmesan cheese steals the show in this mix, pulling together all the flavors with its salty flavor.
How to Make Pasta Salad Seasoning
Making the seasoning mix couldn't be easier. Simply add all of the ingredients into a bowl and mix well to combine.
Seal and store in the fridge until you're ready to use it. That's it!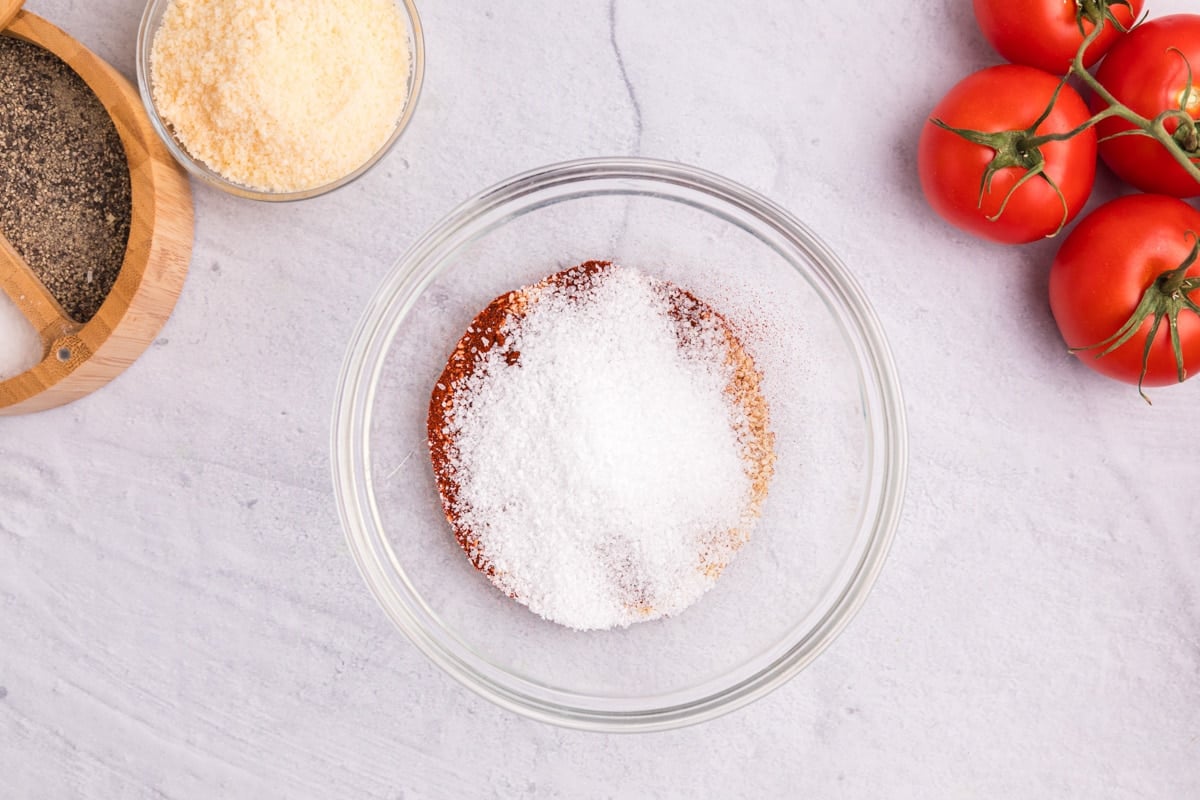 Using the Pasta Salad Seasoning
If you have your own favorite pasta salad recipe, you'll use three tablespoons of this seasoning per one pound of pasta.
You can use this salad seasoning in other recipes:
tossed with traditional Italian lettuce salad
in a chicken marinade (with Italian dressing)
sprinkle it over fried eggs for a delicious breakfast
in a sour cream/mayo dip
sprinkle over popcorn
add to butter, then spread on garlic bread
potato salad. Just try it!! 😋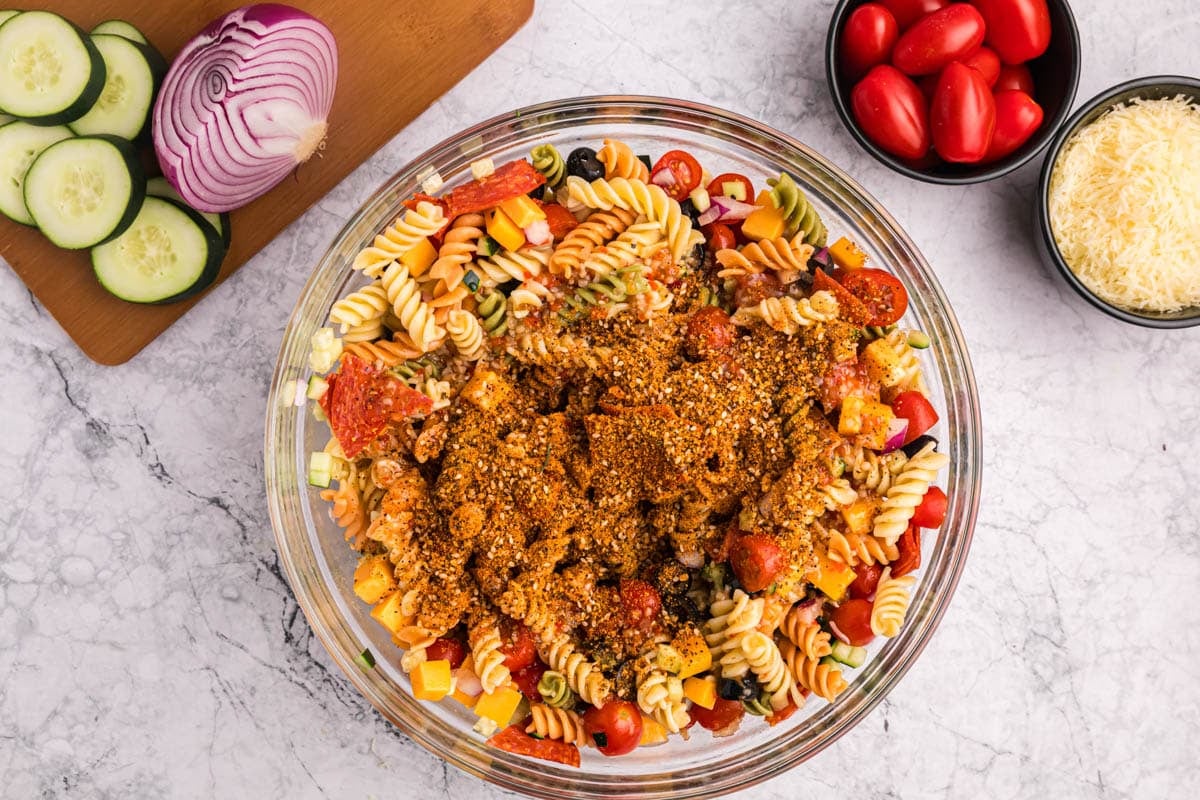 Perfect Pasta Salad Recipe
This pasta salad seasoning seasons the traditional Italian pasta. You can read about our best pasta salad, but here's a quick version of how to make it:
Boil 12-16 ounces of pasta according to the package directions. (Our favorite pasta is penne, fusilli, farfalle or rotini pasta.) Drain the water and rinse with cold water. Place the cooled pasta in a large bowl.
Add cubed cheddar cheese and pepperoni slices.
Then add diced red onion, cherry tomatoes (or grape tomatoes), and other vegetables such as carrots, cucumber and red bell peppers.
Toss in black olives, then add fresh herbs if you'd like. Think fresh parsley, oregano or basil.
Then add that zesty Italian dressing and 3 tablespoons of this salad seasoning.
Mix it all up, then serve!
Storage Instructions
Store the seasoning mix in an airtight container in the fridge for up to 4 months.
You may also love our Greek pasta salad.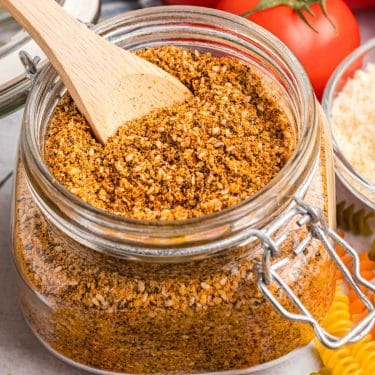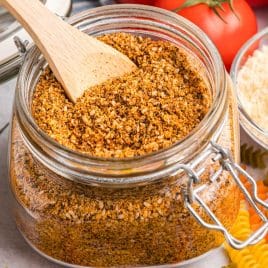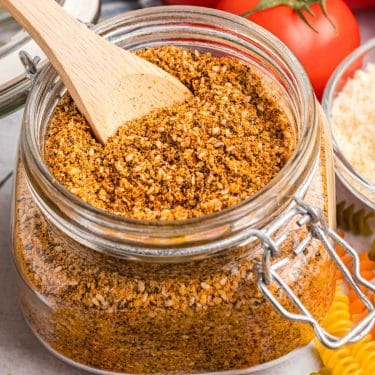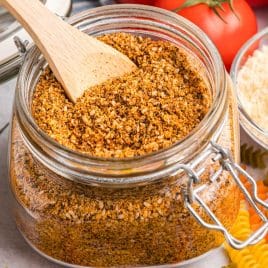 Pasta Salad Seasoning Mix
Pasta Salad Seasoning Mix makes a big batch so you'll be ready for summer picnics. Use three tablespoons of this seasoning mix per one pound of pasta salad.
---
Ingredients
1/4

cup

sesame seeds

2 1/2

tablespoons

smoked paprika

2

tablespoons

salt

1 1/2

tablespoons

black poppy seeds

1 1/2

tablespoons

celery seed

2

teaspoons

garlic powder

2

teaspoons

black pepper

1

teaspoon

cayenne pepper

1

cup

grated parmesan cheese
Instructions
Combine all of the ingredients in a bowl and mix well.

Store in an airtight container in the refrigerator for up to 4 months.

When making pasta salad, use 3 tablespoons of seasoning per pound of pasta, along with your favorite Italian dressing. Use more or less according to taste.
Nutrition
Calories:
69
kcal
|
Carbohydrates:
4
g
|
Protein:
4
g
|
Fat:
5
g
|
Saturated Fat:
2
g
|
Polyunsaturated Fat:
1
g
|
Monounsaturated Fat:
1
g
|
Cholesterol:
8
mg
|
Sodium:
1431
mg
|
Potassium:
96
mg
|
Fiber:
1
g
|
Sugar:
0.2
g
|
Vitamin A:
941
IU
|
Vitamin C:
0.3
mg
|
Calcium:
135
mg
|
Iron:
1
mg
Adapted from Food.com