How to Make Cinnamon Sugar
Cinnamon and sugar are used together in many baked goods and desserts. Find out the perfect cinnamon sugar ratio in How to Make Cinnamon Sugar.
One of the timeless comfort foods that almost everyone loves is buttered toast sprinkled with cinnamon. I ate it endlessly during my childhood. Did you?
Many love the taste of cinnamon and sugar, whether it is in cinnamon rolls, sprinkled over ice cream, snickerdoodles or any variety of baked treats. There's an easy way to make your own blend, so you can whip it out whenever the mood strikes. This is a simple step-by-step DIY guide.
Table of Contents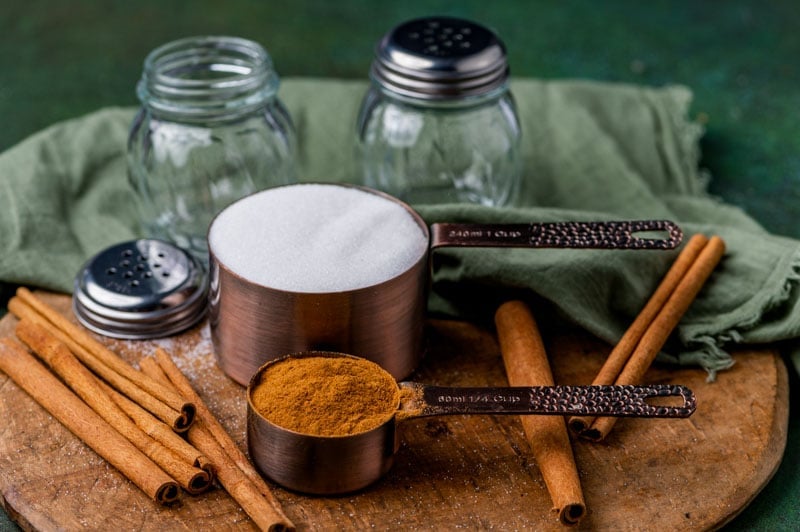 What is cinnamon sugar made of?
You can buy this mixture in the store, but it is an easy combination of just two ingredients and is so much more economical to make it at home.
Granulated sugar. Continue reading to see variations on the type of sugar you can use, but the traditional is white granulated sugar.
Ground cinnamon. I buy large containers of Saigon cinnamon at Costco. Years ago, a family friend who is an amazing cook told me Saigon cinnamon was the best cinnamon to use. I took her advice and have not strayed from it.
What is the proper ratio?
The common ratio is 1:4. 1 part of cinnamon to 4 parts of granulated sugar.
Now that you have the ratio, you can make as little as you'd like. Use 1 teaspoon of cinnamon to 4 teaspoons of sugar, or 1 cup of cinnamon to 4 cups of sugar. It's your choice based on how much you use.
For this recipe, I used ¼ cup of cinnamon to 1 cup of granulated sugar.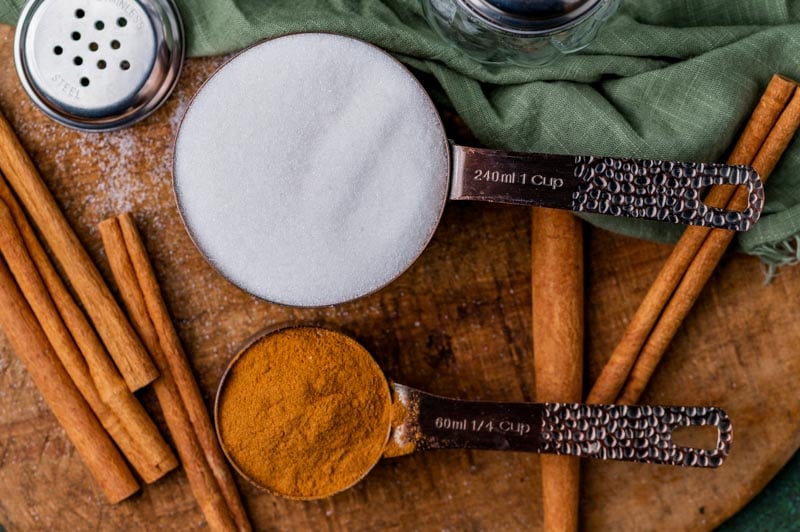 Recipe Variations
Keto cinnamon sugar: Monk fruit or your favorite no calories sweetener allows for a zero calorie option.
Cinnamon brown sugar: Use a cup of packed brown sugar (200 grams) for a richer flavor.
Vanilla cinnamon sugar: I've been working with vanilla beans and learning all different kinds of ways to use them. One is how to make vanilla sugar. Place vanilla beans in a bag of sugar and allow it to rest for a few weeks. This will flavor the sugar vanilla. It tastes amazing in cinnamon sugar. You can also add vanilla powder. I'd start with 1 tablespoon and add more as you like.
Cinnamon powdered sugar: Use powdered sugar instead of granulated. This would be great for dusting on cakes. And who doesn't love a good cinnamon powdered sugar donut?
Pumpkin spice sugar: Instead of cinnamon, use pumpkin pie spice.
Chai spice sugar: Instead of cinnamon, use homemade chai spice.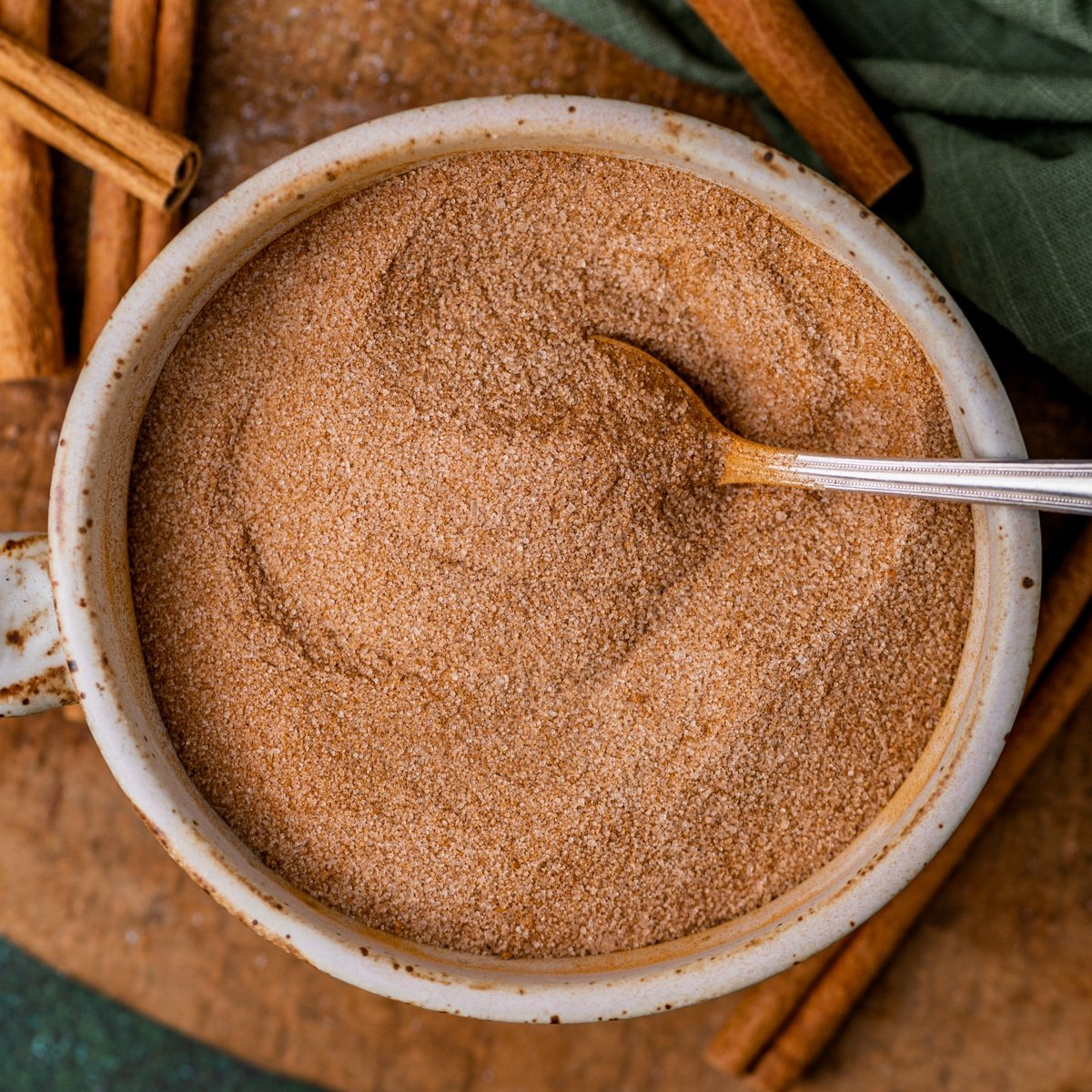 Give it as a Gift
Preparing a gift basket or looking for a homemade gift to give? Make several batches, put in a cute glass jar or container, then wrap it or tie a ribbon around the top. Easy!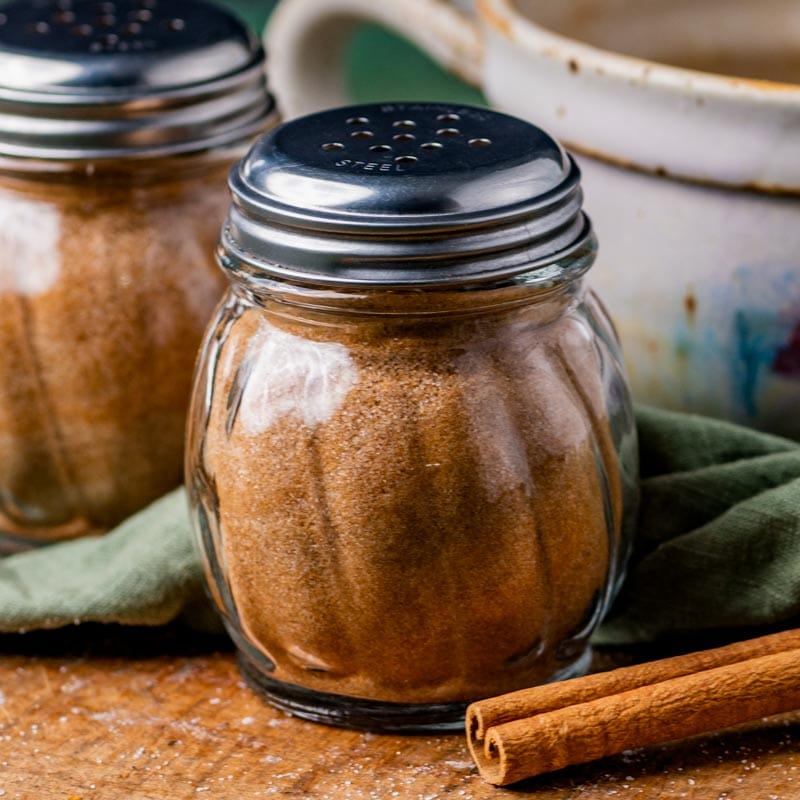 Storage Instructions
Cinnamon and sugar will store for quite awhile, but it is probably best if you use it within 6 months since weather and humidity could affect it.
Store it in an airtight container at room temperature.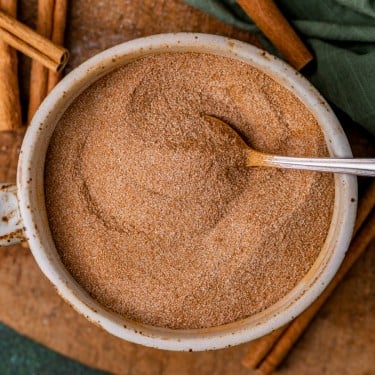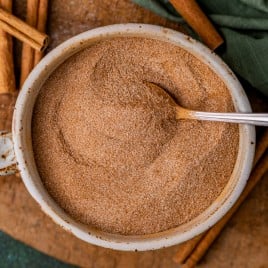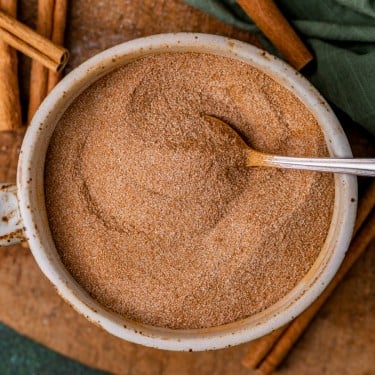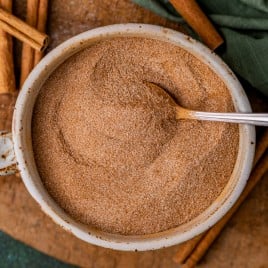 How to Make Cinnamon Sugar
Cinnamon and sugar are used together in many baked goods and desserts. Find out the perfect ratio of these two ingredients in How to Make Cinnamon Sugar.
---
Ingredients
1

cup

granulated sugar

200 grams

1/4

cup

cinnamon

21 grams
Instructions
In a bowl, use a small whisk to mix together the sugar and cinnamon.

Store the mixture in a sealed, airtight container at room temperature.

Store for up to 6 months.
Notes
Use a fork to press out any lumps, or sift the mixture through a sifter to break up any little clumps.
Refer to the article above for more tips and tricks.
The calories shown are based on the recipe making 1 ¼ cups, with 1 serving 1 tablespoon. Since different brands of ingredients have different nutritional information, the calories shown are just an estimate. **We are not dietitians and recommend you seek a nutritionist for exact nutritional information. The information in the nutrition box are calculated through a program and there is room for error. If you need an accurate count, I recommend running the ingredients through your favorite nutrition calculator.**
Nutrition
Calories:
46
kcal
|
Carbohydrates:
12
g
|
Protein:
1
g
|
Fat:
1
g
|
Saturated Fat:
1
g
|
Polyunsaturated Fat:
1
g
|
Monounsaturated Fat:
1
g
|
Sodium:
1
mg
|
Potassium:
13
mg
|
Fiber:
2
g
|
Sugar:
10
g
|
Vitamin A:
9
IU
|
Vitamin C:
1
mg
|
Calcium:
30
mg
|
Iron:
1
mg
Frequently Asked Questions
Can cinnamon replace sugar?
Although cinnamon isn't as sweet as sugar and should not be used as a substitute for sugar in baking, it can add a subtle sweetness by sprinkling it on other foods. Cinnamon has a slight natural sweetness to it, but also, our minds often connect the flavors of cinnamon and sugar so we can trick ourselves a little by using just cinnamon.
Is there sugar in cinnamon powder?
There should not be sugar in cinnamon powder. Although you may come across a brand that does have sugar, it is uncommon. If you want pure cinnamon, check the label.
How to Use Cinnamon Sugar
Whether you sprinkle cinnamon sugar over a healthy Greek yogurt breakfast or have a homemade pretzels brushed with butter and dusted with cinnamon sugar, the options for this classic mixture are endless.
Try keeping some on hand for one of these recipes.