Thick, soft and cinnamony sweet, this is the best snickerdoodle recipe around. Bakery-style with homemade cinnamon chips!

The Best Snickerdoodle Recipe
Welcome to the upgrade of the bakery-style sugar cookie. You've seen the technique of this amazingly delicious recipe, and now it's time to bring it to a whole new level. We're talking homemade cinnamon chips, a soft, chewy cookie, with a hint of cream of tartar. Meet your new best friend, the snickerdoodle.
Now, when I say snickerdoodle, I don't mean those hard, crunchy "cookies" from the store, and I certainly don't mean a sugar cookie with cinnamon and sugar coated around it. No, I mean a REAL snickerdoodle. THIS is a real snickerdoodle:
If you've made our sugar cookies we posted recently, you understand how hard it is not to eat the cookie dough. It's really, really hard! Well, I can officially say that those cookies have met their match. This snickerdoodle cookie dough is impossible to withstand! Not only is it that amazing sugar cookie dough base, but it also has that cream of tartar that gives it a little 'tang' that everyone loves. Oh, and did I mention the homemade, melt-in-your-mouth cinnamon chips?
Yep, that's what I said. Homemade, soft, amazing, cinnamon chips.
YUM.
These cinnamon chips are super easy to make, and they'll last you more than one recipe. I like to make a double or even triple recipe of cinnamon chips so I have them on hand (hello, scones!). These cinnamon chips from Mind Over Batter are pure perfection, baking right into your snickerdoodle. Don't you dare skip this step! 😉
I'm not going to go too much into detail about all the steps to making this cookie, because you can find it all right here. But I will walk you through some few important steps quickly:
– It's good to use European butter. We talk about this a lot in the sugar cookie post, and there's a reason for it, too. This butter will give your cookies a thickness and softness that you wouldn't believe possible!
– Refrigerate for at least 1 hour, if not more. The longer you leave it in the fridge, the better it bakes. The cookies get thicker, softer, and chewier. That's the goal here: thick, soft, chewy. Mmm.
– Once you scoop these cookies out, roll the balls in cinnamon and sugar and press it down a bit with the bottom of the cup. The more cinnamon and sugar, the better, right?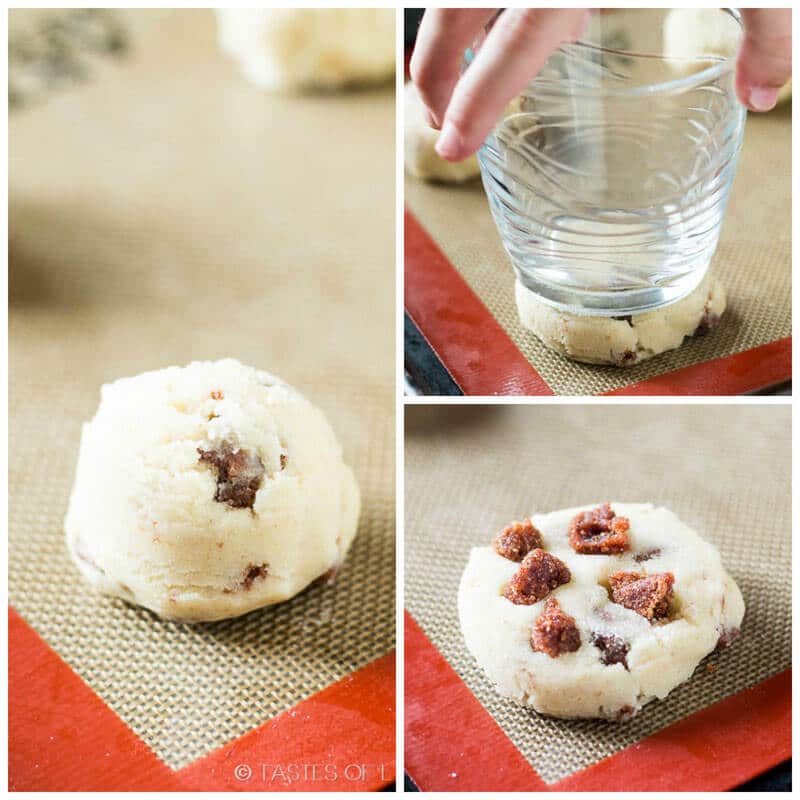 This is my absolute favorite cookie of ALL time. Its amazing softness, the homemade cinnamon chips, and just the comforting smell of the sweet and slightly tangy cookie makes me hungry for them right now!
The Best Snickerdoodle Recipe
Thick, soft and cinnamony sweet, this is the best snickerdoodle recipe around. Bakery-style with homemade cinnamon chips!
Ingredients
2 3/4

cups

all purpose flour

1

teaspoon

baking soda

1/2

teaspoon

baking powder

2

teaspoons

cream of tartar

1

cup

European style butter

, softened

11/2

cups

white granulated sugar

1

large

egg

3/4

teaspoon

LorAnn Princess Cake & Cookie Bakery Emulsion

1/2

tablespoon

lemon juice

1 1/4

cups

homemade cinnamon chips

1/4

cup

white granulated sugar

2

teaspoons

cinnamon
Instructions
In a small bowl, stir together flour, baking soda, baking powder and cream of tartar. Set aside.

In a large mixing bowl, cream together butter and sugar until smooth. Beat in the egg, Princess emulsion and juice. Gradually blend in dry ingredients.

Fold in the cinnamon chips.

Scoop the dough into about 20 1-1/2" inch balls.

In a small bowl, combine the 1/4 cup sugar and 2 teaspoons cinnamon. Roll the dough balls in the cinnamon/sugar mixture and place on an ungreased cookie sheet. Slightly flatten the top of each cookie with the bottom of a glass.

Refrigerate the cookies for at least 1 hour.

Bake at 375 degrees for 10 minutes, removing the cookies just before the edges get brown.

Allow the cookies to cool for 5 minutes, then move them to a flat surface to cool.

Store in an airtight container.
Nutrition
Calories:
447
kcal
|
Carbohydrates:
75
g
|
Protein:
2
g
|
Fat:
16
g
|
Saturated Fat:
8
g
|
Cholesterol:
44
mg
|
Sodium:
172
mg
|
Potassium:
84
mg
|
Sugar:
61
g
|
Vitamin A:
295
IU
|
Vitamin C:
0.2
mg
|
Calcium:
14
mg
|
Iron:
0.9
mg