Cinnamon Chip Scones with homemade cinnamon chips! They're soft and cinnamony with a delicious glaze over the top.

Do you love the smell of a bakery? I do. It has a huge cinnamon, chocolate, or buttery smell just wafting throughout the store. My favorite place to go has delicious scones, muffins, brownies, and bagels with raspberry cream cheese. I love getting a cinnamon scone there. They are just right to dip in some rich hot chocolate with a pile of whipped cream on top.
The cinnamon chip scones recipe I'm about to share with you is what I would call a perfect scone. And, since I can't drive over and get one from the bakery, just making them at home is almost as easy.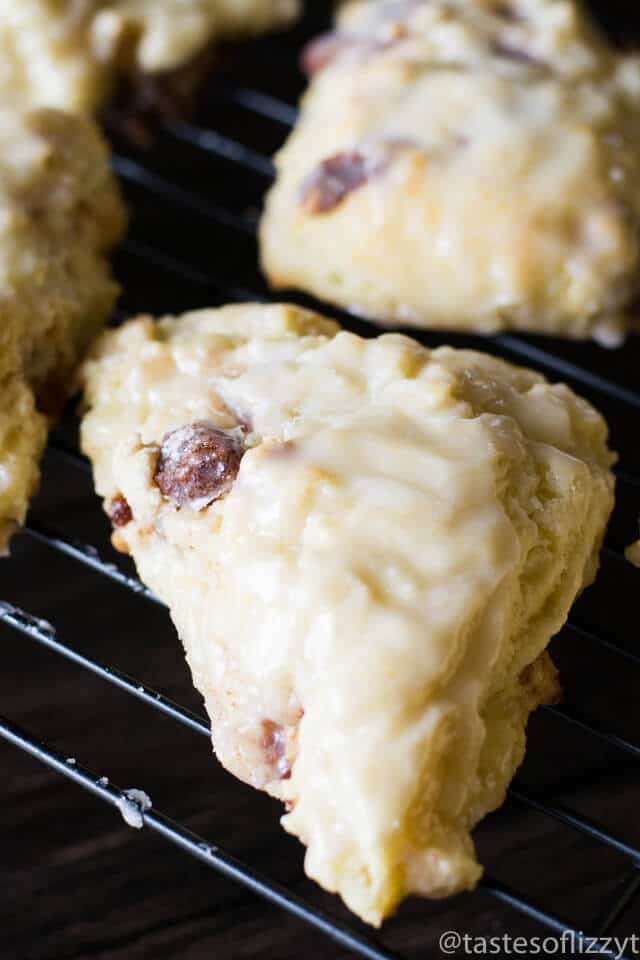 These cinnamon chip scones are incredibly moist, light and fluffy, and packed with bombs of cinnamon flavor. I'm ready to start making some right now- aren't you?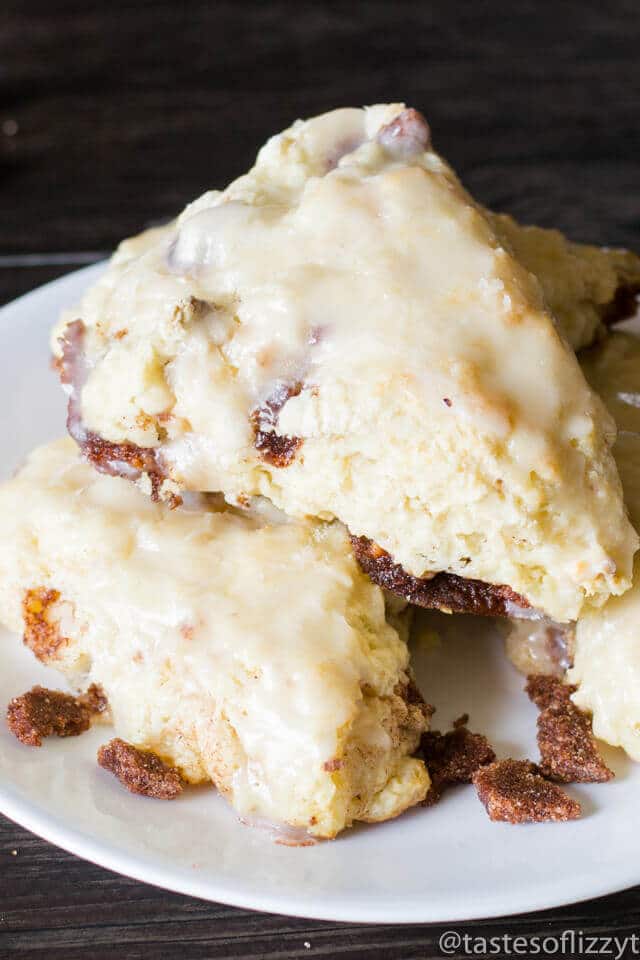 There are a few things that will help you when you make these cinnamon chip scones:
-First, cut the butter into the flour in little pieces using a pastry cutter
. Since you want your butter to be as cold as it can get, this helps get the butter blended in more, but it's ok if it doesn't mix completely. Little chunks of butter are just fine.
-When you're blending the ingredients together, don't overmix. In fact, only mix your ingredients until they are blended just enough. Your scones will be nice and fluffy the less you mix it. No stand mixer for this recipe!
-Keep all of the ingredients and and even the bowl cold. Here's what we did. We put the bowl in the fridge about 5 minutes before we started to make the scones, and as we were preparing the scones, we put the bowl back in the fridge (with ingredients inside) anytime we weren't using it. The cold butter makes the scones rise higher.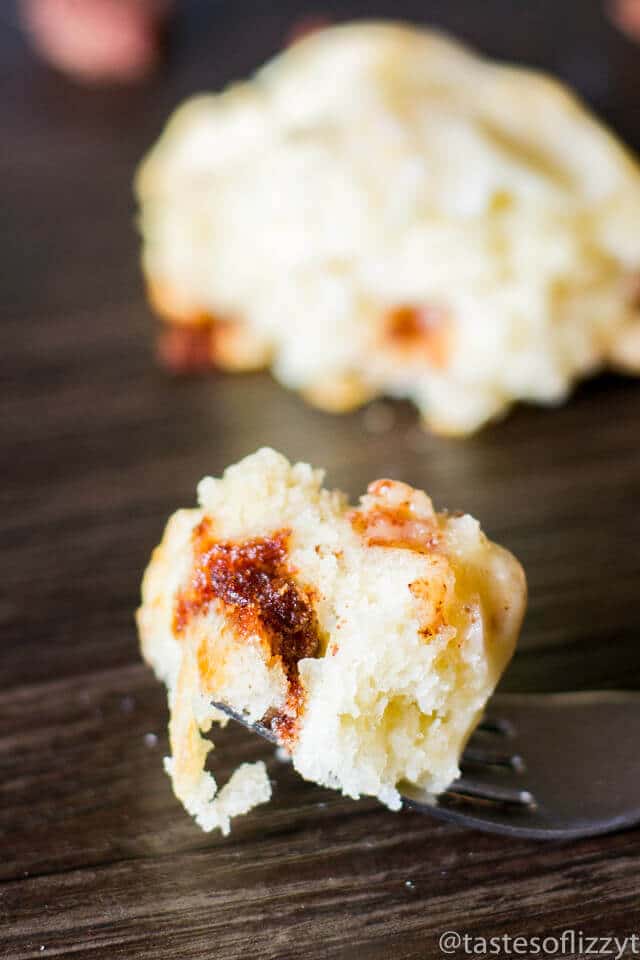 For the cinnamon chips, we made our own. It's an easy recipe that makes cinnamon chips that will melt into your pastry and have a great flavor in every bite. Why did we make our own? Well, we found out that if you want your cinnamon chips to melt into a pastry, Hershey's cinnamon chips are not the way to go. Actually they don't even have cinnamon in them. For a cinnamon lover like me, that's just no fun. What's a cinnamon chip without the cinnamon? So, with a few ingredients from a recipe we found from Mind Over Batter, we whipped up some delicious cinnamon chips that WILL melt in whatever you're baking. Definitely make up a batch of these for all of your cinnamon baked goods!
My dad likes to get creative with things, and I'm sure some of you do, too. Although we haven't tried, I'm sure you can throw in berries, chocolate chips, nuts, or whatever you think should go into your scone. I like the sound of a peanut butter chocolate one. How about you? Stay tuned. 🙂
So, now that I filled you in on all the necessary information on how to make your dream scone, are you ready to make some?
Cinnamon Chip Scones
Cinnamon Chip Scones with homemade cinnamon chips! They're soft and cinnamony with a delicious glaze over the top.
Ingredients
2 1/4

cups

all purpose flour

plus 1/4 cup for flouring the counter

1

rounded teaspoon

baking soda

2

rounded teaspoons

cream of tartar

2

tablespoons

granulated sugar

1/2

teaspoon

salt

1/2

cup

cold butter

plus 1 tablespoon

1

large

beaten egg

3/4

cup

buttermilk

1

cup

cinnamon chips
Glaze:
1

cup

powdered sugar

3

tablespoons

melted butter

1/2

teaspoon

vanilla

1-2

tablespoons

milk

if needed to thin glaze
Instructions
Refrigerate a metal bowl for 5 minutes to get it cold.

Preheat the oven to 425 degrees.

In the refrigerated bowl, add the flour, baking soda, cream of tartar, sugar and salt. Cut the cold butter into small cubes and add to the flour mixture. Using a pastry cutter, cut the butter in with the flour mixture until the butter is mostly mixed in. It is okay if there are small pieces of butter.

Make a well in the flour, in the center of the bowl. Add the egg and buttermilk to the well. Using a wooden spoon, mix the wet ingredients into the dry ingredients. Mix just until blended, being careful not to overmix. Fold in the cinnamon chips.

Put about 1/2 cup of flour on the cupboard. Turn the dough out onto the floured counter. Turn it over so the floured side is up. Make a disk that is about 1 1/4 inches thick. Use a knife to cut the disk into 8 triangles, as if you were cutting a pie. Place the scones on a greased cookie sheet, or a nonstick baking mat.

Bake immediately for 12 minutes. Allow the scones to cool for 3-5 minutes and prepare the glaze.

In a small bowl, melt the 3 tablespoons of butter. Add in the powdered sugar and vanilla. Mix well. If needed, add 1-2 tablespoons of milk in order to easily spoon the glaze over the scones.

Glaze the top of the scones. The glaze will run over the sides of the warm scones.
Nutrition
Serving:
125
g
|
Calories:
469
kcal
|
Carbohydrates:
58
g
|
Protein:
7
g
|
Fat:
23
g