Sweet peaches and tangy blackberries pair beautifully in these buttery and tender Peach Blackberry Scones with Vanilla Glaze.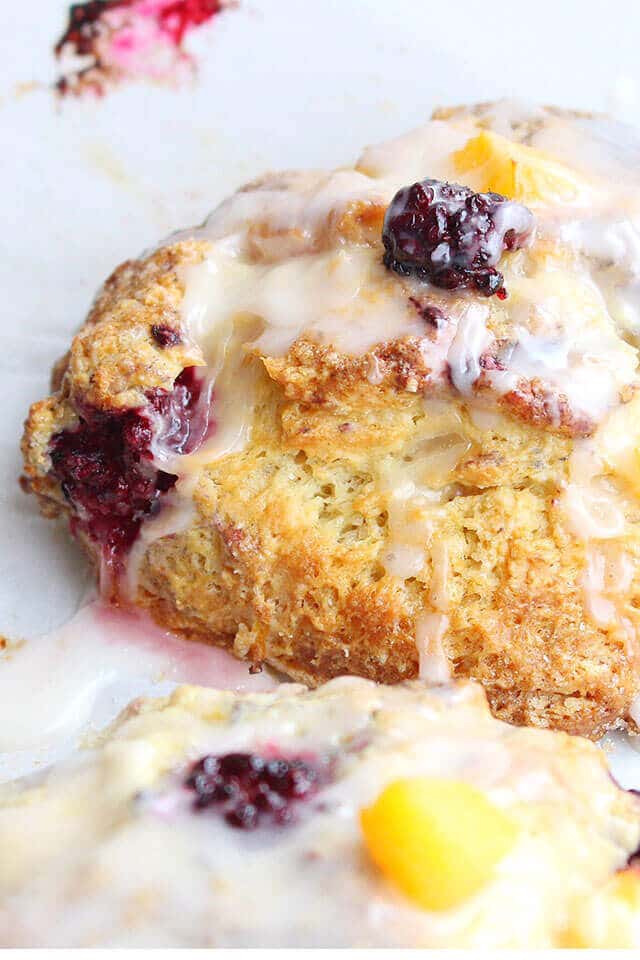 Peach Blackberry Scones
Oh, hello again lovelies! It's me again (Kristie) from The Sweet & Simple Kitchen!
As usual, I am pretty stoked to be sharing a recipe with you guys, & since it's almost the weekend, I thought it might be fun to get ourselves Weekend Brunch ready with a recipe for one of my all-time favourite things to bake…. SCONES!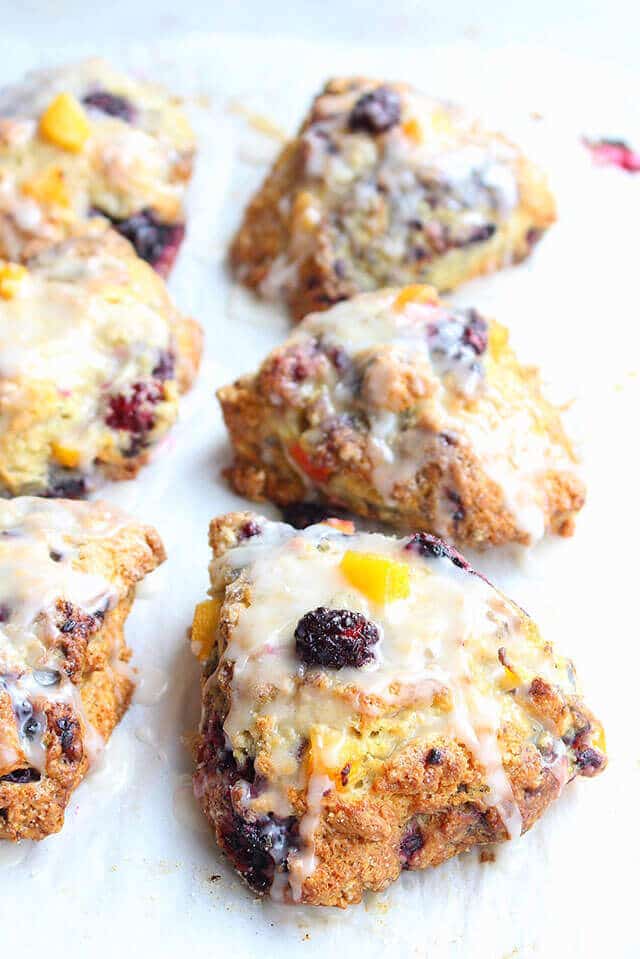 Okay, sorry – I'm not yelling at you I promise! But seriously SCONES! I just love to bake scones, don't you?
I find them to be so much fun to make & for me there is something so special to me about every step in the scone making process. I just love the feeling of working the butter into the flour with my hands; folding the dough; rolling it out; and in the end when you get to bite into a perfectly flaky, buttery, tender scone…. It's pretty much my idea of heaven.
Not to mention, the flavour possibilities seem to pretty much be endless when it comes to Scones. I'm forever playing around with new flavour combinations– especially during the summertime when all of the fresh berries & tree fruits are filling the farmers market stands in all of their beautiful glory.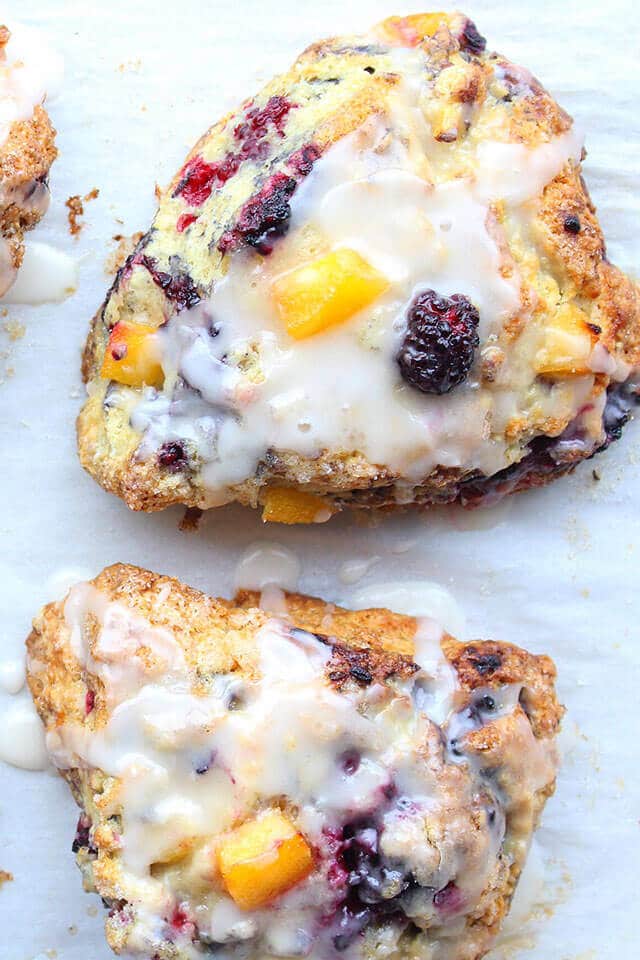 Sometimes I think I could just spend my days gawking at fresh berries on the market stands…it's one of my favourite things to do – especially when doing so gives you recipe inspiration.
Such was the case a few weeks ago when I stumbled across the most incredible fresh local peaches & blackberries at the farmers market. From the moment I saw them, I knew I had to have them – preferably baked into something delicious.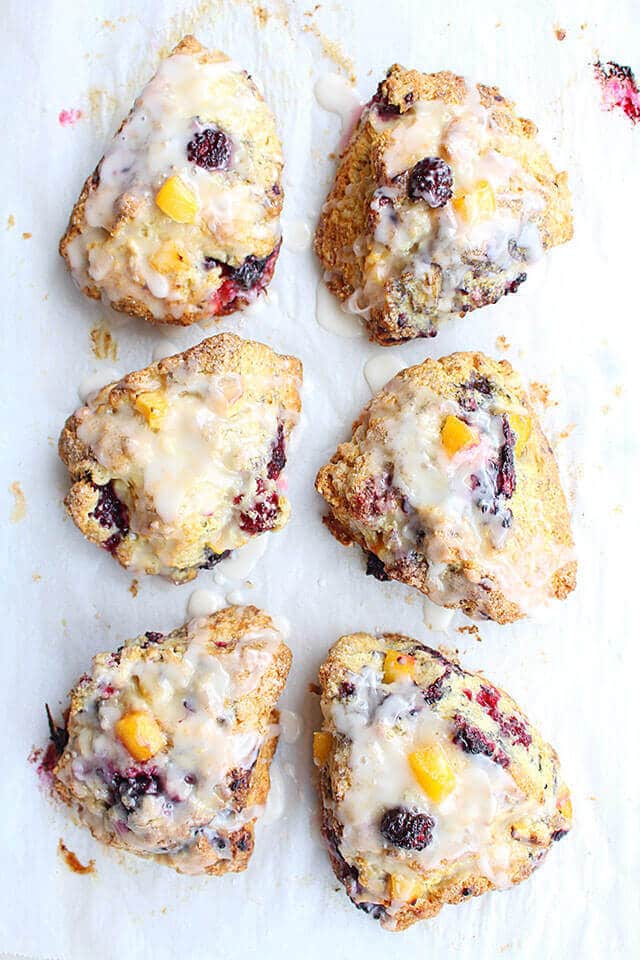 So as we have already established – I'm something of a scone addict. So naturally, I immediately thought to myself … "What about some Peach Blackberry Scones? Heck yes!"
Needless to say, I wasted no time racing home to hastily test out a recipe, and I couldn't have been happier with the result! The sweet peaches paired incredibly with the tangy blackberries, and the scones were oh so buttery & tender.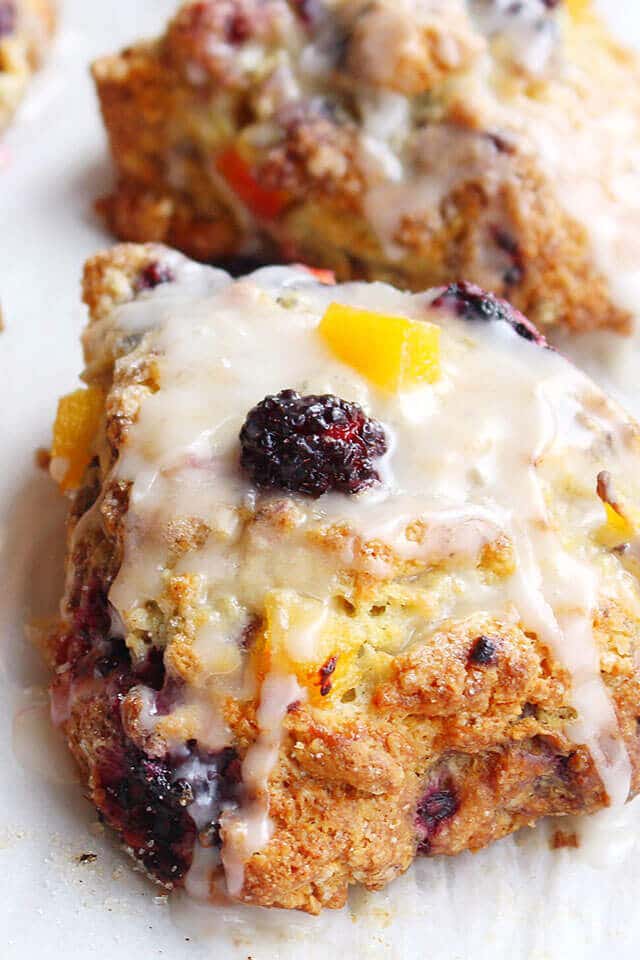 Oh, and did I mention that I threw a vanilla glaze on top? It just seemed like the appropriate thing to do. So here is the recipe to get you guys brunch ready this weekend & I hope you enjoy them as much as I did!
Peach Blackberry Scones with Vanilla Glaze
Sweet peaches and tangy blackberries pair beautifully in these buttery and tender Peach Blackberry Scones with Vanilla Glaze.
Ingredients
For the Scones
2 1/2

cups

all-purpose flour

1

tablespoon

baking powder

1

teaspoon

baking soda

1/4

teaspoon

salt

1/2

cup

granulated sugar

2/3

cup

butter

cubed

1/2

cup

heavy cream

1/2

cup

buttermilk

1

egg

1

teaspoon

vanilla extract

1

teaspoon

lemon zest

1/2

cup

fresh peaches

chopped & frozen for 30 minutes

1/2

cup

fresh blackberries

chopped & frozen for 30 minutes
Simple Vanilla Glaze
1 1/2

cups

powdered sugar

2-3

tablespoons

heavy cream

plus more if needed

1/2

teaspoon

vanilla extract
Instructions
For the Scones
Preheat your oven to 400F degrees if it is on regular or 375F if you are using a convection oven; Line 2 baking sheets with parchment paper; set aside.

Next, in a large mixing bowl, whisk together flour, sugar, baking soda, baking powder, and salt, until evenly combined.

Add in your cubes of cold butter and lightly toss to coat each of the butter cubes with the flour mixture. Begin working the butter into the dry ingredients with your fingers or with a pastry cutter until most of the butter chunks are the size of peas, with a few larger almond sized chunks. Add the frozen blackberries & peaches and toss to distribute & coat with flour.

In a small bowl, whisk together the cream, buttermilk, egg, vanilla and zest.

Drizzle the cream & buttermilk mixture over the dry ingredients and use a fork or spatula to gently fold the wet into the dry ingredients until a ragged dough forms.

Turn the ragged dough out onto a cool lightly flour work surface to fold the dough. Gently fold the right half of the dough over onto the left half; repeat this process 3-4 times to create those flaky scone layers!

Now divide your dough into 2 parts. Dust the top of your dough with a bit more flour and gently shape into a disk. Use your fingers or a rolling pin to press each disk into a 3/4-1 inch thick disk. Use a sharp knife to cut each disk into 6 equal parts, so you end up with 12 scones in total.

Place the 12 scones onto your prepared baking sheets; Brush the tops of the scones with melted butter and sprinkle with coarse sugar.

Place one tray at a time into the center rack of your oven and bake for 18-23 minutes or until the tops are golden brown and the tops spring back to your touch. Set the tray on a cooling rack to cool for about 5 minutes.
For the Glaze
Simply whisk 2 tbsp of the cream, icing sugar & vanilla together until smooth and creamy – depending on the consistency you may need a touch more cream. Once the scones have cooled for a few minutes, drizzle with the glaze & serve.
Notes
**Note - your scones will cook a bit faster if you are using a convection oven.
Nutrition
Calories:
337
kcal
|
Carbohydrates:
45
g
|
Protein:
3
g
|
Fat:
15
g
|
Saturated Fat:
9
g
|
Cholesterol:
58
mg
|
Sodium:
252
mg
|
Potassium:
179
mg
|
Fiber:
1
g
|
Sugar:
24
g
|
Vitamin A:
570
IU
|
Vitamin C:
1.9
mg
|
Calcium:
74
mg
|
Iron:
1.4
mg