Learn how to make light, buttery, buttermilk scones. These glazed cherry buttermilk scones are topped with salty pistachio nuts.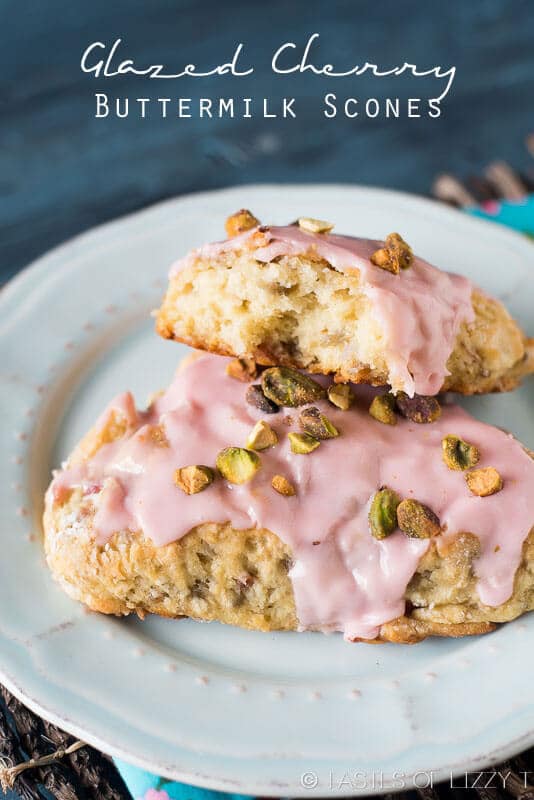 Glazed Cherry Buttermilk Scones
Maddie and I just got back from an awesome few days in Columbus, OH, with the Ohio Poultry Association learning all about eggs. Be watching for some fun pictures next week. We'll share with you everything we learned!
But today, I'm sharing with you a most delicious way you can use one simple egg.
Glazed Cherry Buttermilk Scones.
Soft pillows of buttery, lightly sweet, biscuit-like bread that are a sweet touch to breakfast, snack or even dessert.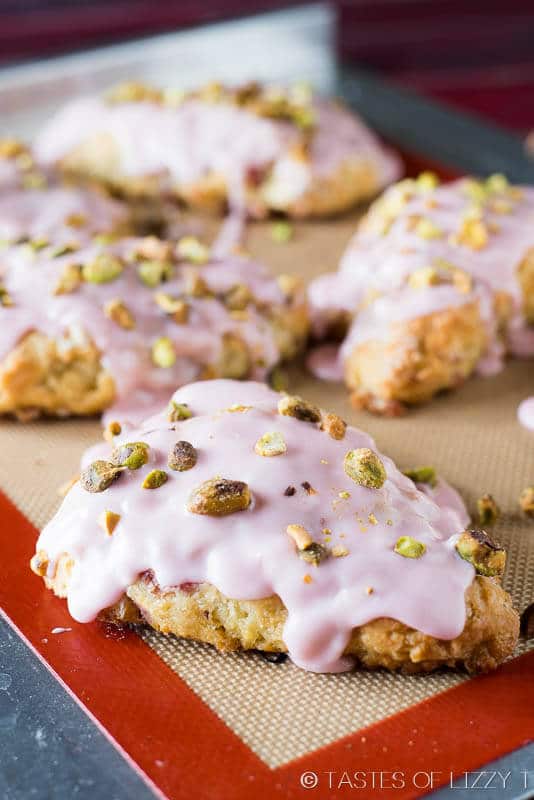 Now you know how I love my scones. Not dry, but moist, buttery and lightly sweet. This dough itself only has two tablespoons of sugar. It's the glaze on top that adds the touch of sweetness. Pair it with crushed, salty pistachios and you've got a lovely little sweet and salty treat here.
And although I'm not new to making scones, it took me three tries to get this recipe right for you. Ya know why? I didn't follow my own directions. It had been awhile since I'd made scones and I *thought* I remembered how I had done it in the past. After two failed attempts of scones that were too wet and ran together, I was about to give up.
My superhero husband came to the rescue, as he often does, and said something (I can't even remember what now) that triggered my memory of how I usually make scones. His reminder resulted in beautiful scones that I'm happy to write about today.
I tell you this story for two reasons.
Read the instructions. In fact, read through all of the instructions before you begin a recipe, so you know what to expect and aren't caught off guard in the middle of a recipe.
Don't give up! You can do this. I believe in you!
How to make Flaky Scones
The first and most important thing in scone making is to keep all of your ingredients cold. Nearly ice cold. Even the bowl. Your first step is to refrigerate or freeze the metal bowl for at least five minutes before you begin.
I also like to freeze the stick of butter and then grate it with a box grater. This makes mixing with a pastry cutter super easy. I do this first, then pop it back into the fridge or freezer until you are ready to add it to the dough. Our scones have an amazing butter flavor and when that butter that is mixed into the dough goes into the oven cold, you'll end up with soft, flaky scones.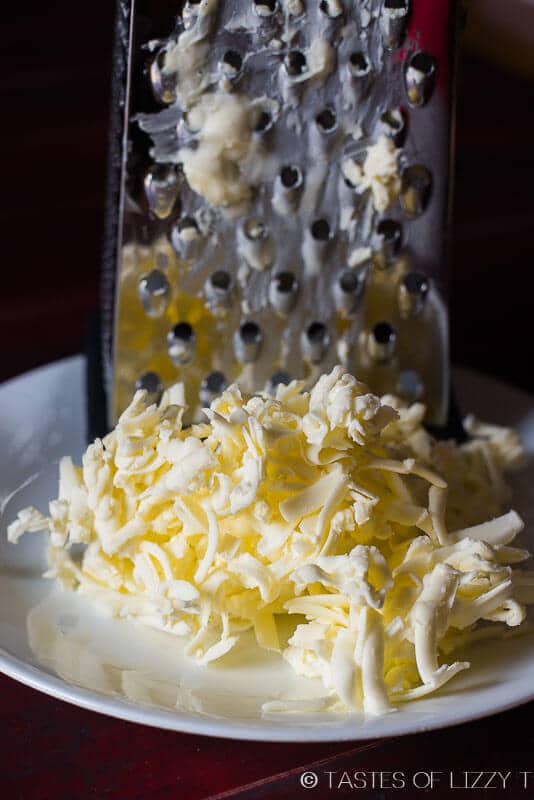 Add all of your dry ingredients to the cold metal bowl. Then use the handy pastry cutter to cut the butter in with the flour.
Next comes adding the wet ingredients. Use a good, high-fat buttermilk, or make your own with 1 cup of whole milk and a teaspoon of vinegar. Why use high fat milk? So your scones are nice and rich.
Add the milk to the flour mixture, then add the beaten egg. It's important that you beat the egg with a whisk ahead of time so that it mixes in quickly and easily with the dry ingredients. Mix the dough just until it is barely combined, then fold in the chopped maraschino cherries.
Side note: I went through a lot of maraschino cherries since I made 3 batches of the scones. The first two jars were from a grocery store chain, normal ol' maraschino cherries. They were bright red, leaving bits of red all throughout the scones. For the last batch, I used cherries from Aldi. I didn't notice ahead of time, but they now make their maraschino cherries without artificial color. Which is fantastic, don't get me wrong. But when the cherries baked into the scones, they lost their color and ended up blending into the dough. As you can see in the pictures, you can't see the bits of cherries, but they're there! And without all of the artificial color, which makes me smile. 🙂
Plop the dough onto a floured surface (I love my pastry mat!) and then sprinkle a little more flour on top of the sticky dough. Gently shape a disk that is about 8″ in diameter and about 1 1/4″ thick. This will literally take about 3 or four pats of the hand. The dough is so soft!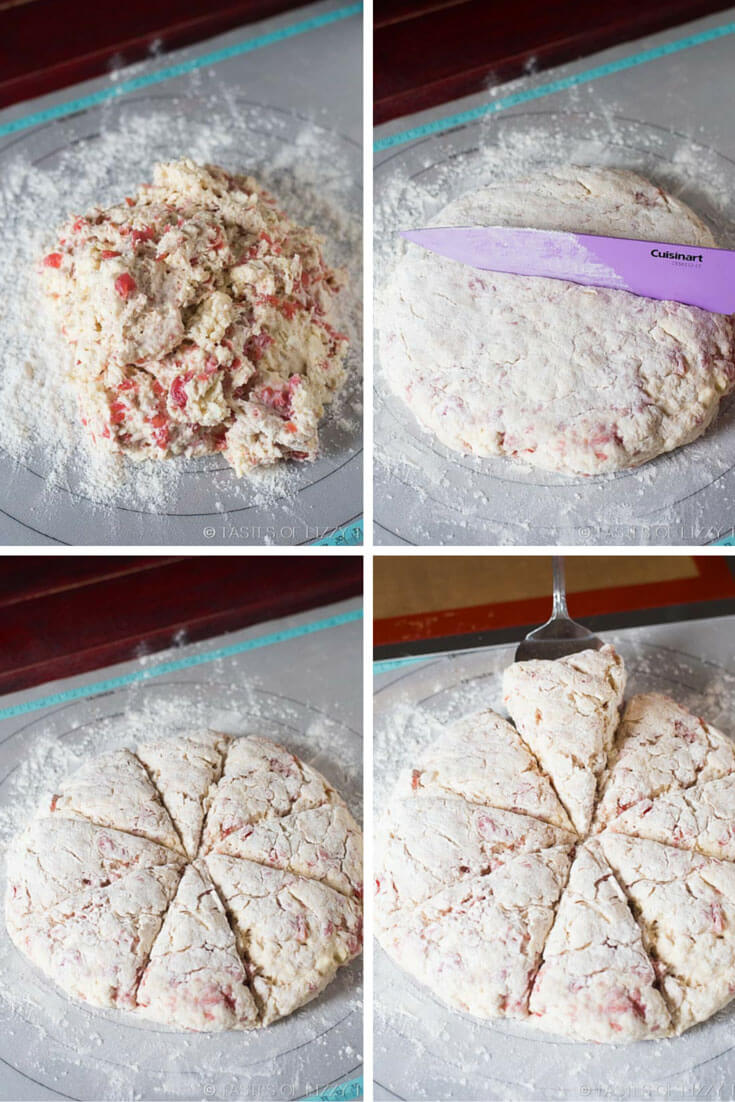 Cut the disk into 8 triangles with a sharp knife, flouring the knife if needed. See that purple knife? Everyone should have happy colored knives.
Then use a pie server to gently transfer these scones to a baking sheet, leaving space between the scones.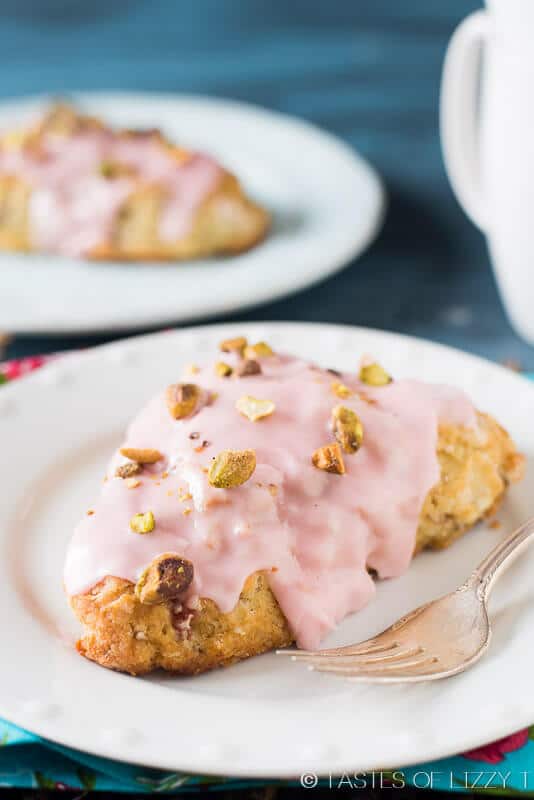 Bake the scones at 400 degrees for 12-14 minutes, until they are lightly browned. Mix up the glaze and spread it on top after they've been out of the oven for about 10 minutes. The glaze will sink into the scones every so slightly. Mmmmm….:)
Top the glazed cherry buttermilk scones with crushed pistachios if you'd like and you have a quick, breakfast or brunch pastry in under 30 minutes.
Glazed Cherry Buttermilk Scones
Learn how to make light, buttery, buttermilk scones. These glazed cherry buttermilk scones are topped with salty pistachio nuts.
Ingredients
16

ounces

maraschino cherries

drained, with juice reserved

2 3/4

cups

all-purpose flour

1

rounded teaspoon

baking soda

2

rounded teaspoons

cream of tartar

2

tablespoons

granulated sugar

1/2

teaspoon

salt

1/2

cup

plus 1 tablespoon cold butter

1

large

egg

beaten

1

cup

buttermilk*
Glaze:
2

cups

powdered sugar

sifted

2

tablespoons

butter

melted

1

teaspoon

vanilla extract

1/3

cup

reserved cherry juice

1/3

cup

chopped pistachio nuts
Instructions
Refrigerate/freeze a metal bowl for 5 minutes to get it cold.

Chop the drained maraschino cherries into small pieces using a food processor or knife. Place the cherries in the refrigerator.

Preheat the oven to 400 degrees.

In the refrigerated bowl, add the flour, baking soda, cream of tartar, sugar and salt.

Place the bowl with flour mixture back into the refrigerator.

Grate the cold butter with a box grater. Using a pastry cutter, cut the butter in with the flour mixture until the butter is mostly mixed in. It is okay if there are small pieces of butter.

Make a well in the flour, in the center of the bowl. Add the beaten egg and buttermilk to the well. Using a wooden spoon, mix the wet ingredients into the dry ingredients. Add the cherries and mix just until blended, being careful not to overmix.

Put about 1/4 cup of flour on the cupboard. Turn the dough out onto the floured counter. Flour the top of the dough. Gently form an 8" disk that is about 11/4 inches thick.

Use a floured knife to cut the disk into 8 triangles as if you were cutting a pie. Place the scones on a greased cookie sheet, or a nonstick baking mat.

Bake immediately for 12-14 minutes. Allow the scones to cool for 10 minutes and prepare the glaze.

In a bowl, melt the butter. Add the sifted powdered sugar and vanilla. Mix well. Add the cherry juice, 1-2 tablespoons at a time, until you can easily spoon the glaze over the scones.

Immediately after glazing the scones, sprinkle with chopped pistachios.
Notes
You can make your own buttermilk by adding 1 teaspoon of white vinegar to whole milk. Allow this to sit for 3 minutes. It's best to use whole, high fat milk. *With this recipe, it is important to work quickly. The ingredients need to stay cold. If the oven isn't quite heated when the scones are ready to bake, place the pan of scones in the refrigerator until the oven is heated.
Nutrition
Calories:
568
kcal
|
Carbohydrates:
93
g
|
Protein:
7
g
|
Fat:
18
g
|
Saturated Fat:
10
g
|
Cholesterol:
64
mg
|
Sodium:
351
mg
|
Potassium:
217
mg
|
Fiber:
3
g
|
Sugar:
57
g
|
Vitamin A:
570
IU
|
Vitamin C:
0.2
mg
|
Calcium:
84
mg
|
Iron:
2.6
mg