Soft Peanut Butter Cookies
Tastes of Lizzy T participates in affiliate advertising programs. We may earn a commission when you make a purchase through links on our site.
A peanut butter cookie like you've never had before. Say goodbye to dry…make bakery-style, soft peanut butter cookies with this easy recipe.
Table of Contents
Do you love peanut butter cookies? We do!! Today we've got an easy peanut butter cookie recipe that you can use for other classic cookies such as peanut butter cup cookies, peanut blossoms and chocolate chip peanut butter cookies.
Time to share another of our "famous" bakery style cookie recipes! (Famous= popular in our family.) If I had to choose one of our bakery style cookie recipes as my favorite, these soft peanut butter cookies would be at the top of the list.
About These Peanut Butter Cookies
We posted this recipe originally in 2013. Since then we've had a collection of bakers who think they are amazing, but the same size group of bakers who said they did not like them. That they were too "floury" and didn't taste like peanut butter.
I've tested this recipe over and over and they've consistently been one of my best peanut butter cookies. So instead of changing the recipe, I'm describing these cookies a little differently in hopes that the outcome meets your expectations.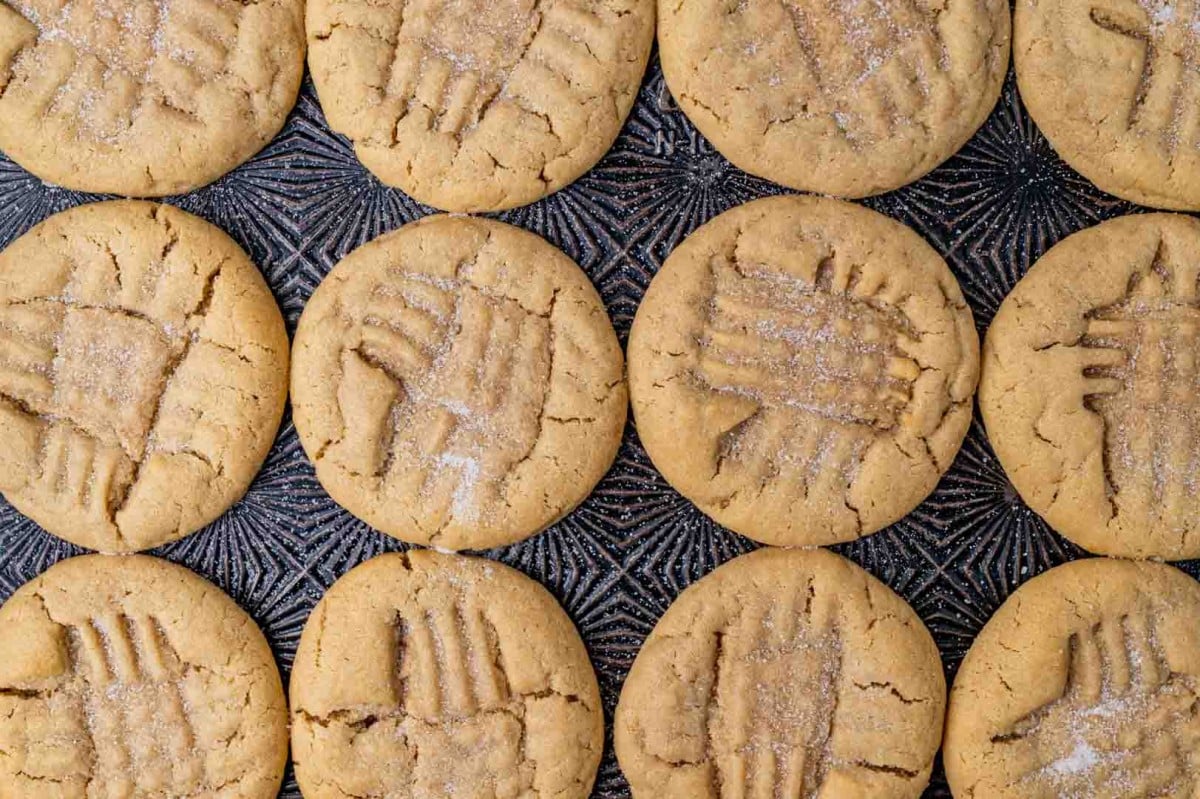 Yes, these are peanut butter cookies, but they are not old fashioned peanut butter cookies that are thin and in my opinion, a little dry. Those recipes are loaded with peanut butter and not much flour and are more of a traditional peanut butter cookie that you remember grandma making. Here's what they are like:
Flavor: Instead of a strong peanut butter flavor, these cookies have a mild peanut butter flavor. I'd rebrand them as "peanut butter sugar cookies". If you want a super strong peanut butter flavor, these may not be for you. But you can definitely tell they are peanut butter.
Texture: These cookies are thick and soft.

No hard, crispy edges here.

They are moist, thanks to the butter, peanut butter, 3 eggs and brown sugar. The cookies are extra soft & chewy, and stay soft for days. I'm always impressed at how moist these cookies are after a few days on the counter.
Method: One of my favorite things about these cookies is that you don't have to refrigerate the dough before baking. You'll get thick cookies even without refrigeration. This makes the cookies quick and easy.
Can I use natural peanut butter in peanut butter cookies?
We find that natural peanut butter makes the cookies too soft. We recommend using traditional peanut butter in these cookies. If you figure out how to use natural peanut butter, let us know how much to use and we'll add an update.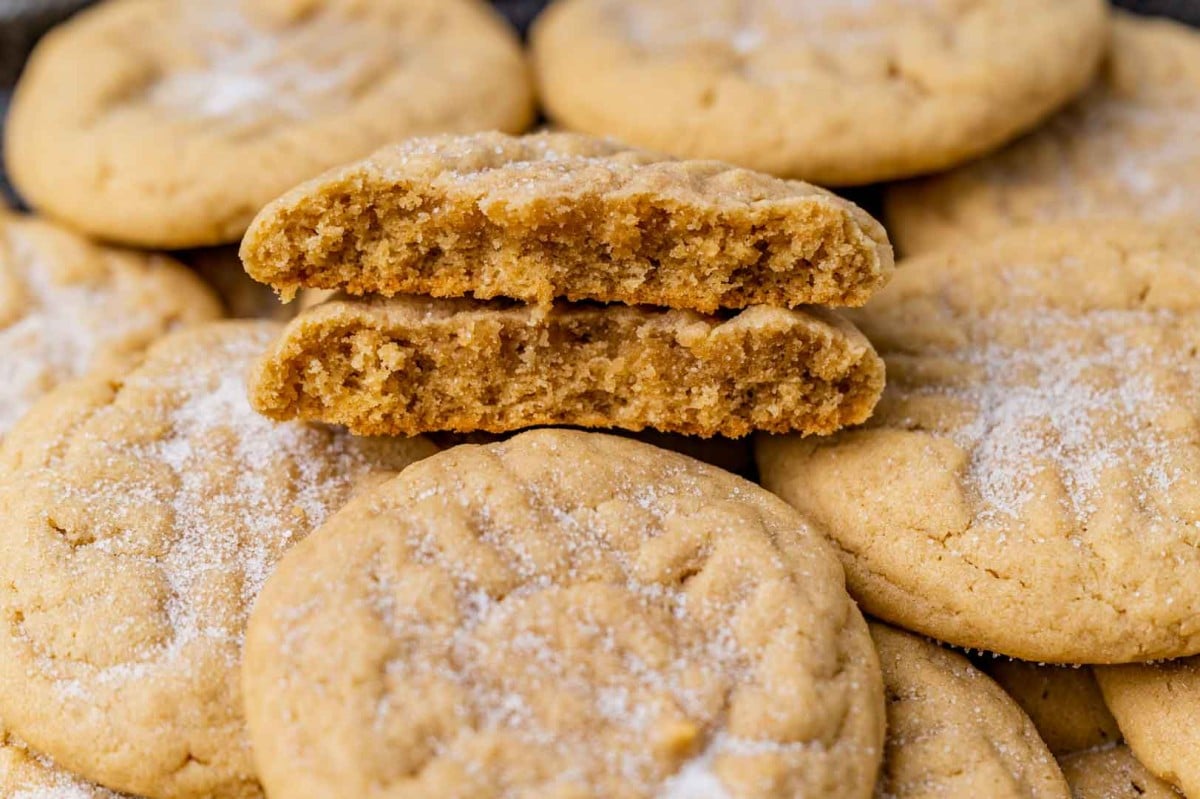 Tips for Making Soft Peanut Butter Cookies
This dough is super easy to whip up. All you need is a few basic ingredients, a mixer, and 10 minutes. Here are a few tips:
Use room temperature butter. But don't melt it. You want the butter just to give slightly when you touch it. If the butter is melted, then cookies will have a different texture.
Make sure the butter and sugar are creamed really well. If you've ever had cookies that haven't turned out the best or had little spots of melted sugar, it may be because the butter and sugar weren't creamed well enough.
Because mixing is so important, we find it easiest to use a stand mixer.
Don't over bake the cookies. You don't want them brown at all. This helps them stay soft.
Sprinkle the tops with a little bit of granulated sugar before they go through the oven. This gives a special effect that you won't want to skip out on. A little extra sweetness never hurts.
Why are my peanut butter cookies dry and crumbly?
We think you'll find that with our recipe, the cookies are soft (and stay soft!). But if you have a recipe that you are struggling with, use these tips.
Make sure you use real butter. Margarine can make cookies crispier.
Test your oven temperature to make sure it is heating correctly.
Measure your flour correctly. Spoon the flour into the measuring cup, then level it with a knife. Don't pack the flour in.
Use silicone baking mats to promote even baking. You can find these in just about any store.
Don't over bake the cookies. We take the cookies out before they start getting brown at all. This helps them stay soft.
Okay, and one more thing- if you don't need these cookies right now but know that you'll want them in the near future, they are very freezable!
Can I freeze unbaked cookie dough?
Yes! This peanut butter cookie recipe works great for freezing. Here's how we do it.
Roll out the cookie dough balls, use a fork to make criss-cross lines on the cookie.
Put the unbaked dough on top of each other, with wax paper in between layers.
Wrap them up and put them in a freezer bag, and write instructions on the bag of how to bake them so it's easier to remember when that cookie craving hits. 😉
Put the baggie in a bigger plastic container, and then stick in the freezer! I like to use Rubbermaid Take Along rectangle containers. They're big and fit lots of cookies inside.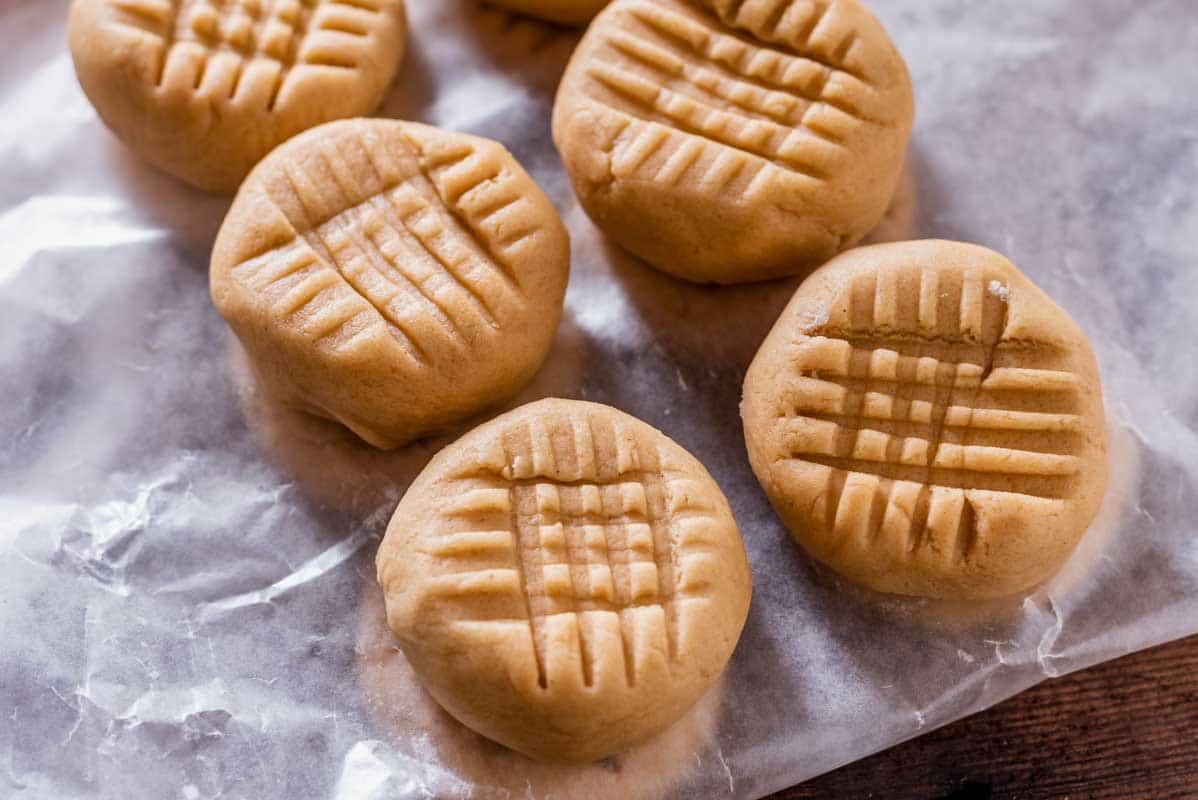 How long can you freeze cookie dough?
You can freeze cookie dough for up to 3 months as long as it is sealed properly.
How to Bake Frozen Cookies
All you have to do when you are ready for freshly baked cookies is pull them out of the freezer, then let them defrost fully before opening the container or bag. Once the cookies are cold but completely defrosted, you're ready to bake them.
How do you store cookies in the freezer?
If you're wanting to bake the cookies first, store them in the same process that we use above. The Rubbermaid containers are GREAT for freezing. Use wax paper (or parchment paper) between the layers so the cookies don't stick.
Can you add chocolate chips?
Yes! The cookies are amazing with chocolate chips. You can add peanut butter chips as well for extra peanut butter flavor.
Other Cookie Making Tips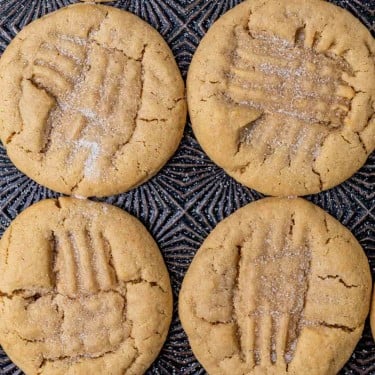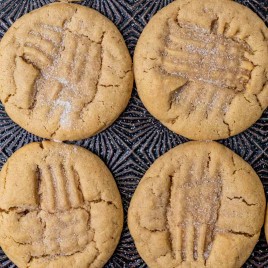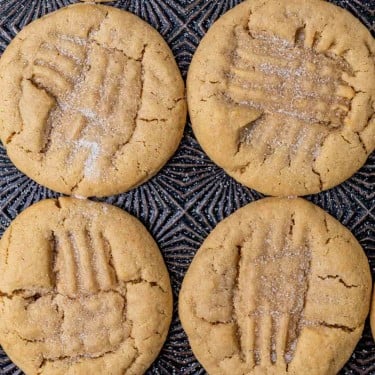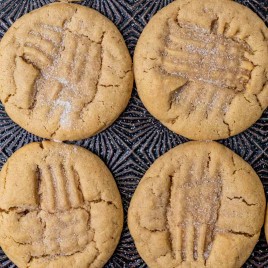 Soft Peanut Butter Cookies
A peanut butter cookie like you've never had before. Say goodbye to dry…make bakery-style, soft peanut butter cookies with this easy recipe.
---
Ingredients
1

cup

salted butter

room temperature 8 ounces

1

cup

creamy peanut butter

270 grams

1 1/2

cups

packed brown sugar

300 grams

1

teaspoon

vanilla extract

5 grams

3

large

eggs

3

cups

all-purpose flour

390 grams

1 1/2

teaspoons

baking soda

7 grams

1/4

teaspoon

salt

1/4

cup

granulated sugar

for sprinkling
Instructions
Preheat the oven to 375ºF. Line a baking sheet with parchment paper or non-stick baking mats.

In a mixing bowl, cream the butter, peanut butter and sugar for about 2 minutes. The stand mixer with the paddle attachment works great.

Add vanilla and eggs eggs, mixing well and scraping the sides of the bowl as needed.

In a separate bowl, whisk together the flour, baking soda and salt. Add the dry ingredients to the wet ingredients and mix until well combined.

Use a large cookie scoop (ours holds about 2 tablespoons of dough) and then roll the dough into smooth balls.

Place the dough balls on a non-stick baking mat with about 2" between each cookie. Use the tins of a fork to make a criss-cross pattern, pressing down into the cookie dough.

Sprinkle extra white sugar on the tops of the cookies.

There's no need to chill the dough. Bake right away! Bake the cookies for 9-10 minutes. If you like cookies to be soft, be sure not to overbake them. They shouldn't be browned at all.

Allow the cookies to cool for 3-5 minutes on the pan, then remove them to a cooling rack to cool completely.

Store in an airtight container.
Notes
*Please note: The instructional video below has slightly different ingredients. We changed the original recipe in September 2020 based on feedback. Please not the change of 1 ½ cups brown sugar and no white sugar, plus only 3 cups of flour.
*Dark brown sugar also works great.
Refer to the article above for more tips and tricks.
The calories shown are based on the recipe making 30 cookies, with 1 serving being 1 cookie. Since different brands of ingredients have different nutritional information, the calories shown are just an estimate. **We are not dietitians and recommend you seek a nutritionist for exact nutritional information. The information in the nutrition box are calculated through a program and there is room for error. If you need an accurate count, I recommend running the ingredients through your favorite nutrition calculator.**
Nutrition
Calories:
233
kcal
|
Carbohydrates:
29
g
|
Protein:
4
g
|
Fat:
11
g
|
Saturated Fat:
4
g
|
Cholesterol:
34
mg
|
Sodium:
195
mg
|
Potassium:
92
mg
|
Sugar:
16
g
|
Vitamin A:
215
IU
|
Calcium:
17
mg
|
Iron:
1.1
mg
The Best Chocolate Chip Cookie Recipes
Do you love traditional chocolate chip cookies? You've come to the right place!