Bakery Style, Soft Peanut Butter Cookies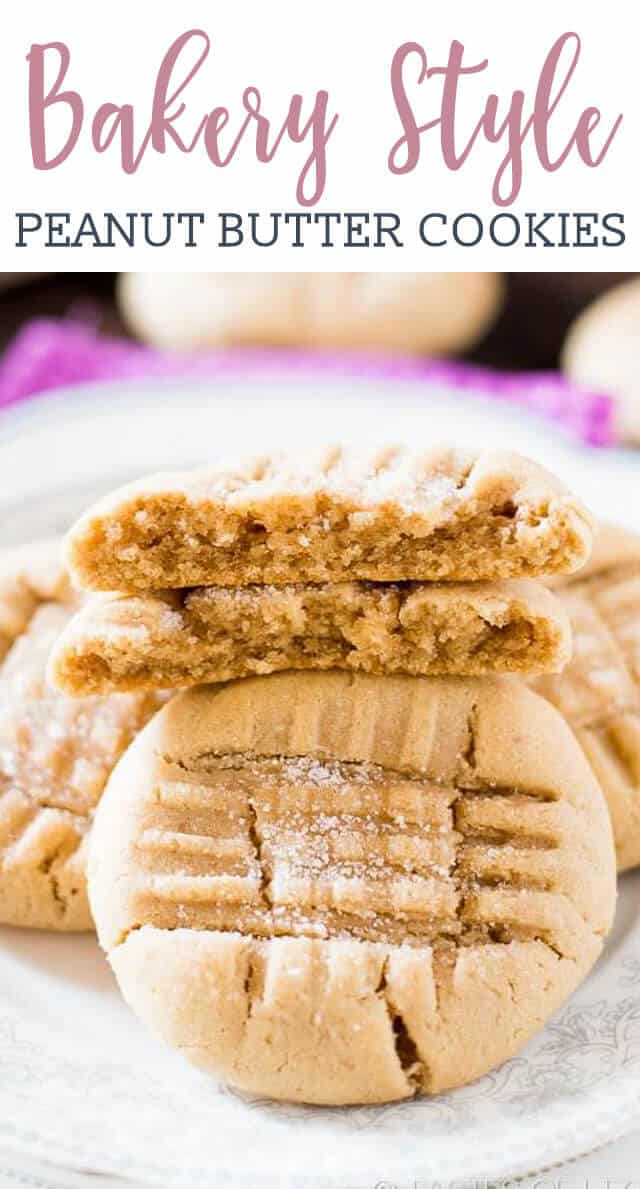 Everyone needs a classic, old-fashioned peanut butter cookie recipe. Make bakery-style, soft peanut butter cookies at home with this simple recipe.
Do you love peanut butter cookies? We do!! Today we've got an easy peanut butter cookie recipe that you can use for other classic cookies such as peanut butter cup cookies, peanut blossoms and chocolate chip peanut butter cookies.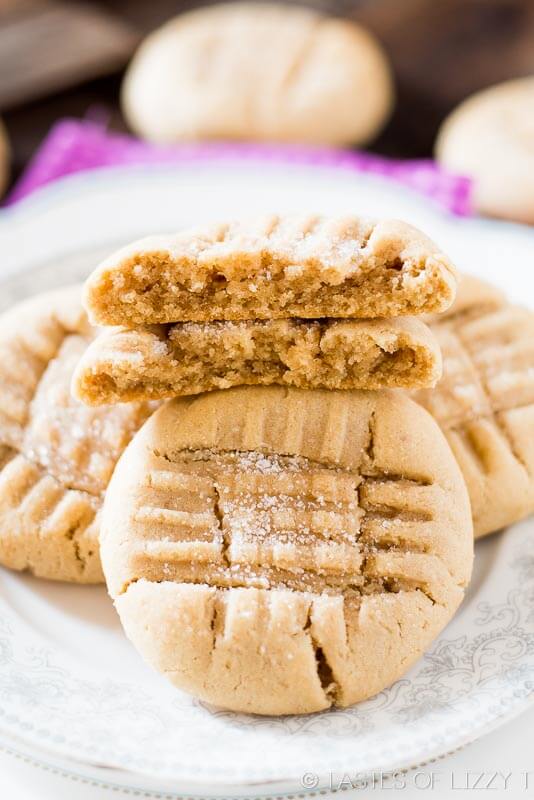 Time to share another of our "famous" bakery style cookie recipes! (Famous= popular in our family. 🙂 ) I love my cookies soft, slightly underbaked, and THICK. Oh, yeah, and they have to be straight from the oven. That is, barely cooled off enough to not burn my hand. If I had to choose one of our bakery style cookie recipes as my favorite, these soft peanut butter cookies would be at the top of the list. Why? Well, because of a few reasons:
They're peanut butter cookies, and I looooovvvveeee peanut butter! (Obviously!)
These cookies are thick and soft.

No hard, crispy edges here.

Lastly, they are moist.

A lot of times peanut butter cookies are very dry and crumbly, especially the kind you buy from the store. You could have the classic peanut butter cookie look, but unfortunately, I've had to second guess myself before grabbing a cookie. Some types of peanut butter cookies are so dry, you can barely taste the peanut butter. Thankfully, these cookies are

not

that way. In fact, these cookies are bursting with peanut butter flavor and stay soft!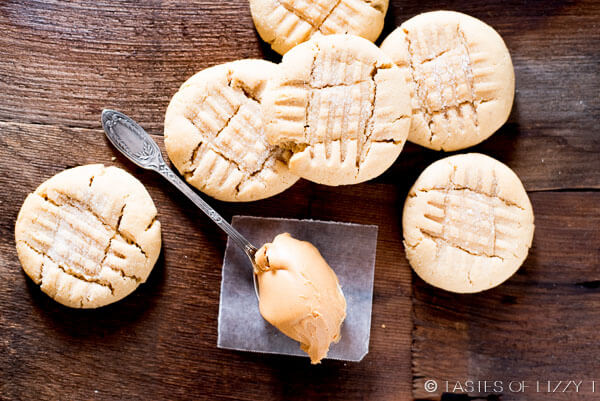 Can I use natural peanut butter in peanut butter cookies?
We find that natural peanut butter makes the cookies too soft. We recommend using traditional peanut butter in these cookies. If you figure out how to use natural peanut butter, let us know how much to use and we'll add an update.
How to Make Peanut Butter Cookies
This dough is super easy to whip up. All you need is a few basic ingredients, a mixer, and 10 minutes. Here are a few tips:
Use room temperature butter. But don't melt it. You want the butter just to give slightly when you touch it. If the butter is melted, then cookies will have a different texture.
Make sure the butter and sugar are creamed really well. If you've ever had cookies that haven't turned out the best or had little spots of melted sugar, it may be because the butter and sugar weren't creamed well enough.
Because mixing is so important, we find it easiest to use a stand mixer.
Don't overbake the cookies! You don't want them brown at all. This helps them stay soft.
Should you refrigerate peanut butter cookie dough before baking?
As always I like to chill the dough. I would recommend rolling them into balls and making the class criss-cross pattern first, before you chill the dough. Rolling them first into small balls helps the dough chill faster than a big mass of dough. Plus, it's easier to work with room temperature dough.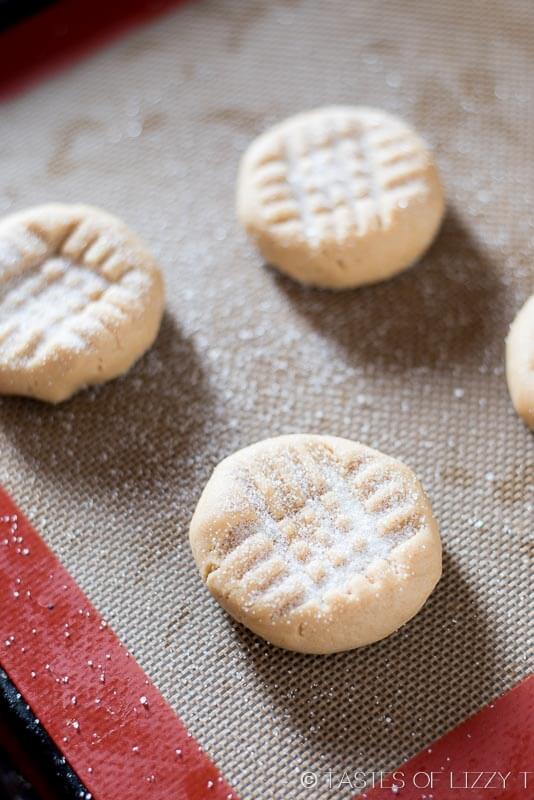 There's one step to these peanut butter cookies that is unique just to Lizzy T. With all of our bakery cookies, we sprinkle the top with a little bit of sugar before they go through the oven. This gives a special effect that you won't want to skip out on. A little extra sweetness never hurts.
Why are my peanut butter cookies dry and crumbly?
We think you'll find that with our recipe, the cookies are soft (and stay soft!). But if you have a recipe that you are struggling with, use these tips.
Make sure you use real butter. Margarine can make cookies crispier.
Test your oven temperature to make sure it is heating correctly.
Measure your flour correctly. Spoon the flour into the measuring cup, then level it with a knife. Don't pack the flour in.
Use silicone baking mats to promote even baking. You can find these in just about any store.
Don't overbake the cookies. We take the cookies out before they start getting brown at all. This helps them stay soft.
Okay, and one more thing- if you don't need these cookies right now but know that you'll want them in the near future, they are very freezable!
Can I freeze unbaked cookie dough?
Yes! This peanut butter cookie recipe works great for freezing. Here's how we do it.
Roll out the balls, use a fork to make criss-cross lines on the cookie.
Put the unbaked dough on top of each other, with wax paper in between layers.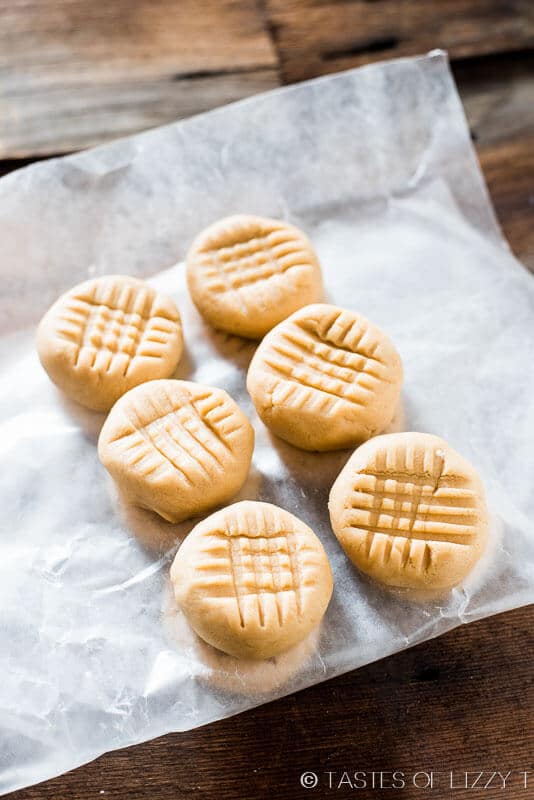 Wrap them up and put them in a plastic baggie, and write instructions on the bag of how to bake them so it's easier to remember when that cookie craving hits. 😉
Put the baggie in a bigger plastic container, and then stick in the freezer! I like to use Rubbermaid Take Along rectangle containers. They're big and fit lots of cookies inside.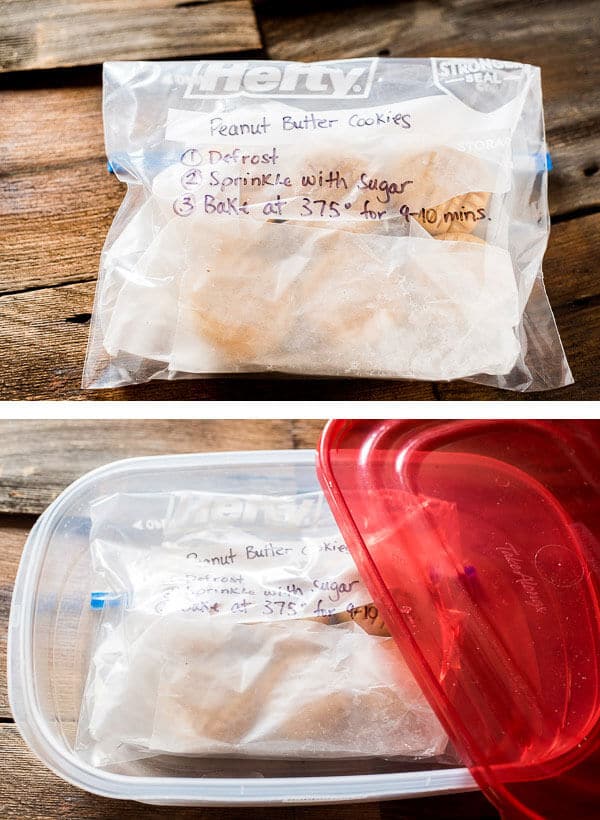 How long can you freeze cookie dough?
You can freeze cookie dough for up to 3 months as long as it is sealed properly.
How to Bake Frozen Cookies
All you have to do when you are ready for freshly baked cookies is pull them out of the freezer, then let them defrost fully before opening the container or bag. Once the cookies are cold but completely defrosted, you're ready to bake them!
How do you store cookies in the freezer?
If you're wanting to bake the cookies first, store them in the same process that we use above. The Rubbermaid containers are GREAT for freezing! Use wax paper (or parchment paper) between the layers so the cookies don't stick.
Looking for Other Cookie Making Tips? Check out these articles!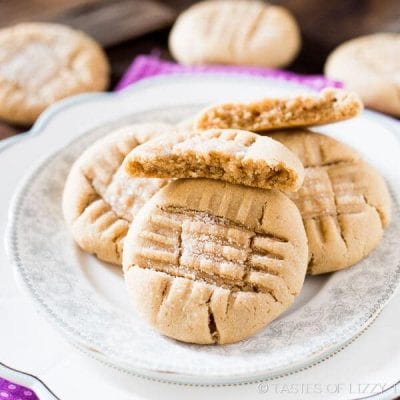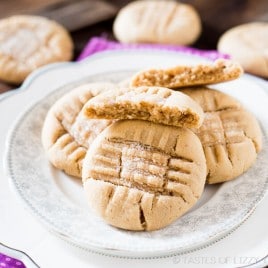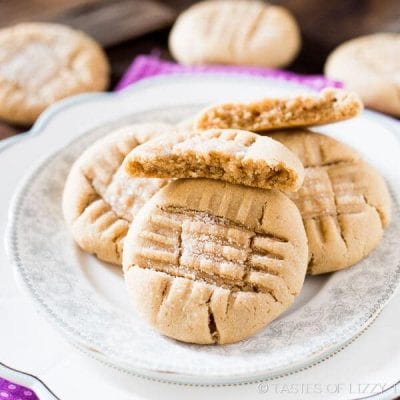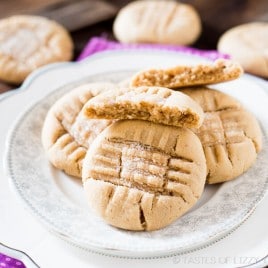 Soft Peanut Butter Cookies
Everyone needs a classic, old-fashioned peanut butter cookie recipe. Make bakery-style, soft peanut butter cookies at home with this simple recipe.
---
Ingredients
1

cup

butter

softened

1

cup

creamy peanut butter

1 1/2

cups

packed brown sugar

1

teaspoon

vanilla extract

3

large

eggs

3

cups

all-purpose flour

2

teaspoons

baking soda

1/4

teaspoon

salt

1/4

cup

granulated sugar

for sprinkling
Instructions
In a mixing bowl, cream the butter, peanut butter and sugar. Add vanilla and mix. Add the eggs, one at a time, beating well after each addition.

In a separate bowl, mix the flour, baking soda and salt. Add to mixture in mixing bowl and mix until well combined.

Use a large cookie scoop (or whatever size scoop you'd like!) and roll the dough into balls.

Place the dough balls on a non-stick baking mat. Use the tins of a fork to make a criss-cross pattern, pressing down into the cookie dough. Sprinkle extra white sugar on the tops of the cookies. Refrigerate the cookies for 30 minutes.

Bake the cookies at 375 degrees for 9-10 minutes. If you like cookies to be soft, be sure not to overbake them. They shouldn't be browned at all.

Store in an airtight container.
Notes
Please note: The instructional video below has slightly different ingredients. We changed the original recipe in September 2020 based on feedback. Please not the change of 1 ½ cups brown sugar and no white sugar, plus only 3 cups of flour.
The calories shown are based on the recipe making 30 cookies, with 1 serving being 1 cookie. Since different brands of ingredients have different nutritional information, the calories shown are just an estimate. **We are not dietitians and recommend you seek a nutritionist for exact nutritional information.**
Nutrition
Calories:
233
kcal
|
Carbohydrates:
29
g
|
Protein:
4
g
|
Fat:
11
g
|
Saturated Fat:
4
g
|
Cholesterol:
34
mg
|
Sodium:
195
mg
|
Potassium:
92
mg
|
Sugar:
16
g
|
Vitamin A:
215
IU
|
Calcium:
17
mg
|
Iron:
1.1
mg