Bakery Style Chocolate Chip Cookies
Tastes of Lizzy T participates in affiliate advertising programs. We may earn a commission when you make a purchase through links on our site.
The search is over. Introducing the all around best Bakery Style Chocolate Chip Cookies Recipe. Slightly crisp on the outside, soft and chewy on the inside.
It's cookie time! This is the first of many bakery-style cookies that we've posted over the years. We've got recipes for snickerdoodles and the best sugar cookies , with hints from what ingredients to buy to just how long to bake them in the oven to get that bakery perfect taste and texture.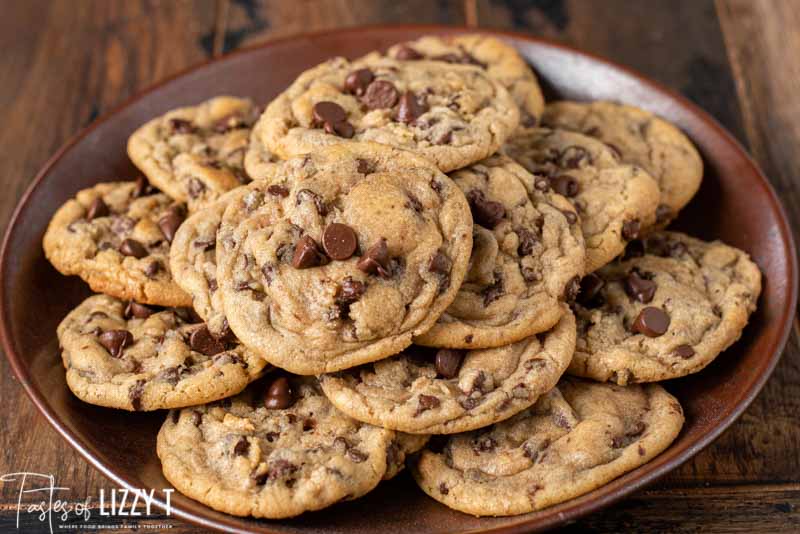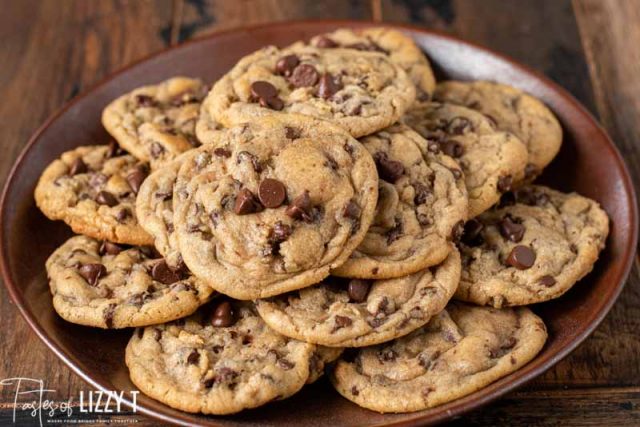 The Perfect Chocolate Chip Cookie
What makes a perfect chocolate chip cookie? For everyone it just a little bit different. Everything from thick to thin, crispy to soft loaded with chips or more cookie dough…but these are OUR idea of a traditional "perfect" cookie:
soft on the inside
slight crunch on the edges
melted chocolate scattered throughout the cookie, greeting you with every bite
NY Times Cookie Recipe
We can't claim credit for creating this recipe. It's actually the NY Times Chocolate Chip Cookie recipe that took the world by storm many years ago. We spent years testing various cookie recipes and we landed on this as the best one.
We'll take you through the steps of making the perfect chocolate chip cookie. Just like you'd find in a bakery. It's easier than you think…it just takes planning and following the recipe.
Make the Cookie Dough
The first thing you need to do is whip up the dough.
You'll notice that this recipe calls for a unique blend of cake flour and bread flour. It's important that you stick with these special flours in order to get the bakery style texture. This is what makes the cookie slightly crisp, yet still chewy and soft. Trust me when I tell you it works.
Mix the dry ingredients and the wet ingredients separately first, and then add them together.
I need to let ya in on a secret. Shaped chocolate chips don't melt as easily. I don't know about you, but I LOVE when I bite into a cookie and the chocolate is just an oozing bite of melty goodness. To get this effect, I use a dark chocolate bar. Whatever brand you choose, make sure that it is about 60-70% cacao, so you get a richer, chocolatier taste.
Finely chop that chocolate bar until you have about a cup and a half of chocolate and then add it to the dough. It's still important to add in the chocolate chips, too. The shaved chocolate will melt in, giving you chocolate in every bite. The chocolate chips will stay as morsels, giving you that classic chocolate chip look and taste.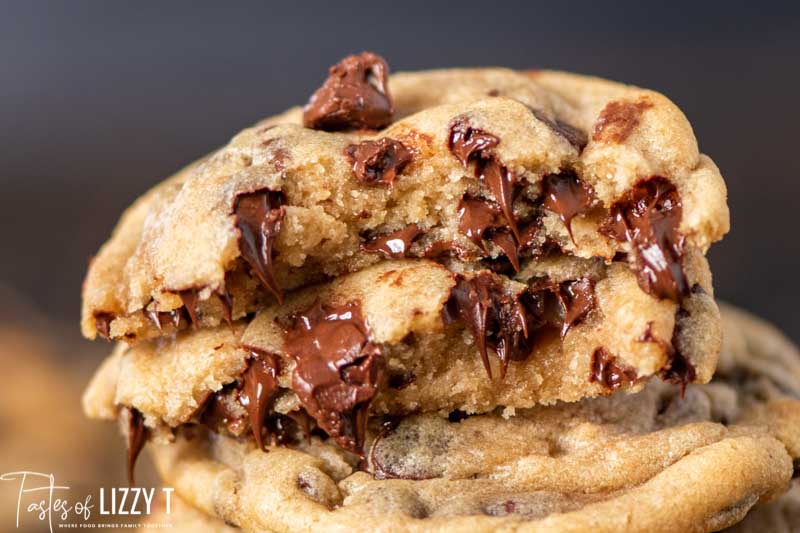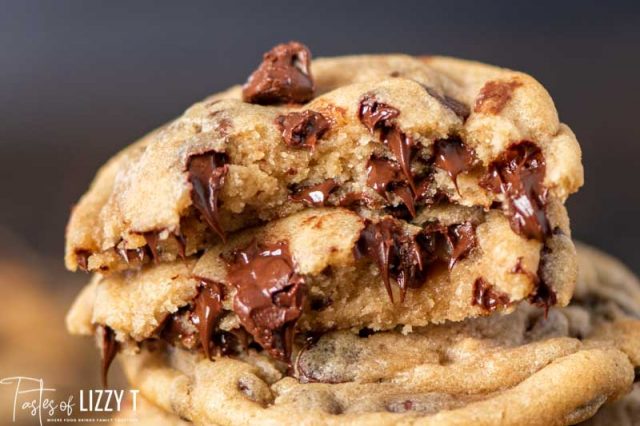 Refrigerate Cookie Dough
Alright, here comes the sad part. It's time to say goodbye to the cookie dough, wrap it up in plastic wrap, and refrigerate it for at least 24 hours. Yep, that's what I said.
Twenty-four hours: One whole day. (Try this easy chocolate chip cookie recipe if you need something quick!)
Just remember in these dark, dismal hours that it's all for the best. Your precious cookie dough is still working it's magic while in the fridge. Nope, it's not just in there, staring at you. Refrigerating the dough helps it to really settle down, getting the butter nice and cold. It also allows the dry ingredients to completely absorb the wet ingredients, which will result in the texture you're looking for.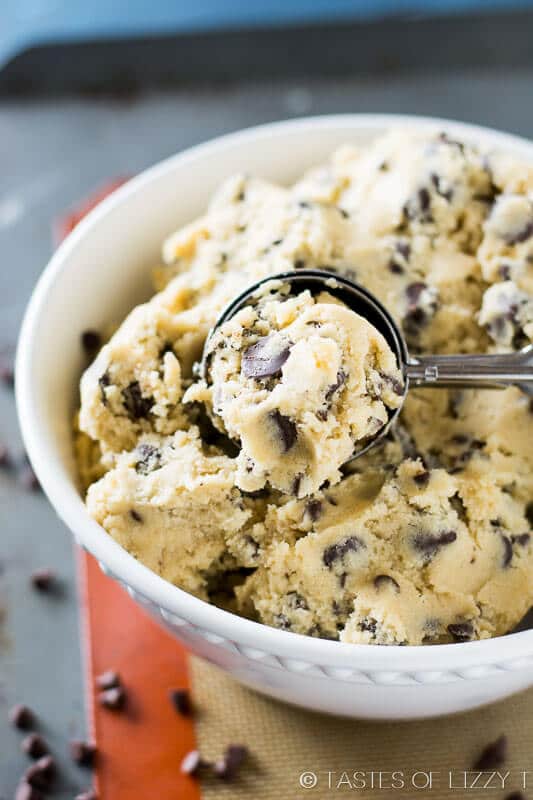 Rolling Cookie Dough
Once you have the cookie dough made and refrigerated for 24-36 hours, it's time to roll them out! Well, actually, we use a large ice cream scoop. Feel free to use your hands or tablespoons if you'd like.
These cookie dough balls are going to be big. Like, 1 ½ – 2 inches wide type of big. For now, just scoop those cookies out, try not to eat all the dough, and get them on a pan.
Take a cup, and dip the base into a little bit of water. Just a tiny bit- and only once. You're then going to dip the slightly wet cup base into some granulated sugar. Press the base of the cup onto the cookie dough ball, flattening it ever so slightly. Then dip the cup in the sugar again, and do the next cookie, and so on. Why are we doing this? Well, not only does it create a shape for the cookie, it also gets some extra sugar on the top, which I love! It just gives it a little more sweetness when they come out of the oven.
Now, for some even more sugary goodness, sprinkle some extra sugar on the top of the cookies. Trust me, the sugar just melts right into the cookie and makes it taste even better than before!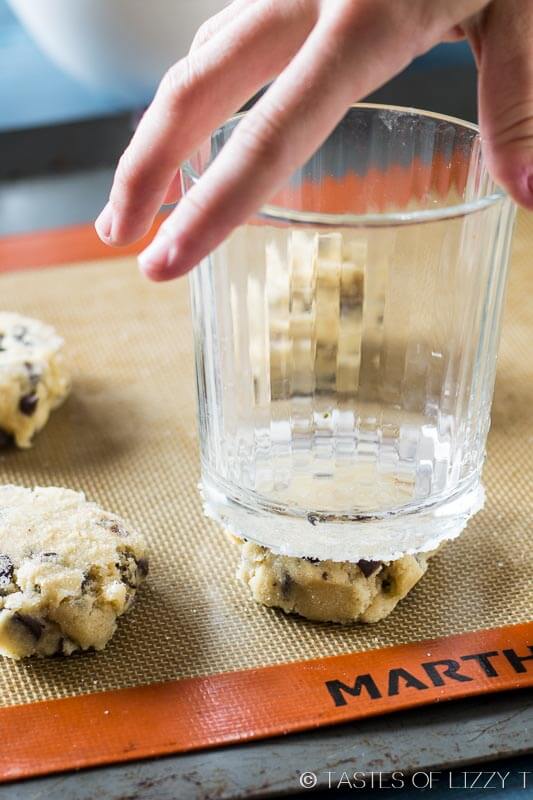 Freezing Cookie Dough
If you're not needing bakery style chocolate chip cookies right now, but may need some in the future for those "Give-Me-All-The-Cookies" days, this cookie dough is great for freezing.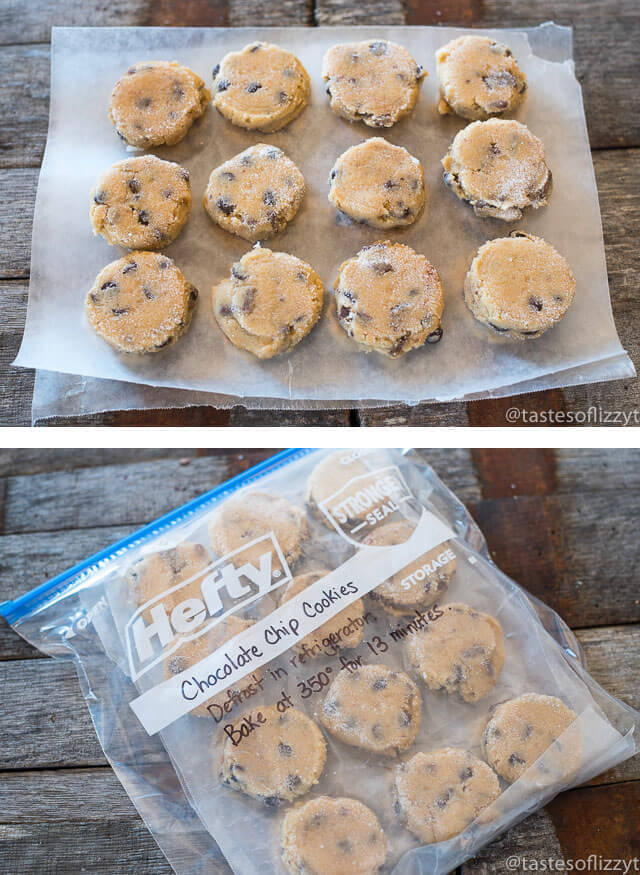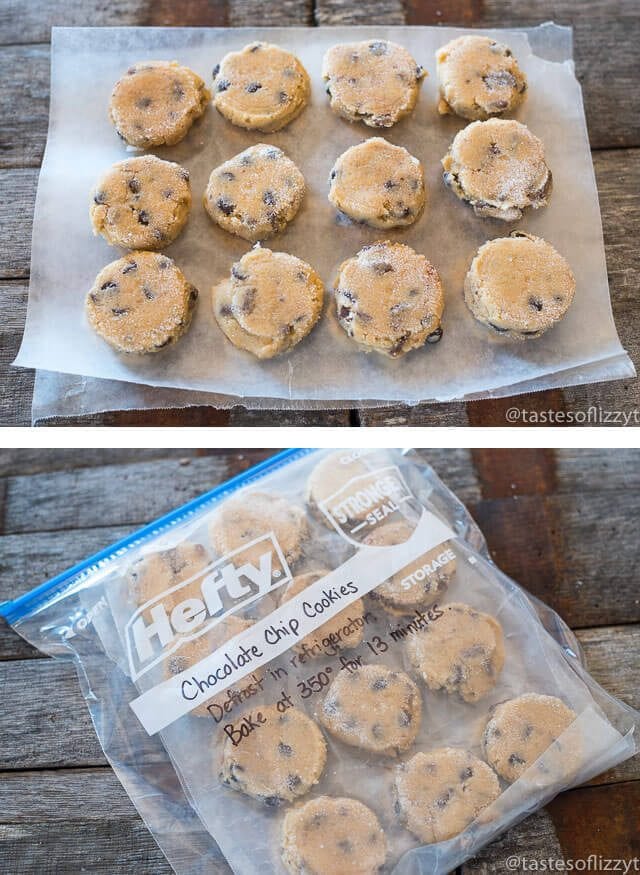 Make the cookie dough and press it down, just like I described before, and stack them in an airtight container or bag (with wax paper between layers) and store them in the freezer.
Whenever you need them, you can take them out, put them in the fridge to thaw overnight, and bake them! Perfect for a quick dessert on the go. 🙂
Bake the Cookies
Alright. You're ready. Now that you've made the dough, eaten some, refrigerated it, scooped it out, pressed and sprinkled it with sugar, it's time to bake them. Heat up the oven to 350 degrees, and pop those sweet things in the oven! Make sure they're not too overcooked. Our magical time is 13 minutes for the size cookies we make. You'll want them just slightly brown around the edge, and very soft in the middle.
If you'd like to read an informative article about some of the science behind what makes these cookies so good, you can find it here.
You may also love our cowboy cookie recipe!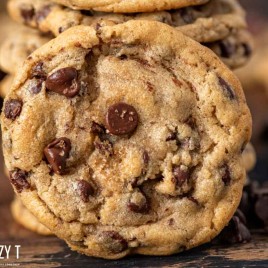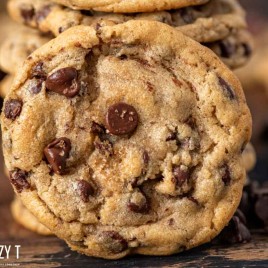 Bakery Style Chocolate Chip Cookies
The search is over. Introducing the all around best Bakery Style Chocolate Chip Cookie Recipe. Slightly crisp on the outside, soft and chewy on the inside.
---
Ingredients
2

cups

minus 2 tablespoons cake flour

228 grams

1 2/3

cups

bread flour

217 grams

1 1/4

teaspoons

baking soda

5 grams

1 1/2

teaspoons

baking powder

6 grams

1

teaspoon

salt

6 grams

1 1/4

cups

salted butter

softened 10 ounces

1 1/4

cups

light brown sugar

275 grams

1

cup

plus 2 tablespoons white granulated sugar

226 grams

2

large

eggs

2

teaspoons

vanilla extract

10 grams

1

cup

shaved or finely chopped dark chocolate

or mini chocolate chips – at least 60% cacao 146 grams

1 1/2

cups

dark chocolate chips

or semi-sweet if preferred 267 grams

1/4

cup

white granulated sugar for sprinkling on top
Instructions
*Plan ahead! This cookie dough needs to sit in the refrigerator at least 24 hours before baking.

Sift together the flours, soda, baking powder and salt into a bowl. Set aside.

Using a stand mixer with the paddle attachment, cream together the butter and sugars. Add in the eggs and vanilla, mixing until well combined.

Add the dry ingredients to the wet ingredients and mix just until combined.

Gently stir in the chocolate.

Wrap the dough in plastic wrap and refrigerate for 24-36 hours.

When it is time to bake, preheat the oven to 350 degrees. Use an ice cream scoop to scoop large 1 ½ – 2 inch dough balls. Place the balls on a baking sheet lined with a nonstick baking mat or parchment paper.

Take a glass cup, get the base of the cup wet with water, then dip the cup in granulated sugar. Use the base of the cup to press lightly down on the top of the cookie dough balls.

Sprinkle additional sugar on top of the cookies.

Bake at 350 degrees for 13 minutes. Allow the cookies to cool on the pan for 5 minutes, then remove them to a wire rack to cool completely.

Store in an airtight container.
Notes
The calories shown are based on the recipe making 30 cookies, with 1 serving being 1 cookie. Since different brands of ingredients have different nutritional information, the calories shown are just an estimate. **We are not dietitians and recommend you seek a nutritionist for exact nutritional information.**
Nutrition
Calories:
279
kcal
|
Carbohydrates:
36
g
|
Protein:
3
g
|
Fat:
13
g
|
Saturated Fat:
9
g
|
Cholesterol:
33
mg
|
Sodium:
209
mg
|
Potassium:
153
mg
|
Fiber:
1
g
|
Sugar:
21
g
|
Vitamin A:
255
IU
|
Vitamin C:
0.1
mg
|
Calcium:
54
mg
|
Iron:
1.1
mg