Big, bakery style Apple Butter Streusel Muffins have a layer of apple butter and crumb streusel, with an apple cider glaze on top.
Apple Butter Streusel Muffins Recipe
Muffins are one of my many favorite morning breakfasts. I usually don't get into a good mood on a weekday morning unless I have a muffin or pancake waiting for me when I get up. That doesn't mean I always get my dream breakfast, but it will make my day if I do. I love waking up remembering there is a new "Lizzy T's" muffin waiting for me to savor. Especially if it has peanut butter, chocolate, or cinnamon.
This is one of the few recipes that I post that doesn't include chocolate or peanut butter. If you are not a chocolate and peanut butter fan-stay tuned! There will be plenty of fall-type treats of all kinds. This is just the beginning. Look out, chocolate! Here comes cinnamon, apple, and well, if I said anything else I would ruin all the fun!
We're baking with apple butter today. These Apple Butter Streusel Muffins are fairly easy- your normal homemade muffin recipe. All it is  is flour, sugar, baking soda, an egg, milk, oil, cinnamon, and salt. Here's a secret between you and me: When something is cinnamon flavored, I put in just a little more cinnamon than it calls for (such as in these apple dumplings). Nothing major, just a shake or two. I think there is a difference. Mom doesn't really care:)
So…I know your question. Where's the apple butter? What I did was simply put in half the batter into the tin, then dropped on a teaspoon of apple butter and sprinkled some streusel over top, then repeated the layers and baked as usual. What do you get? A rich cinnamon streusel muffin with an exploding apple flavor wrapped inside. Amazing, right?
The streusel you sprinkle on top is made of  flour, cinnamon, sugar, walnuts, and butter and then has a little apple cider glaze drizzled on top. How does that sound?
Be sure to whip up a batch  of this apple butter muffins recipe so you can start your day on a good note tomorrow.
What you need to make these bakery-style muffins:
Jumbo Muffin Pan: I like big muffins and I cannot lie. This is a non-stick pan so muffins come out easily!
Apple Butter: This is a great store-bought brand…or make your own homemade apple butter.
Pastry Cutter: I use this tool all the time. It cuts butter into flour perfectly for streusels, crusts and other pastries.
Saigon Cinnamon: This is our favorite cinnamon. You can't beat its flavor!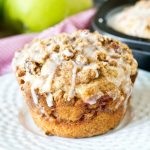 Apple Butter Streusel Muffins
Big, bakery style Apple Butter Streusel Muffins have a layer of apple butter and crumb streusel, with an apple cider glaze on top.
Ingredients
2

cups

flour

1/2

cup

granulated sugar

3

teaspoons

baking powder

1

teaspoon

cinnamon

1/2

teaspoon

salt

1

large

egg

3/4

cup

milk

1/2

cup

oil

1/3

cup

apple butter
Streusel:
1/2

cup

flour

1

teaspoon

cinnamon

1/2

cup

brown sugar

1/2

cup

walnuts

4

tablespoons

butter

softened
Glaze:
1/2

cup

powdered sugar

1-2

tablespoons

apple cider

or milk
Instructions
In a small bowl, combine the flour, sugar, baking powder, cinnamon and salt. In another bowl, mix the egg, milk, and oil. Add the dry ingredients into the wet ingredients and mix just until combined. Do not overmix!

For the streusel, combine the flour, cinnamon, sugar and walnuts together. Cut in the softened butter until you have a crumbly mix and the butter is all mixed in.

Spray jumbo muffin tins with cooking spray and spoon a heaping tablespoon of batter into the bottom of each cup. Put a tablespoon of apple butter over top the batter. Then sprinkle some streusel topping over the apple butter. Distribute the remaining muffin batter over each of the muffin cups equally. Sprinkle the remaining streusel evenly over top the muffins.

Bake at 425 for 5 minutes, then reduce the oven temperature to 375 and cook for an additional 15 minutes. The muffins are done when a toothpick inserted into the center comes out clean.

Mix the powdered sugar and apple cider together until smooth, then drizzle with a spoon over top the muffins.
Recipe Notes
You can make these in standard size muffin tins, just reduce the baking time.
Nutrition Facts
Apple Butter Streusel Muffins
Amount Per Serving
Calories 720
Calories from Fat 306
% Daily Value*
Total Fat 34g 52%
Cholesterol 54mg 18%
Sodium 296mg 12%
Potassium 391mg 11%
Total Carbohydrates 95g 32%
Protein 9g 18%
* Percent Daily Values are based on a 2000 calorie diet.