Fluffy, cake-like muffins with a sugar streusel topping. These Blueberry Crumble Muffins with fresh blueberries are easy to mix up and perfect for breakfast or brunch.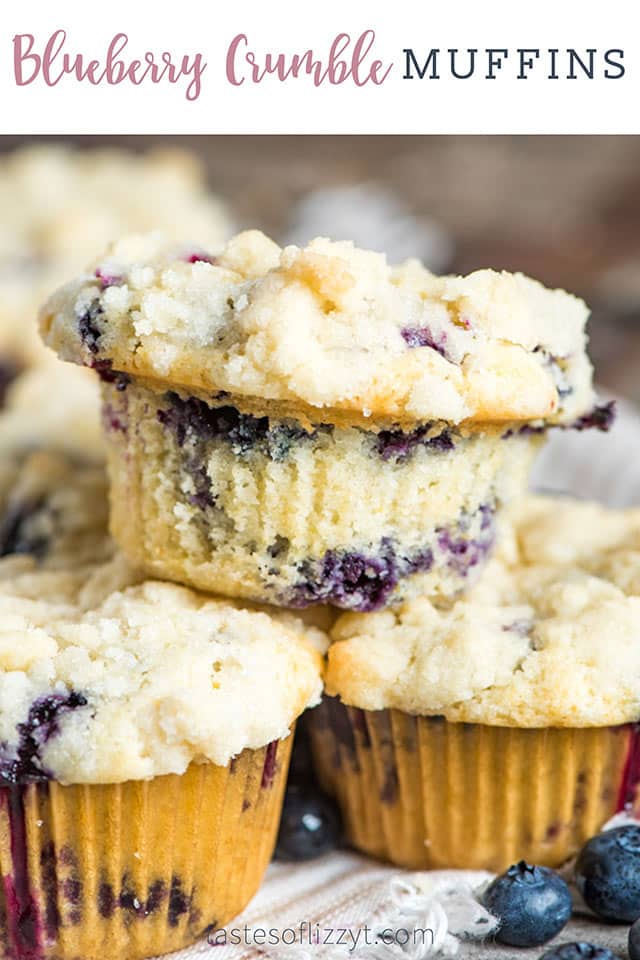 Blueberry Crumble Muffins
My kids always say they don't like blueberries. It never fails though when I get the cravings for and make homemade blueberry muffins that somehow they disappear much faster than I could ever eat them. If these blueberry muffins are a hit with kids who don't even like blueberries, then you can imagine how much they go over with blueberry lovers like me!
Blueberry Muffins with Fresh Blueberries
I like to make blueberry muffins with fresh blueberries. Make sure you wash and dry the berries well before adding them to the batter.

OUR LATEST RECIPES
If you choose to use frozen berries, add them to the batter frozen. There's no need to thaw the berries first!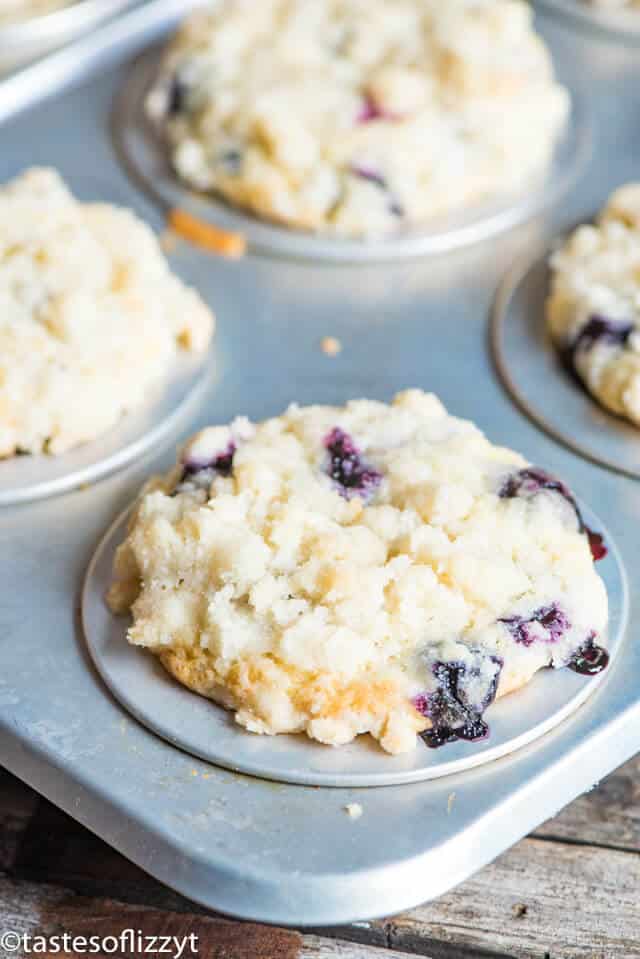 Why should you not overmix muffins?
If you've followed our site for any length of time, you'll remember that whenever we talk about quick breads or muffins, I always stress not to overmix the batter. Why is this? Over mixing the batter can cause tough, rubbery muffins. This is because you ruin any air bubbles and those air bubbles are what give you fluffy muffins! Over mixing also develops gluten strands which can make for a chewier muffin. Chewy can be good in certain yeast breads or cookies, but no one wants a chewy muffin.
Mix together the wet ingredients, then the dry ingredients separately. Then fold the dry into the wet and mix just until combined. If you're folding in fruit, do so very carefully.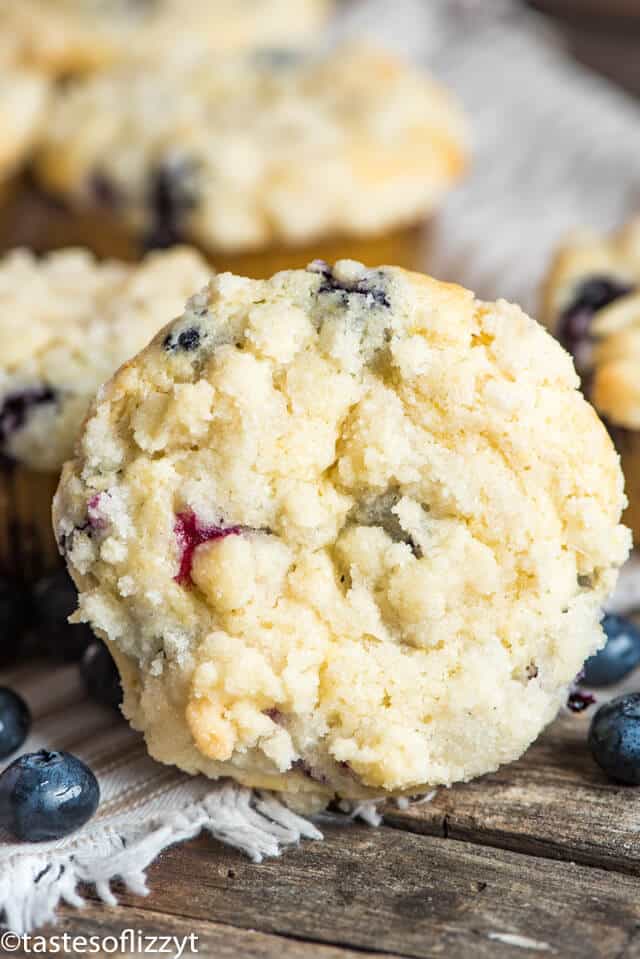 Crumble Topping
The crumble topping on these muffins is the same crumble that is on our strawberry shortcake that I love so very much. I added it to our blueberry bread that we shared a few weeks ago…and I couldn't resist adding it to these muffins also.
There are just 3 ingredients in the crumble: 1/2 cup of sugar and 1/2 cup of flour, then 3 tablespoons of softened butter. Mix these together just until combined. It's OK if there is a little flour not mixed in.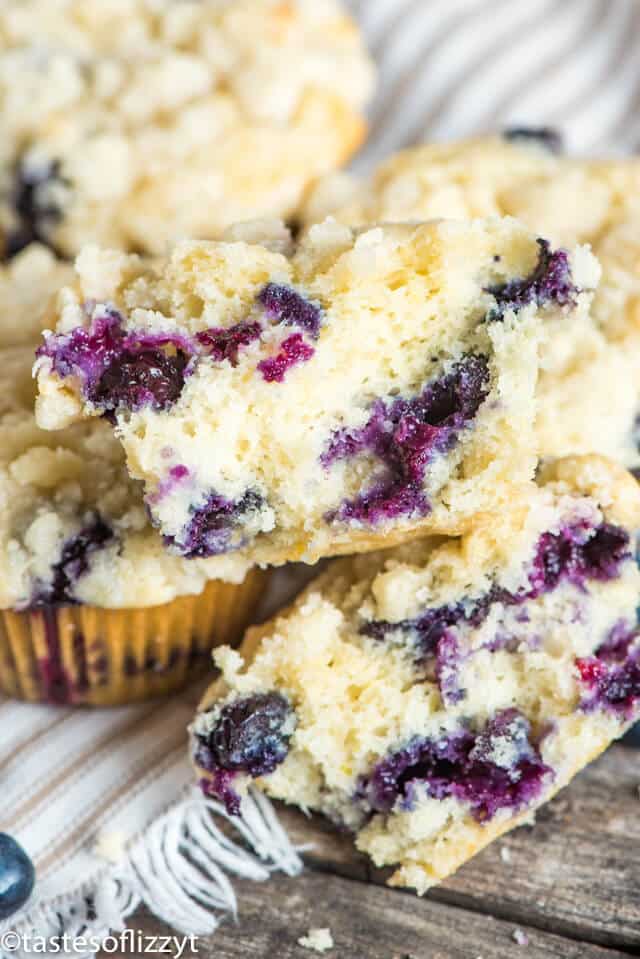 Other Muffin Recipes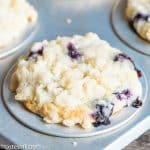 Blueberry Crumble Muffins
Fluffy, cake-like muffins with a sugar streusel topping. These Blueberry Crumble Muffins with fresh blueberries are easy to mix up and perfect for breakfast or brunch.
Ingredients
For the Bread:
3/4

cup

granulated sugar

1/2

cup

milk

1/2

cup

oil

1

large

egg

1

teaspoon

vanilla extract

2

cups

all-purpose flour

2

teaspoons

baking powder

1/4

teaspoon

salt

2

cups

fresh blueberries
For the Crumble:
1/2

cup

granulated sugar

1/2

cup

all-purpose flour

3

tablespoons

salted butter

(softened)
Instructions
Preheat the oven to 425 degrees.

In a medium bowl, stir together the sugar, milk, oil, egg and vanilla. In a separate bowl, combine the flour, baking powder and salt. Add the dry ingredients to the wet ingredients and stir until just combined.

Fold the blueberries gently into the batter.

Line 12 muffin cups with paper liners. Divide the batter between the 12 muffin cups.

Make the crumble by mixing together the flour, sugar and butter in a small bowl. Don't overmix this. It's ok if it is a little floury. This mixture will be crumbly.

Divide the crumbs between the 12 muffins, sprinkling the crumbs on top of the batter.

Bake at 425 degrees for 5 minutes, then lower the oven temperature (without opening the oven) to 350 degrees and bake for an additional 16-18 minutes. A toothpick inserted in the center of the muffin should come out clean. Allow the bread to cool completely on a wire rack.

Store at room temperature in an airtight container.
Recipe Notes
***The calories shown are based on the recipe making 12 muffins, with 1 serving being 1 muffin. Since different brands of ingredients have different nutritional information, the calories shown are just an estimate.
Nutrition Facts
Blueberry Crumble Muffins
Amount Per Serving
Calories 310
Calories from Fat 117
% Daily Value*
Total Fat 13g 20%
Cholesterol 24mg 8%
Sodium 85mg 4%
Potassium 133mg 4%
Total Carbohydrates 45g 15%
Protein 3g 6%
* Percent Daily Values are based on a 2000 calorie diet.