Tastes of Lizzy T participates in affiliate advertising programs. We may earn a commission when you make a purchase through links on our site.
With summer coming to an end, take advantage of the last of the fresh berries with this gorgeous homemade blueberry blackberry pie.
I'm a hoarder. It's tough to admit, but if you walk into our pantry, you'll see bags and bags of flour and powdered sugar. The freezer is stocked with butter. I even have the tendency to overdose on seasonal produce.
One of my favorite ways to use fresh berries I have stashed in the freezer are in pies. Pies do an amazing job of capturing the fruit's purest flavor, whether fresh or frozen.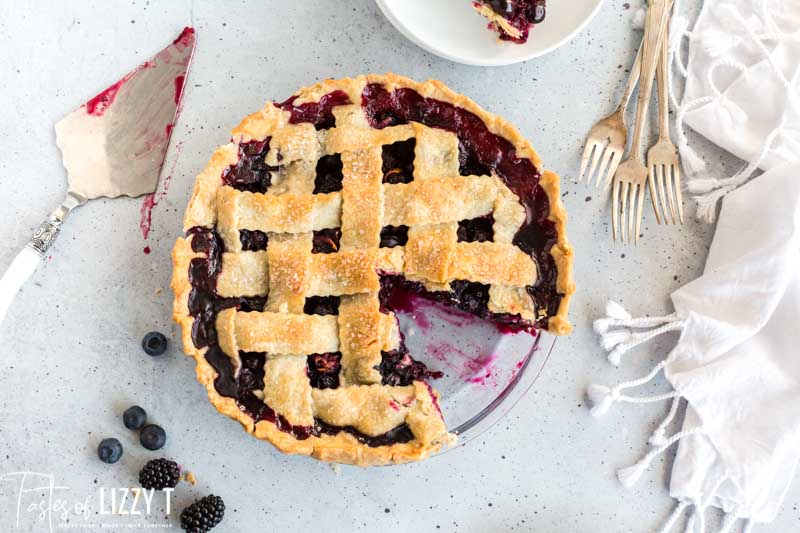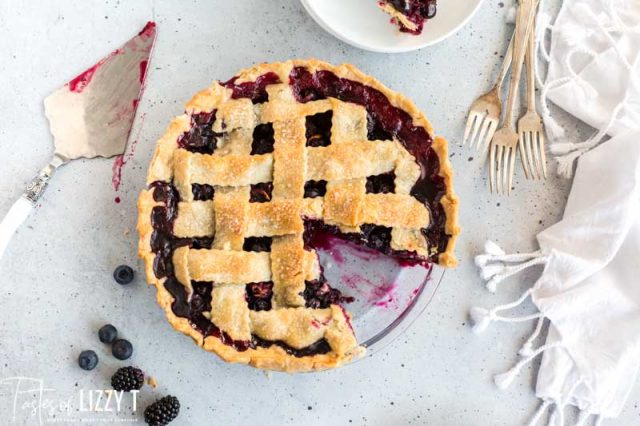 Why you'll love this pie:
A bit of citrus also helps to bring out the fruit's natural flavor.
The mixture of fresh, sweet blueberries and tart, sharp blackberries makes for the a well-balanced pie, not too sweet and not too tart.
A flaky, buttery, double crust for the top and the bottom of the pie.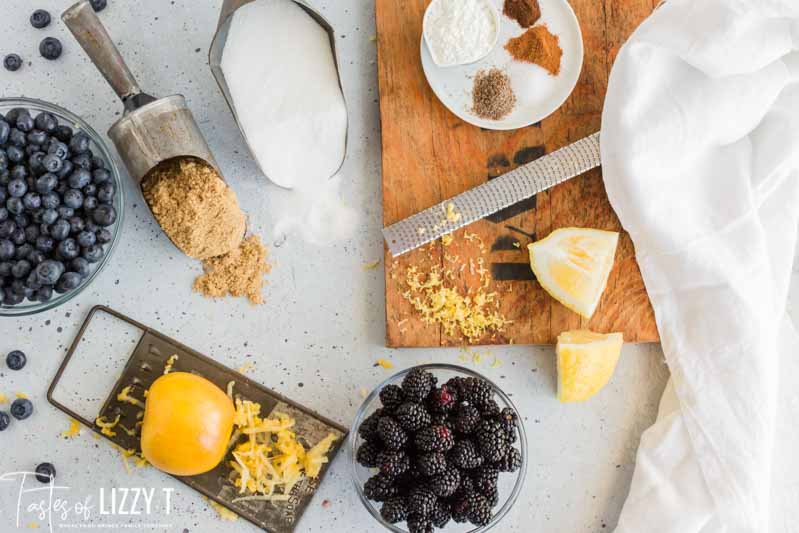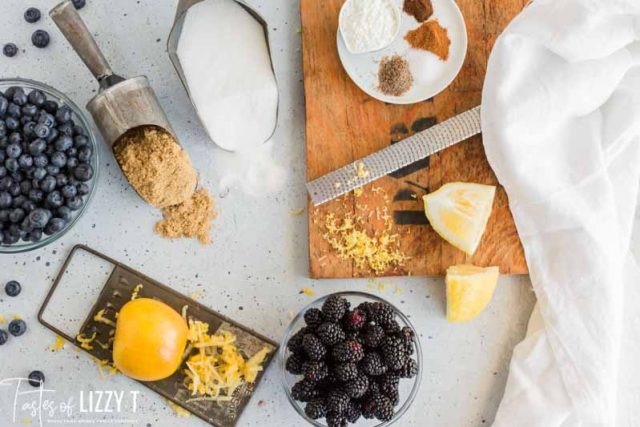 Homemade Pie Crust vs Store Bought Crust
If you've never made a homemade crust, I get that it can feel intimidating. But it's just one of those things you have to try and practice. Then it gets really easy. I promise. Once you make a homemade crust, you'll never settle for a pre-made crust again. It's that delicious.
This crust recipe below is an amazing, flaky, all butter pie crust. Or you can try my grandma's pie crust recipe. But here's the thing. If you need a shortcut, never feel bad about using store bought pie crust. Everyone needs a shortcut now and then!
The key to a flaky pie crust: Keep the ingredients COLD! In the oven, the butter will melt in the pie dough layers and make an amazingly tender crust.
How to Make Blueberry Pie Filling
4 fruits help make this pie flavorful: blackberries, blueberries, lemon and apple. Apple may sound strange, but don't leave it out! You'll love that touch of flavor.
You'll need both brown sugar and white sugar to sweeten.
And for an extra pop of flavor, season with cinnamon, cardamom, cloves and salt. These seasonings give a warmth to the pie that pairs well with the fresh summer fruits.
What does an egg wash do for pie crust?
Brush the top of the pie crust with a mixture of water and egg white. This will help the crust brown nicely, but will also act as a "glue" for the raw sugar you'll sprinkle on top. Just like a bakery!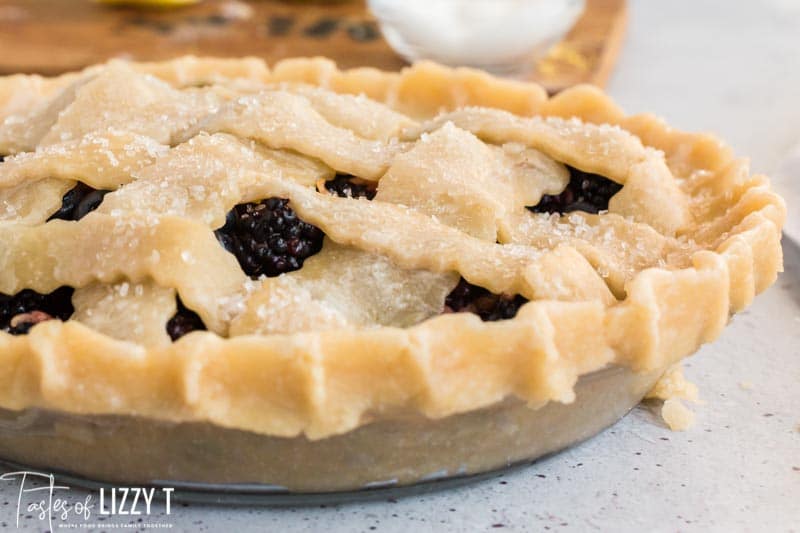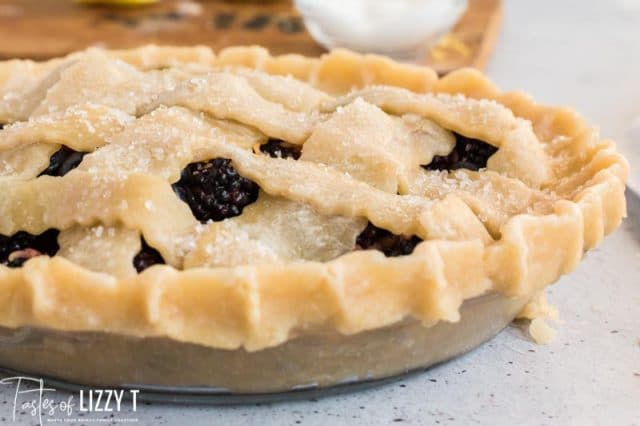 Can I use frozen berries instead of fresh?
Yes! And there is no need to thaw the berries before adding them to this blueberry blackberry pie. Fresh or frozen both work great.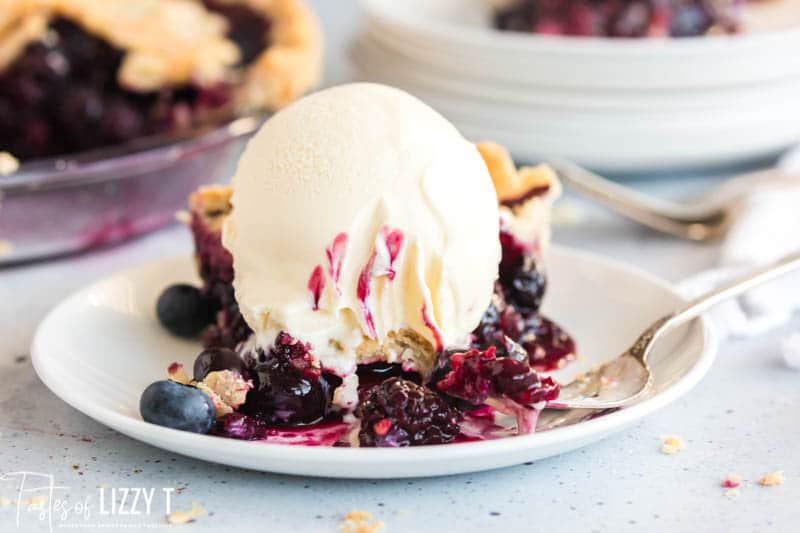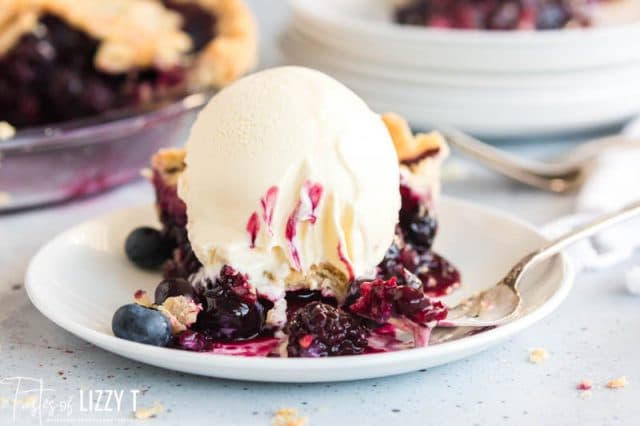 Why is my blueberry pie runny?
Everyone likes their pie just a little bit different. Some like their pies runny (I tend to be in this camp. The syrup is great for ice cream!). Others like their pies firm. Here are a few hints:
The cornstarch in this pie will thicken the filling.
Make sure your pie has baked long enough. Just because the crust is browned doesn't mean it is thickened. If the crust is browning too quickly, cover it with foil and continue baking the entire time so the filling thickens. The juices in the pie should be bubbling.
Keep testing! If you try this pie and it is too runny, add more cornstarch next time.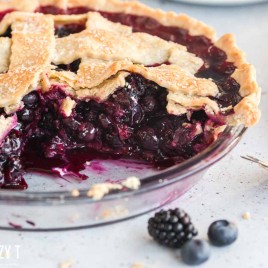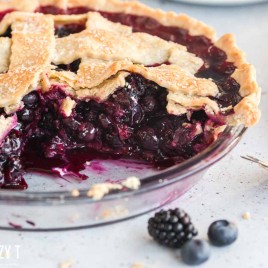 Blueberry Blackberry Pie
Lemon zest and a touch of sugar are folded into fresh blueberries and blackberries and enveloped in a flaky, all-butter crust. With summer coming to an end, take advantage of the last of the fresh berries with this gorgeous homemade blueberry blackberry pie.
Cook Time
1

hour
5

minutes
Total Time
1

hour
25

minutes
---
Ingredients
For the Crust:
2 1/2

cups

all-purpose flour

1

teaspoon

salt

1

tablespoon

granulated sugar

1

cup

unsalted butter

(cut into small cubes)

1/2

cup

cold water

2

tablespoons

cider vinegar

1/2

cup

ice
For the Filling:
1

small golden delicious apple

(shredded on the side of a box grater)

2

cups

blackberries

3

cups

blueberries

2

tablespoons

fresh lemon juice

2

teaspoons

lemon zest

1/2

cup

granulated sugar

1/2

cup

light brown sugar

packed

3

tablespoons

cornstarch

1/2

teaspoon

ground cinnamon

1/8

teaspoon

ground cardamom

pinch

of ground cloves

1/2

teaspoon

salt
For Finishing:
1

large

egg white

1

teaspoon

water

2

tablespoons

raw coarse sugar
Instructions
For the Crust:
In a large bowl, whisk together the flour, salt, and sugar.

Add the butter pieces and toss in the flour until the butter is coated in flour.

With a pastry cutter, cut the butter into the flour mixture. Continue to cut the butter into the flour until most pieces are about pea-sized. (Do not allow the butter pieces to get smaller than pea-size. Larger pieces are better.)

Combine the water, ice, and vinegar in a bowl.

Add 1 to 2 tbs of the liquid at a time. Gently combine it with the flour mixture. Continue to add the liquid until a ball forms.

Divide the dough in half.

Flatten each piece of dough into a flat disk. Wrap in plastic wrap.

Refrigerate for at least 1 hour.

Combine the apple, blackberries, blueberries, lemon juice, lemon zest, sugars, cornstarch, cinnamon, cardamom, cloves and salt.

To Assemble the Pie: Roll out one piece of dough until it just fits the bottom of a 9-inch glass pie plate.

Refrigerate the dough for about 1 hour.
For the Filling:
Preheat the oven to 425 degrees F. Place a foil lined sheet pan in the oven as it preheats.

Pour the filling into the chilled pie shell.

Place the pie back into the freezer while rolling out the top pastry.

Roll out the second piece of dough so it fits the cover of the pie.

Cover the filling with the second piece of pastry.

Cut slits into the pie for venting. Brush with egg wash and sprinkle with sugar.

Bake on the pre-heated baking sheet. Bake for 25 minutes.

Lower the oven to 375 degrees. Bake for another 35 to 40 minutes or until the pastry it a golden brown.

Remove from oven and allow it to cool for 2 to 3 hours to allow the pie filling to thicken.
Notes
This recipe is adapted from the Four and Twenty Blackbirds Pie Book.
.
The calories shown are based on the pie being cut into 8 pieces, with 1 serving being 1 slice of cake. Since different brands of ingredients have different nutritional information, the calories shown are just an estimate. **We are not dietitians and recommend you seek a nutritionist for exact nutritional information.**
Nutrition
Calories:
527
kcal
|
Carbohydrates:
75
g
|
Protein:
6
g
|
Fat:
24
g
|
Saturated Fat:
15
g
|
Cholesterol:
61
mg
|
Sodium:
453
mg
|
Potassium:
199
mg
|
Fiber:
5
g
|
Sugar:
37
g
|
Vitamin A:
828
IU
|
Vitamin C:
16
mg
|
Calcium:
39
mg
|
Iron:
2
mg