Brown Sugar Blueberry Muffins
Tastes of Lizzy T participates in affiliate advertising programs. We may earn a commission when you make a purchase through links on our site.
From scratch brown sugar blueberry muffins kept extra moist with brown sugar. Perfectly light and fluffy with a deep, sweet flavor.

Brown Sugar Blueberry Muffins
Let's talk muffins today.
Simple, classic, homemade blueberry muffins.
If there's one thing that catches my eye when I pass by a bakery, it's tall, hearty muffins with sugar crystals dotting the top. Bakery-style muffins have such character. I'll be honest when I say that more than once I've been so disappointed with a muffin that looked picture perfect. See, I'm picky about my muffins. I'm not wasting time or calories on a dry, crumbly muffin. It has to be moist. And if you feel the same way as me, have I got a muffin recipe for you!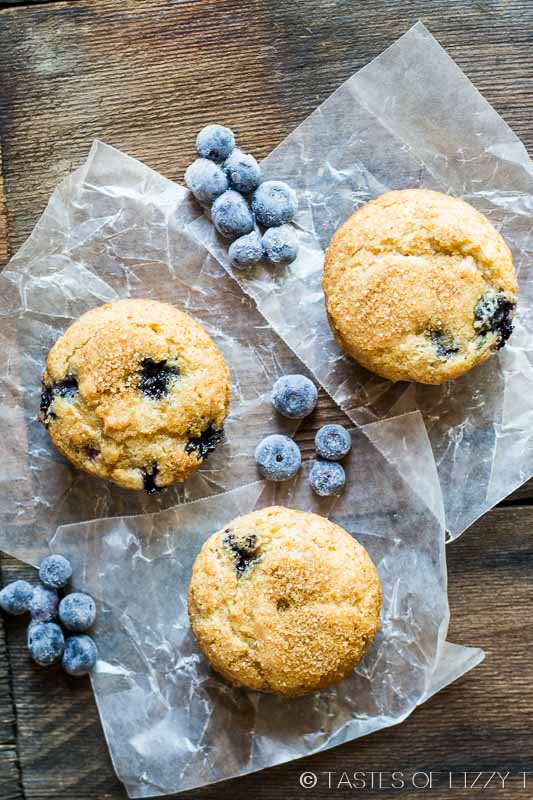 Introducing the brown sugar blueberry muffin.
As the name indicates, brown sugar takes center stage in this recipe, keeping the muffins ultra moist. Brown sugar is one of my favorite ingredients to add to baked goods. Not only does it add more moisture than white sugar, but it adds a depth of flavor that will guarantee true love at first bite.
And if brown sugar wasn't enough, sour cream adds another level of richness and moisture to this recipe. I can hear the questions already. Can you substitute reduced fat sour cream? Probably, although I haven't tried it. Can you substitute Greek yogurt for the sour cream? Most likely, but again, I haven't tested that yet in this recipe. Let me know if you try it and how it turns out!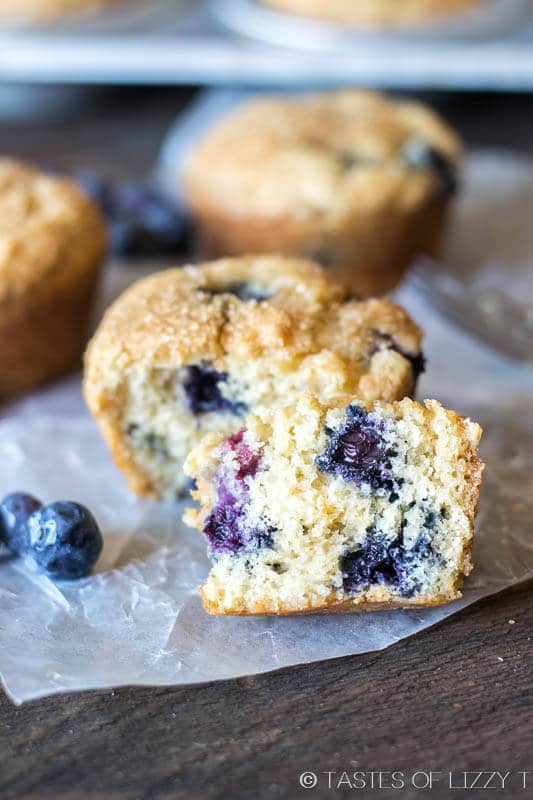 There's one other ingredient in this recipe that I don't want you to leave out: turbinado sugar sprinkled on top. What is turbinado sugar? It's a brown cane sugar that is less processed and has large crystals. You can find it in your grocery store in the baking aisle or buy it here. I generously sprinkle those raw sugar crystals on top of each muffin before I bake them. It gives them a bit of a sugary crunch on top. You'll love it.
Trust me.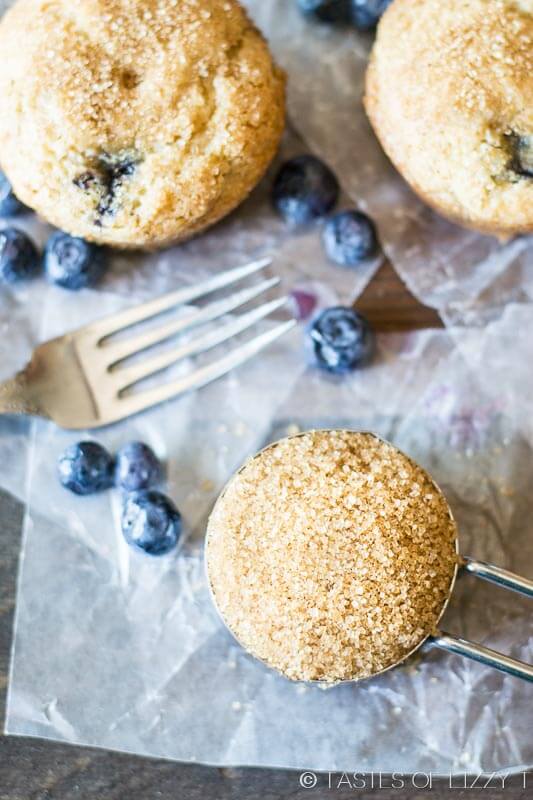 Because I developed this recipe to be super moist, the muffins are not going to bake up very tall.  They will dome slightly on top, but not a lot. I'll take taste and texture over domed tops any day, thank you.
As for the blueberries, I use frozen berries only because I buy loads of blueberries when they are on sale and pop them into the freezer. Since the blueberries are frozen, I toss them with a tablespoon or two of flour. This keeps the muffins from getting soggy and helps the blueberries not to sink to the bottom. Which this next picture is a terrible example of. 😛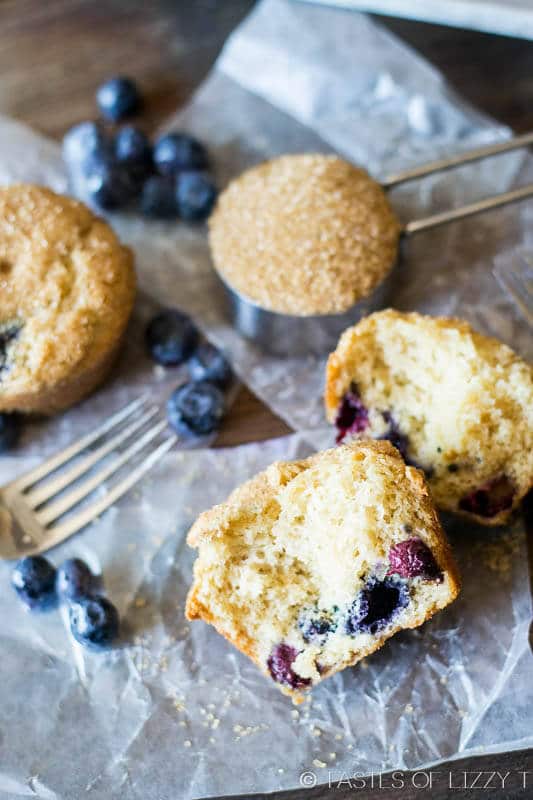 This happened to be the last muffin I scooped and the remaining plain batter got dolloped on top.  But you can see from the other photos the blueberries do actually get spread all over and not just sit on the bottom. I'm showing you that picture to be real here. 🙂
And if those pretty little blueberries are what brought you over, definitely visit this blueberry blackberry pie, refrigerator jam and drizzled blueberry coconut bars. You'll fall head over heels!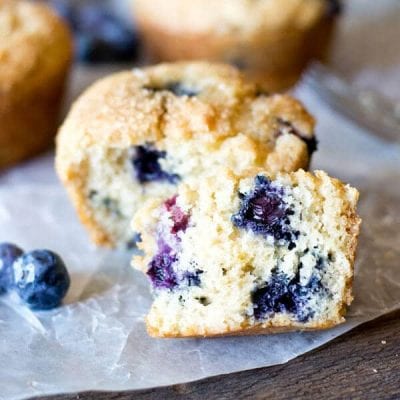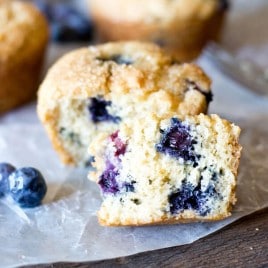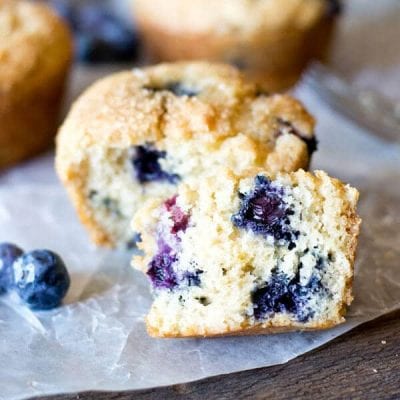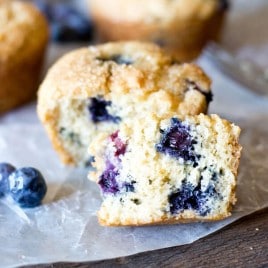 Brown Sugar Blueberry Muffins
From scratch brown sugar blueberry muffins kept extra moist with brown sugar. Perfectly light and fluffy with a deep, sweet flavor.
---
Ingredients
1 1/2

cups

all purpose flour

1/2

tablespoon

baking powder

1/4

teaspoon

baking soda

1/4

teaspoon

salt

1

cup

brown sugar

2

teaspoons

white sugar

1/4

cup

canola oil

1

tablespoon

butter

softened

1

large

egg

3/4

cup

sour cream

1 1/2

cups

frozen blueberries

2

tablespoons

all purpose flour

1/4

cup

turbinado sugar

for sprinkling on top
Instructions
In a bowl, combine the flour, baking powder, baking soda and salt. Set aside.

In another bowl, mix together the brown sugar and white sugar. Add the oil and butter. Stir to mix well. Mix in the egg, then add in the sour cream and mix until combined.

Gently fold the wet ingredients into the dry ingredients, folding together gently just until mixed. Do not overmix.

In a small bowl, toss the frozen blueberries with the two tablespoons of flour until the blueberries are coated. Add the blueberries to the muffin batter, discarding the extra flour. Gently fold the blueberries into the muffin batter.

Spray a muffin pan with cooking spray. Spoon the batter into the prepared pan, dividing the batter between 12 cups.

Sprinkle the turbinado sugar on top of each muffin.

Bake at 425 for 5 minutes, then without opening the oven, lower the temperature to 350 and bake for 14-16 minutes.

Allow the muffins to cool for 10 minutes, then remove them to a wire rack to cool completely.
Notes
*You can use paper muffin liners if you'd like
Nutrition
Calories:
244
kcal
|
Carbohydrates:
39
g
|
Protein:
2
g
|
Fat:
9
g
|
Saturated Fat:
2
g
|
Cholesterol:
25
mg
|
Sodium:
103
mg
|
Potassium:
131
mg
|
Sugar:
24
g
|
Vitamin A:
150
IU
|
Vitamin C:
1.9
mg
|
Calcium:
58
mg
|
Iron:
1.1
mg