Tart blueberries and plump zesty lemons are cooked down into a Blueberry Lemon Refrigerator Jam that will make your summer!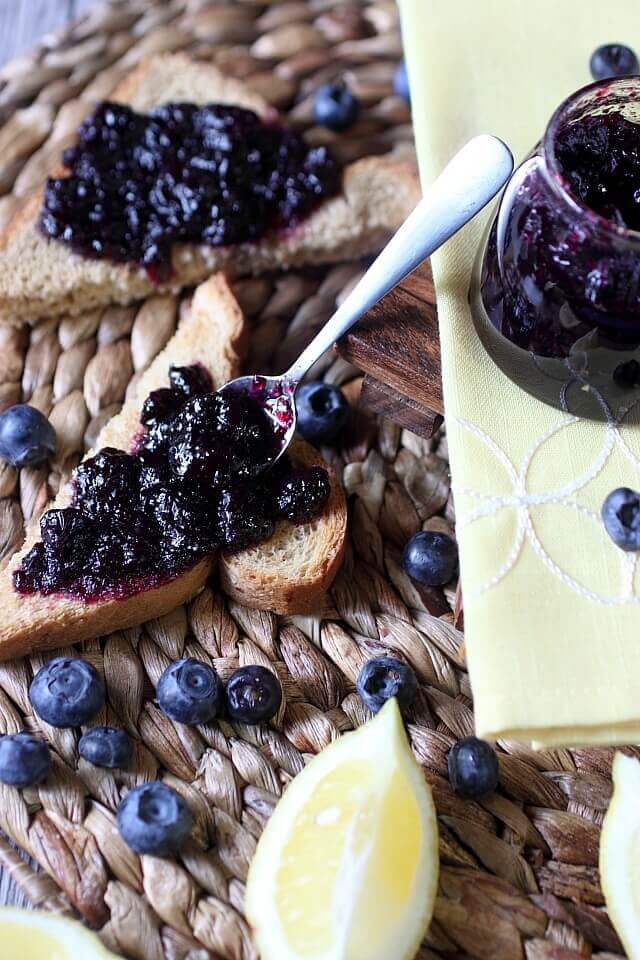 Can I be real with you guys? For the past – Oh, I don't know – 4 years I promise to join the summer preserve canning revolution. I watch in awe as fellow food bloggers fill my Instagram and Pinterest feeds with a berry jam or a pickled veggie of some sort. I want to do this. I try to commit. I am down. I buy my jars. This happens around April or so. Every year I truly, truly mean it.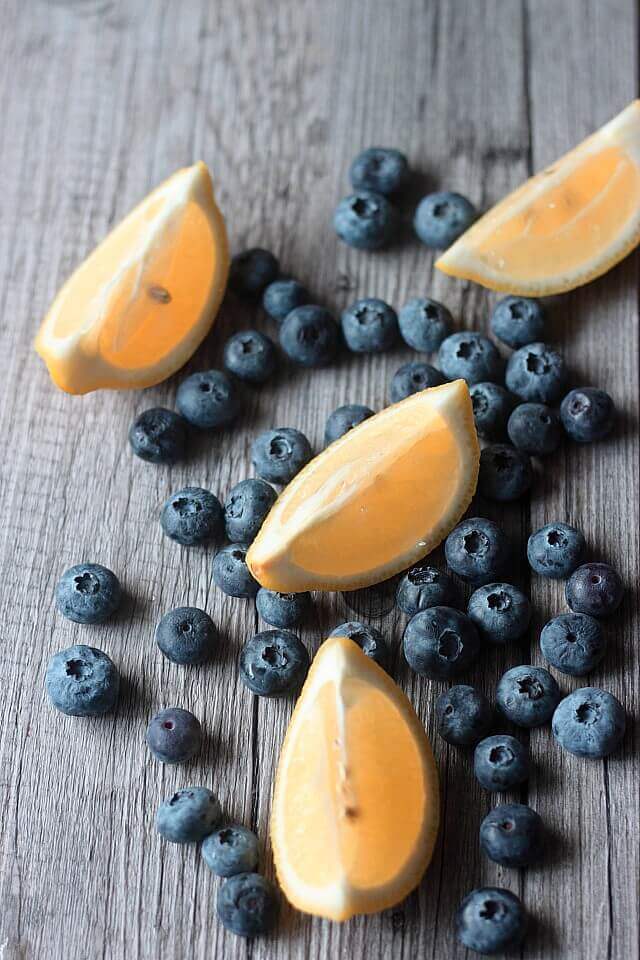 What happens?
Well… I have this insane fear of poisoning someone. I don't want to be the chick that goes – Hey – Here's some jam. Only to hear I sent someone to the hospital for botulism.
So while I come to grips with this insane and probably baseless fear, I make refrigerator jams.
Oh, how I love me some refrigerator jam! There is absolutely no fear there. You make your jam, you ladle it in a jar, and when it cools you put it in the fridge. It is that simple. AND! I don't worry about food poisoning because the fridge does a very good job of preserving my fruit.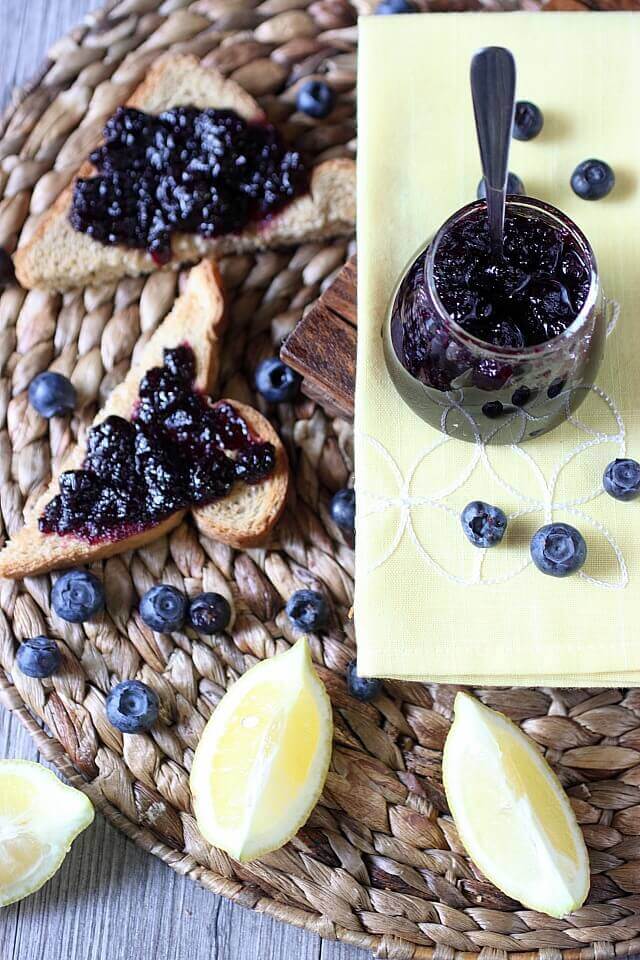 So… Are you ready to jam with me?
Cool…
This refrigerator jam is one of my absolute favorites. Blueberries are everywhere these days. There is no excuse. You can make this! Here is what I need you to do:
Grab 3 pints of blueberries.
Some suga'.
Zest a couple of lemons. Let's juice them too.
Let's give it a little vanilla bean paste. Because… Vanilla!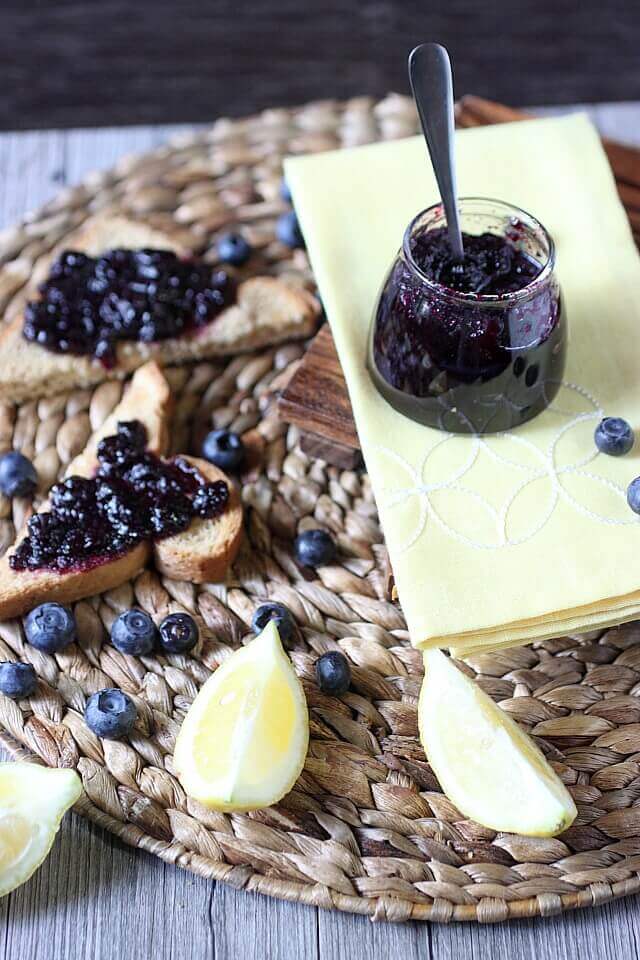 All of this goes in a pot and brought to a boil. Once it's boiling hot you lower the heat and simmer that situation. You simmer low and slow till it's thick and perfect and oh so fine. Then you ladle it in a jar and place it in your fridge.
It won't last. It never does. That sweet juices tartness of blueberries and the zesty brightness of lemon don't won't let you.
It is that good.
And you need to be about it.
Blueberry Lemon Refrigerator Jam
Tart blueberries and plump zesty lemons are cooked down into a Blueberry Lemon Refrigerator Jam that will make your summer!
Ingredients
3

pints

blueberries

1

cup

granulated sugar

zest and juice of 2 lemons

2

teaspoons

vanilla bean paste

1

tablespoon

water
Instructions
In a large saucepan combine blueberries, sugar, lemon zest and juice, vanilla bean paste, and water. Cook over medium/high heat bringing the mixture to a boil for about 5-7 minutes or so. At this point there should be a decent amount of liquid coming from the blueberries. Reduce the heat to low and continue cooking over low heat stirring every few minutes or so to ensure the mixture does not stick to the pot.

Cook until the liquid has reduced, thickened, and blueberries are very soft. This will take anywhere from 45-50 minutes. Remove from heat and allow to cool for about 10 or 15 minutes or so. The jam will thicken as it cools. At this point you can either blend it until smooth or leave as is. I like my jam chunky, so I leave as is.

Ladle the jam into mason jars. Seal the jars and allow the jam to come to room temperature before placing them in the refrigerator.

Jam will last about 3-4 weeks. Sometimes even more.

Makes about 16 ounces of jam.
Nutrition
Calories:
67
kcal
|
Carbohydrates:
17
g
|
Potassium:
45
mg
|
Fiber:
1
g
|
Sugar:
14
g
|
Vitamin A:
35
IU
|
Vitamin C:
5.8
mg
|
Calcium:
4
mg
|
Iron:
0.2
mg