Preserve your fresh peaches for delicious breakfasts, lunches and sacks. This is peach freezer jam comes together in less than 30 minutes!
A few weeks ago we planted two peach trees in our yard. It will be a few years before we can enjoy bushels of peaches for jams, cobblers and breads, but I cannot wait.
For now, we depend on The Peach Truck. They come to our area about twice a summer and I load up on fresh peaches. They are amazing!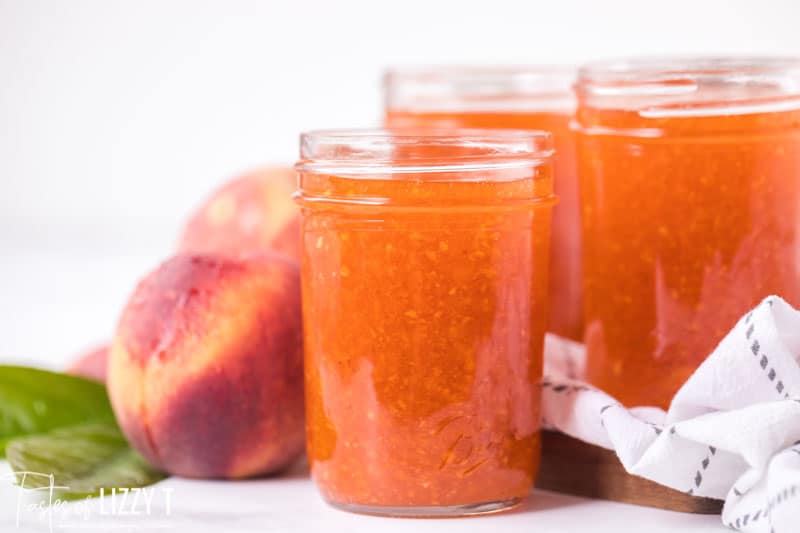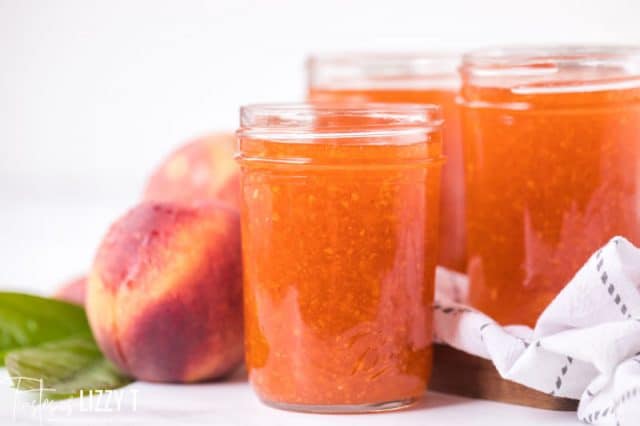 One thing I can't wait to make this summer? Peach Jam. We're talking about how to take fresh peaches and make a delicious freezer jam that you can enjoy all year.
Why you'll love this recipe:
A great way to use an abundance of fresh peaches
Only 15 minutes prep.
Only 3-5 minutes cook time.
Adjust the sweetness to your liking.
No need to pull out the pressure canner.
What type of jars do I use? Can I freeze them?
For this recipe, I used a half pint Ball jar. They should not break while being frozen. Just make sure that you allow them sit for 24 hours at room temperature before freezing.
When you take a jar out of the freezer, thaw it in the refrigerator. Do not submerge it in hot water directly after taking jars out of the freezer.
You can also use plastic containers to store this peach jam.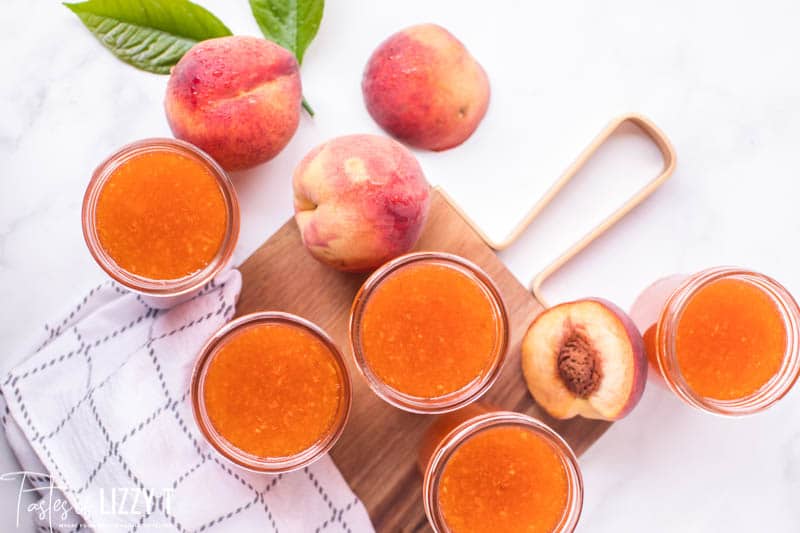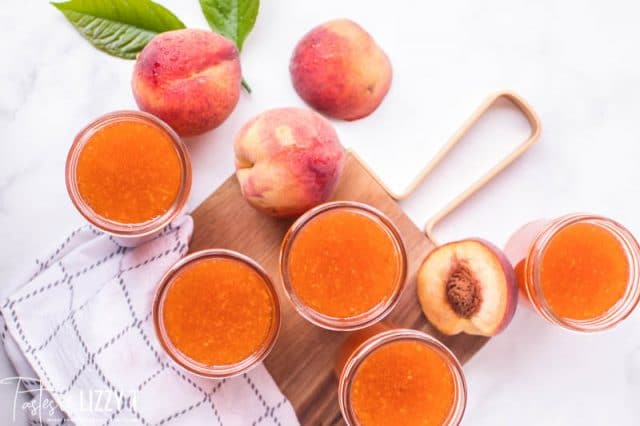 What do I need to make peach freezer jam?
fresh fruit (in this case, peaches!)
sugar
lemon juice
water
orange food coloring for that pretty peach look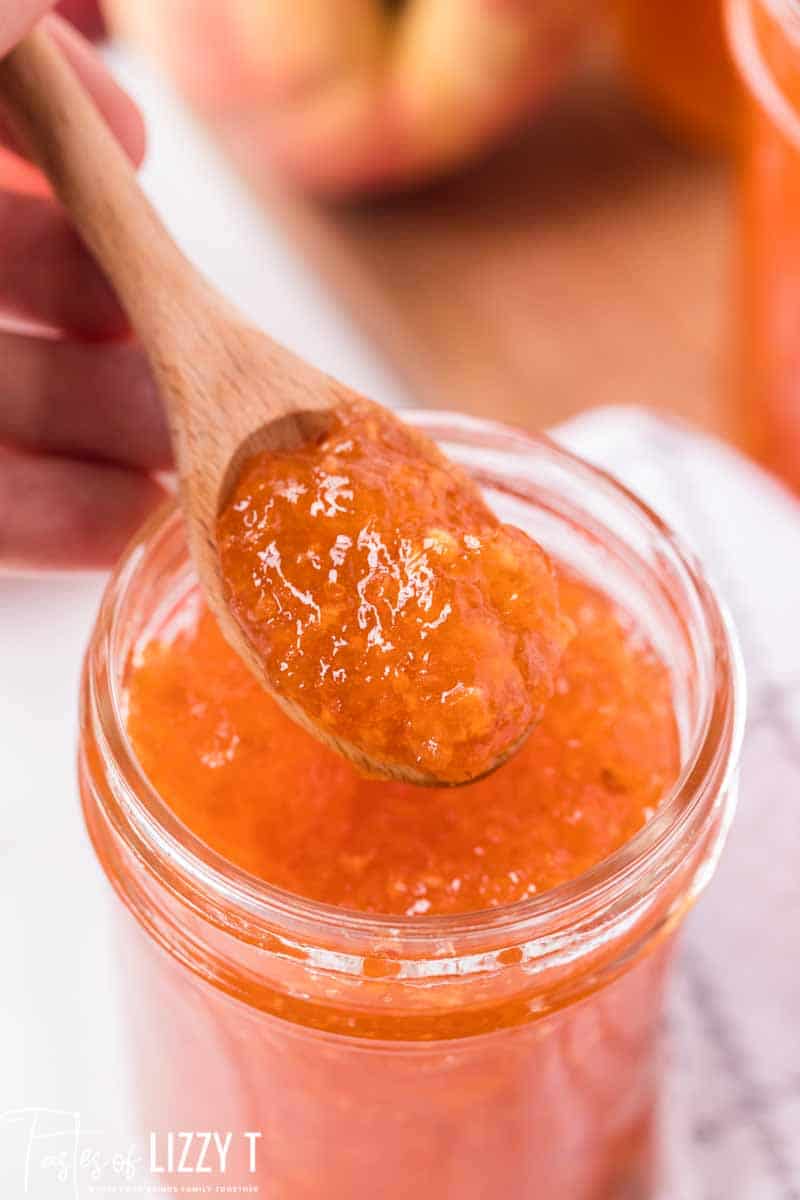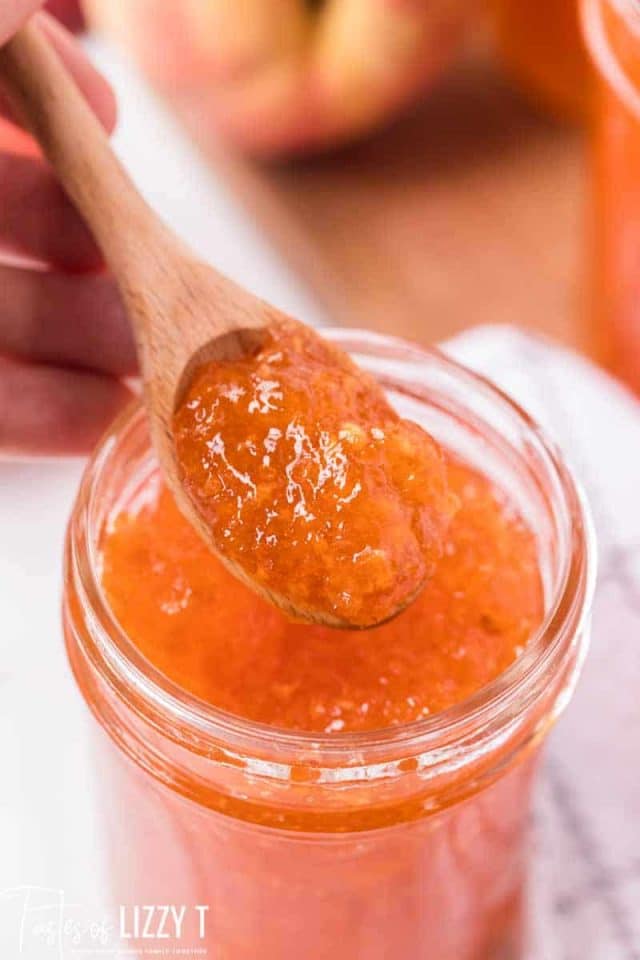 What if I end up with runny jam?
There are several things you can do when making the jam in order to prevent runny jam:
Make sure that you measure the peaches and sugar exactly.
Also set a timer when boiling the pectin. Start the timer as soon as the pectin reaches a rolling boil (it usually happens pretty quickly) and take pan off heat as soon as the time hits 1 minute.
What if you still end up with runny jam? After letting jam sit at room temperature for anywhere between 6-24 hours (just enough time for them to cool and start to set), check to see how the jam set. If peach jam is still runny, prepare 1 additional box of pectin (pectin + ¾ water) and add it the peach mixture. It does not affect flavor, but it will help firm everything up.
How to Store Freezer Jam
Refrigerate peach jam for up to 4 weeks. Freeze for up to 1 year. Thaw in the refrigerator before enjoying.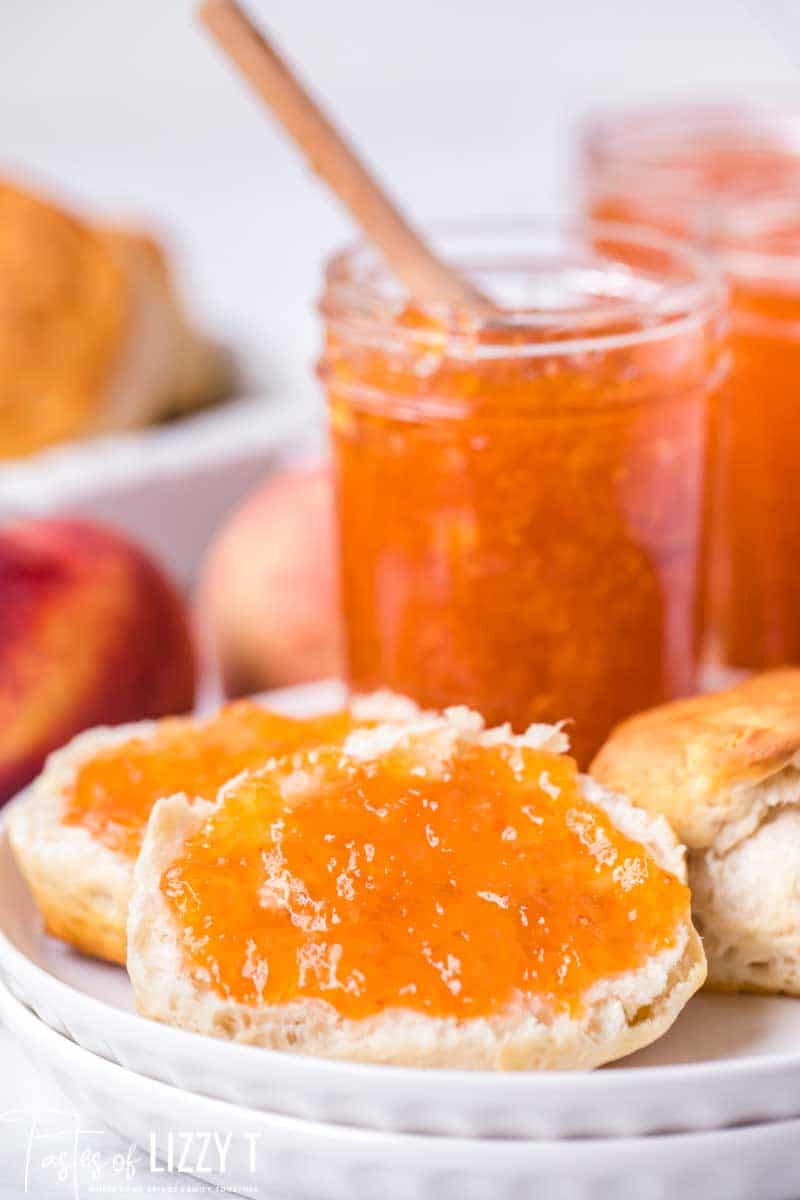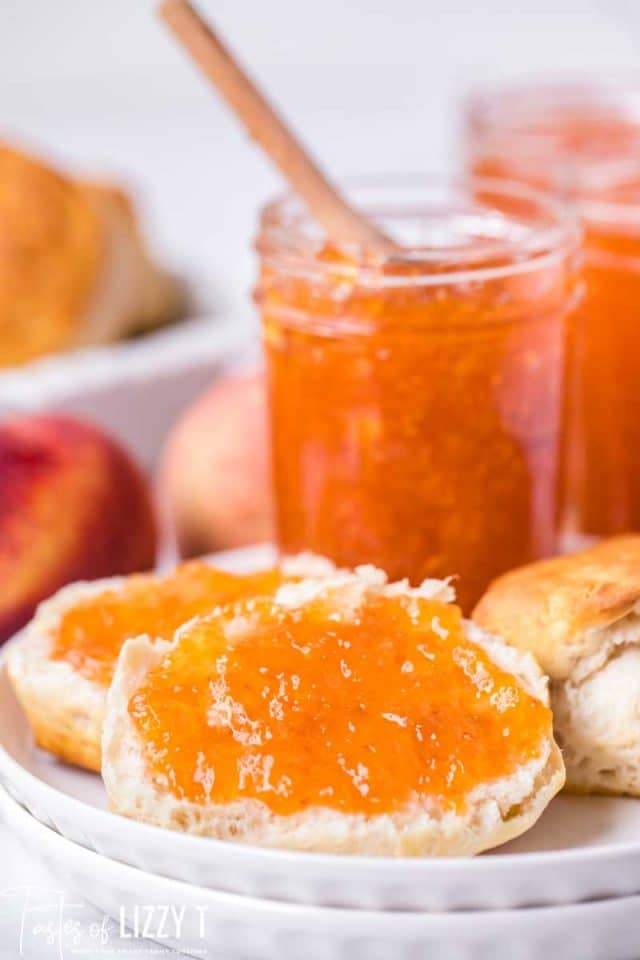 What to Serve with Peach Freezer Jam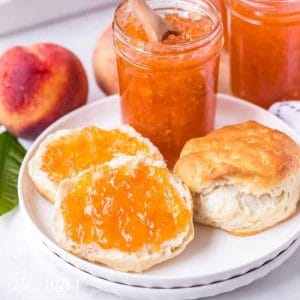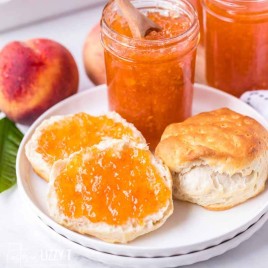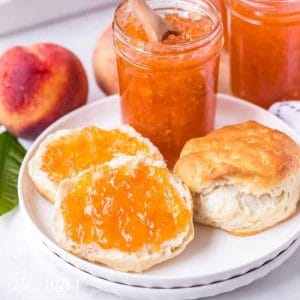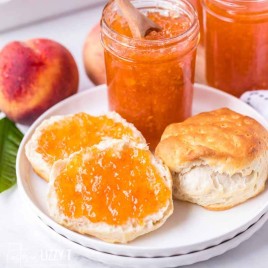 How to Make Peach Freezer Jam
Preserve your fresh peaches for delicious breakfasts, lunches and sacks. This is peach freezer jam comes together in less than 30 minutes! 
---
Ingredients
2

cups

ripe peaches

(about 3-4 medium peaches, peeled, and pitted)

3

cups

granulated sugar

3

tablespoons

lime or lemon juice

1

package

no-sugar-needed fruit pectin

(1.75 ounce package )

¾

cup

water

4-5

drops orange food coloring

(optional)
Instructions
Rinse and dry 6 half pint jars (or whatever jars you choose to use).

Using a food processor or blender, pulse peaches until they are finely diced, but not completely mashed. You can do this by hand, but a food processor is usually much faster and doesn't require as much effort.

Measure 2 cups exactly of peaches and place in a large mixing bowl.

Add in sugar one cup at a time, stirring well after each addition.

Stir in lime (or lemon) juice.

While peaches are sitting, prepare pectin.

In a small pan over medium-high heat, whisk together water and pectin.

Bring pectin to a rolling boil and set timer for 1 minute. Stir constantly for 1 minute and take off heat. Do not cook for more than 1 minute.

Add hot pectin to peach mixture and stir until sugar has dissolved. This should take several minutes.

Pour jam into jars. Leave ½ inch of space from the top of the container.

Cover jam tightly with a lid and let sit at room temperature for 24 hours before refrigerating or freezing.
Notes
The calories shown are based on the recipe making about 40 servings, with 1 serving being 2 tablespoons of jam. Since different brands of ingredients have different nutritional information, the calories shown are just an estimate. **We are not dietitians and recommend you seek a nutritionist for exact nutritional information.**
Nutrition
Calories:
65
kcal
|
Carbohydrates:
17
g
|
Protein:
1
g
|
Fat:
1
g
|
Saturated Fat:
1
g
|
Sodium:
3
mg
|
Potassium:
16
mg
|
Fiber:
1
g
|
Sugar:
16
g
|
Vitamin A:
25
IU
|
Vitamin C:
1
mg
|
Calcium:
1
mg
|
Iron:
1
mg
Frequently Asked Questions
Why does freezer jam have to sit out for 24 hours?
This gives the jam time to set. Don't skip this step!
How long does freezer jam last?
You can freeze this jam for up to 1 year.
Can you refreeze freezer jam once it has thawed?
Yes!
How do I know if my freezer jam is bad?
Look for any odd colors, mold or strange odors. If it has any of those signs, throw it away.
Can you use frozen peaches in this freezer jam?
Yes! Use equal amounts, allow the peaches to thaw and use the peaches and juice in the jam.
Can I run the jars through a water bath?
No. This recipe is for freezer jam only.