Tastes of Lizzy T participates in affiliate advertising programs. We may earn a commission when you make a purchase through links on our site.
Your family will quickly fall in love with this Easy Peach Cobbler recipe. Use our sugar & water trick to get a sugar crust on top of the fluffy homemade biscuits topping. You may also love our peach bread!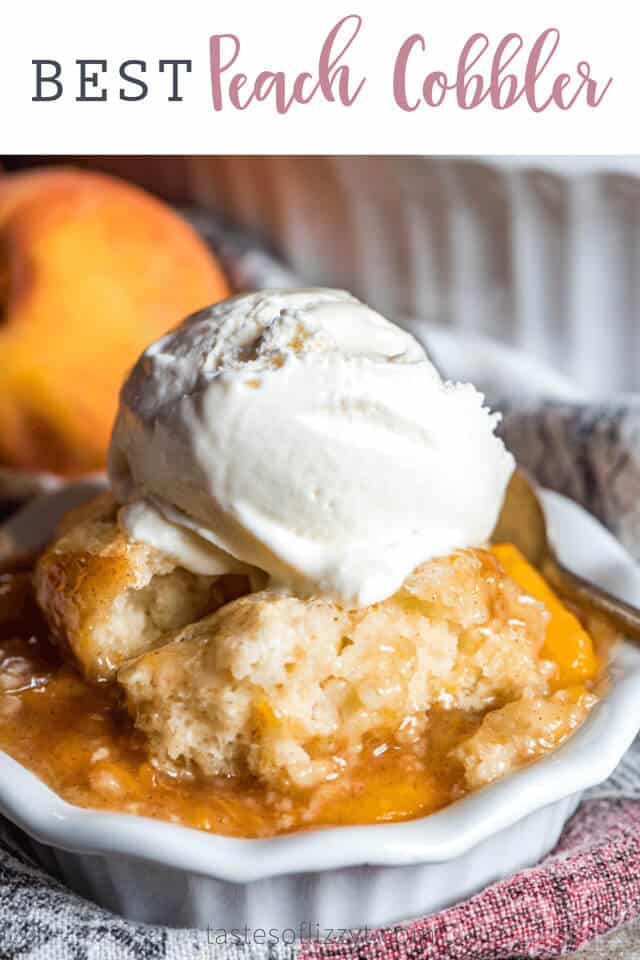 Easy Peach Cobbler Recipe
If there is one peach dessert that I crave, it's peach cobbler. I think a lot of time when you bake with fresh peaches, it is hard to get a firm peach pie because peaches are so juicy. But peach cobbler? You want that peach cinnamon syrup to soak into the cobbler topping. It's amazing and today I'm showing you how to make it!
Homemade Peach Cobbler
Although there are many "quick" options for making peach cobbler such as using Bisquick or even prepackaged biscuits, homemade peach cobbler is 100% worth taking the time to make. And it's easier than you may think! This cobbler topping bakes up tall and fluffy. It's so light. Whether you fresh peaches or canned peaches, the from-scratch cobbler tastes fantastic.
Peach Cobbler with Fresh Peaches
We prefer to make peach cobbler with fresh peaches for the best flavor. We also prefer to peel the peaches first. This creates a smoother filling. If you leave the peels on, they will loosen as the peaches bake and may create a strange texture. Take the time to peel unless you really don't think you'll mind those peels that may come loose in the cobbler.
Peach Cobbler with Canned Peaches
If fresh peaches aren't in season, you can use canned peaches for cobbler. Drain the peaches from the syrup and discard the syrup. You may find you want to reduce the sugar you add to the peaches to ⅓ cup. This is a matter of taste and will depend on how sweet you like your peach pie filling.
How to Peel Peaches
The first step to making any fruit dessert is to peel the peaches. How do you easily peel peaches? You blanch them. What does blanching mean? Here's how you do it. You put a large pot of water on to boil. Once the water is boiling, drop the fresh peaches into the water and allow them to sit for 10-20 seconds. This is enough time for the peach skin to soften slightly and pull away from the peach. Some people use a knife to mark a small "x" on the bottom of the peach before placing them in the pot of water. This can help it peel a little easier, but I usually don't bother with this step.
After you've boiled the peaches for 10-20 seconds, place them in a bowl of ice cold water. This will stop the cooking process and allow you to handle the peaches easily to remove the skin.
Use a small knife to peel away the skin. It's that easy!
How to Make Peach Cobbler
The first step to making cobbler is to prepare the peaches.  You've got them peeled, so what comes next?
Place the peaches in a large saucepan and add sugar. Mix and allow this to come to a boil.
In a small bowl, combine the cornstarch and water. Mix it well, then drizzle it into the hot peaches. Stir  gently and allow the mixture to thicken.
Add butter, cinnamon and vanilla, even a dash of nutmeg if you'd like! Then take the peaches off the heat. Place them in a greased baking pan.
Mixing the cobbler batter is easy. Whisk dry ingredients first, then cut in the butter using a pastry cutter. Lastly, add the cold milk. The more important thing to remember here is to not overmix. Mix gently, folding the dough and scraping the sides with a rubber spatula, just until the mixture is combined.
Drop the batter onto the peaches by spoonfuls, then sprinkle the sugar on top.
If you have a water spray bottle that you use in the kitchen, spritz hot water on top of the sugar. This will allow the sugar to crystalize during baking giving the crust just a little crunch. If you don't have a water bottle, just drizzle the hot water all over the top.

How long does it take to cook peach cobbler?
Bake the cobbler for about 45 minutes. You'll want to be sure the cobbler is baked all the way through. Stick a toothpick in the center through the biscuit part only and make sure the toothpick comes out clean. That's how you'll know it is done!
Can you eat peach cobbler cold?
You can eat cobbler any way you'd like, but I prefer it warmed with a scoop of ice cream on top. I've been known to dig into it cold though!

Other Peach Recipes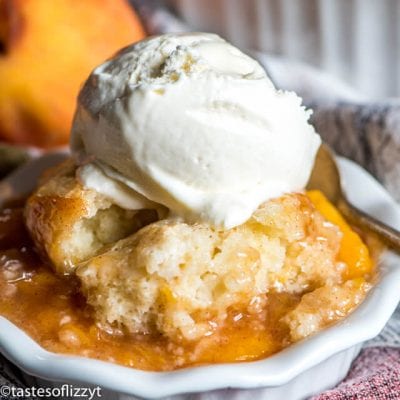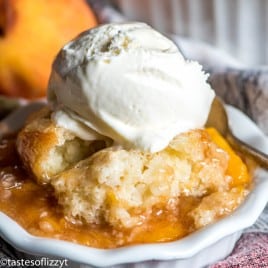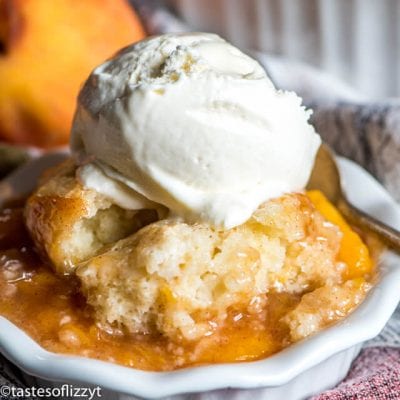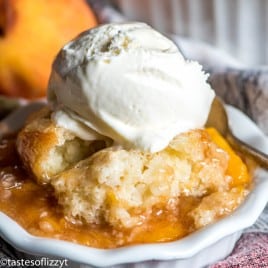 Easy Peach Cobbler
Your family will quickly fall in love with this Easy Peach Cobbler recipe. Use our sugar & water trick to get a sugar crust on top of the fluffy homemade biscuits topping.
---
Ingredients
For the Peaches:
6

cups

fresh sliced peaches

1/2

cup

granulated sugar

2 1/2

tablespoons

cornstarch

1/4

cup

water

1

tablespoon

salted butter

1

teaspoon

cinnamon

1

teaspoon

vanilla
Cobbler Batter:
2

cups

all-purpose flour

2

tablespoons

granulated sugar

3

teaspoons

baking powder

1

teaspoon

salt

6

tablespoons

butter

(cold)

1 1/4

cups

milk
Sugar Topping:
1/3

cup

granulated sugar

1/4

tablespoons

hot water
Instructions
Preheat the oven to 350 degrees. Spray a 2 quart baking dish or 9x13 baking pan with cooking spray.

In a medium saucepan over medium low heat, combine the peaches and sugar. Cook and stir gently until gently boiling.

In a small bowl, combine the cornstarch and water, mixing well. Drizzle this into the peaches and mix. Stir until thickened.

Add the butter, cinnamon and vanilla. Mix well. Remove from heat and pour into the prepared pan.

In a medium bowl, whisk together the flour, sugar, baking powder and salt.

Cut in the cold butter using a pastry blender.

Add in the milk and mix just until combined. Do not over mix!

Drop the batter onto the peaches by spoonfuls.

Sprinkle the ¼ cup sugar overtop the batter.

Use a spray bottle to spray water on the sugar or drizzle the hot water all over the sugar.

Bake for 40-45 minutes or until the cobbler batter is baked through and the peaches are bubbling. The cobbler will be very lightly browned.

Serve warm with ice cream.

Store covered in the refrigerator.
Notes
The calories shown are based on the recipe serving 10, with 1 serving being 1/10 of the recipe. Since different brands of ingredients have different nutritional information, the calories shown are just an estimate.
Nutrition
Calories:
300
kcal
|
Carbohydrates:
51
g
|
Protein:
4
g
|
Fat:
9
g
|
Saturated Fat:
5
g
|
Cholesterol:
24
mg
|
Sodium:
317
mg
|
Potassium:
363
mg
|
Fiber:
2
g
|
Sugar:
28
g
|
Vitamin A:
595
IU
|
Vitamin C:
6.1
mg
|
Calcium:
100
mg
|
Iron:
1.5
mg