Tastes of Lizzy T participates in affiliate advertising programs. We may earn a commission when you make a purchase through links on our site.
Fresh peaches, peppers, onions and herbs fill this peach salsa recipe. You'll how versatile this is…add as much spice as you'd like! The sweet, juicy peaches go perfectly with savory recipes. You may love this on our pork carnitas.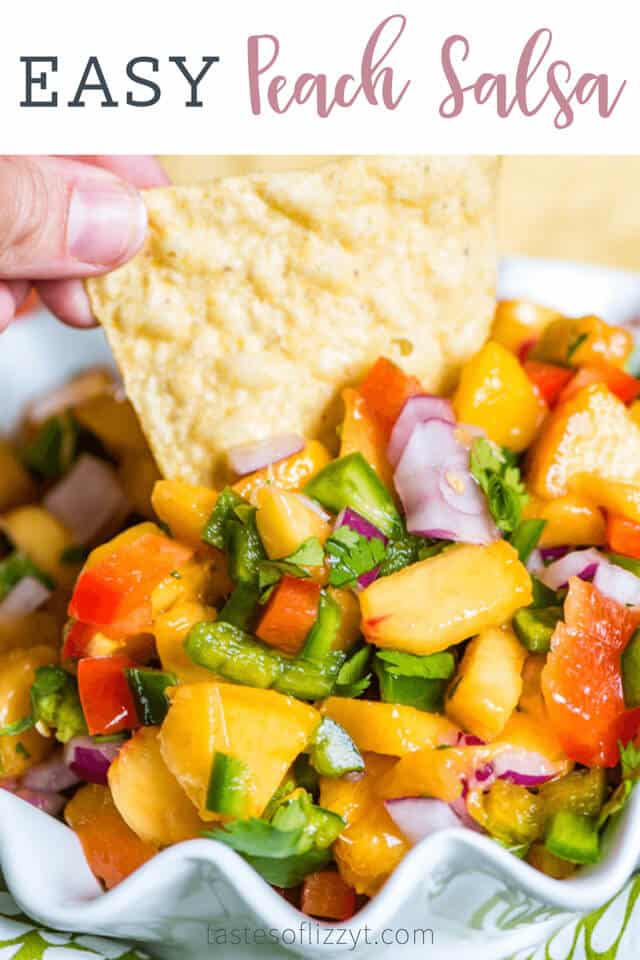 Peach Salsa Recipe
I've been enjoying making all things PEACH this month! I purchased 50 pounds of peaches, so since one day peaches are not ripe and the next day peaches are overripe, I had to make every.single.peach.thing in about 2 ½ days last week. This peach salsa recipe was by far the easiest…and although it is hard to top homemade peach cobbler, this homemade peach salsa was AMAZING.
How to Quickly Ripen Peaches
If you'd like to try to ripen your peaches more quickly than they would naturally, place them in a brown paper bag along with a banana or apple. Allow them to sit for 24 hours, then see if they have softened at all. Continue do do this in 24 hours increments until the peaches are soft to the touch.
HOW TO PEEL PEACHES
Do you have to peel peaches for salsa? Not necessarily, but we do. There are some in our family who don't care for the fuzzy peach skin, so for their sake, I peel the peaches.
How do you easily peel peaches? You blanch them. What does blanching mean? Here's how you do it. You put a large pot of water on to boil. Once the water is boiling, drop the fresh peaches into the water and allow them to sit for 10-20 seconds. This is enough time for the peach skin to soften slightly and pull away from the peach. Some people use a knife to mark a small "x" on the bottom of the peach before placing them in the pot of water. This can help it peel a little easier, but I usually don't bother with this step.
After you've boiled the peaches for 10-20 seconds, place them in a bowl of ice cold water. This will stop the cooking process and allow you to handle the peaches easily to remove the skin.
Use a small knife to peel away the skin. It's that easy!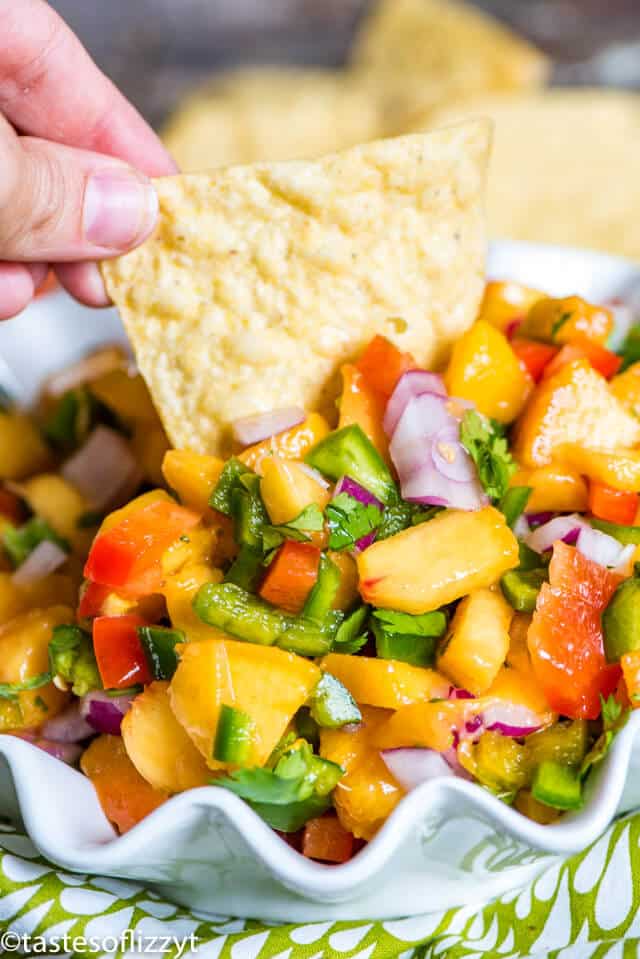 HOW DO YOU MAKE peach SALSA?
Here are our hints for making homemade salsa:
Make sure your peaches are fresh. How do you tell if a peach is ripe? If you lightly squeeze a peach, it should give a little and feel "soft". It should not be firm and should not be mushy. If your peaches feel soft, it is time to use them!
Dice the fruits and veggies finely. Unless you like chunky salsa that is. We like little tiny pieces so that you get all of the flavors when you scoop it up on a chip or eat it on a taco.
Use a food processor if you'd like to make it easier…but take care not to puree the vegetables.
Be sure to use fresh cilantro. Don't use dried. It won't taste great.
Plan to make this at least 2 hours in advance before serving so that the flavors can develop as it sits.
What to serve peach salsa on?
We like to simply scoop this salsa up on tortilla chips, but it is also great on fish tacos, grilled meats and rice & chicken casseroles.
OTHER FRESH SALSA RECIPES
TOOLS TO MAKE THIS SALSA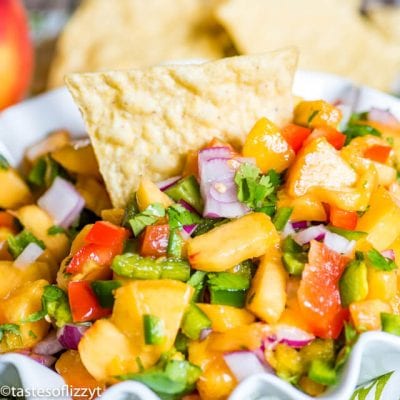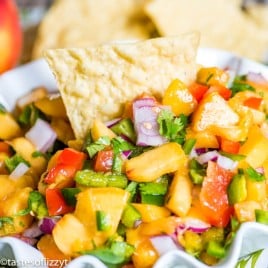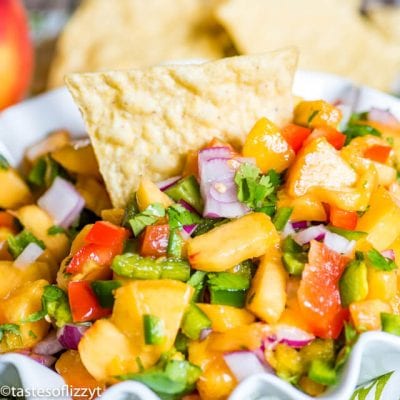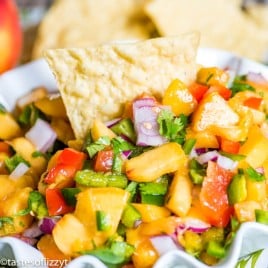 Peach Salsa Recipe
Fresh peaches, peppers, onions and herbs fill this peach salsa recipe. You'll how versatile this is…add as much spice as you'd like!
---
Ingredients
2

cups

peeled and diced fresh peaches

1/4

cup

diced red bell pepper

1/4

cup

diced red onion

2

small

finely chopped jalapeños*

(seeded and membrane removed)

1/4

cup

freshly snipped cilantro

1

lime

(juice only)
Instructions
In a medium sized bowl, combine the diced peaches, red bell pepper, red onion and the jalapeños.

Add the finely chopped cilantro and mix.

Add the juice of the lime along with the salt and mix well. Taste and adjust the salt accordingly.

Cover and refrigerate at least 2 hours before serving to develop the flavors.

Refrigerate leftovers and use within 3 days.
Notes
*Adjust the amount of jalapeños according to how spicy you'd like the salsa.
**The calories shown are based on the recipe making about 2 cups, with 1 serving being ¼ cup salsa. The exact amount this recipe makes depends on the size of the mangoes and jalapeños you use. Since different brands of ingredients have different nutritional information, the calories shown are just an estimate.
Nutrition
Calories:
21
kcal
|
Carbohydrates:
5
g
|
Potassium:
98
mg
|
Sugar:
3
g
|
Vitamin A:
305
IU
|
Vitamin C:
11.7
mg
|
Calcium:
5
mg
|
Iron:
0.1
mg