The best pico de gallo recipe around. Fresh tomato, onion, peppers, cilantro and garlic with a splash of lime.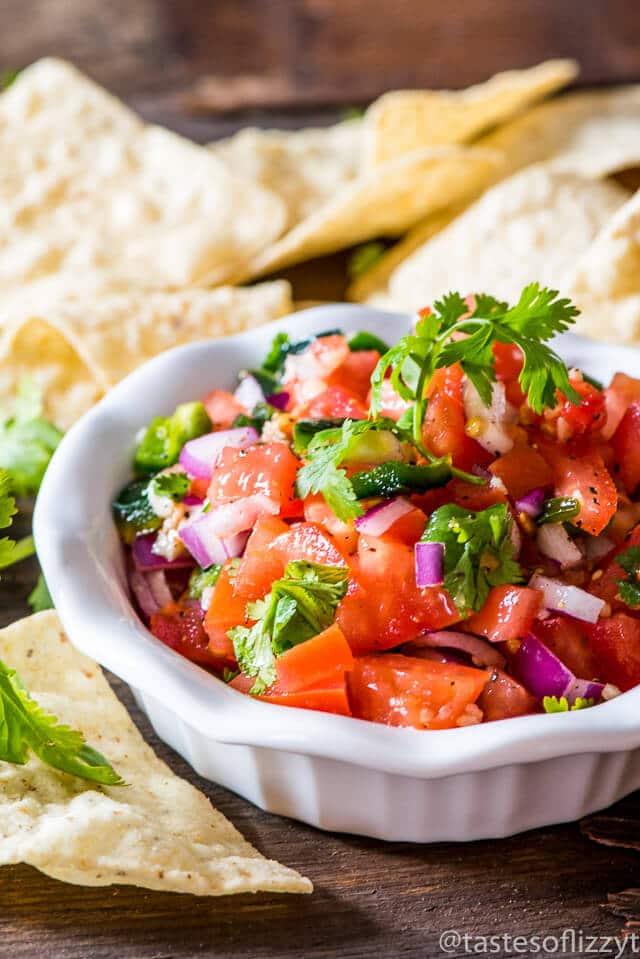 Did you know that Cinco de Mayo is coming up? I am currently learning Spanish, and let me tell you that the Spanish language it is a hard thing to learn!
On May 5th last year, we were looking for a restaurant while we were travelling and stumbled on a Mexican restaurant with balloons, free ice cream, and a meal for 5 dollars. Turns out they were celebrating Cinco de Mayo! I had no idea about Cinco de Mayo until then.
This year we'll be making my favorite meal on May 5th…Tacos! I'll share our family taco seasoning recipe later in the week, but for now, here's a recipe my mom and dad have been living on lately.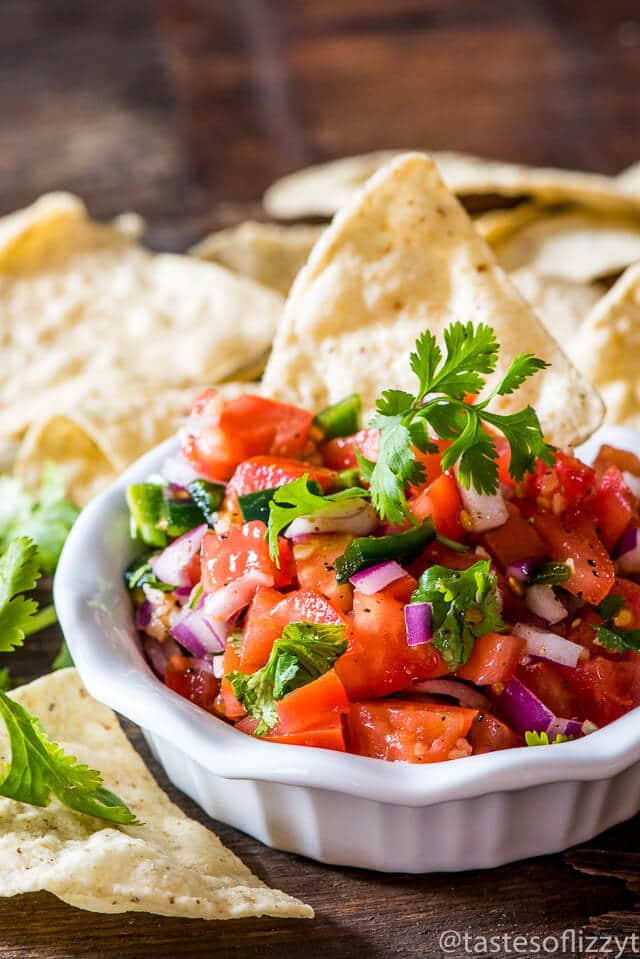 This Pico de Gallo has onions, tomatoes, garlic, cilantro and peppers. And I'm just not one for those veggies mixed together. I did try it though, and I didn't mind it. But I am not into eating it all day like my parents are.  Supposedly, to them, this recipe is the best and they've worked hard to perfect it to their liking.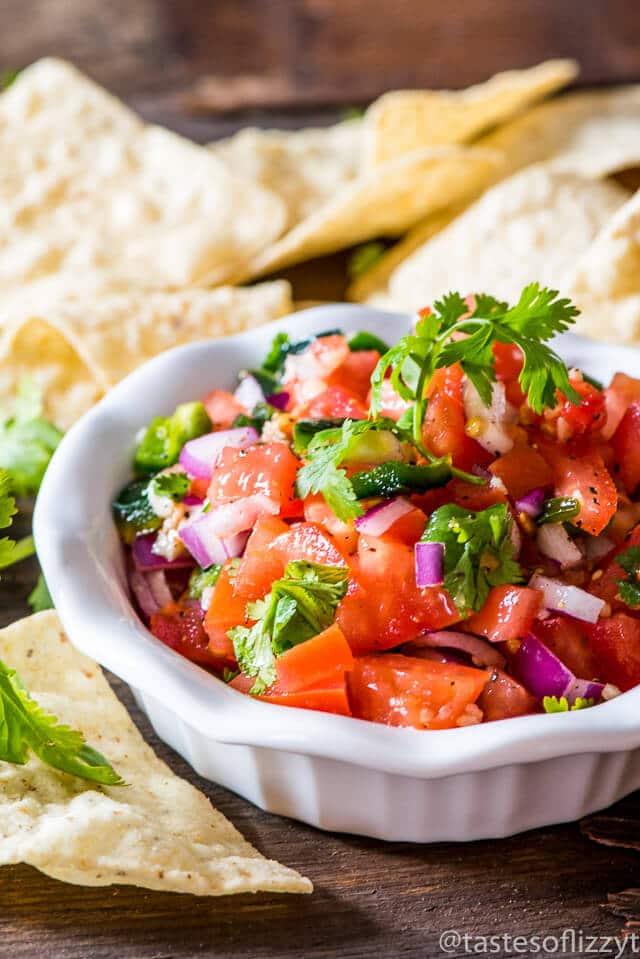 The artist in me loves the colors of this. Aren't they pretty?
What I also like are the dinners that this recipe inspires, even if I don't actually eat the Pico de Gallo. I'll be sharing some of those dinner recipes in the near future, too.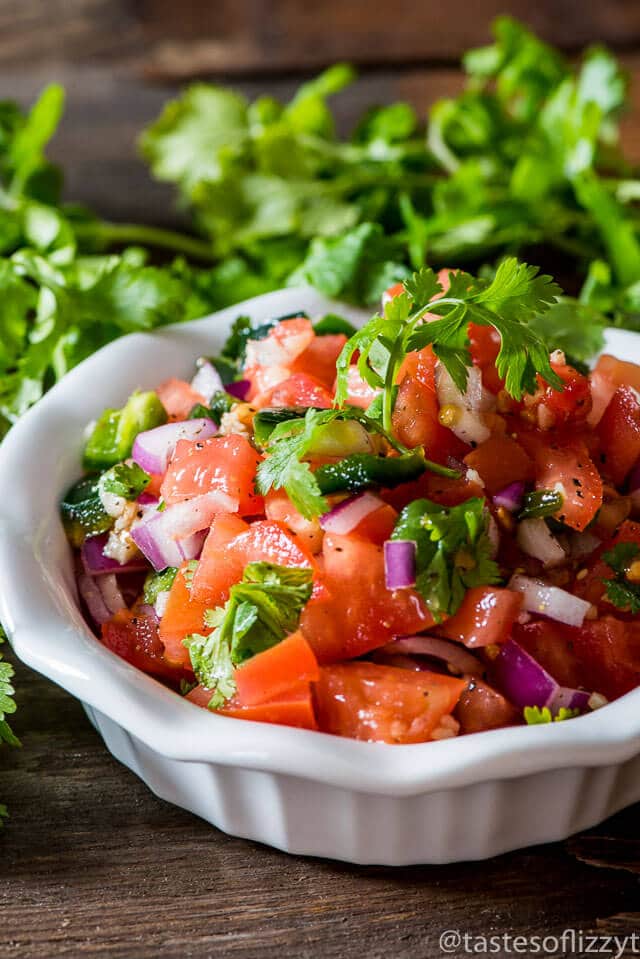 But for now, you'll have to be patient and enjoy!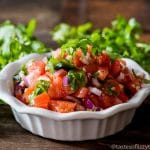 Pico de Gallo Recipe
The best pico de gallo recipe around. Fresh tomato, onion, peppers, cilantro and garlic with a splash of lime.
Ingredients
2

cups

finely chopped Roma tomatoes

1

cup

finely chopped onion

1

small jalapeno pepper

finely chopped

1/4

cup

finely chopped Poblano pepper

1/4

cup

chopped fresh cilantro

1/4

teaspoon

black pepper

1/2

teaspoon

salt

2

teaspoon

minced garlic

4

tablespoon

lime juice
Instructions
Add all of the ingredients in a bowl and mix.

This can be eaten right away, but it is best if you let it marinate for at least an hour in the refrigerator. Serve with tortilla chips, on tacos, burritos, or anything else you can think of!
Recipe Notes
Experiment with the peppers if you'd like. For more spice & heat, use more jalapeno peppers.You can use whatever kind of tomatoes you may have on hand.
Nutrition Facts
Pico de Gallo Recipe
Amount Per Serving (66 g)
Calories 17
% Daily Value*
Total Carbohydrates 4g 1%
* Percent Daily Values are based on a 2000 calorie diet.