Tastes of Lizzy T participates in affiliate advertising programs. We may earn a commission when you make a purchase through links on our site.
The best pico de gallo recipe around. How to make fresh salsa with garden tomatoes, onions, peppers, cilantro and garlic with a splash of lime. You may also like our corn, tomato & avocado salad! 
We are so crazy for salsa around our house. Especially homemade salsa! Whether it is salsa verde, mango or pineapple salsa, you can bet when a bag of chips come out in our house, these salsas get DEVOURED.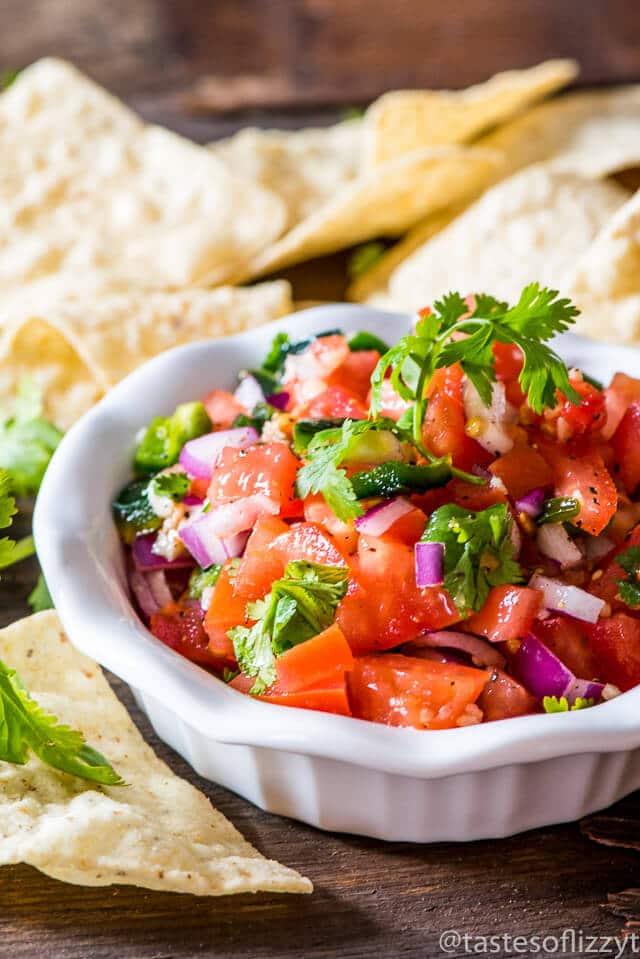 Fresh Salsa Recipe
On May 5th (Cinco de Mayo) last year, we were looking for a restaurant while we were traveling and stumbled on a Mexican restaurant with balloons, free ice cream, and a meal for 5 dollars. Turns out they were celebrating Cinco de Mayo! I had no idea about Cinco de Mayo until then.
This year we'll be making my favorite meal on May 5th…Tacos! I'll share our family taco seasoning recipe later in the week, but for now, here's a recipe my mom and dad have been living on lately. What does pico de gallo mean? It literally means "beak of a rooster". Silly, right?
Why do they call it pico de gallo?
Pico de gallo literally translates as "Rooster's Beak" or "pecked from a rooster". So how in the world did this delicious vegetable dip get its name? I'm really not sure! It could be that people ate it with their finger and thumb, or that it is little pieces of vegetables that resemble minced food a rooster might eat. Or that the poblano pepper is shaped like a rooster's beak.
Wikipedia has many different options on what it means, but I'd love to know the real reason!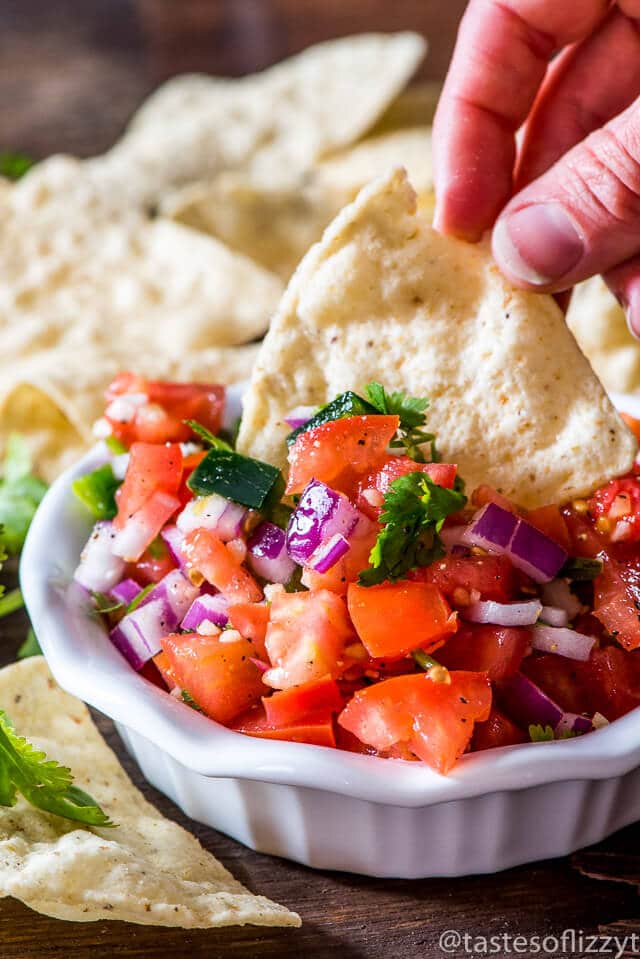 What is the difference between pico de gallo and salsa?
There is really not much difference as far as flavor goes. It is more of a texture difference. Pico de gallo is diced vegetables, almost like a salad that you can eat with fork or spoon.
Salsa tends to be smoother and "soupier", meaning you'll have to spoon it on top of your favorite burritos or enchiladas…or scoop it up with chips! You can find our favorite blender salsa here.
What goes in pico de gallo?
This Pico de Gallo has onions, tomatoes, garlic, cilantro and peppers, salt, pepper and a touch of lime juice. We use two types of peppers for our fresh salsa recipe: both poblano peppers and jalapeno peppers.  Poblano peppers aren't quite as spicy as jalapeno peppers but give the pico de gallo great flavor.
Supposedly, to my parents, this recipe is the best and they've worked hard to perfect it to their liking. The artist in me loves the colors of this. Aren't they pretty?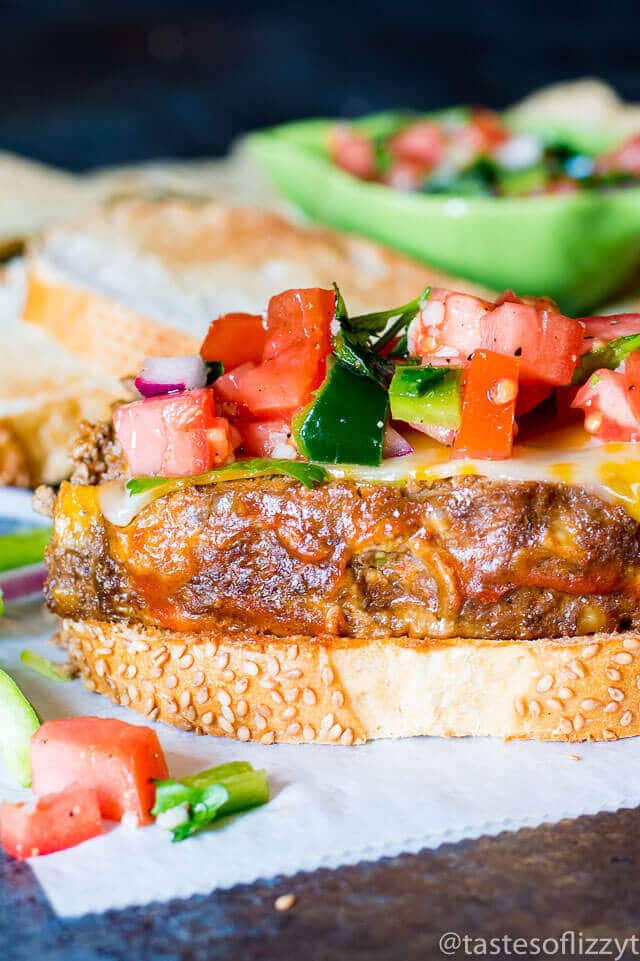 Is pico de gallo good for you?
Yes! It is full of fresh vegetables and has very few calories. I've been known to scoop it up on celery sticks for a low-carb snack. It's a great way to add flavor to meats during a Whole30.
Is pico de gallo better the next day?
The flavors will blend and become stronger if you make this side dish in advance. We actually prefer eating it the day we make it, but we do let it refrigerate for at least an hour before serving.
How long does pico de gallo last in the refrigerator?
I prefer to keep my pico de gallo in a sealed container in the refrigerator for not more than 3 days. I've found that the tomatoes soften and get "mushy" after awhile. We never have a problem using this up though!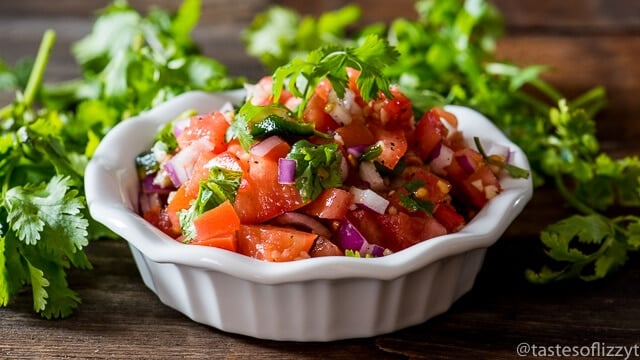 What to Serve Pico de Gallo On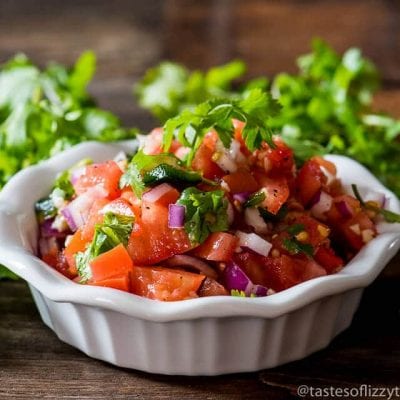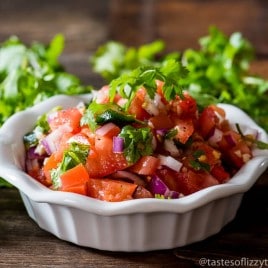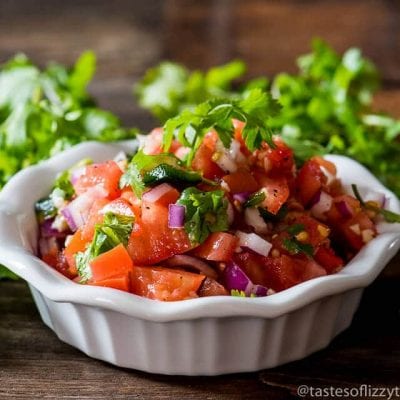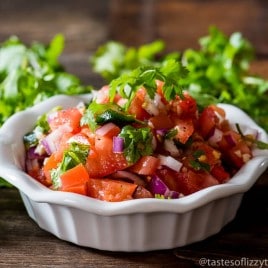 Pico de Gallo Recipe
The best pico de gallo recipe around. Fresh tomato, onion, peppers, cilantro and garlic with a splash of lime.
---
Ingredients
2

cups

finely chopped Roma tomatoes

1

cup

finely chopped onion

1

small jalapeno pepper

finely chopped

1/4

cup

finely chopped Poblano pepper

1/4

cup

chopped fresh cilantro

1/4

teaspoon

black pepper

1/2

teaspoon

salt

2

teaspoon

minced garlic

4

tablespoon

lime juice
Instructions
Add all of the ingredients in a bowl and mix.

This can be eaten right away, but it is best if you let it marinate for at least an hour in the refrigerator. Serve with tortilla chips, on tacos, burritos, or anything else you can think of!
Notes
Experiment with the peppers if you'd like. For more spice & heat, use more jalapeno peppers.You can use whatever kind of tomatoes you may have on hand.
The calories shown are based on the recipe being divided 8 ways, with 1 serving being ⅛ of the recipe. Since different brands of ingredients have different nutritional information, the calories shown are just an estimate.
Nutrition
Serving:
66
g
|
Calories:
15
kcal
|
Carbohydrates:
3
g
|
Sodium:
147
mg
|
Potassium:
82
mg
|
Sugar:
1
g
|
Vitamin A:
200
IU
|
Vitamin C:
12
mg
|
Calcium:
8
mg
|
Iron:
0.1
mg