I've been in the mood for Mexican lately. I love a good creamy, spicy Mexican dish. This Creamy Roast Beef Enchiladas recipe is one of my favorites. You're going to love it because it's so simple!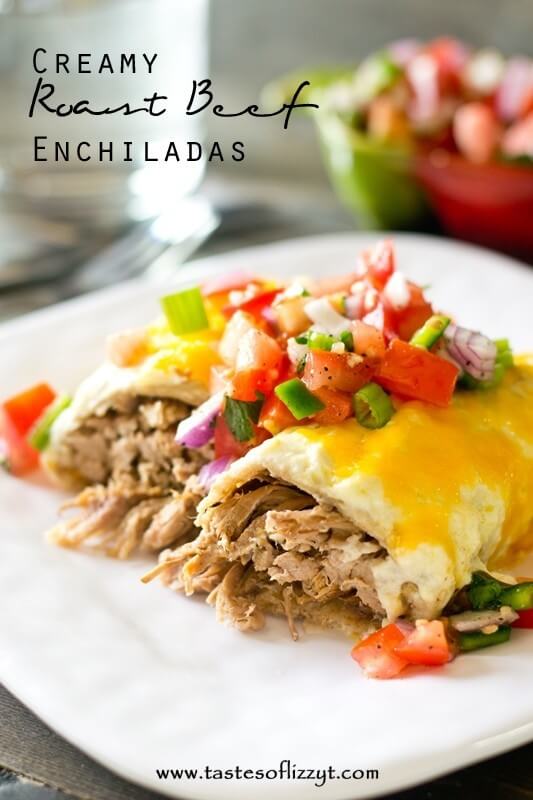 This is yet another recipe given to me from a good friend who is a great cook. The Pico de Gallo is our own recipe that we put together. It goes perfect with any Mexican meal!
To make this, first you're going to choose the meat.
This recipe is easy adaptable to your liking by using whatever kind of meat is your favorite.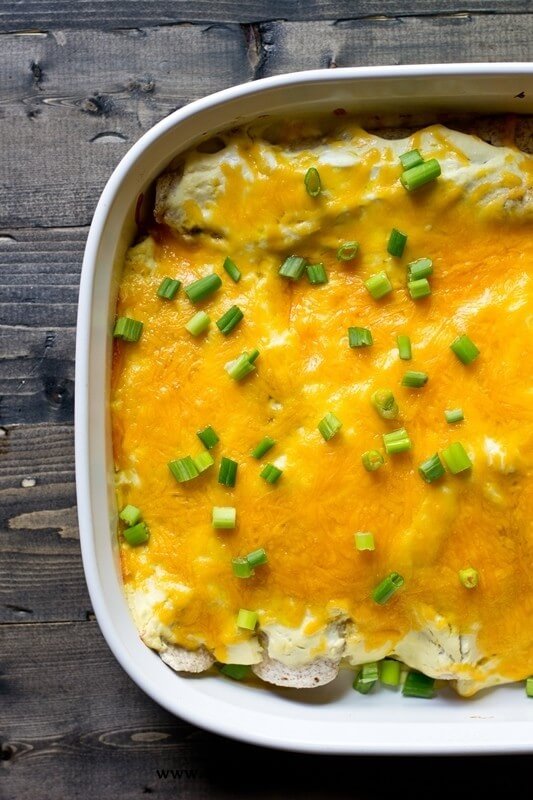 I am a huge roast beef fan.  The hardest thing about this recipe is smelling the roast beef cooking it the crock pot all day and not eating all of it before I get it in the casserole.
You can add shredded chicken or ground beef, too.  We've tried it with all three, and all three we loved!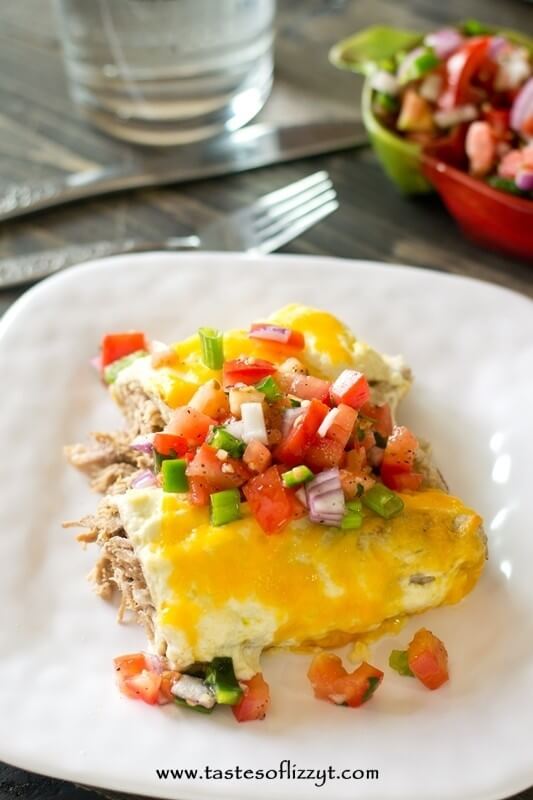 After you've cooked about 2 pounds of meat, mix in a small, drained can (about 4 oz) of green chilies.  This time I used a bit less because the kids are not thrilled about the little green things in the meat. I probably used about half of the can and they didn't say a word. 🙂
I'm sneaky, am I not?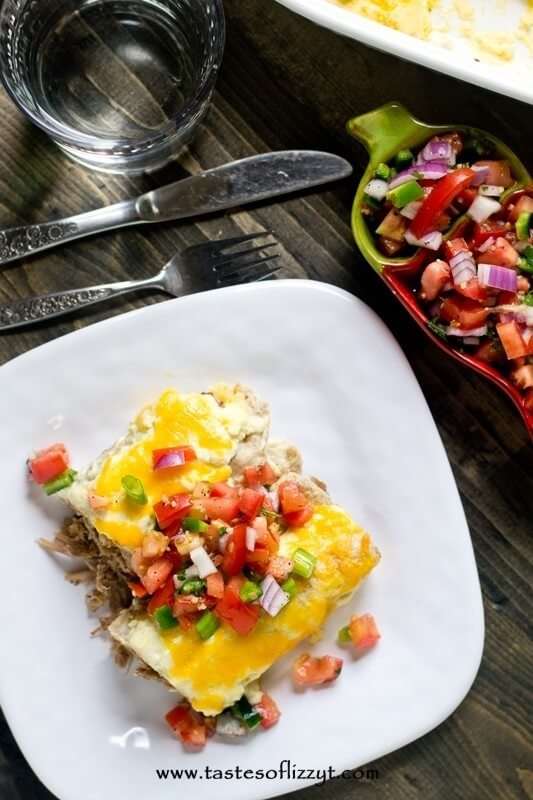 For the creamy topping, mix one cup of sour cream and one can of cream of chicken soup.  Spread just a little bit of this on the bottom of a 9×13 baking pan.  You'll do this so the bottoms of the enchiladas stay soft.
Once you've prepared the pan, roll up a little over half a cup of meat in each flour tortilla and place in the pan, side by side.  Spread the rest of the creamy topping over it and sprinkle some Mexican blend cheese over the top.  I used about 2 cups, but use as much as you'd like.
The cheesier, the better, is what I say!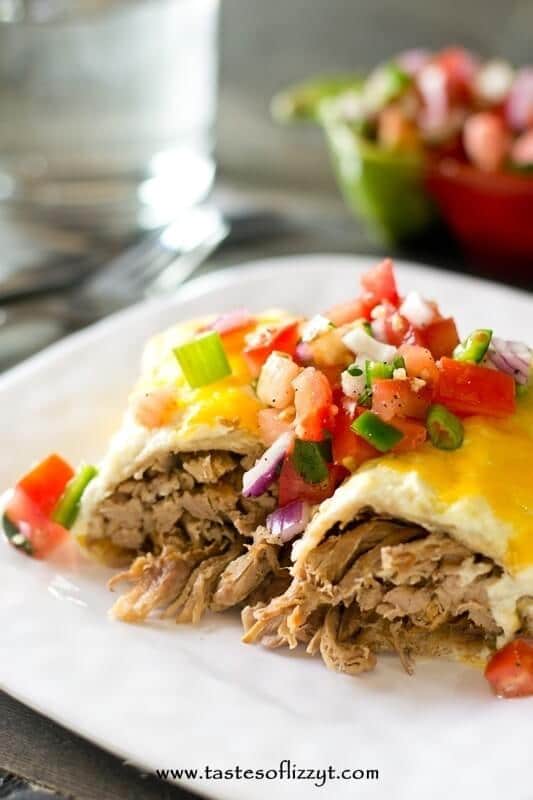 Bake this at 350 degrees for about 30 minutes or until warmed through and bubbly.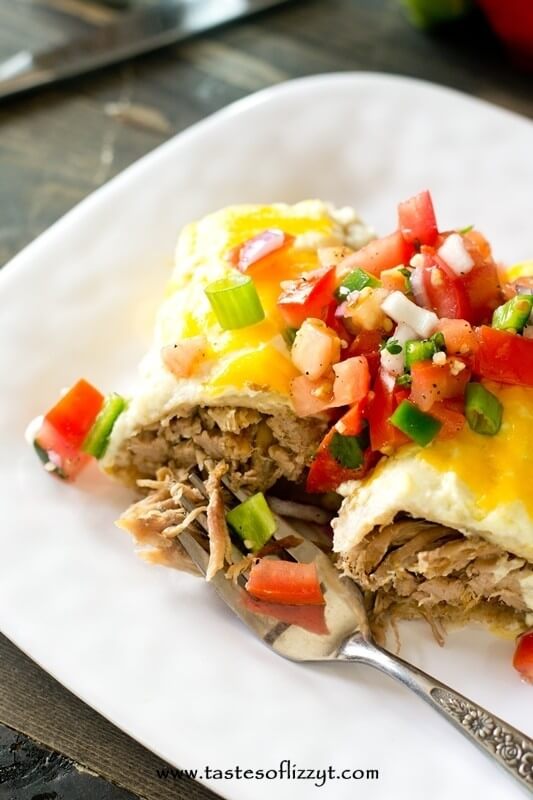 Yields 8
Creamy Roast Beef Enchiladas
20 minPrep Time
30 minCook Time
50 minTotal Time
Ingredients
8 flour tortillas
5 cups shredded roast beef
1 4 oz can green chilies, drained
1 can cream of chicken soup
1 cup sour cream
2 cups Mexican blend shredded cheese
Instructions
In a small bowl, combine the cream of chicken soup and the sour cream. Spread 1/4 cup of this mixture in the bottom of a 9x13 pan. Set the remainder aside.
Combine the shredded roast beef (or meat of your choice) with the green chilies. Place a little over 1/2 a cup of meat mixture down the center of a flour tortilla. Roll it up and place it seam down in the 9x13 pan. Repeat with the remaining 7 tortillas.
Once all of the tortillas are rolled and placed in the pan, spread the remaining soup/sour cream mixture over top the tortillas. Sprinkle the shredded cheddar cheese over the top.
Bake at 350 for 30 minutes or until heated through and bubbly.
Serve with fresh Pico de Gallo or salsa.
Notes
Use your favorite meat...shredded beef, shredded chicken, or ground beef.

In order to get our roast beef nice and shredded, I cooked it on low in the slow cooker for 8-9 hours.

Feel free to leave out the green chilies...the enchiladas are still great!
7.6.4
492
https://www.tastesoflizzyt.com/creamy-roast-beef-enchiladas/
Serve with salsa, or our favorite
Pico de Gallo
!