Asparagus Cilantro Lime Rice
Tastes of Lizzy T participates in affiliate advertising programs. We may earn a commission when you make a purchase through links on our site.
Light and airy, this asparagus cilantro lime rice recipe is a great busy weeknight recipe that is perfect to serve on the side for Taco Tuesdays!
Our family loves Taco Tuesday nights! Steak tacos, taco dip, and even a taco casserole dish are some great main dishes for Taco Tuesdays. But do you ever wonder, what are some side dishes for Taco Tuesdays?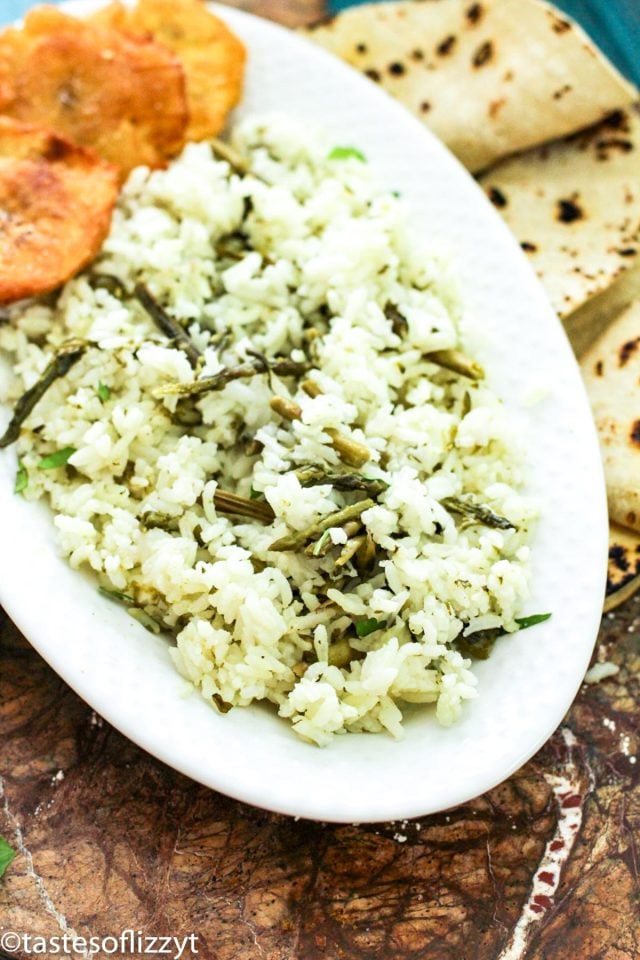 Often people settle for white rice, french fries, or a simple salad on the side of tacos. Let's face it, Taco Tuesday is an easy dinner night, it's usually all about the toppings.
Today, we're talking about a simple white rice recipe that includes good for you asparagus and the juice of a zesty lime to liven up the simplicity of white rice.
Chipotle Cilantro Lime Rice
Chipotle is famous for their overstuffed burritos or burrito bowls -and for a good reason. Everything at Chipotle tastes amazing, but it can be pricey.
Thankfully, you can bring a taste of Chipotle home with this cilantro lime rice recipe that is somewhat inspired by the Chipotle cilantro lime rice.
What is cilantro lime rice?
Cilantro lime rice is a simple white rice dish that has been cooked with chopped cilantro. Once the cilantro rice is cooked through and has been fluffed, it is then drizzled with fresh lime juice to liven up the white rice; this create the infamous cilantro lime rice we've all grown to love.
When you think of rice with anything, you typically think of rice and beans or rice with corn, but hardly ever asparagus and rice. Yet, it works out great! Plus, it is a creative way to incorporate veggies into your meal.
Tips for making rice:
Rinse your rice. It takes away the starches that will keep your rice sticking to each other.
Let your rice site in a bowl of water for 20 minutes. Then drain it, again this helps keep your rice from sticking and forming into clumps.
Read the instructions for the rice. The amount of water needed for making cilantro lime rice with long grain white rice will differ from making this asparagus and rice dish with brown rice.
Finely chop your cilantro. Make sure your cilantro it finely chopped, and remember not to go overboard. Too much cilantro will taste like soap for some people.
Use a tight fitting lid. Remember that rice expands while cooking, so use a pan that is ideal for cooking rice. Using a tight fitting lid ensures the rice steams and cooks properly.
Use a wide pan. When making any kind of rice recipe, you want your rice to cook as evenly as possible, which is why using a wide pan is more important than using a deep pan. Round dutch casseroles are great for making rice!
How To Make Cilantro Lime Rice with Asparagus
Rinse and chop your asparagus. We are using the tips and tender parts only. Snap or chop off the woodsy ends. Thin asparagus is easier for chewing, but the key is making sure you cut it into bite sized pieces. About half an inch to one inch long.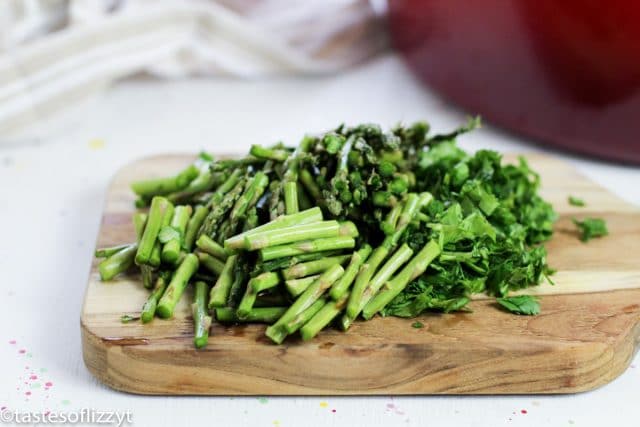 2. Add in your ingredients. Add your rice, chopped asparagus, chopped cilantro, water, salt, and oil to a pot. Give it a quick stir and set your heat to high.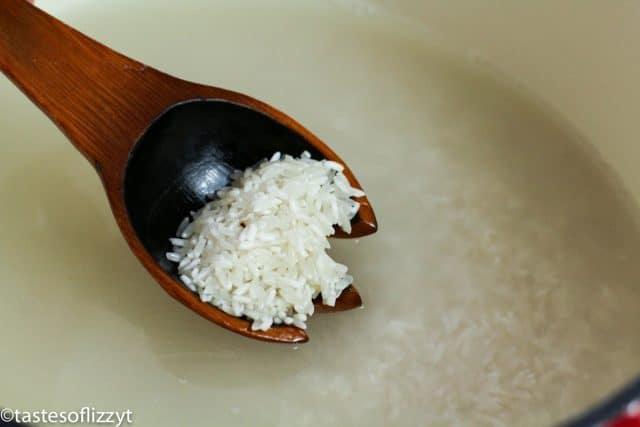 3. Bring your water to a boil. The trick to making white rice on the stove is to bring your water to a boil.
Some people like to allow some of their water to evaporate before covering and lowering the heat. Others like to cover and turn the heat to low as soon as the water comes to a rolling boil.
If you have a personal preference on how to make white rice, follow that.
We made this recipe by bringing the water to a boil, and then letting it boil for a minute or two and then covering with a tight fitting lid and lowering the temperature to low.
How low should my temperature go for making rice on the stove?
Ideally, from a 1-10 range, aim for a 3. We don't want to use 1 where it just stays warm, you want it to cook through.
Remember, with the initial boiling, we started the cooking process and allowed for steam to create before we turned it to low.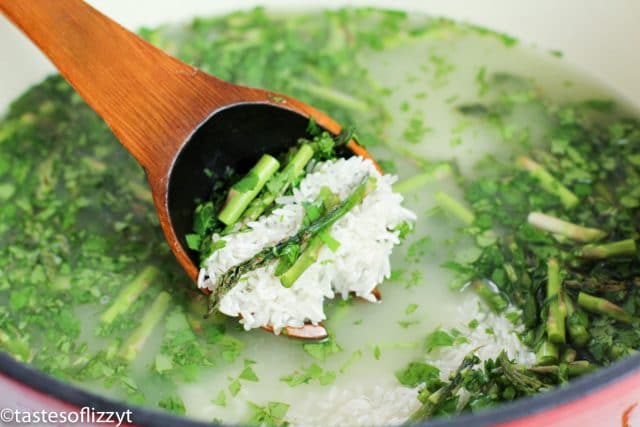 4. Let your rice cook. Check your packaging for exact timing, different grains need different cooking times. Ideally, you want your rice to cook undisturbed over a low heat for about 20 minutes.
5. Remove rice from heat. After your rice cooks, you want it to rest for 5-10 minutes, with the lid still on and undisturbed.
After the asparagus and rice have cooked and rested, you will open the lid and with a fork, gently fluff the rice.
6. Add lime juice. Using fresh or concentrated lime juice, squeeze lime juice over the rice. I suggest starting with less lime juice, and allowing your guests to add more -if desired, on their own.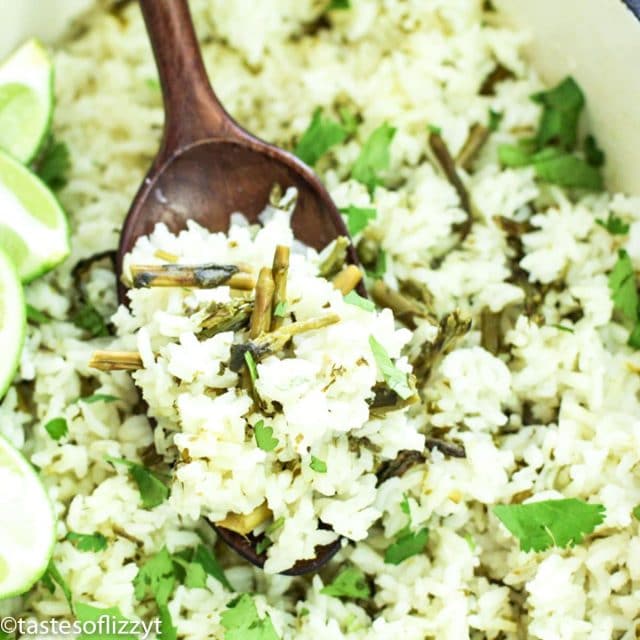 What can I add to my rice?
For this cilantro lime rice recipe, we've added asparagus to make it into a light and airy asparagus rice. You can also add variety to your rice by making:
Cilantro lime rice with chicken. A perfect way to use any leftover chicken! Add freshly shredded rotisserie chicken at the same time you add your cilantro for a great fresh one pot rice meal!
Cilantro lime rice with black beans. Drain a can of black beans and cook as directed above.
Remember that white rice is a blank canvas and it takes on flavor easily! Take for instance this amazing Spanish rice recipe with vienna sausage and bacon from Latina Mom Meals!
How To Reheat Cilantro Lime Rice
The quickest and easiest way to reheat cilantro lime rice would be to put the desired amount into a bowl or plate and to microwave it for a minute or two.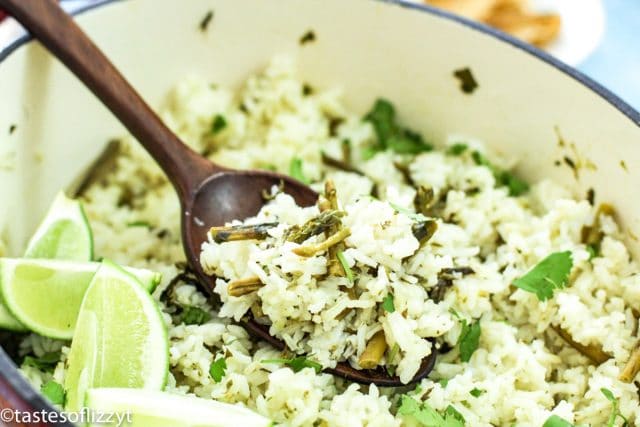 Can you freeze cilantro lime rice?
Yes, you can freeze cilantro lime rice by adding a a cup of leftover cilantro lime rice into a quart size freezer bag.
Tips for freezing cilantro lime rice:
Freeze rice in smaller portions. This allows your rice to not become a giant ball.
Flatten your rice and flash freeze. Flash freezing your rice while it has been flattened with the air released from the bag allows you to store it conveniently without taking much space, and keeps the rice from again, forming into a ball.
Reheat with water or oil. Reheating cilantro lime rice on the stove is easy by either gently frying it with olive oil to heat it through or microwaving it. (Just a tablespoon or two of olive oil for frying.) When microwaving frozen cilantro lime rice, you're going to defrost it for about 3-5 minutes, and I like to sprinkle some rice on top to help the process along.
Other Rice Recipes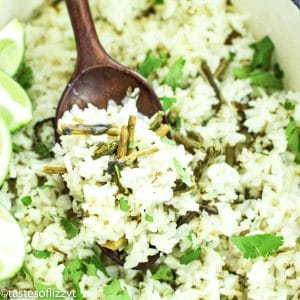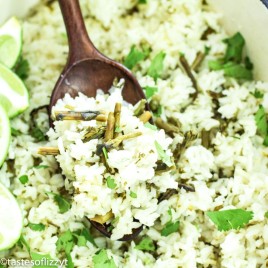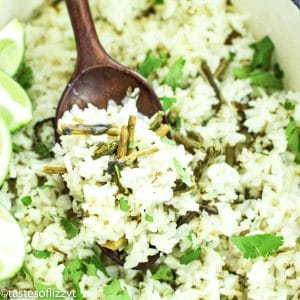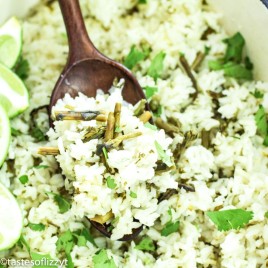 Cilantro Lime Rice
Light and airy, this asparagus cilantro lime rice recipe is a great busy weeknight recipe that is perfect to serve on the side for Taco Tuesdays!
---
Ingredients
2

cups

water

1

cup

long grain rice

(rinsed)

½

cup

chopped fresh asparagus

¼

cup

chopped cilantro

1

teaspoon

salt

1

teaspoon

butter

2

teaspoons

fresh lime juice
Instructions
Bring water to a boil. Then add in the rice, asparagus, cilantro, salt, and butter. Stir gently, and cover with a tight fitting lid.

Lower heat to low and allow rice to simmer for 20-25 minutes, or until the rice is cooked through and tender.

Once rice is tender, turn off heat and remove pot from the burner. Allow rice to rest for 5 minutes before removing the lid.

Once the lid is removed, add in lime juice and fluff rice with a fork before serving.
Notes
Note: Rinsing the rice before cooking allows most of the starch to rinse away, leaving you with a less sticky rice.
Nutrition
Calories:
145
kcal
|
Carbohydrates:
30
g
|
Protein:
3
g
|
Fat:
1
g
|
Saturated Fat:
1
g
|
Cholesterol:
2
mg
|
Sodium:
479
mg
|
Potassium:
70
mg
|
Fiber:
1
g
|
Sugar:
1
g
|
Vitamin A:
126
IU
|
Vitamin C:
1
mg
|
Calcium:
17
mg
|
Iron:
1
mg