It may sound strange, but Cauliflower Rice is a great alternative for rice in a low-carb, grain-free diet! Tips on how to make easy cauliflower rice.
So….have you ever heard of cauliflower rice? I'll admit that up until 6 months ago, the only time I ate cauliflower was if it was cut up small and smothered in ranch dip.
I truly have come a long way.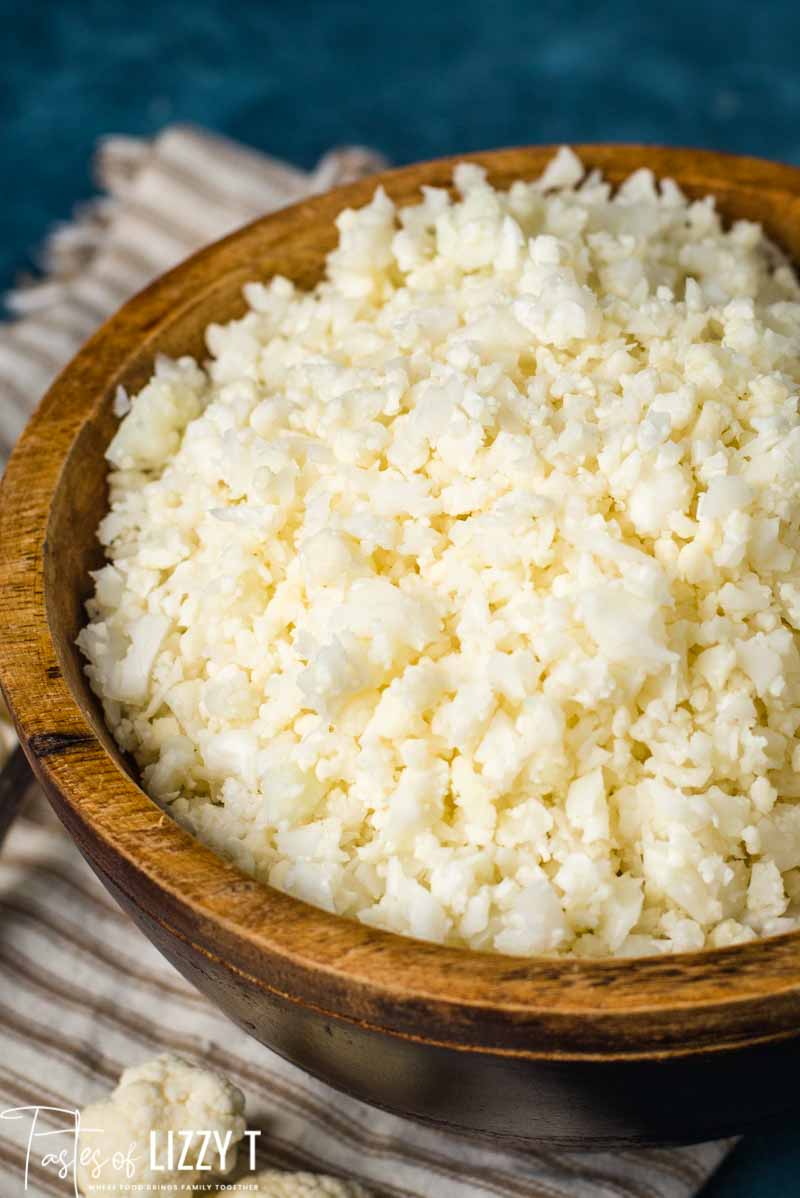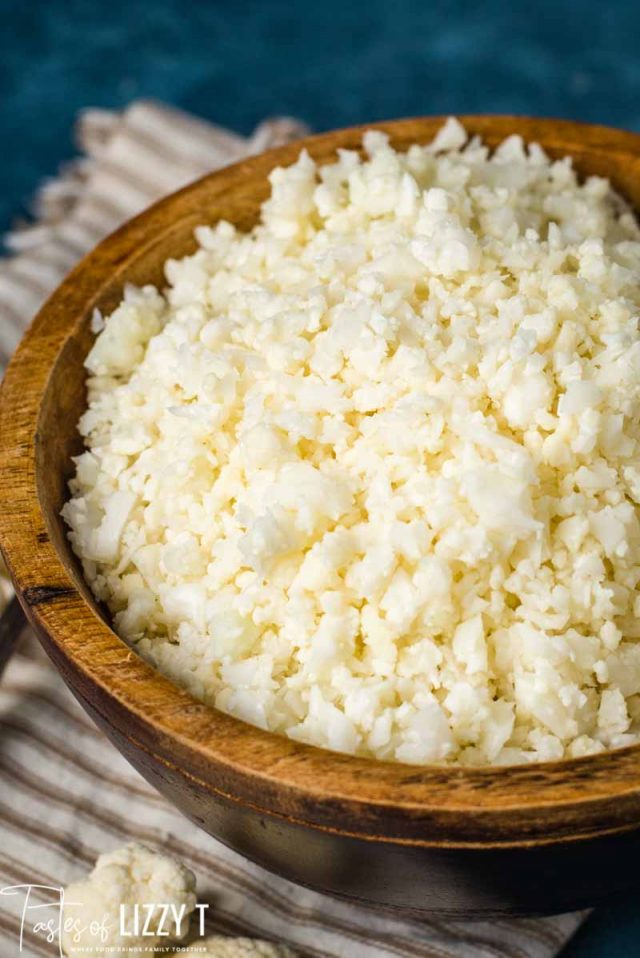 Is cauliflower rice better than rice?
After we set out on our Whole30 journey, I found something called  Cauliflower Rice. So is this vegetable rice better than regular rice? Although it can be used interchangeably in recipes, they definitely don't taste the same. It is lower in carbs and grain free so in that way is "better".
I'm at the point now where in most recipes I can say that I like it about the same as regular rice. But please prepare your mind that it is not the same texture or taste as rice.
How does cauliflower rice taste?
I'll have to say that we were all pleasantly surprised. I really thought it would have a weird taste, but it doesn't. Sometimes the rice has a stronger"veggie" aroma than other times, but I have a fairly sensitive nose and this has never turned me off from eating it.
If you add seasonings such as stir-fry sauces, butter or a coconut milk gravy, the cauliflower taste will mostly be masked. Loaded cauliflower casseroles are delicious!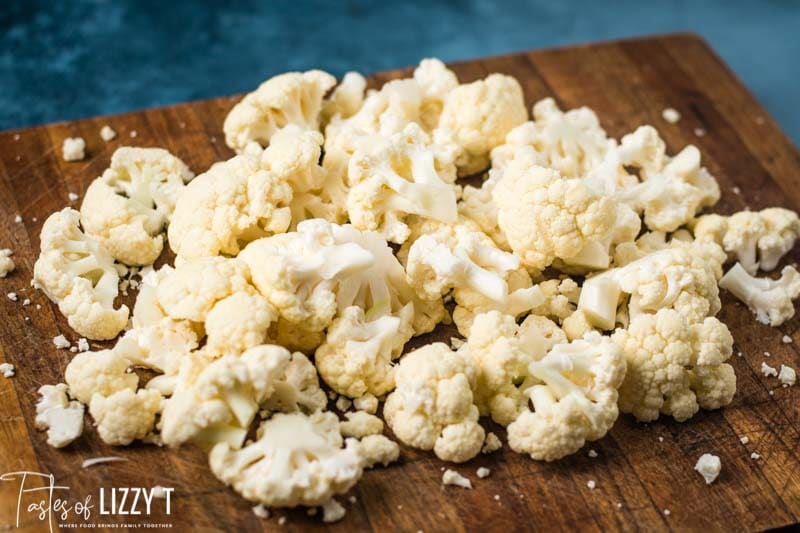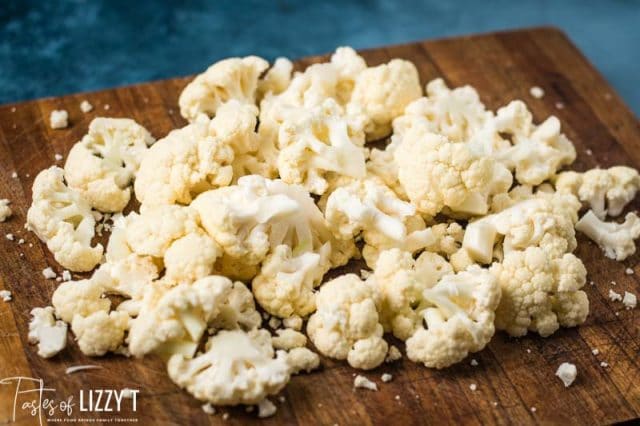 Is cauliflower rice Keto?
Yes. Cauliflower is keto friendly and it is a great way to add a low carb rice option to your dinners.
It also fits into gluten free, sugar free, paleo and Whole30 eating plans.
How do you make cauliflower rice?
You'll need a washed head of cauliflower, a food processor and a Ziploc Zip & Steam bag.
Cut the cauliflower heads off and cut or break them into small pieces.  Put the cauliflower pieces into your food processor. We love our Ninja…you can buy one here.
Note…if you don't have a food processor, you can use a box grater to grate tiny pieces of cauliflower. You'll want the pieces about the size of pieces of rice.
Process that cauliflower until you have little rice-size pieces.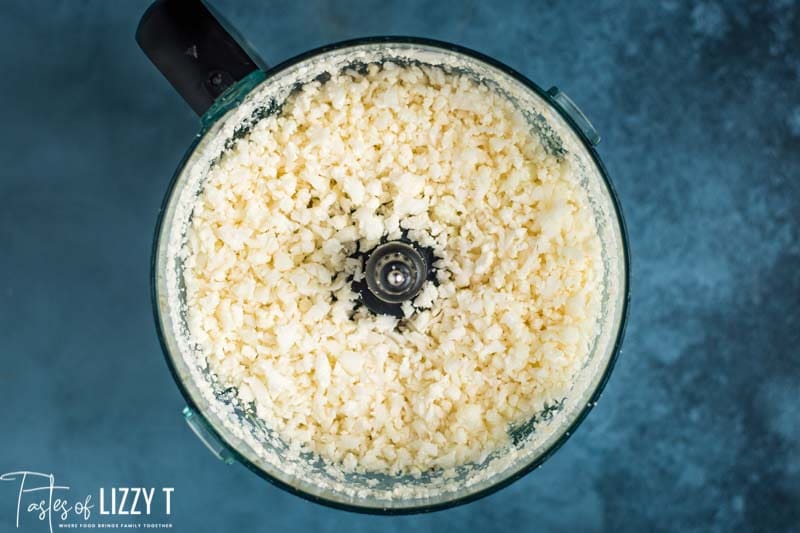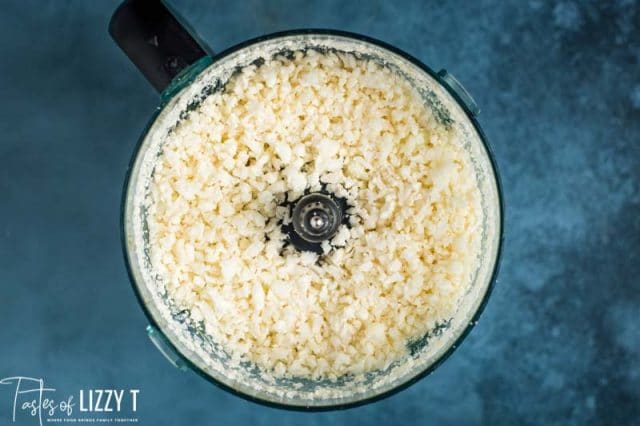 How to Steam Cauliflower
Once you have the raw cauliflower rice, there are several ways to cook it.
Place it in a skillet with a touch of oil and saute until it is cooked. (You can cover the skillet while cooking to steam the cauliflower which makes it soft.)
Add it to any recipe calling for rice (we often add it to stuffed peppers).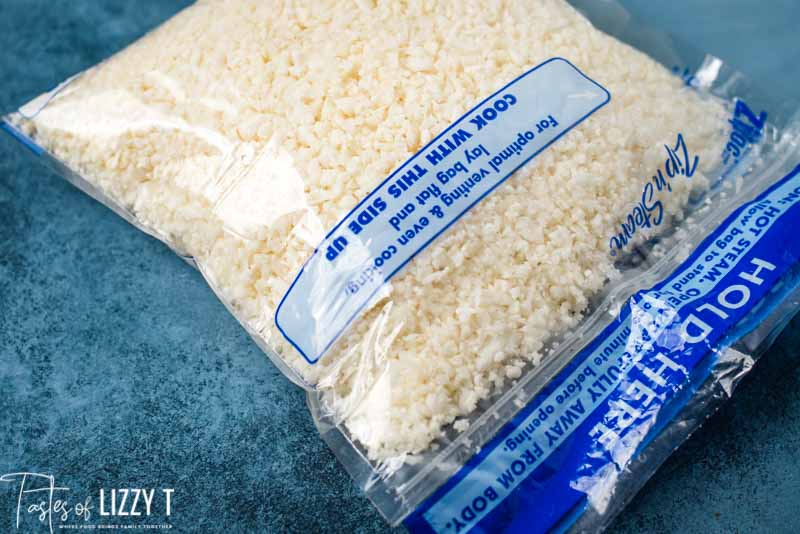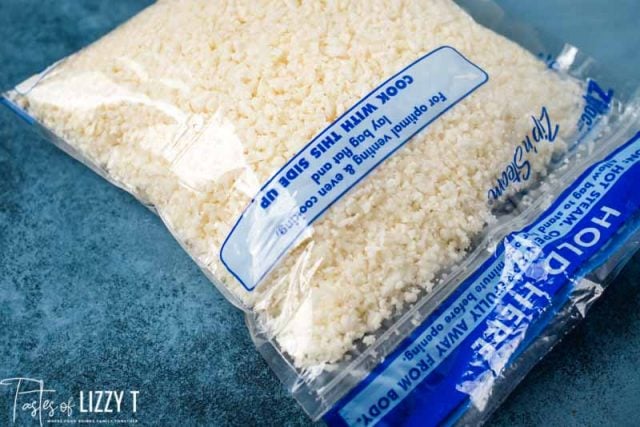 Or…you can steam it easily in the microwave, which is our favorite method:
Take those tiny pieces of raw cauliflower and empty them into a Ziploc Zip & Steam bag.  If you've never used one of these bags, you're missing out. It makes steamed veggies so easy!  Whatever type of veggies you love, just throw them into the bag.
Seal the bag.
Microwave for 3-6 minutes. The exact time will depend on how much rice is in the bag.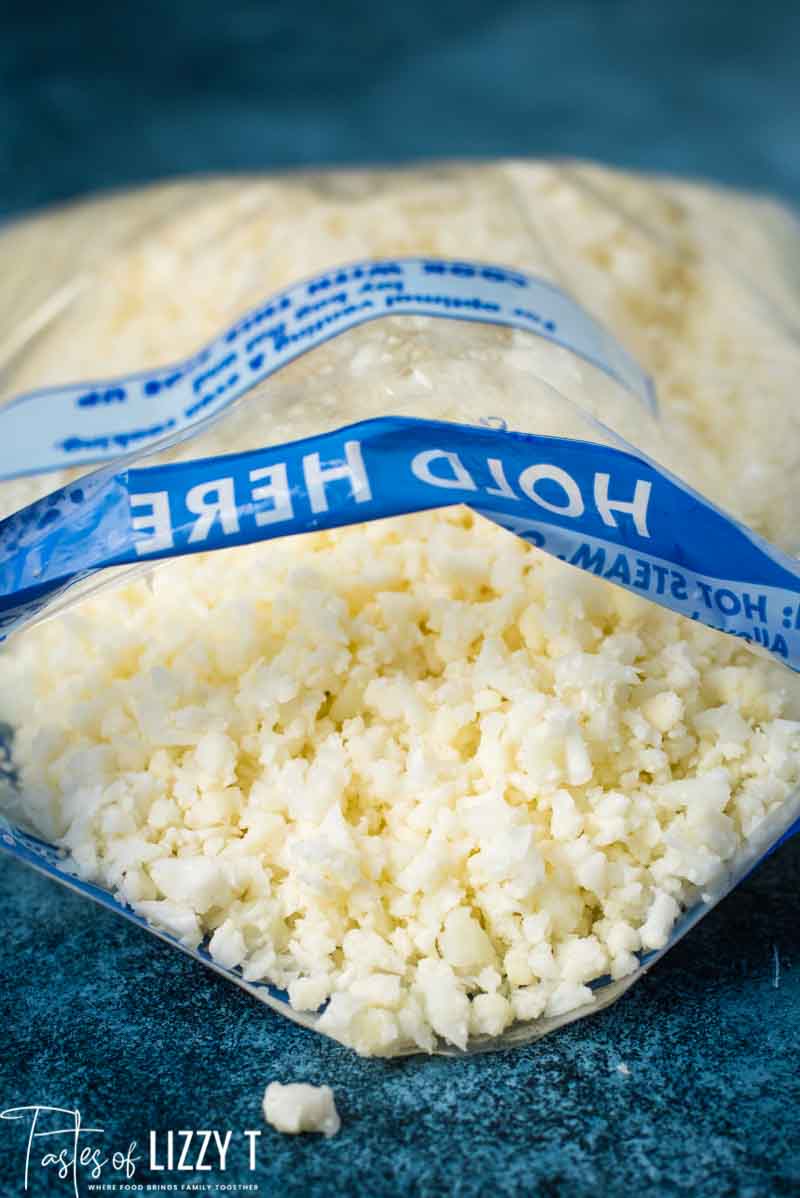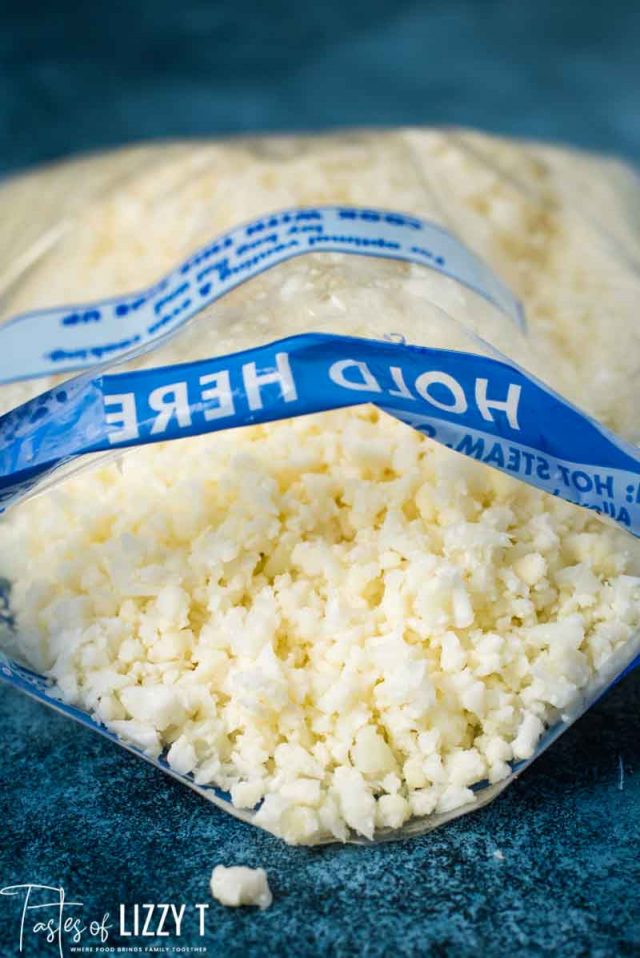 I cook about 1 ½ cups of cauliflower for about 3 minutes in our microwave.  It really doesn't take long!
It is so simple that there's really no excuse why you can't be eating steamed veggies! You can find these where the Ziploc bags are in the store or you can purchase them here.
**Pro Tip: Reuse the steam bags! Rinse them out and reuse many times to reduce waste.**
Can you freeze cauliflower rice?
Yes! After you rice the cauliflower, blot it dry with a paper towel so there is not extra moisture. Then place it in the portion sizes you'd like in a freezer bag. Seal and freeze for up to 6 months. This makes meal prepping for your Whole30 so easy!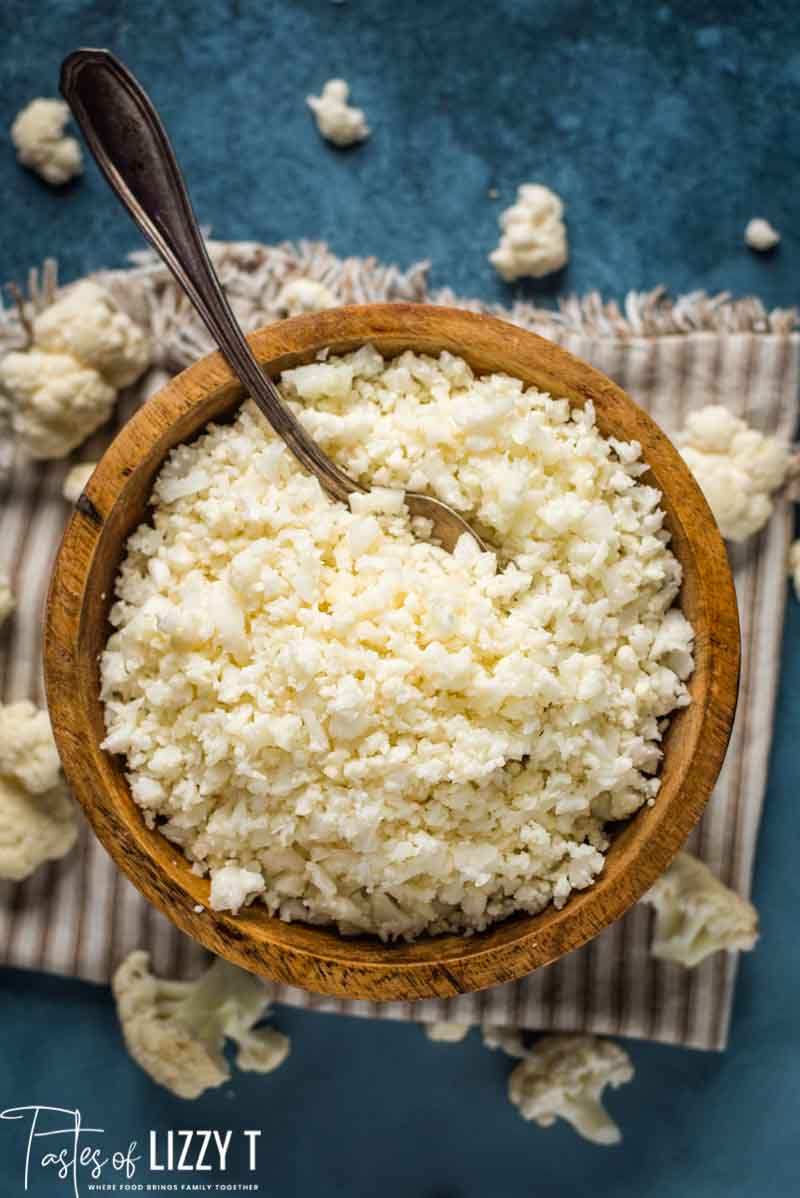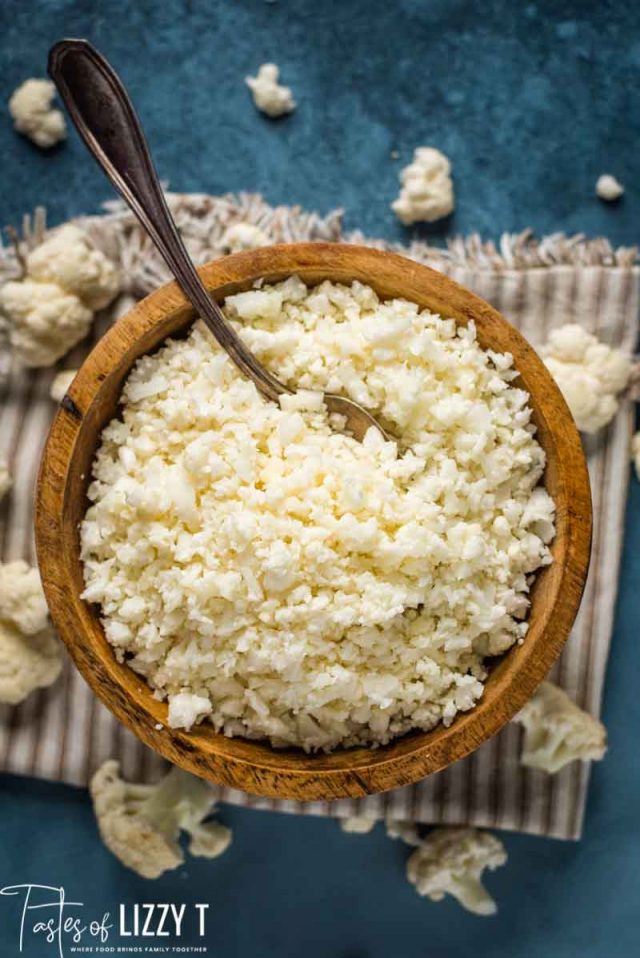 Where to buy cauliflower rice?
If you don't feel like making your own rice or need a few bags to pop in the freezer, you can buy them at your local grocery store. I know they sell it at Aldi, Kroger, Trader Joes and Meijer. Look in the freezer vegetable section.
What do you use cauliflower rice for?
This low carb rice is simple to make, and we've used it in so many of our standard recipes that call for rice. Our favorite times to use the rice is when we have burritos or for making fried rice. I'll be sharing recipes over time that can use this rice.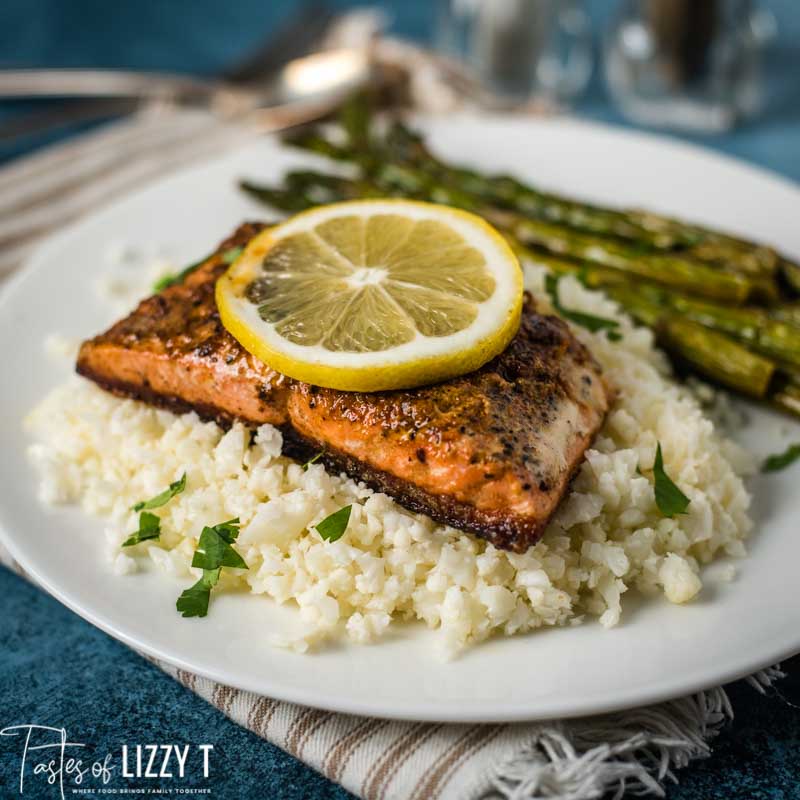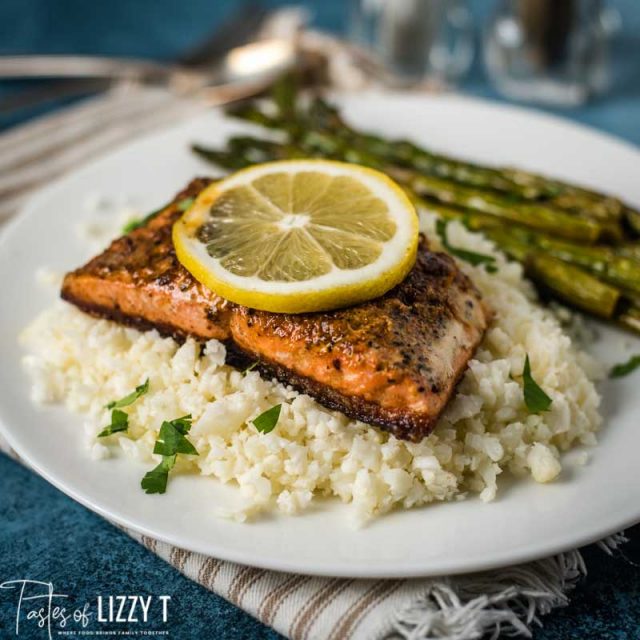 How do you season cauliflower rice?
We recommend seasoning cauliflower rice based on the recipe you are making it with.
For Mexican rice: add a touch of lime and cilantro.
For Fried Asian rice: add coconut aminos or soy sauce and a touch of ginger.
For Italian rice: add garlic and parmesan cheese.
A simple sprinkling of salt and pepper goes a long way too!
Recipes with Cauli Rice
I dare you to give it a try. You could even give yourself time to get used to the change by adding in just a little bit of cauliflower rice when you make normal grain rice. Then slowly replace more of the grain rice with cauliflower until you've completely switched over.
What are some of your favorite rice dishes that you think this would work in? Here are a few of ours:
Have you ever tried mashed cauliflower in place of potatoes? Try our low carb mashed cauliflower bake!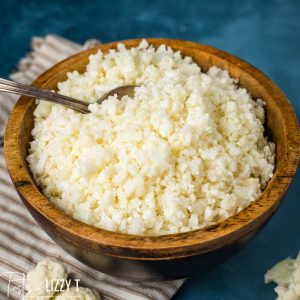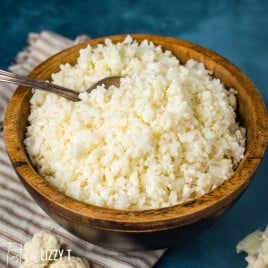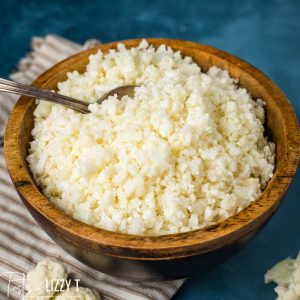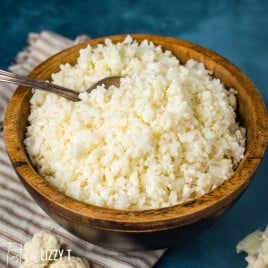 Cauliflower Rice
It may sound strange, but Cauliflower Rice is a great alternative for rice in a low-carb, grain-free diet! Tips on how to make easy cauliflower rice.
---
Ingredients
1

head

cauliflower

food processor
Instructions
Wash and cut the cauliflower into small pieces.

Put the cauliflower pieces into your food processor and process it until it is in rice-size pieces.

Put the rice into a Ziploc Zip & Steam bag and cook in the microwave for about 3 minutes, or according to the directions on the bag.


Serve the cauliflower rice as you would normally serve rice.
Nutrition