Slow Cooker Coconut Ginger Chicken
Tastes of Lizzy T participates in affiliate advertising programs. We may earn a commission when you make a purchase through links on our site.
If you love comforting, creamy chicken dishes, you'll love this Slow Cooker Coconut Ginger Chicken. It's a simple dinner that is paleo, grain free, dairy free and sugar free. Plus, it's a great "leftovers" dish!

Slow Cooker Coconut Ginger Chicken
So Matt and I have officially completed our 2nd Whole30. The question that we always ask while we are working our way through those Whole30 days is, "What next?"  We know that this way of eating makes us feel amazing.  Matt's asthma is almost non-existent. Our skin is clearer. And we have quite a bit of energy.  But we also know how much we miss our comfort food. (Mostly in the form of donuts and cream/sugar in our coffee to be exact.)
So what did come next for us?  We are following a paleo diet most of the time. We allow ourselves some cheats here and there when we have company, go to a party, or when we just need a donut on a Saturday morning. And so far, we're still feeling pretty good.
During the past 8 weeks or so, I've ventured away from just serving a slab of meat and a plate full of veggies to actually trying to relearn how to cook with dairy free and grain free ingredients.  I found this recipe on Pinterest by Simple Bites  for Slow Cooker Coconut Ginger Chicken and I knew I could make it fit our paleo diet with just a few changes.  Guess what? It is now one of our favorites.  Want to know why? Because it is creamy.  It calls for two cans of coconut milk, which is what gives this chicken it's super creamy texture.  I was so excited when I realized that I could use coconut milk similarly to how I'd normally use cream of chicken soup.  This opens up the recipe floodgates, friends! I can't wait to try more of my old favorite recipes with a new "paleo" twist to it.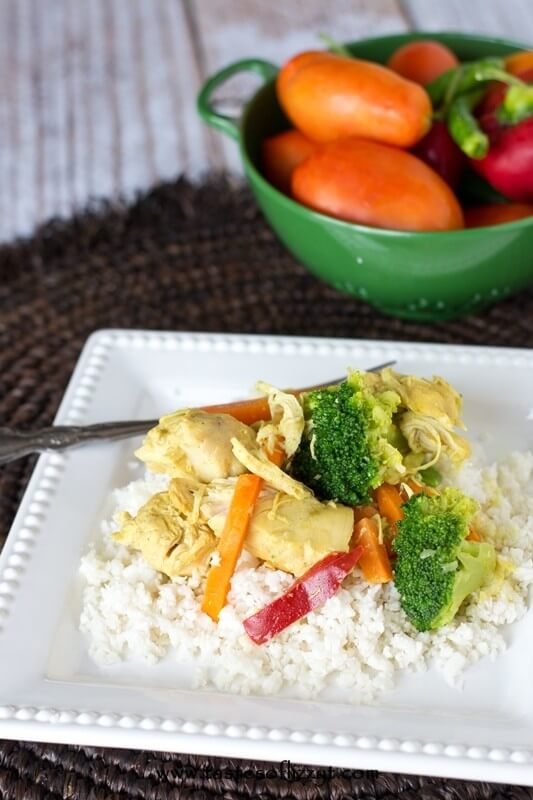 This coconut ginger chicken was so easy to get into the slow cooker in the morning. Let it simmer for at least 4 hours on low. Throw in some frozen veggies and allow it to cook for another 2 hours.  I used an asian stir fry medley with broccoli, peppers, carrots and mushrooms. You know when it is done when the chicken shreds easily with a fork and the veggies are tender.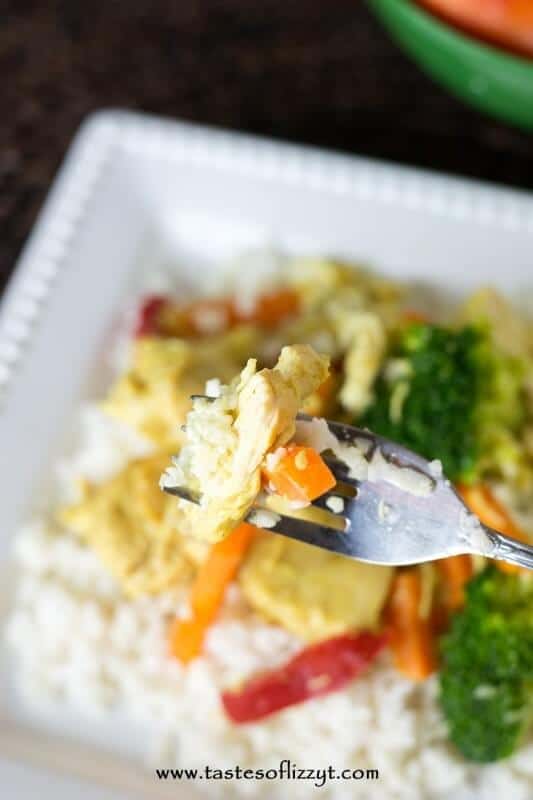 Another great thing about this slow cooker paleo recipe is that we liked eating it just as much, if not more, the second day.  The flavors had time to all blend nicely in, which made for a great leftovers meal. Cooking with fresh foods is often hard when you have a busy schedule, so meals that can be made in advance and warmed on a time-crunched evening are invaluable!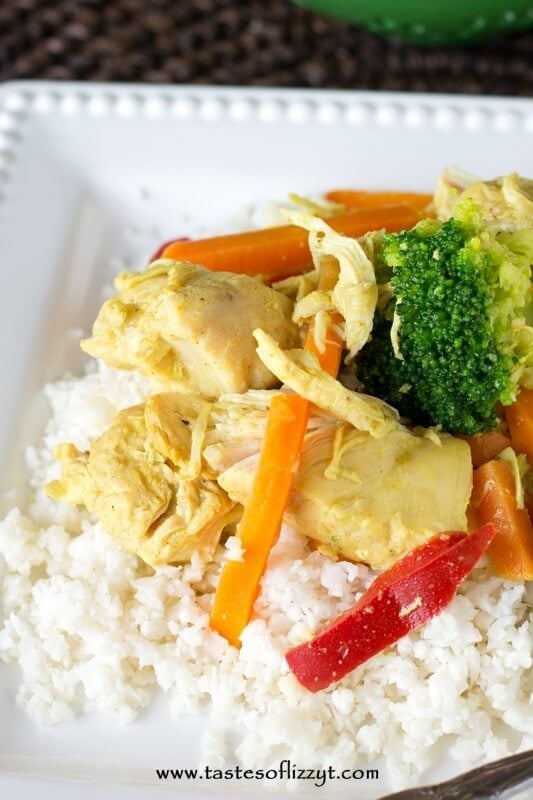 Serve this warm, comforting, ginger-infused chicken over cauliflower rice, or even a potato if you'd like.  Enjoy!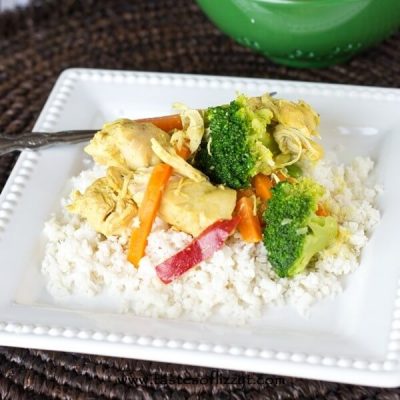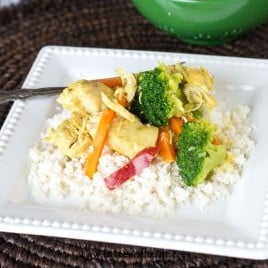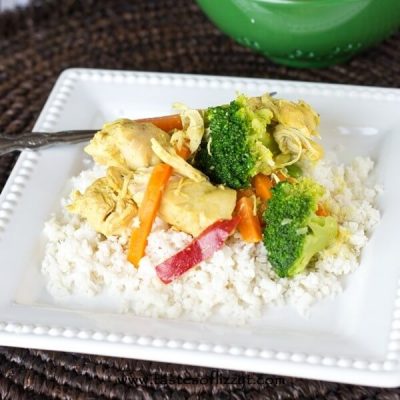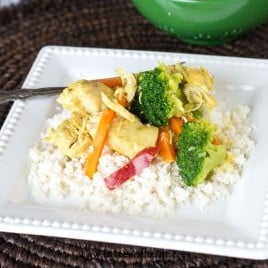 Slow Cooker Coconut Ginger Chicken
If you love comforting, creamy chicken dishes, you'll love this Slow Cooker Coconut Ginger Chicken. It's a simple dinner that is pale and dairy free!

Total Time
8

hours
30

minutes
---
Ingredients
1

tablespoon

olive oil

2

tablespoons

coconut oil

2

teaspoons

minced garlic

1/2

teaspoon

ginger

1/3

cup

chopped red onion

1/2

teaspoon

ground pepper

1

teaspoon

ground cumin

1

teaspoon

ground coriander

1 1/2

teaspoons

ground turmeric

1 1/2

teaspoon

salt

2.5

pounds

boneless

skinless chicken breasts, cut into large chunks

2

cans

coconut milk

chilled

2

tablespoons

tapioca starch

4

cups

frozen mixed vegetables

broccoli, carrots, peppers, etc
Instructions
In a frying pan, heat the olive oil and coconut oil. Add the garlic, ginger and red onion. Cook for 3-4 minutes, then add the pepper, cumin, coriander, turmeric and salt and mix in. Add the chicken pieces and lightly brown it on all sides. Allow the chicken to get coated with the spice mixture.

Place the chicken and spices in the bottom of a slow cooker. Open the chilled cans of coonut milk and remove the cream from the tops. Place the cream in a bowl and set it aside. Pour the coconut milk overtop the chicken. Add the tapioca starch to the coconut cream that you set aside and mix well. Add this to the crockpot.

Cover the crockpot and cook on low for 4 hours. Add the vegetables at this time and cook for an additional 2 hours or until the vegetables are tender.

Serve over cauliflower rice, if desired.
Notes
If you'd like your veggies really tender you can try adding the vegetables at the beginning of the cooking process. This also works well if you need the meal to be ready right when you get home!
Nutrition
Calories:
489
kcal
|
Carbohydrates:
17
g
|
Protein:
36
g
|
Fat:
31
g
|
Saturated Fat:
23
g
|
Cholesterol:
89
mg
|
Sodium:
561
mg
|
Potassium:
947
mg
|
Fiber:
3
g
|
Vitamin A:
4620
IU
|
Vitamin C:
10.6
mg
|
Calcium:
51
mg
|
Iron:
5.1
mg