Bacon & Thyme Mashed Cauliflower
Tastes of Lizzy T participates in affiliate advertising programs. We may earn a commission when you make a purchase through links on our site.
Surprise your loved ones with this family-friendly Bacon & Thyme Mashed Cauliflower. It's a paleo (and Whole30) side dish that will guarantee smiles!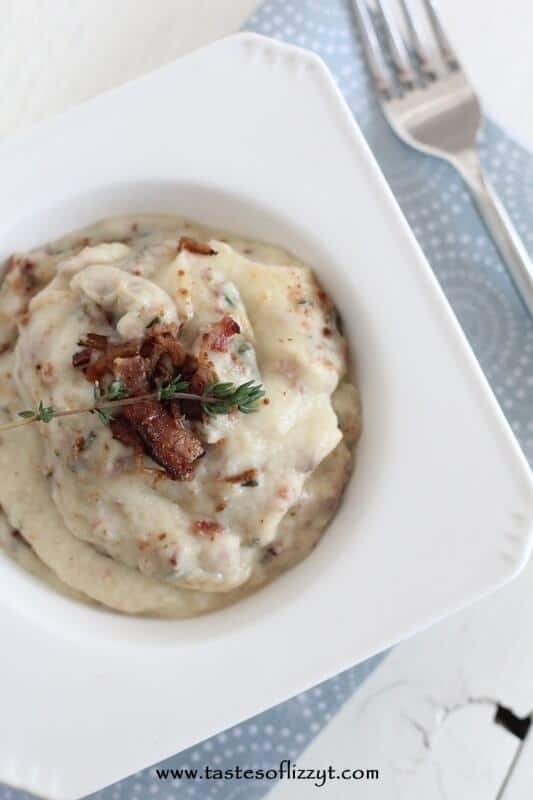 I understand the entire family may not be on board for clean eating but there are some sure-fire tricks to get the to come around. And bacon just may be one of them! Now let's not get crazy adding bacon to everything because, well, that's not so healthy either. But if it gets my family to try something new and enjoy it, I'm all for it. And that's just what I did with this mashed cauliflower recipe.
When my family and I first started following a paleo diet, I wasn't sure what to expect. It was a new way of looking at food. I wanted to focus on all of the foods I *could* be eating rather than the foods I was now avoiding. I found myself adding more and more vegetables and fruits into our diet and using them in ways that I previously hadn't thought about. I was stuffing bell peppers with sandwich toppings rather than squeezing them in between bread and using frozen bananas to make "ice cream".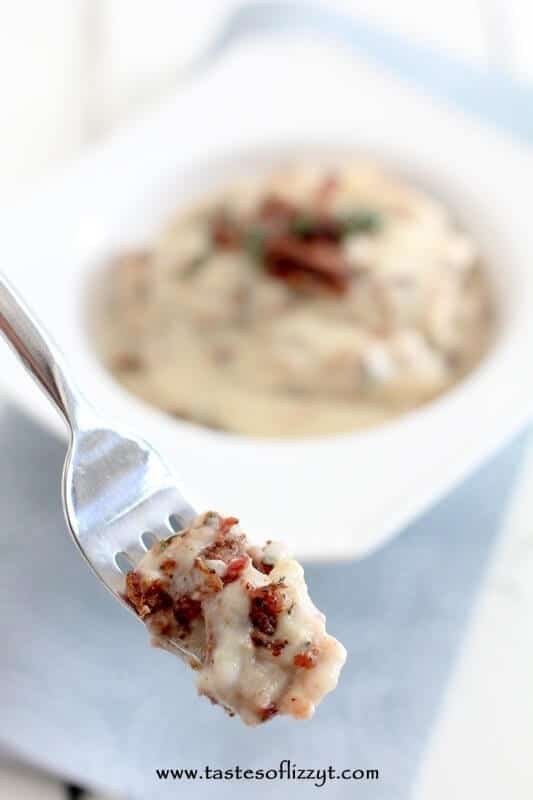 And I have to confess, when I saw cauliflower being mashed as a mashed potato substitute and in cauliflower casserole, I was dubious. How on earth could cauliflower ever replicate that creamy homey-ness I got out of good 'ol fashioned mashed potatoes. But you know what? They do! In fact, this year I made them as part of my dad's birthday dinner and he didn't even realize it was cauliflower until my mom commented on how good the cauliflower was. I believe his exact words were, "Oh! I forgot to get some cauliflower on my plate". My mom and I looked around and laughed as he had already eaten all of his mashed cauliflower. Thanks Dad!
Mashed cauliflower alone is delicious, but I do like to spruce it up from time to time just like with this recipe. If you enjoy cheese, a bit of gorgonzola is amazing in this recipe so feel free to add some.
One trick I've learned making mashed cauliflower is to not over-steam the cauliflower as it could make the mash a bit thinner than desirable. You want to steam them until they are fork tender but not mushy. I also pull them off of the steam for a bit and let some additional of the additional moisture come off.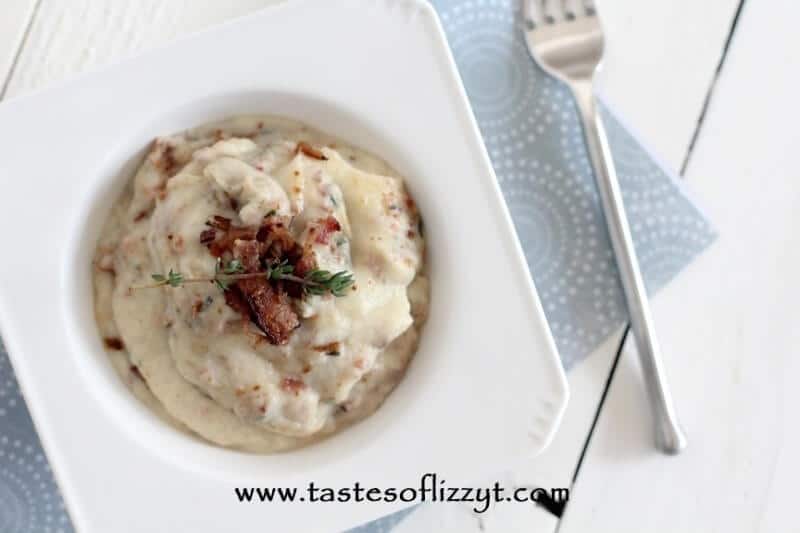 Needless to say, the kids love this recipe. You can serve it as a side to your protein or serve your protein right over top. I hope you enjoy this dish as much as my family does!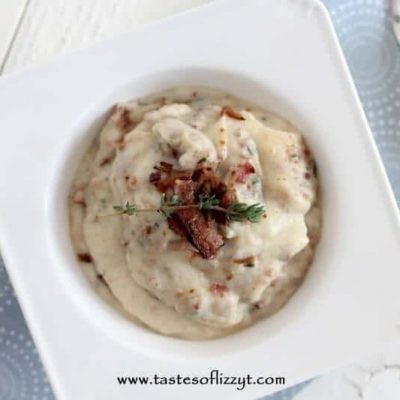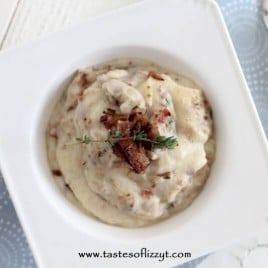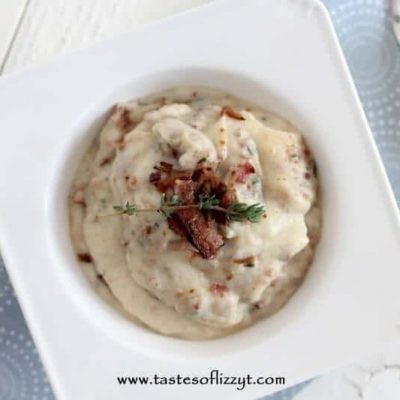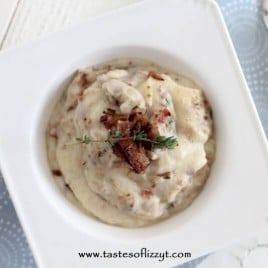 Bacon & Thyme Mashed Cauliflower
Surprise your loved ones with this family-friendly Bacon & Thyme Mashed Cauliflower. It's a paleo (and Whole30) side dish that will guarantee smiles!
---
Ingredients
2

lbs

cauliflower florets

2

cloves

garlic

6

slices

bacon

2

tablespoons

ghee or grass-fed butter

1

teaspoon

chopped thyme
Instructions
Bring a large pot of water to boil and steam cauliflower florets and garlic cloves until tender.

Meanwhile, cook 6 slices of bacon to desired crispness.

Once cooked, remove bacon and pulse in a food processor or blender until small bits are created.

Once cauliflower is cooked through add to a blender along with ghee or butter and process until smooth.
Nutrition
Calories:
80
kcal
|
Carbohydrates:
7
g
|
Protein:
2
g
|
Fat:
5
g
|
Saturated Fat:
2
g
|
Cholesterol:
10
mg
|
Sodium:
209
mg
|
Potassium:
452
mg
|
Fiber:
3
g
|
Sugar:
2
g
|
Vitamin A:
115
IU
|
Vitamin C:
72.8
mg
|
Calcium:
33
mg
|
Iron:
0.6
mg