We're teaching how to make the best steak tacos recipe. Everything you need to know from steak rubs to taco toppings. You've never had a street taco like this!
Last year we tackled a sizzlin' steak fajita (my husband's favorite), but today we're giving all the hints for Mexican street tacos, steak style! This is a far cry from simple homemade taco seasoning(although that is delicious with ground beef). The flavor of these easy street tacos is next level!!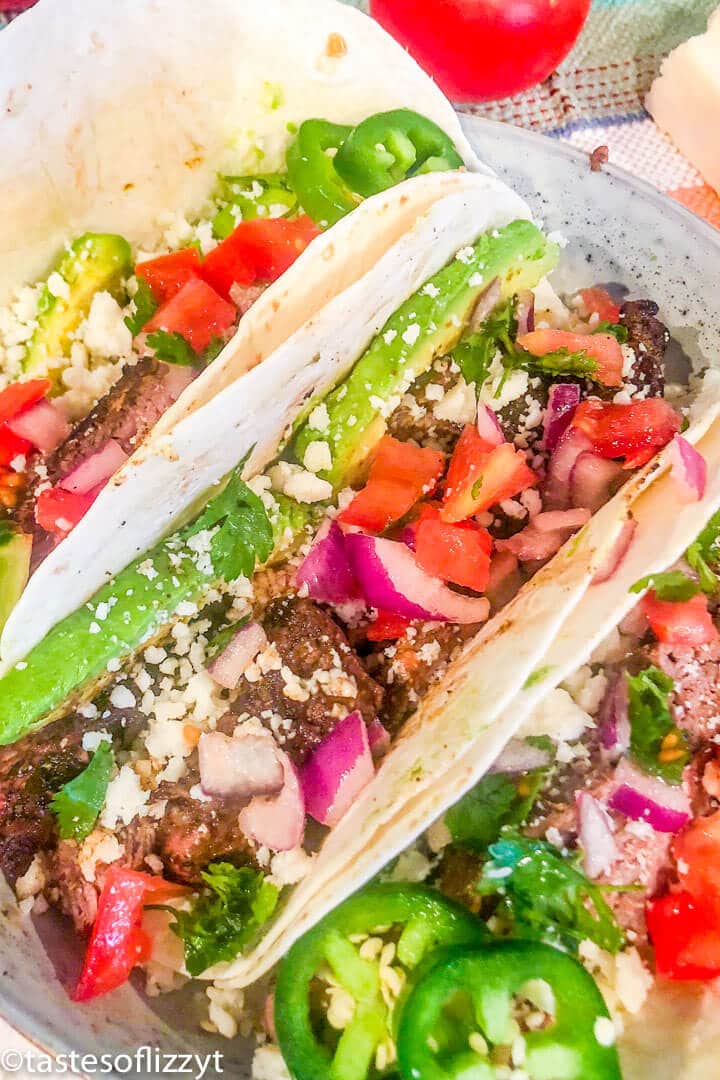 What is a street taco?
Mexican street tacos aren't exactly what we Americans think of when we think "taco". It is generally much smaller than a traditional American taco and is served open faced so you can see the toppings.
You'll notice that they tortillas are small and often there are two of them. This helps give a "cleaner" eating experience. You can use corn tortillas or flour tortillas, but choose the small "street taco" size. You can find them in just about any grocery store by the tortillas.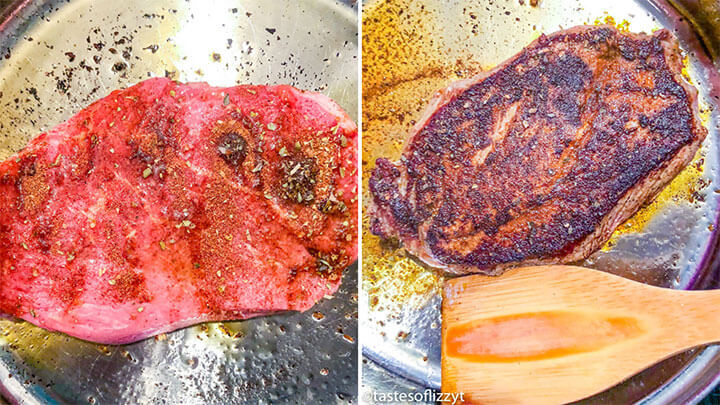 '
What cut of beef is best for tacos?
Carne Asada is what steak for tacos is commonly called. The best cut of beef for this is flank steak or skirt steak.
Another solid option is ribeye. Ribeye always has amazing flavor!
Is skirt steak the same as flank steak?
Flank steak and skirt steak can generally be used interchangeably. Both have a great beefy flavor. Both can also be tough if cooked the wrong way. Use either you'd like, but for tacos, cook the steak over high heat and serve it medium rare for the best tender steak.
Mexican Steak Rub
Although it may be tempting to pick up a pre-packaged Mexican spice rub, you'll love making your own at home. This allows you to add as much heat as you'd like! You can mix up a bunch of this and keep it on hand so it is easy to pull out.
Don't skip that cocoa powder…it sounds strange but adds such amazing flavor!
To add more or less heat, watch the cayenne pepper. Add more or less, depending on what you like!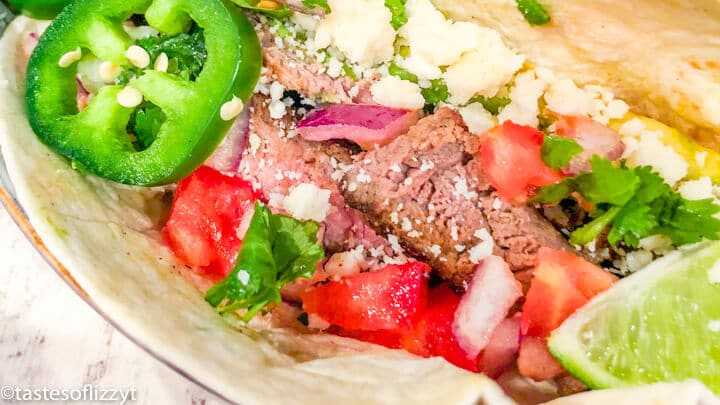 How to Make Steak for Tacos
After you've rubbed the steak with a delicious Mexican spice mix, it's time to cook the steak!
If you'd like you can throw the steak on the grill, but we almost always pan fry it. It doesn't take long to cook so pan frying is often easier than heating the grill.
Heat oil in a skillet, then sear each side of the steak. We recommend medium rare (135º F) to medium (145º F) but of course you can cook your steak to the degree of doneness that you prefer.
**Pro Tip: Allow your steak to rest for 10 minutes before slicing it. This will help seal those juices in, making your steak tender and flavorful.**
What is in a Mexican Taco?
Other than the meat (we're showing steak here, but it can also be shredded chicken, ground beef, barbacoa or pork carnitas) which is the focus of street tacos, other toppings are optional. We like to load on a fresh salsa, sprinkling of cheese, a squirt of fresh lime juice and cheese.
In American we tend to put on sour cream and cheddar cheeses, but that is not on traditional Mexican street tacos.
What is the best cheese for tacos?
The most authentic cheese for street tacos is Cotija cheese. We find this in the dairy section of the grocery store by the cheese. We buy it in a block and shred it ourselves.
Of course you can also use sharp cheddar, white cheddar or Monterey Jack cheeses. Even pepper jack cheese would be awesome!

Best Salsa for Steak Tacos
Although store bought is easy, we recommend a homemade salsa for these tacos. The possibilities are endless and you'll love the different flavor profile each salsa gives!
What to Serve with Tacos
Chips and salsa is a classic choice, but what other options are there? After an appetizer of  chicken quesadillas, we recommend an easy salad, a huge pile of guacamole, and maybe some Mexican street corn casserole.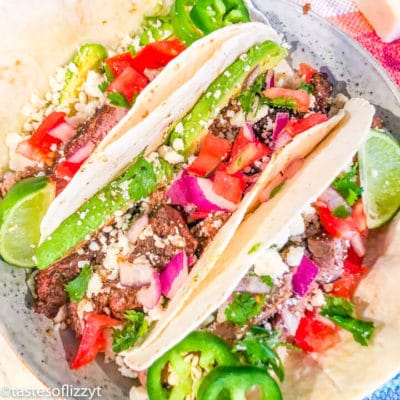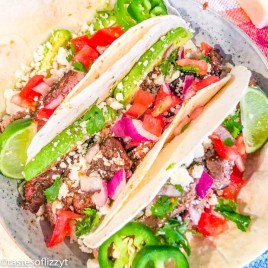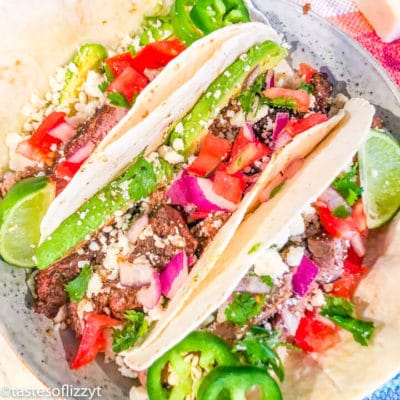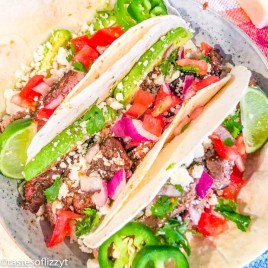 Steak Tacos Recipe
We're teaching how to make the best steak tacos recipe. Everything you need to know from steak rubs to taco toppings. You've never had a street taco like this!
---
Ingredients
2

pounds

flank steak

2-3

tablespoons

olive oil
Steak Rub:
2

tablespoons

chili powder

1

tablespoon

arrowroot starch

(or cornstarch)

2

teaspoons

ground cumin

2

teaspoons

dried oregano

2

teaspoons

unsweetened cocoa

2

teaspoons

pink Himalayan salt

1

teaspoon

garlic powder

1

teaspoon

onion powder

1

teaspoon

black pepper

1/4

teaspoon

cayenne pepper

1/4

teaspoon

ground coriander
To make the tacos:
10

soft flour tortillas

2

avocados

(sliced)

1

cup

pico de gallo

Cotja Cheese

(for topping)
Instructions
Brush both sides of the steak with olive oil.

Mix all of the seasonings in a small bowl. Sprinkle and pat the seasoning mix on both sides of the steaks. (Save any leftover seasoning for the next time you make steak tacos.)

Heat oil in a skillet over medium heat.

Sear both sides of the steak and cook over medium low heat until center is at 130 to 135 degrees Fahrenheit (this is medium rare).

Remove steak from heat. Allow the steak to rest for 10 minutes, then slice into strips.
Make the tacos:
In a tortilla add sliced avocado, Pico de Gallo, Cotija cheese, and sliced steak.

Serve and enjoy!
Notes
The calories shown are based on the recipe making 10 tacos, with 1 serving being 1 taco with toppings. Since different brands of ingredients have different nutritional information, the calories shown are just an estimate. **We are not dietitians and recommend you seek a nutritionist for exact nutritional information.**
Nutrition
Calories:
325
kcal
|
Carbohydrates:
24
g
|
Protein:
23
g
|
Fat:
15
g
|
Saturated Fat:
3
g
|
Cholesterol:
54
mg
|
Sodium:
908
mg
|
Potassium:
592
mg
|
Fiber:
4
g
|
Sugar:
3
g
|
Vitamin A:
665
IU
|
Vitamin C:
5.3
mg
|
Calcium:
65
mg
|
Iron:
3.2
mg