Salsa Verde Chicken Quesadillas
Love quesadillas? Try these Salsa Verde Chicken Quesadillas with homemade salsa verde and shredded chicken. This recipe is versatile and a great alternative to Taco Tuesday.
I've always loved quesadillas. Even before I ate at many Mexican restaurants, I made quesadillas. And ate quesadilla burgers. I love the versatility of quesadillas. They are often one of the easiest weeknight dinners to make because you can use whatever happens to be in the fridge.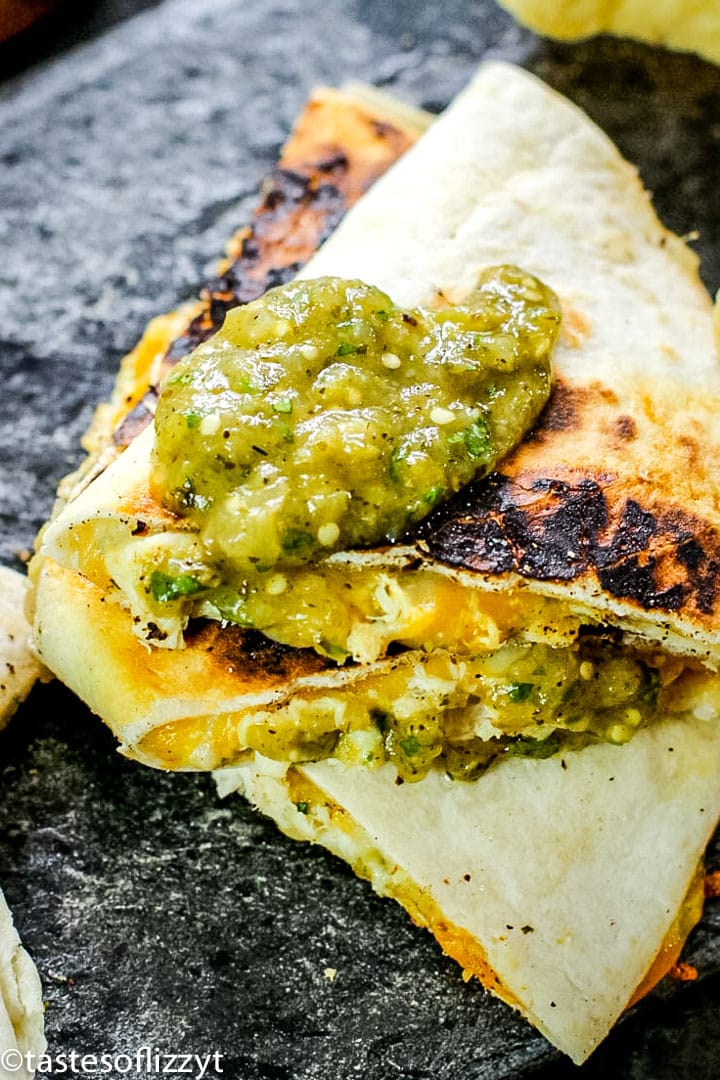 Today we're talking all about what a quesadilla is and the best way to make it. We're showcasing this chicken with salsa verde (one of our family's newest obsessions), but you can easily use red salsa if you're not into the green salsa.
What is a quesadilla?
A quesadilla is a tortilla that is filled with cheese (and usually some type of meat or beans) then heated through. Quesadillas have their origin in Mexico. You can find them in pretty much any Mexican restaurant.
Are quesadillas healthy?
Quesadillas are not usually the most healthy Mexican food to eat, especially when you buy them at a restaurant. They have a lot of cheese, white flour tortillas and are usually fried in oil to get that deliciously crisp tortilla.
But…if you make them at home you can definitely lower the calorie amount.
Purchase low carb tortillas or whole grain tortillas.
Add in a lot of veggies. Whatever kind you like!
Cook in a tiny bit of coconut or olive oil, or use a non-stick cooking spray.
And go light on the cheese…or use a low-fat cheese option.
What to Put in a Quesadilla
In the salsa verde chicken quesadillas we're adding salsa verde, chicken and cheese. Bet that was hard to guess, right?
You can find quesadillas of just about every kind. Pork belly, steak, all cheese, shrimp and even vegetarian quesadillas with beans and rice. Load them with whatever type of veggie you'd like too!
The possibilities are endless.
What cheese is best for quesadillas?
We are using a mix of mozzarella and sharp cheddar. Colby and Monterey Jack are good choices too. Cotija cheese is also AMAZING in quesadillas!
**Pro Tip: Shred your own cheese at home with a grater. It melts so much more smoothly than prepackaged shredded cheese.**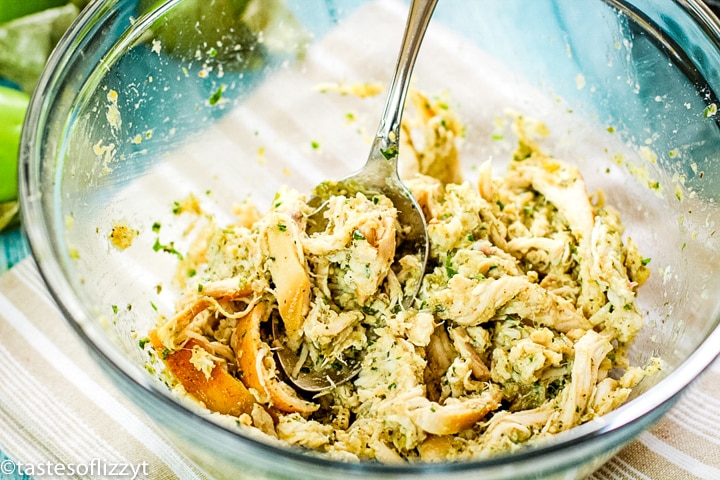 How to Cook Chicken for Quesadillas
There are several ways to cook chicken for quesadillas and it really depends on what texture you like the chicken to be.
If you like shredded chicken, you can cook the chicken in the Instant Pot or slow cooker. You'll have to plan a little ahead for these options so the chicken has time to cook.
For chopped or sliced chicken, you can boil the chicken on the stovetop or cook it on the grill.
One of the ways that we love best? We buy a rotisserie chicken and shred the white meat from it. This not only is crazy easy, but it adds the flavor from the roasted chicken, too!
How to Make Quesadillas
Here are a few hints on making the quesadillas:
Choose large flour tortillas. You'll want them to be about 10″ in diameter. You can use smaller if you'd like, but you'll need more to use up this amount of chicken.
Make sure the chicken is warm before you fill the quesadilla. That way you won't have to wait for it to heat through on the stovetop. It will ensure the quesadilla is nice and toasty.
Fold the tortilla over. 
Preheat a pan over medium heat with a tablespoon of oil or with a spray of non stick spray.
Add in a tortilla to the pan, cook for 2-3 minutes per side or until tortilla starts getting a beautiful golden brown color.
Then serve!
What To Serve with Quesadillas
Chips and salsa is a classic choice, but what other options are there? We recommend an easy salad, a huge pile of avocado salsa, and maybe some Mexican street corn casserole.

Can I use a quesadilla maker to make quesadillas?
Yes! The great thing about quesadilla makers such as the George Foreman one is that it is a non-stick surface. This means you can use less oil, making it healthier than pan frying.
What is the best quesadilla sauce?
If you wonder what Taco Bell quesadilla sauce at home, check out this recipe. It looks easy enough!
We also like to dip quesadillas in white queso, guacamole, blender salsa or pineapple salsa.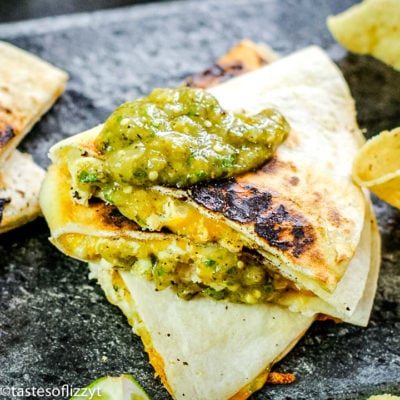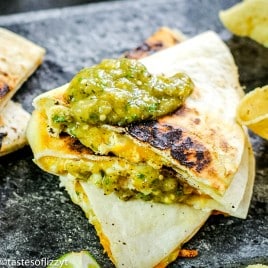 ---
Ingredients
2

boneless chicken breast

(cooked and shredded)

1

cup

salsa verde

2

cups

shredded sharp cheddar cheese

1

cup

shredded mozzarella cheese

12

large tortillas
Instructions
In a large bowl, mix together the warm shredded chicken and salsa verde.

To the center of the tortillas, add in 3 tablespoons of chicken mixture, and 2-3 tablespoons of shredded cheese mixture. (Or as much as you desire.)

Fold tortilla over and repeat with remaining tortillas.

Preheat a pan over medium heat and add a tablespoon of oil or spray with a non stick spray.

Add in a tortilla to the pan, cook for 2-3 minutes per side or until tortilla starts getting a beautiful golden brown color.

Repeat with remaining tortillas.

Slice tortillas into 3-4 wedges and serve with additional salsa verde.
Notes
Depending on the size of your chicken breast, this may make more than 12 enchiladas. Be generous with adding in the meat mixture.
Nutrition
Calories:
245
kcal
|
Carbohydrates:
16
g
|
Protein:
17
g
|
Fat:
11
g
|
Saturated Fat:
5
g
|
Cholesterol:
51
mg
|
Sodium:
560
mg
|
Potassium:
249
mg
|
Sugar:
2
g
|
Vitamin A:
380
IU
|
Vitamin C:
1.2
mg
|
Calcium:
217
mg
|
Iron:
1.3
mg