Tastes of Lizzy T participates in affiliate advertising programs. We may earn a commission when you make a purchase through links on our site.
Make this crispy, Paleo Battered Fish for a healthy, 30-minute meal that kids will love!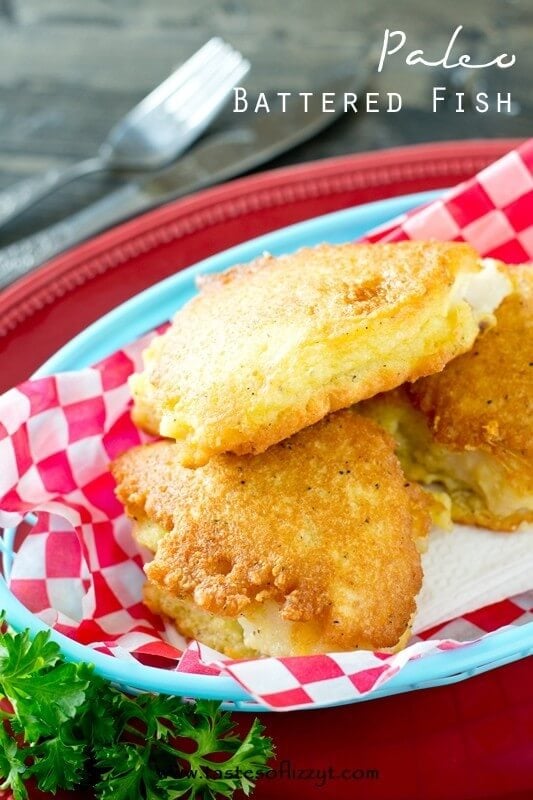 Do you ever get stuck in the chicken and ground beef rut for dinner?
I know we do. To many of us, chicken and ground beef are the safe, easy meats to prepare at home. It's true that they are easy, but I'm going to push you out of your little ground beef comfort zone today and show how quickly a paleo battered fish dinner can come together.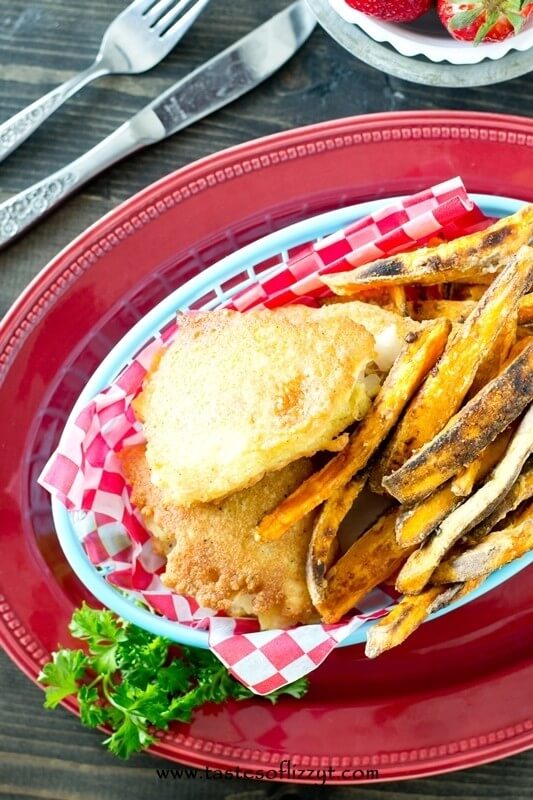 I know a lot of times kids (and even adults) can cringe at the idea of fish. This Paleo Battered Fish will become a favorite. How do I know? Because two of my kids were not happy with my choice of fish for dinner, but as soon as they had one bite of this crispy, fried cod, they suddenly thought fish was the best dinner ever.
Alaskan seafood is high in protein, low in sodium and saturated fat, and full of heart-healthy omega-3 fatty acids. It comes from a natural environment which produces lean flesh and firm texture, with a delicious flavor. I chose cod for this battered fish, but Alaskan seafood also includes salmon, shellfish and whitefish and can be purchased fresh, frozen or even canned.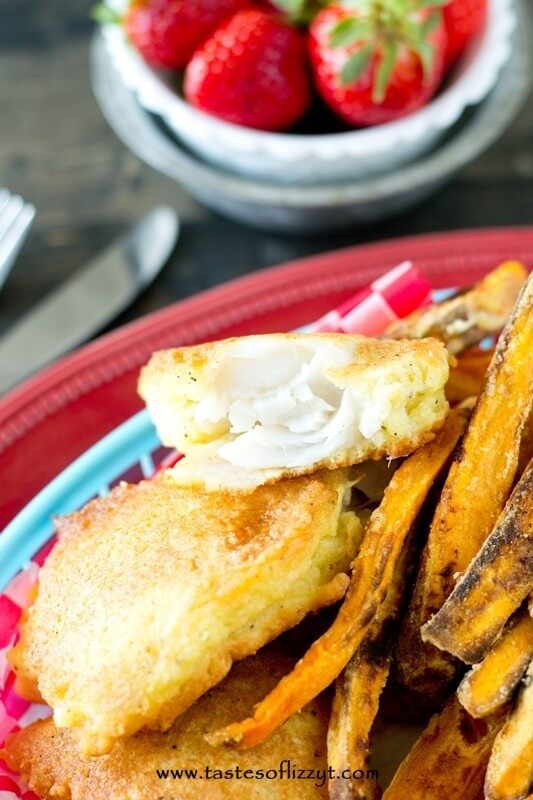 I was more than excited to share about Alaskan seafood in this battered fish recipe, which is one of my favorite comfort foods. I made this version paleo which means it is grain free, gluten-free, sugar-free and dairy free. Healthy, but still fantastically delicious.
And the kids still loved it. Success.
Don't be scared off at the thought of making a fish dinner. Fish is easy to prepare and cooks quickly, making this a meal you can get on your table in under 30 minutes, and here's  how you'll do it.
1. Mix up the batter, which is simply ¾ cup tapioca starch, ¼ cup coconut flour, 1 teaspoon garlic salt, 1 teaspoon salt, ¼ teaspoon black pepper, 2 eggs and ¼ cup sparkling water. Why sparkling water? It's a replacement for the beer in beer battered fish. If you'd like, you can just use plain water.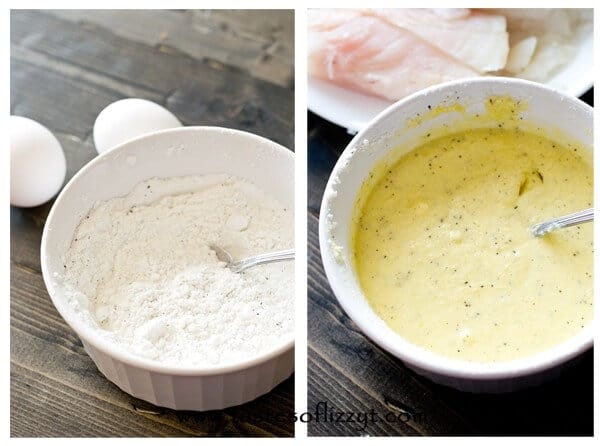 2. Get ½ a cup of olive oil heating over medium-heat on the stove so that when you add the fish it sizzles immediately.
3. The 5 Alaskan cod fillets that I used were large. I cut the fillets into two triangles to make 10 smaller pieces of fish.  Make sure the cod fillets are defrosted and pat them dry with a paper towel so the batter sticks better.
4. Coat the fish in the batter and place them carefully in the hot oil. When using gluten-free/grain free ingredients, it's important to handle the fish the least amount possible. The breading doesn't stick on as well as with regular white flour. I placed the fish in the oil, then didn't touch it for 4 minutes until I turned the fish. Then the fish cooked for another 3-4 minutes and I gently removed the fish to wire rack so that they can drip but stay crispy. (Make sure you have paper towels under the rack to catch the drips.)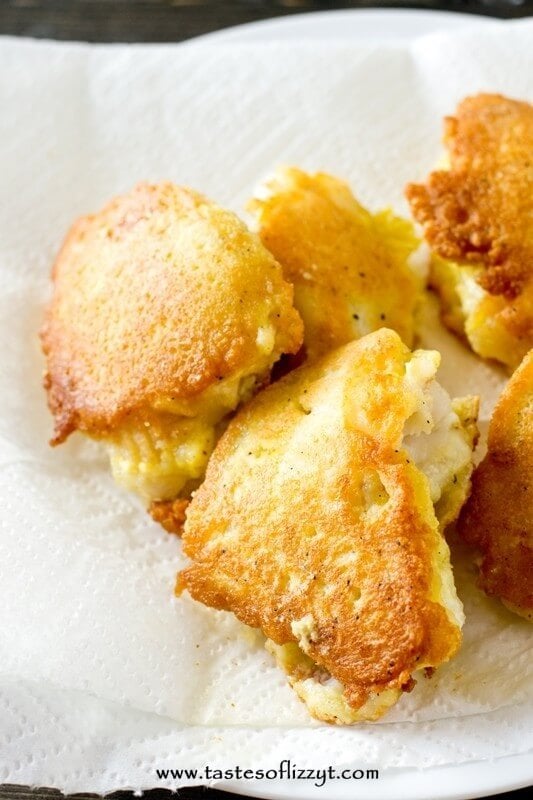 It's also important to not cook the fish to long. Depending on the thickness of the fish fillets, it will only take 3-5 minutes of frying on each side before it is done. Test the fish carefully with a fork and it should be white and flaky. If you cook the fish too long, it may get tough.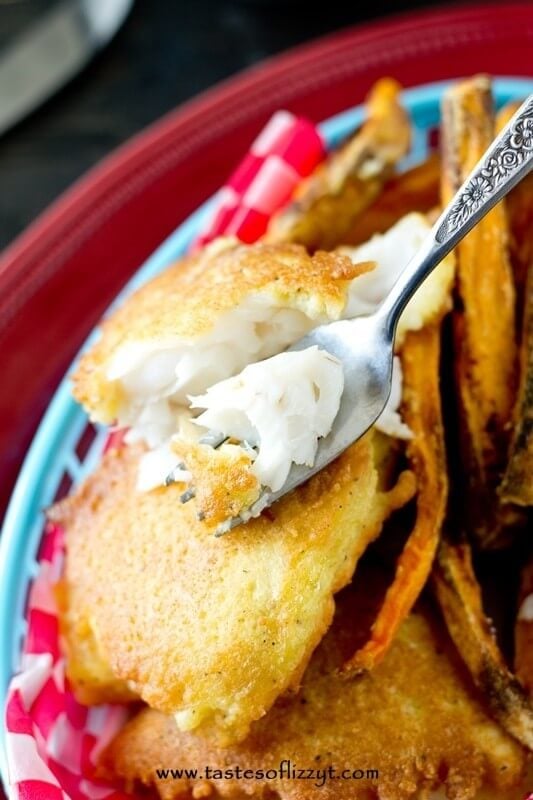 I  hope your family will enjoy this paleo battered fish as much as we did!
Q: Do you get stuck in the ground beef and chicken ruts?
Q: What's your favorite type of Alaskan seafood?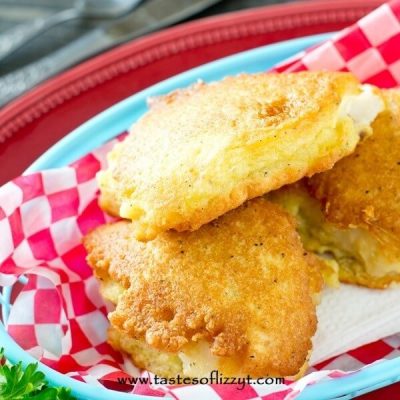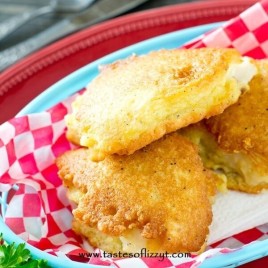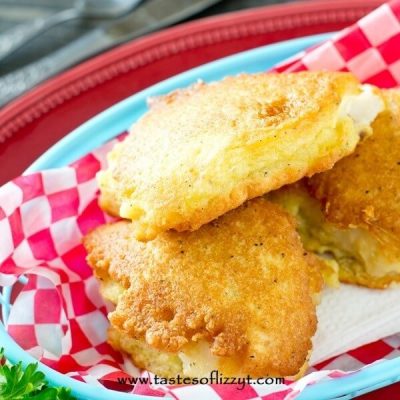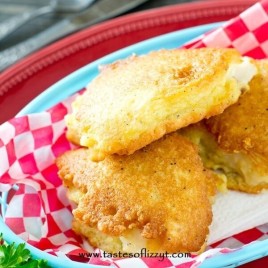 Paleo Battered Fish
Make this crispy, Paleo Battered Fish for a healthy, 30-minute meal that kids will love! Gluten Free, Grain Free, Sugar Free and Whole30.
---
Ingredients
3/4

cup

tapioca starch

1/4

cup

coconut flour

1

teaspoon

garlic salt

1

teaspoon

salt

1/4

teaspoon

black pepper

2

large

eggs

1/4

cup

sparkling water

24

ounces

Alaskan cod fillets

1/2

cup

olive oil
Instructions
In a small bowl, combine the tapioca starch, coconut flour, seasonings, eggs and water.

Heat ½ cup of olive oil in a skillet over medium heat.

Cut the cod fillets in half diagonally (if they are too big and you'd like smaller pieces). Use a paper towel to gently dry the cod fillets.

Once the oil is hot, coat the cod fillets with the batter and place them into the hot oil.

Allow the fillets to cook for 4 minutes, then gently flip the fillets and allow them to cook for an additional 3-5 minutes until they are white and flaky inside. Be careful not to overcook.

Once the fillets are done, use a spatula to remove them from the oil and place them on wire rack so that they stay crispy. Serve immediately.
Nutrition
Serving:
201
g
|
Calories:
338
kcal
|
Carbohydrates:
20
g
|
Protein:
33
g
|
Fat:
13
g
Find more paleo recipes here.