Tastes of Lizzy T participates in affiliate advertising programs. We may earn a commission when you make a purchase through links on our site.
Fresh mangoes, peppers, onions and herbs fill this mango salsa recipe. You'll how versatile this is…add as much spice as you'd like! We love to serve this mango salsa on nachos, chicken, tacos and especially chili lime tilapia.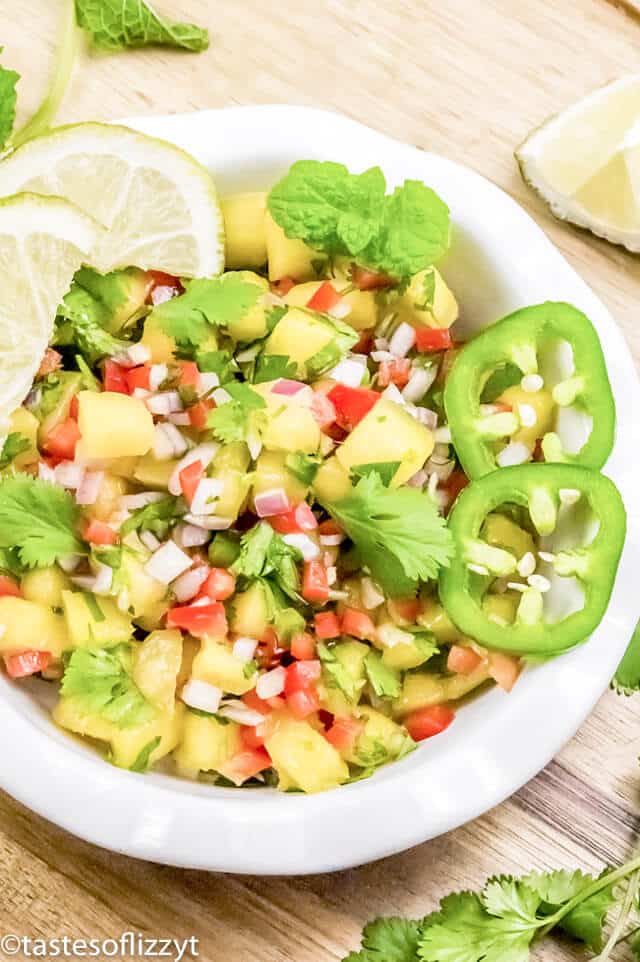 Mango Salsa Recipe
One of my favorite things of summer? Fresh garden fruits and vegetables. I try to get the freshest veggies and fruit any time of the year, but nothing beats the juicy, flavorful produce the summer brings. A new salsa that we tried this spring was mango salsa. I literally could not stop scooping this fresh salsa up with the bag of tortilla chips I happened to have in the house. Lightly sweet and salty…the best combo not just for desserts! Let's talk about how easy this mango salsa is to make.
How do you peel a mango?
Peel the mango using a vegetable peeler from top to bottom. You should find this pretty easy to do. Mangoes will generally have one side taller than the other. The pit will be on the line of that tallest side. Slice down the fruit, curving the knife out to avoid the pit. Slice around the mango sides, adjusting the knife as needed to not cut the pit. Keep turning the fruit all angles to get all of the fresh fruit off the mango, then dice it into small pieces for this delicious mango salsa!
Mango Salsa Ingredients
This recipe calls for mangoes, red onion, red pepper, jalapeños, freshly snipped mint and cilantro, plus lime juice and salt. This is the base recipe, but you can change things up a little and add a touch of pineapple, poblano pepper, tomato or even avocado to make the salsa a little creamy. You really can't go wrong with this base recipe.
How do you make mango salsa?
Here are our hints for making homemade salsa:
Make sure your fruits are fresh. How do you tell if a mango is ripe? Color isn't the best indicator because there are different varieties of mangoes that are different colors. The mango should smell slightly sweet and it should give ever so slightly when you gently squeeze it. You don't want the fruit hard, but it shouldn't be mushy either. It should be similar to the feel of a ripe peach. Also pay attention to the weight. a ripe mango will be slightly heavier than an unripe mango.
Dice the fruits and veggies finely. Unless you like chunky salsa that is. We like little tiny pieces so that you get all of the flavors when you scoop it up on a chip or eat it on a taco.
Use a food processor if you'd like to make it easier…but take care not to puree the vegetables.
Be sure to use fresh cilantro and mint. Don't use dried. It won't taste great.
Plan to make this at least 2 hours in advance before serving so that the flavors can develop as it sits.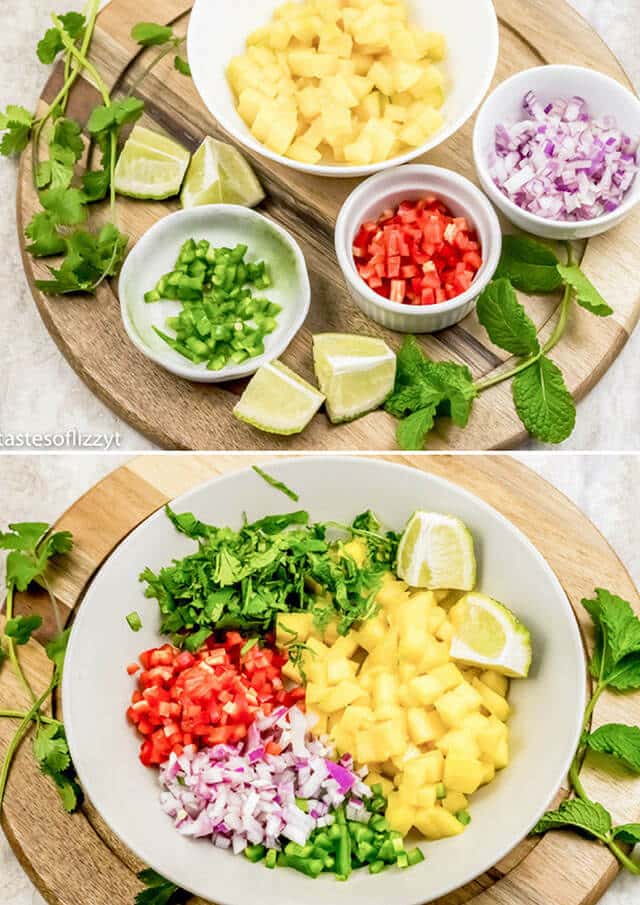 What to Serve Mango Salsa on?
We love this salsa served on baked nachos along with chicken, spooned on top of fish or grilled chicken, served with tacos, or simply scooped up with tortilla chips!
Can you freeze mango salsa?
This recipe is best if you make it and serve it within a day or two. Freezing the salsa isn't recommended because the fresh fruit and vegetables will become watery. If you are wanting to freeze salsa, it is best if you look for a cooked mango salsa recipe.
This is a fantastic Paleo and Whole30 recipe to jazz up grilled meats!
Other Fresh Salsa Recipes
Tools To Make This Salsa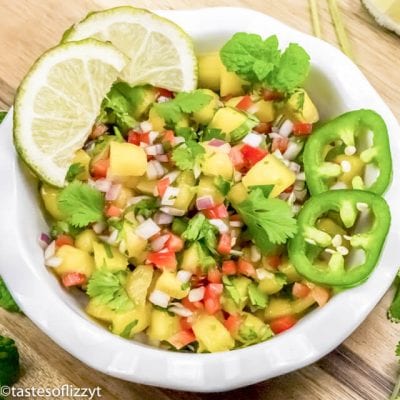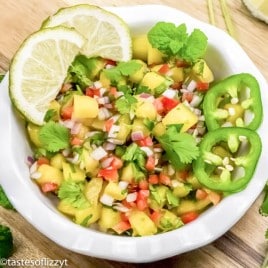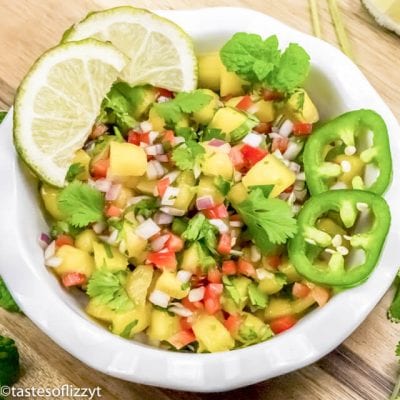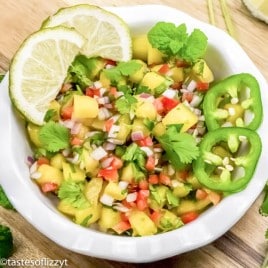 Mango Salsa Recipe
Fresh mangoes, peppers, onions and herbs fill this mango salsa recipe. You'll how versatile this is...add as much spice as you'd like! We love to serve this mango salsa on nachos, chicken, tacos and especially chili lime tilapia.
---
Ingredients
2

small mangoes

(peeled, seeded and finely diced)

1/4

cup

diced red bell pepper

1/4

cup

diced red onion

2

small

finely chopped jalapeños*

(seeded and membrane removed)

1/4

cup

freshly snipped cilantro

2

tablespoons

freshly snipped mint leaves

1

lime

(juice only)

Salt to taste
Instructions
In a medium sized bowl, combine the diced mango, red bell pepper, red onion and the jalapeños.

Add the finely chopped cilantro and mint and mix.

Add the juice of the lime along with the salt and mix well. Taste and adjust the salt accordingly.

Cover and refrigerate at least 2 hours before serving to develop the flavors.

Refrigerate leftovers and use within 3 days.
Notes
*Adjust the amount of jalapeños according to how spicy you'd like the salsa.
The calories shown are based on the recipe making about 2 cups, with 1 serving being ¼ cup salsa. The exact amount this recipe makes depends on the size of the mangoes and jalapeños you use.  Since different brands of ingredients have different nutritional information, the calories shown are just an estimate.
Nutrition
Calories:
31
kcal
|
Carbohydrates:
8
g
|
Sodium:
1
mg
|
Potassium:
102
mg
|
Fiber:
1
g
|
Sugar:
6
g
|
Vitamin A:
680
IU
|
Vitamin C:
24.6
mg
|
Calcium:
10
mg
|
Iron:
0.2
mg