Italian Sloppy Joe Sandwiches
Italian Sloppy Joe Sandwiches! An easy, under 20 minutes, family-friendly dinner idea full of protein and packed with flavor.

Italian Sloppy Joe Sandwiches
I'm giving the traditional sloppy joe sandwiches an Italian makeover today.
We're going to take that sweet and tangy flavor and chuck it out the window for fresh Italian herbs, marinara sauce, garlic and mozzarella.
You in? I know my family is. The kids can turn their nose up at sloppy joes, but when Italian sloppy joe sandwiches are in the house, there is no hope of leftovers. Because Italian is always better.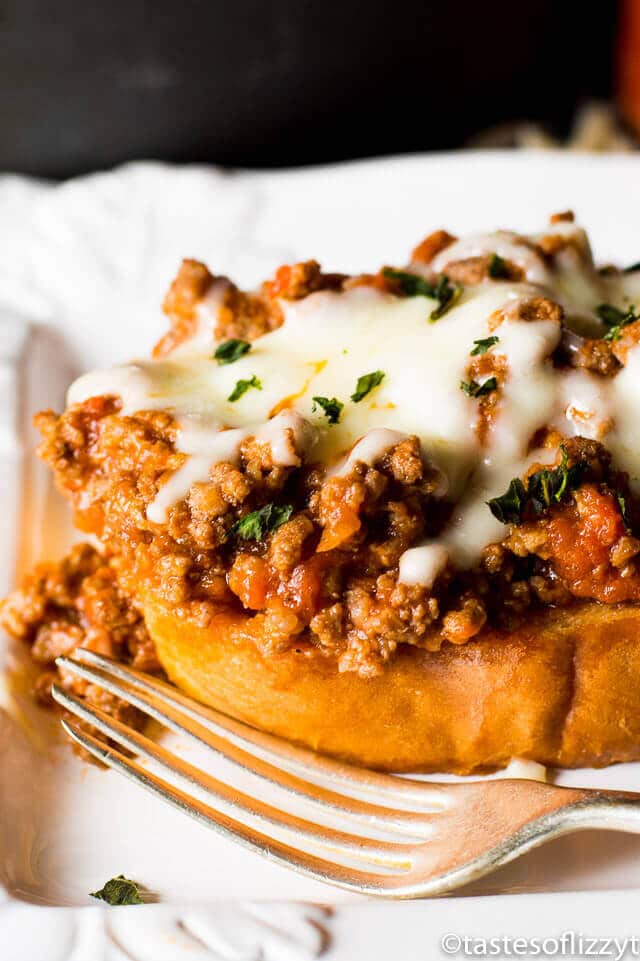 A couple of weeks ago I went on an adventure. I love to travel, but rarely fly and even more rarely travel by myself. I had the chance, however, to head to Florida with a group of girls, which meant flying (thankfully everything went smoothly). And once in Florida, I went parasailing! I know…not adventurous for many of you crazy risk-takers, but in that trip I experienced several things I had never done before and it was good for me!
Most of the time I travel, I'm with my husband and kids. Which I love. Traveling is always an adventure with kids, right?! We'll happily go anywhere, anytime, especially if it involves a beach. I've had the chance to experience so many places in our beautiful United States the past few years such as South Carolina, several Florida destinations, Annapolis, Baltimore, Maine, New Orleans and more. I'm truly blessed!
For the most part, I'm happy to continue exploring the US. However, I always tell my husband that if he takes me one place overseas, I want it to be Italy. The gorgeous cities, colorful villages, picturesque coastlines, Venice, and the food. Pastas, cheeses, tomatoes and marinara….
Anyone ready to come on an adventure with me?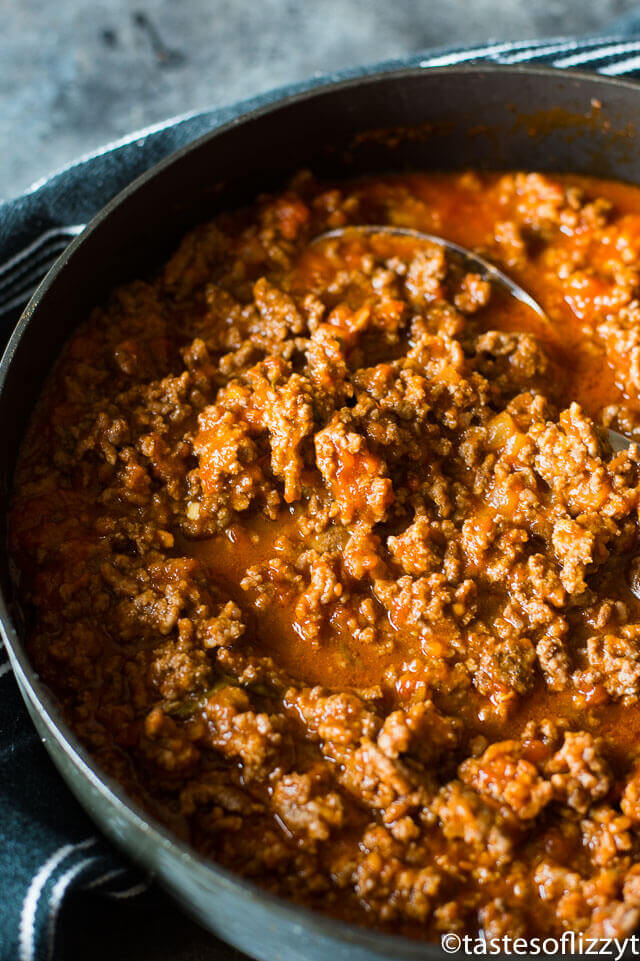 My addiction to Italian food fuels that desire to travel to that boot-shaped European country. Considering that American-Italian food is probably much different that authentic Italian, I know my world would be rocked!
Until I get to visit, I'm going to bask in all of my favorite Italian recipes, including these Italian Sloppy Joe Sandwiches.
This past week I had the opportunity to partner with Mezzetta® Marinara sauces. Have you tried them? If not, put them quickly on your grocery list. The list of ingredients in this Italian Plum Tomato marinara sauce is very simple: tomatoes, olive oil, onions, salt, garlic, pepper, spices and basil. That's it! I know you love an ingredient list that is short and has words you can read. In the past, I've often made my own marinara sauce because I couldn't find a store-bought sauce that didn't have sugar. If you need a sugar-free marinara sauce, Mezzetta has your back. They're here providing a healthy, simple meal solution for your family.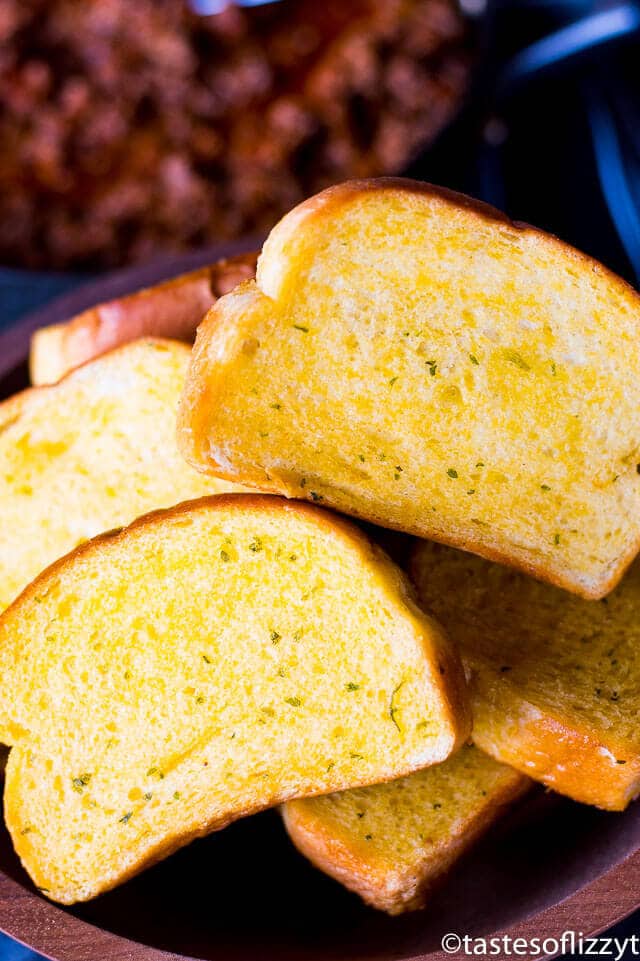 To make these simple Italian sloppy joe sandwiches, simply bake some garlic toast, brown 2 pounds of ground beef, drain off the fat, then add 2 jars of Mezzetta marinara sauce. I used their Italian Plum Tomato flavor, but there are 6 flavors in this marinara sauce line. Think Parmigiano Reggiano, whole garlic & sweet basil, caramelized onion and butter, Calabrian chili and garlic, and truffle, porcini and cream. Pick your favorite flavor for these sloppy joe sandwiches!
After your sauce is heated through, simply spoon the saucy meat mixture over a slice of garlic toast. Top with some mozzarella cheese and fresh basil for a dinner that your family won't complain about. 🙂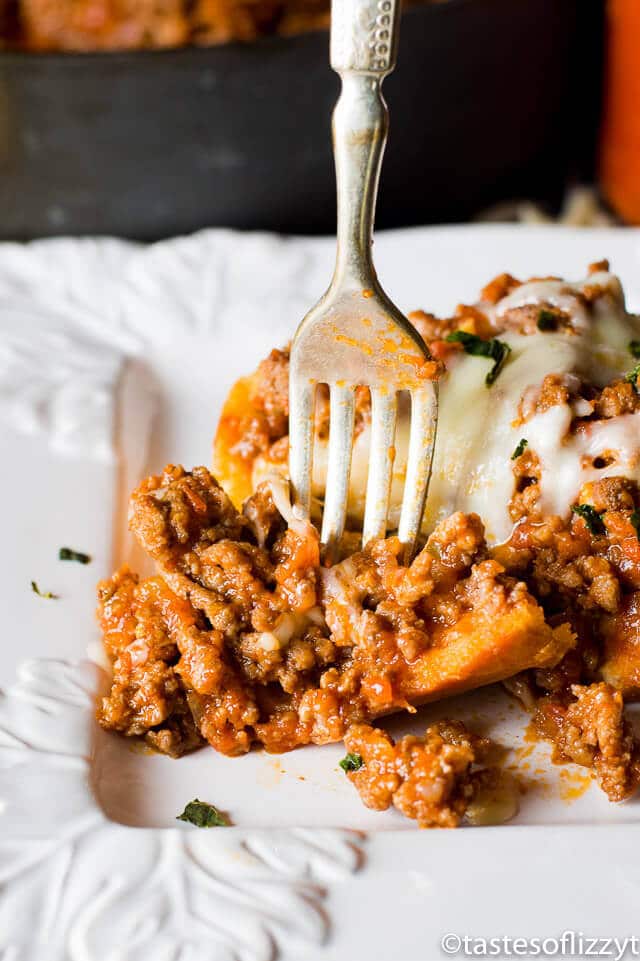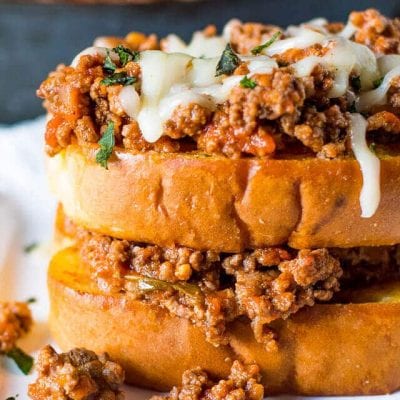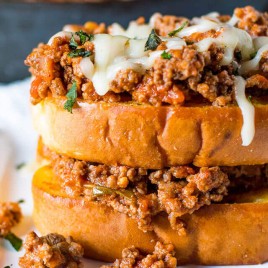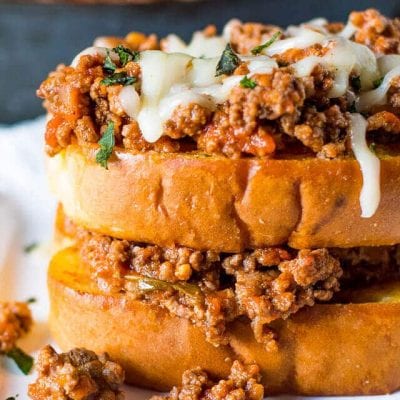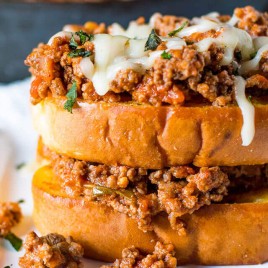 Italian Sloppy Joe Sandwiches
Sloppy Joe Sandwiches Italian-style! An easy, under 20 minutes dinner idea full of protein and packed with flavor.
---
Ingredients
16

slices

frozen garlic Texas toast

2

pounds

lean ground beef

(93% lean)

2

jars

Mezzetta Italian Plum Tomato Marinara Sauce

(16.25 ounces each)

2

cups

shredded mozzarella cheese

1/4

cup

freshly chopped basil

optional
Instructions
Cook the garlic Texas toast according to the package directions.

While the garlic toast is baking, brown the ground beef over medium heat.

Once the beef is browned and no longer pink, drain off the fat.

Add the two jars of marinara sauce.

Heat the beef and sauce over medium-low heat until the sauce is heated through.

To serve, place a piece of garlic toast on a plate. Top with meat sauce, then cheese and basil if desired.
Nutrition
Calories:
547
kcal
|
Carbohydrates:
40
g
|
Protein:
37
g
|
Fat:
26
g
|
Saturated Fat:
10
g
|
Cholesterol:
92
mg
|
Sodium:
1263
mg
|
Potassium:
788
mg
|
Fiber:
3
g
|
Sugar:
9
g
|
Vitamin A:
680
IU
|
Vitamin C:
7.9
mg
|
Calcium:
166
mg
|
Iron:
16
mg