Everything Homemade Italian Bread
Tastes of Lizzy T participates in affiliate advertising programs. We may earn a commission when you make a purchase through links on our site.
Classic, everything homemade Italian bread dressed up with an "everything", 4 ingredient spice rub. This bread rises in the refrigerator overnight.

Everything Homemade Italian Bread
Homemade Bread.
As a runner, this is something I crave all day, every day. While tasting good at any temperature, I cannot resist homemade bread coming right out of the oven, especially after a long, hard run. With its soft, light, texture and warm steaminess coming up as you slice it, this bread can make my day. And makes those long runs worth it. 🙂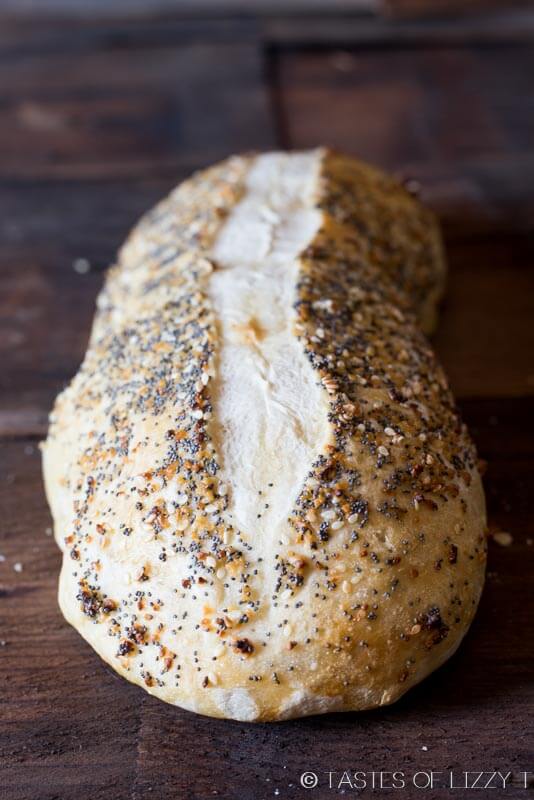 We fell in love with an "everything" homemade Italian bread that we started buying from Walmart for about a buck. You'd think something for that cheap wouldn't be too impressive, but this bread is just about the best you can get! The only thing that's better is the homemade version. Yes, homemade bread takes a little more time, but if you plan ahead, it'll get done without a whole lot of effort.
Cool Rise Bread
This Everything Homemade italian Bread recipe is cool-rise, which means that the yeast activates under cool temperatures. You can plan ahead and by mixing up the dough the night before and letting it rise in the fridge overnight. Then you can bake it the next day! The bread only needs to rise two hours, though, so you can pull it out anytime after that.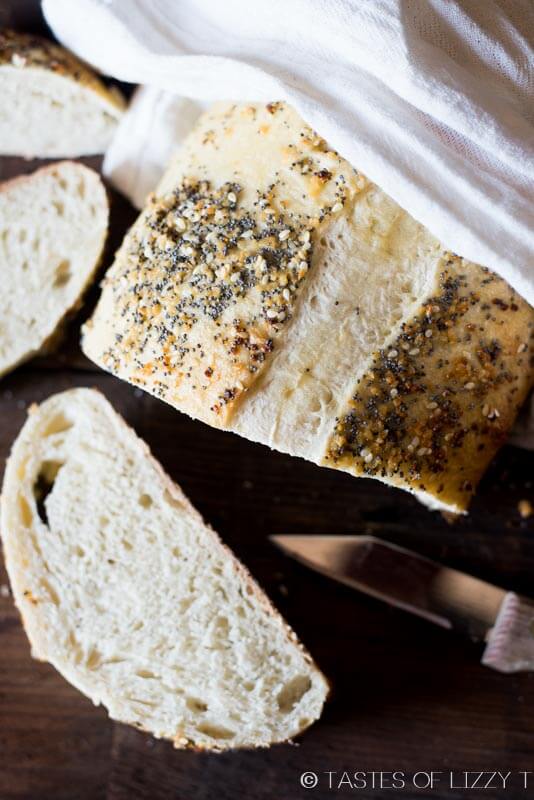 One thing I love about this bread is its simplicity. It has a definite, rustic, Italian flavor, but it's sort of subtle. It's your classic Italian bread that you can eat with EVERYTHING. My absolute favorite way to eat this bread is alongside a pile of our homemade meatballs or  to dip it in this cheese.  Talk about a good, carb-loaded dinner! Cheese and bread. You can't get much better than that!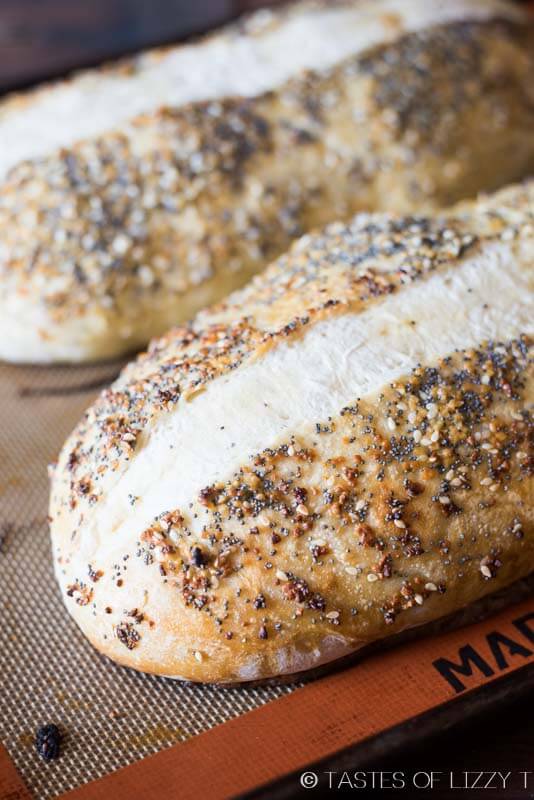 The Everything Seasoning
The spices on the top play key roles in enhancing the bread's flavor. There's just four spices: sesame seeds, poppy seeds, minced garlic and salt. The slightly garlicky tang of the spices makes for a much more interesting slice.
And if you're wondering how to get that cool little slice down the middle of the bread? It's really simple. Right before you put the loaves in the oven, simply cut down the middle of the loaves with a sharp, serrated knife about ¼ an inch. When the bread bakes, it will rise up and the cut space will open up for a beautiful presentation. That's it! Now enjoy a slice (or a couple slices!) of this amazing homemade Italian bread.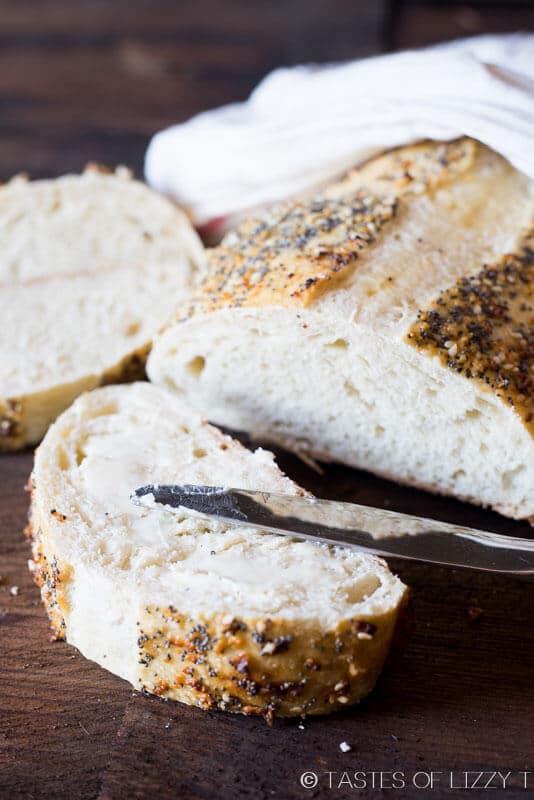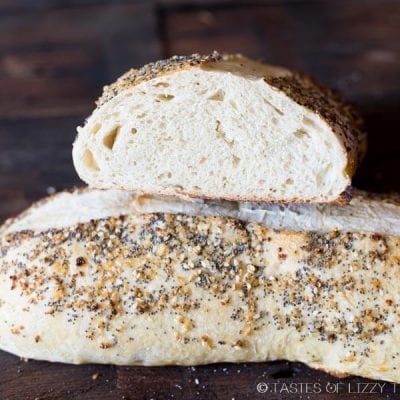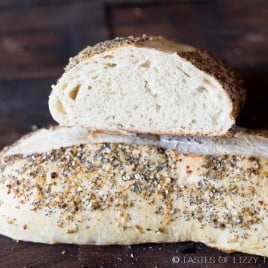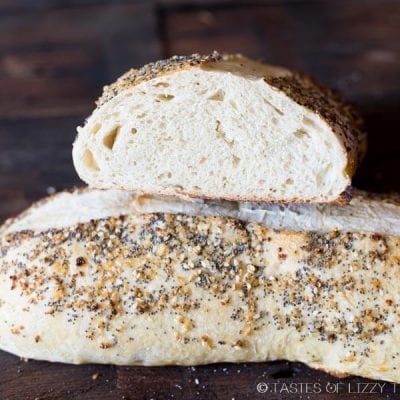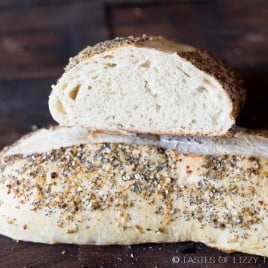 Everything Homemade Italian Bread
Classic, homemade Italian bread dressed up with an "everything", 4 ingredient spice rub. This bread rises in the refrigerator overnight.
---
Ingredients
1

tablespoon

granulated sugar

2

teaspoons

salt

2

packages

Red Star Platinum Superior Baking Yeast

5

cups

all-purpose flour

1

tablespoon

butter

13/4

cups

water

2

tablespoons

cornmeal

2

tablespoons

vegetable oil
Spice Rub:
2

teaspoons

poppy seeds

2

teaspoons

sesame seeds

4

teaspoons

minced garlic

1 1/4

teaspoons

salt

1

large

egg

1

tablespoon

water
Instructions
Because this bread recipe needs time to in the refrigerator, start this recipe early in the day, or a day in advance of the day you need the bread.

In the bowl of a stand mixer, combine the sugar, salt, yeast and two cups of flour.

In a microwave safe bowl, heat the butter and water until it is very warm, but not hot (about 120-130 degrees). The butter does not have to be completely melted.

With the mixer on low speed (with the paddle attachment), gradually beat the liquid into dry ingredients until just blended. Increase the speed to medium and beat for two minutes, scraping the sides of the bowl as necessary. Beat in ½ cup flour to make thick batter; continue beating two minutes, scraping the sides of the bowl. Stir in enough additional flour (about 1 ¾ cups) to make a soft dough.

Turn the dough onto a floured surface and knead for about 10 minutes until it is smooth and elastic, adding more flour as needed. Cut the dough in half; cover and let it rest for 20 minutes. Spray a large cookie sheet with non-stick spray and sprinkle with cornmeal.

On a floured surface, roll one dough half into a 15x10" rectangle. Starting with the 15" side, tightly roll the dough jelly-roll style. Pinch the seam to seal. Repeat with the other half of the dough. Place the loaves, seam-side down on a cookie sheet and taper the ends. Brush with vegetable oil. Cover loosely with plastic wrap and refrigerate for 2 to 24 hours.

To bake, preheat oven to 425 degrees. Remove the loaves from the refrigerator and uncover them.

In a small bowl, whisk together the egg and water. Brush the egg wash on top and sides of the loaves.

In a small bowl, combine the poppy seeds, sesame seeds, garlic and salt. Mix well, then pat the mixture onto the tops of the loaves. Use a sharp, serrated knife to make a cut lengthwise down the loaf, cutting into the bread about ¼ of an inch.

Bake the bread for 20 minutes or until it is golden brown.

Allow the bread to cool on a wire rack, then store it in an airtight container.
Nutrition
Calories:
144
kcal
|
Carbohydrates:
25
g
|
Protein:
3
g
|
Fat:
2
g
|
Saturated Fat:
1
g
|
Cholesterol:
10
mg
|
Sodium:
389
mg
|
Potassium:
44
mg
|
Fiber:
1
g
|
Vitamin A:
30
IU
|
Vitamin C:
0.2
mg
|
Calcium:
15
mg
|
Iron:
1.6
mg