Homemade Italian Meatballs Recipe
Tastes of Lizzy T participates in affiliate advertising programs. We may earn a commission when you make a purchase through links on our site.
Serve Homemade Italian Meatballs for an easy dinner and leftovers on a bun for lunch. Italian meatballs make a great freezer meal and the meatball recipe is perfect paired with our easy homemade spaghetti sauce.
Table of Contents
We love Italian food. Every now and then we make pasta with sausage or a creamy pasta sauce. We even love meatless pasta recipes. But every so often we just have to take it back to a classic. Homemade meatballs.
So I've been keeping a secret. A very delicious secret. And it's these Homemade Italian Meatballs.
You know we share only the best of our family recipes and this one definitely ranks as one of the top. This is an old family recipe from my mom's side of the family. Although we are not of Italian heritage in any way, a relative married an Italian woman, who then let the family in on her family's Italian meatball recipe.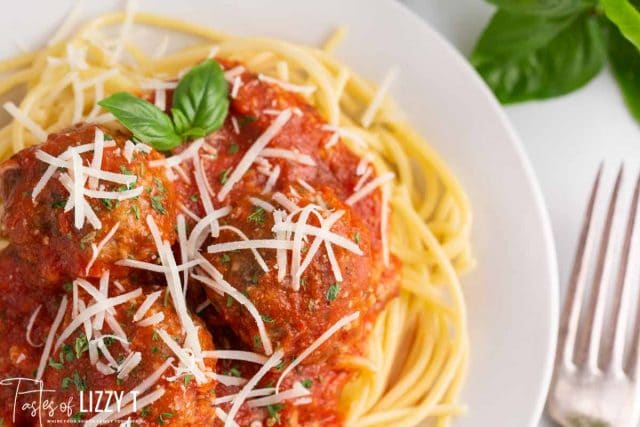 Although I'm sure Italian meatballs are made many different ways, we are so in love with this version from my Italian relative.

Of course I'd have to say what I love the most is the taste and texture of the meatballs. Tender and savory, just the way a meatball should be. But a close second is how versatile this recipe is. Let me take you through an example of how you can make this into an easy freezer meal, slow cooker dinner, and yes, even a school lunch for the kids!
What is the Best Meat for Meatballs
For our homemade meatballs we use a mix of lean ground beef and Italian sausage (either sweet Italian sausage or hot, depending on what you like). If you can find ground veal, add some of that. Those three meats together make a fantastic meatball.
Have plain ground pork? Season it with our Italian sausage seasoning.
Can I use ground turkey? Yes, but it will alter the flavor and the meatballs may be just a little bit drier due to the lean turkey. The meatball mixture will be slightly stickier and softer as well.
What ingredients go into meatballs?
You may think that meatballs well…just meat. But if you want tender, moist meatballs with amazing flavor, there is a few other things to add:
Ground Beef & Bulk Italian Sausage.
Parmesan cheese. Because we add parmesan cheese to everything.
Eggs. Eggs act as a binder in this recipe.
Italian breadcrumbs. This helps soak up some of the juices and keeps the meatballs tender. Use gluten-free breadcrumbs if you'd like.
Parsley and Basil. We use dried herbs, but you can use fresh herbs if you'd like.
Garlic salt and black pepper. For flavor!
How to Make Meatballs
Meatballs are easier than ever to make.
Simply mix all of the ingredients together in a large bowl. It may be easiest to whisk the eggs in a small bowl first so that they are easier to mix in. We often find ourselves setting aside the spoon and simply using our hands to mix. It's messy, but it's just faster this way.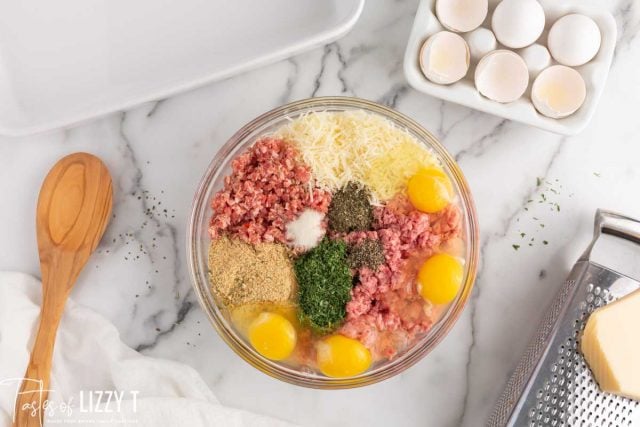 For perfectly uniform meatballs, use a cookie scoop to scoop up the meat mixture. Roll balls and place them on a baking sheet to get ready to bake!
How do I get my meatballs to stick together?
When making meatballs, you want to be sure there is not too much moisture added. The beef mix should be moist, but not soggy. Eggs help bind the meatballs together, but if there are too many eggs (or milk or other liquid), the meatballs will fall apart.
When you are mixing the meatballs, if you think the mixture feels soggy, add ¼ to ½ cup of Italian bread crumbs.
How to Bake Meatballs
Is it better to fry meatballs in skillet or bake them in the oven? Italian tradition will pan-fry meatballs in olive oil, then let them finish cooking while simmering in marinara sauce.
I prefer to bake our meatballs for several reasons:
It is less messy.
It takes less time because you can cook a lot of them at once in the oven.
It fully cooks the meatballs so that you can freeze them.
It helps reduce the fat by baking the meatballs fully before adding them to sauce.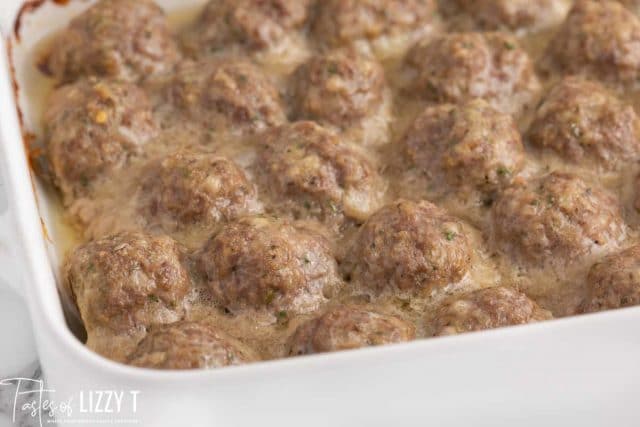 Pro Tip
Place a wire rack on a large baking sheet. Bake the meatballs on the wire rack so all of the fat drips down during baking.
Can you freeze meatballs?
Yes! Cook the meatballs and allow them to cool. Split the meatballs up in whatever size Ziploc bags you'd like and pop them in the freezer to use at another time. Meatballs will freeze well for up to 2 months.
Reheat Meatballs in the Slow Cooker
We are crazy about meatballs that we've simmered in a tomato sauce. They taste amazing. Whether your meatballs are fresh or frozen, you can put the meatballs in the slow cooker, cover them with homemade marinara sauce and let them simmer all day.
Let me tell you that this is by far my most favorite way to eat these meatballs. That extra time in the slow cooker gives them a depth of flavor that will make you swoon.
What should I eat with meatballs?
Pasta is a classic choice for meatballs. But what if you don't want the pasta? We love serving meatballs with baked potatoes, corn casserole, a side salad and Italian bread. So, so good!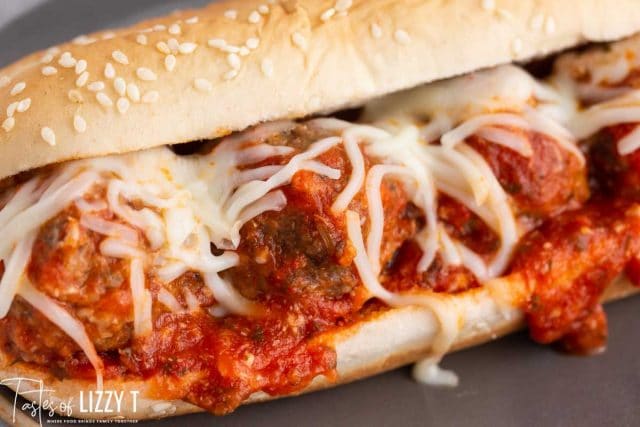 Meatball Sandwich Recipe
One of my favorite school lunchroom lunches was "Meatball Splash" which was simply homemade Italian meatballs smothered in spaghetti sauce, served on a hot dog bun. Our lunch ladies served these often and I loved them!
I take this best meatball recipe and serve it on buns for our own homemade meatball sub sandwiches. And your child can enjoy these at school by simply putting the warm meatballs and sauce in a thermos. Send along spoon and a hot dog bun in a baggie and they can make their own sandwich at school.
If your kids are like mine, they grow tired of peanut butter and jelly very quickly. They'd be super happy to have a home cooked comfort meal for their school day.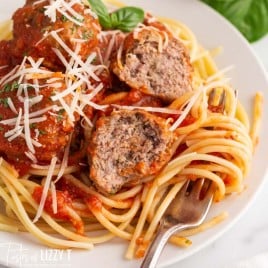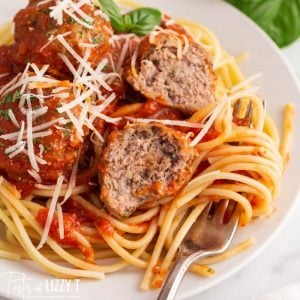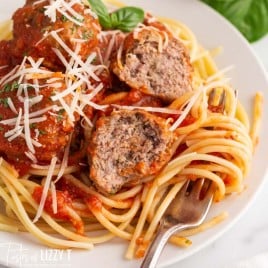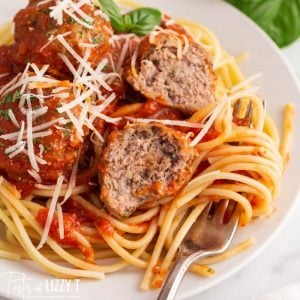 Homemade Italian Meatballs
Here's a recipe for classic, Homemade Italian Meatballs. Serve them for dinner topping a plate of spaghetti and send the leftovers with your kids for lunch to make a meatball sub sandwich.
---
Ingredients
2

pounds

lean ground beef

3/4

pound

ground Italian sausage

4

large

eggs

1

cup

Parmesan cheese

1/2

cup

Italian bread crumbs

1 1/2

tablespoons

dried parsley

1/2

teaspoon

dried basil

1

teaspoon

garlic salt

1/4

teaspoon

black pepper
Instructions
In a large bowl, mix all of the ingredients together.

Roll into 1 1/2" balls and place them closely together in 9×13 pans that have been sprayed with cooking spray. **You can place a wire rack on the baking sheet and bake the meatballs on the rack so that the fat drips down if you'd like.**

Bake at 350 degrees for 35 minutes, or until the meatballs are cooked through.

Serve the meatballs immediately with sauce and spaghetti, put them in the slow cooker along with sauce to have them simmer, or freeze the meatballs in Ziploc bags to use another time.

If you freeze the meatballs, allow them to cool completely before packaging them.
Notes
The calories shown are based on the recipe making about 30, with 1 serving being 3 meatballs. Since different brands of ingredients have different nutritional information, the calories shown are just an estimate. **We are not dietitians and recommend you seek a nutritionist for exact nutritional information. The information in the nutrition box are calculated through a program and there is room for error. If you need an accurate count, I recommend running the ingredients through your favorite nutrition calculator.**
Nutrition
Calories:
333
kcal
|
Carbohydrates:
5
g
|
Protein:
31
g
|
Fat:
20
g
|
Saturated Fat:
8
g
|
Cholesterol:
163
mg
|
Sodium:
811
mg
|
Potassium:
458
mg
|
Vitamin A:
205
IU
|
Vitamin C:
1.2
mg
|
Calcium:
159
mg
|
Iron:
3.4
mg
Other Meatball Recipes