Gluten Free Chicken Parmesan Meatballs
Tastes of Lizzy T participates in affiliate advertising programs. We may earn a commission when you make a purchase through links on our site.
Chicken Parmesan Meatballs have classic chicken Parmesan flavors packed into healthy meatballs. Made gluten free and sugar free, this is one of the best meatball recipes for a high protein, healthy dinner.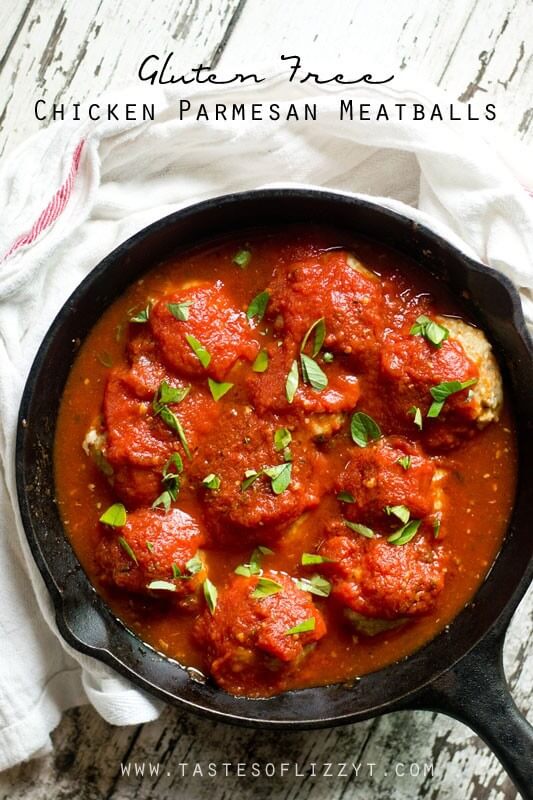 Gluten Free Chicken Parmesan Meatballs
I'm in the middle of my intense "get in the school groove" this week. I'm hitting the school room hard, organizing and planning, trying to get ready for this new school year.
My motto for the year?
"I think I can, I think I can…"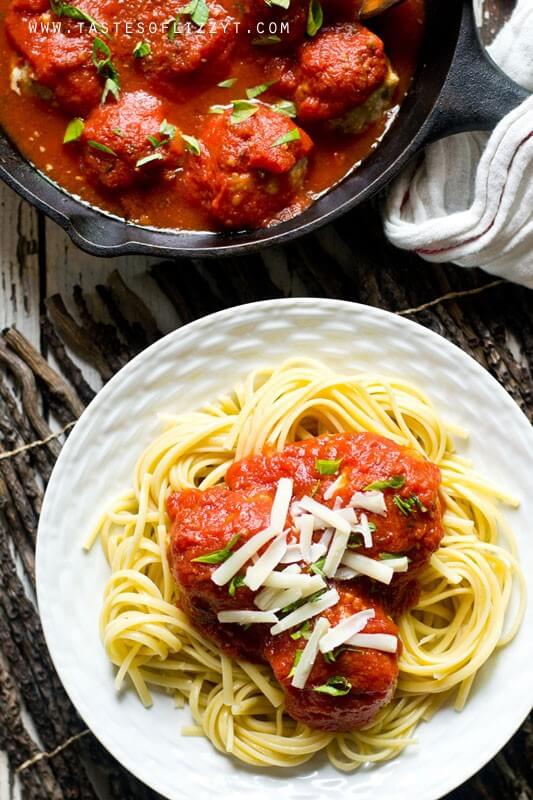 Our summer has been one mad rush, which makes it seem like we had no summer at all. I'm not complaining. I enjoy the camps and sports that the kids are involved in. It's awesome to see them growing into the young adults they should be. It's just that I have to get used to the new normal of having teenagers and all of the running around that comes with it.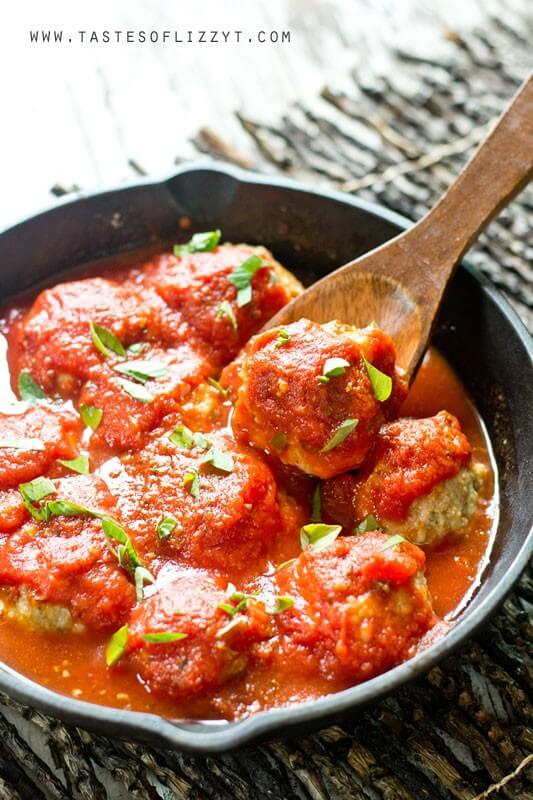 And that means I'm going to need some quick, healthy dinners on hand for those evenings on the run. We all love homemade meatballs, including these gluten free chicken Parmesan meatballs. They're made with 93% lean ground chicken, which means they are low in fat and high in protein.
Gluten Free Meatballs
So what makes the chicken Parmesan meatballs special? Well, they're gluten free. I find ground chicken very "wet" when I work with it, so I added ½ cup coconut flour to the 3 pounds of ground chicken to make it easier to form balls. Eggs help the meatballs to keep their shape once they are baked.  Oh, and if you don't need this recipe to be gluten free, simply add some dry bread crumbs in place of the coconut flour. Instant yumminess.
Season the meatballs with Italian seasoning and garlic salt. Two of my favorite seasonings. 🙂
But the must-have ingredient? 5 ounces of Parmesan cheese. Freshly shredded Parmesan cheese, that is. I'm not talking the kind of cheese you buy in the plastic shaker jar, but the cheese you'll find in the deli section of your grocery store. You can buy a wedge of Parmesan cheese and shred it yourself, or you can buy a pre-shredded kind, such as DiGiorno Shredded Parmesan cheese (This comes in a 5 ounce plastic tub as you can see in the link to the Amazon product. The price shown there is for a case of Parmesan cheese. One tub of cheese in our stores costs around $4).
The Parmesan cheese gives the meatballs such a deliciously cheesy flavor. And what's not to love about a lot of cheese?!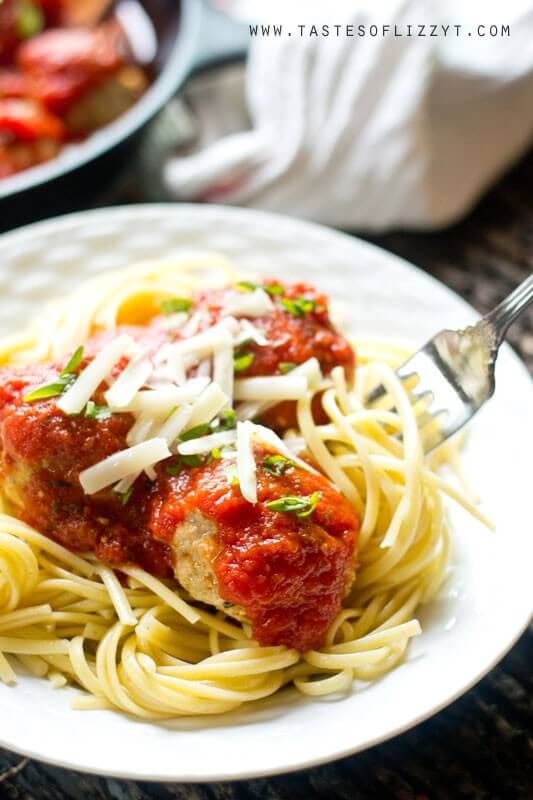 How to Freeze Meatballs
This chicken Parmesan meatballs recipe makes a great freezer meal. If your family can't eat all of the meatballs in one dinner, you can separate the cooked meatballs into serving size portions and pull them out the day before you want to eat them. I always think meatballs taste the best when they have slow cooked in pasta sauce anyway, so the freezer method makes it easy to throw the frozen meatballs in the slow cooker, cover them with sauce, set the cooker to low and come home to fantastic Italian aromas wafting from your kitchen. Mmmmm….I can just smell them now! 🙂
Add this to your lineup of healthy dinner ideas that the whole family will love.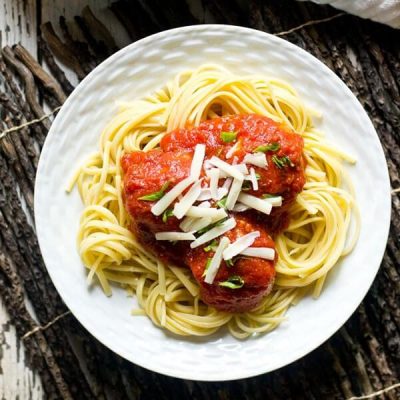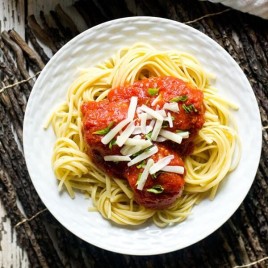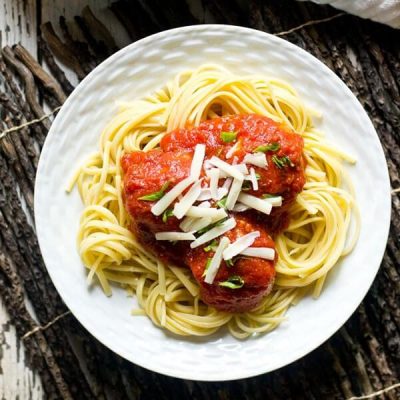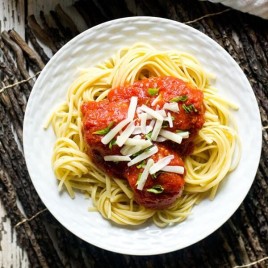 Gluten Free Chicken Parmesan Meatballs
Get the classic chicken parmigiana flavor in Chicken Parmesan Meatballs. Made gluten free and sugar free for a high protein, healthy dinner.
---
Ingredients
3

lbs

ground chicken

5

ounces

shredded Parmesan cheese

a little over ½ a cup

2

teaspoons

Italian seasoning

1 1/2

teaspoons

garlic salt

3

large

eggs

1/2

cup

coconut flour

Cooked pasta
Instructions
Preheat the oven to 350 degrees.

In a large bowl, combine the chicken, cheese, seasonings and eggs. Mix well. Add the coconut flour and mix until combined.

Form 1 1/2-2" meatballs and place on a baking sheet that has been sprayed with cooking spray.

Bake at 350 degrees for 25-30 minutes, or until the meatballs are cooked through.

Serve with spaghetti sauce and pasta
Notes
I always think meatballs taste the best when they have slow cooked in pasta sauce. I like to make the meatballs the day before serving. On the morning you plan to serve these, place them in a slow cooker and cover them with sauce. Set the slow cooker to low and allow them to simmer all day. Mmmmm....I can just smell them now!
Nutrition
Calories:
372
kcal
|
Carbohydrates:
5
g
|
Protein:
39
g
|
Fat:
21
g
|
Saturated Fat:
8
g
|
Cholesterol:
228
mg
|
Sodium:
864
mg
|
Potassium:
936
mg
|
Fiber:
2
g
|
Vitamin A:
250
IU
|
Calcium:
238
mg
|
Iron:
2.3
mg
Every good dinner needs a great finish! Here's a gluten free angel food cake that we just love.