Healthy Homemade Spaghetti Sauce Recipe
Tastes of Lizzy T participates in affiliate advertising programs. We may earn a commission when you make a purchase through links on our site.
Healthy Homemade Spaghetti Sauce recipe has no added sugar. It's meaty, thick, full of Italian flavor and great served over traditional pasta or spaghetti squash for a low-carb meal.
As a family, we like to kickstart healthy eating by trying to stay away from sugar. We don't like how we always crave sweets. So many savory foods are loaded with sugar as well, and honestly, if I'm having sugar, I want it in a cookie.
We created this healthy spaghetti sauce that is now a staple in our home. We love our Italian food here, and I had to find a way to still be able to get that good Italian taste without all the sugar.
Make your own delicious homemade pasta sauce with our easy recipe. Our homemade sauce is the perfect complement to any pasta dish. Try it today and taste the difference!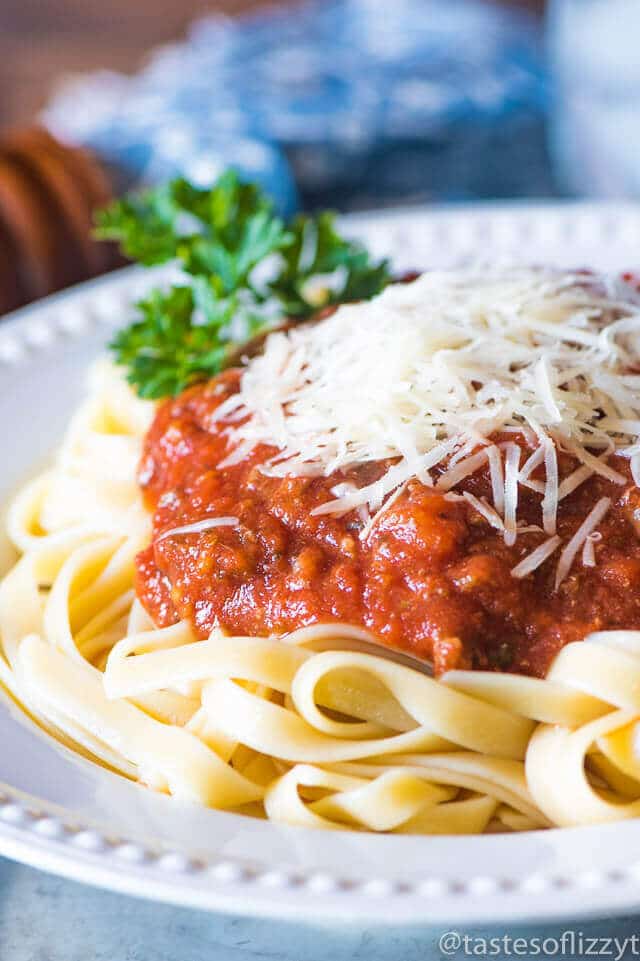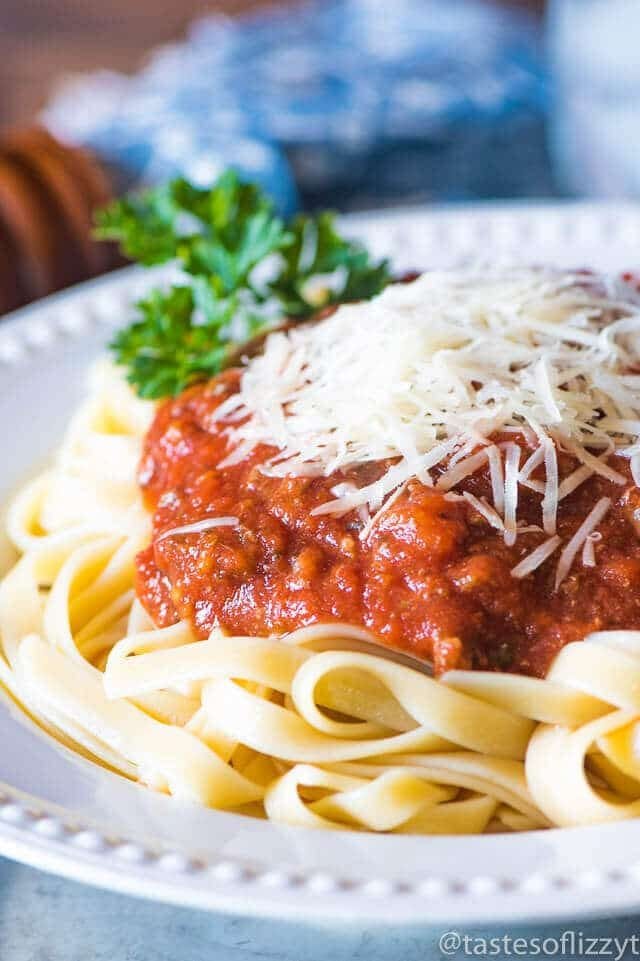 About this Healthy Homemade Pasta Sauce:
Flavor: This sauce has a familiar pasta sauce flavor. It will be a lot more tomato forward since there is no added sugar. It also has a little kick of spice thanks to the red pepper flakes.
Texture: This is not a smooth sauce. You have the petite diced tomatoes and ground beef that add a lot of texture. For a smoother sauce, use an immersion blender to blend the tomatoes before adding them to the sauce.
Method: I make this on the stovetop, but once you get it all together, you can let it simmer in your slow cooker as well.
Low Carb & Low Sugar
This spaghetti sauce has no added sugar, but is full of flavor. Find a tomato puree that has an ingredient list of one thing…tomatoes. Yes, tomatoes have some naturally occurring sugars, but as long as there is not sugar listed in the ingredients, you're golden and will end up with a deliciously low carb spaghetti sauce.
Serve this healthy pasta sauce over spaghetti squash for a low-carb, low-sugar meal.
Is it worth making your own pasta sauce?
It really depends on your eating goals and what you like to do. I do love making pasta sauce because it's easy, I can control the ingredients and even the flavor of the sauce. It can be economical as well, especially if you are making a vegetarian pasta sauce.
But there are times I buy a jar of spaghetti sauce, too. And that's ok.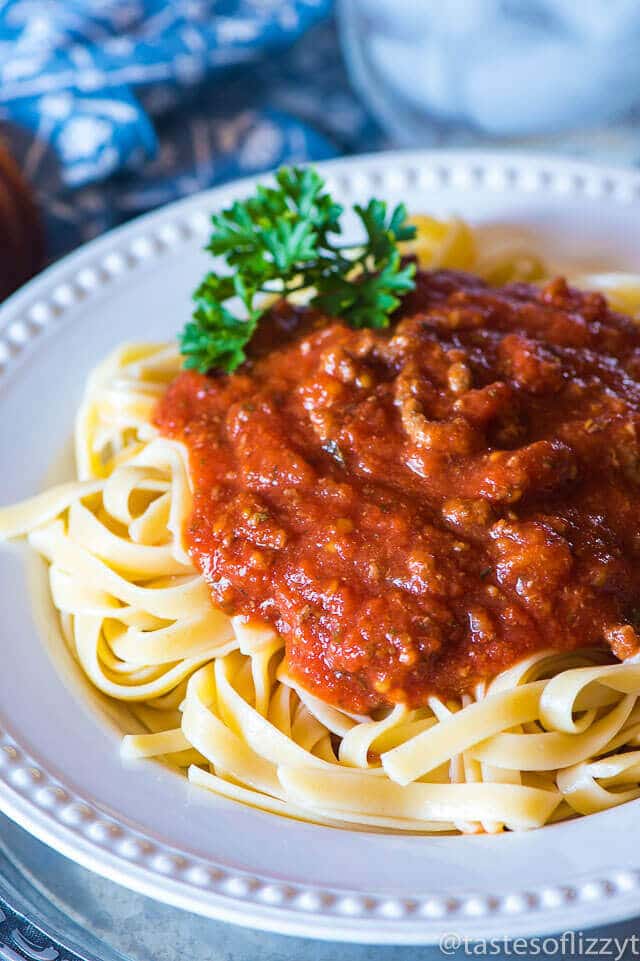 Canned Tomatoes vs Fresh Tomatoes
I use canned tomatoes so I can make this year round and have consistent results. Can you use fresh tomatoes? Yes. Here's a couple of tips:
For the purée , I recommend puréeing fresh tomatoes, then letting it simmer down and reduce to remove some of the water content. This will mimic more of a tomato purée rather than a thin tomato juice.
For the diced tomatoes, use a meaty tomato such as Roma or San Marzano tomatoes. They are great for sauce making because aren't as juicy.
Do i have to remove the tomato skins?
I would, but it is really a matter of preference. I don't like tomato skins in my sauce, so I take the time to remove skins if I'm using fresh tomatoes.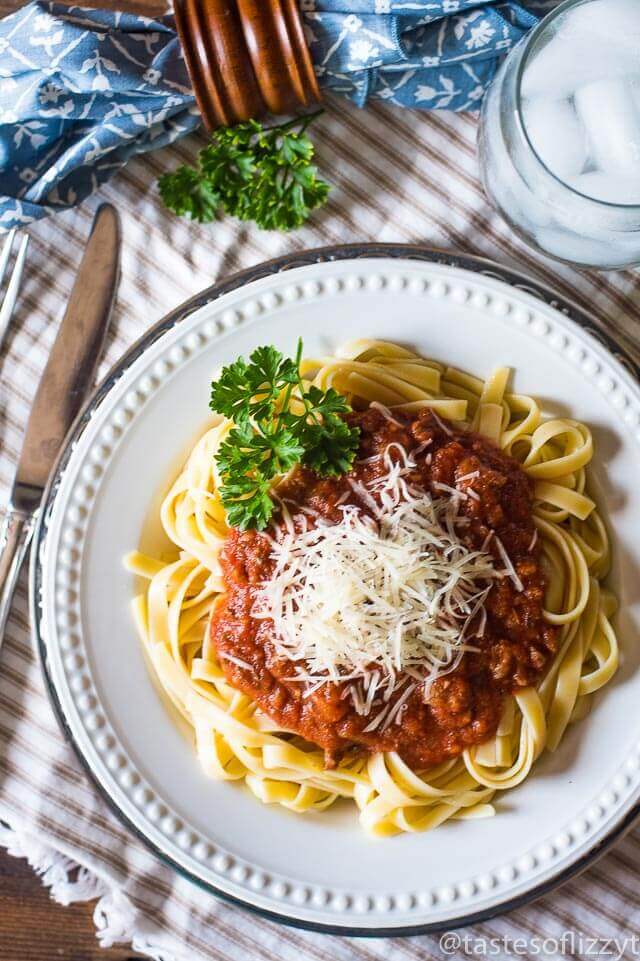 Can you freeze pasta sauce?
You'll love this healthy homemade spaghetti sauce recipe because it makes a big batch. And yes, you can freeze the leftovers to pull out at another time. When you are trying to healthy and homemade food, anything that saves time is so helpful!
To freeze this meat sauce, allow it to cool completely, then place it in an airtight container. Freeze for up to 6 weeks. Thaw in the fridge overnight.
Make it a meal.
Wondering what to serve with your homemade pasta sauce? Serve over pasta (I prefer whole wheat or Banza pasta) or spaghetti squash. Then add a side or two:
Recipe Variations
Use Italian sausage instead of ground beef. The choice is yours as to whether you use mild, hot or sweet Italian sausage.
Looking for an alternative to petite diced tomatoes? Try crushed tomatoes.
Leave out the ground beef if you like to use this pasta sauce over recipes with chicken, such as chicken parmesan.
Use this sauce for homemade lasagna. It's delicious!
For even more flavor, add 2-3 tablespoons of basil pesto to the sauce.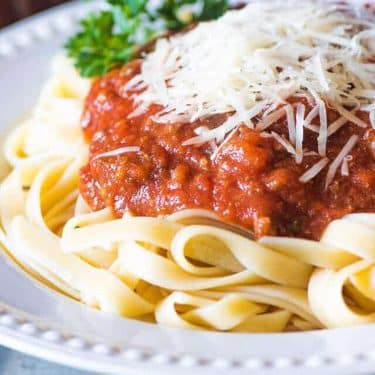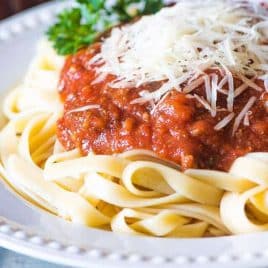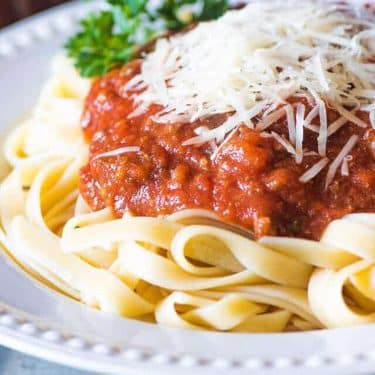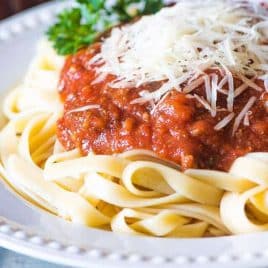 Healthy Homemade Spaghetti Sauce
Healthy Homemade Spaghetti Sauce recipe has no added sugar! It's meaty, thick, full of Italian flavor and great served over traditional pasta or spaghetti squash for a low-carb meal.
Total Time
1

hour
5

minutes
---
Ingredients
1 1/2

pounds

ground beef

3

teaspoons

minced garlic

2

cans

tomato puree

29 ounces each

2

cans

diced tomatoes, with juice

14.5 ounces each

2

teaspoons

salt

2

teaspoons

lemon juice

2

tablespoons

olive oil

2

teaspoons

oregano

2

teaspoons

basil

1

teaspoon

thyme

1

teaspoon

crushed red pepper
Instructions
In a large saucepan or pot on the stove, brown the ground beef over medium heat along with the garlic. Drain off any fat.

Add in the rest of the ingredients and bring to a low boil. Stir often.

Once the sauce is heated through and at a low boil, reduce the burner temperature to low and simmer uncovered for 45 minutes. This will allow some of the moisture to evaporate out, making your sauce thicker.

Serve immediately over pasta and sprinkle with parmesan cheese and fresh parsley. Or allow the sauce to cool, then package it in freezer-safe containers for easy storage.
Notes
The calories shown are based on the recipe making 2.5 quarts of sauce, with 1 serving being ½ cup. Since different brands of ingredients have different nutritional information, the calories shown are just an estimate. **We are not dietitians and recommend you seek a nutritionist for exact nutritional information.**
Nutrition
Calories:
112
kcal
|
Carbohydrates:
9
g
|
Protein:
9
g
|
Fat:
5
g
|
Saturated Fat:
2
g
|
Cholesterol:
22
mg
|
Sodium:
284
mg
|
Potassium:
554
mg
|
Fiber:
2
g
|
Sugar:
5
g
|
Vitamin A:
505
IU
|
Vitamin C:
13
mg
|
Calcium:
36
mg
|
Iron:
3
mg
Frequently Asked Questions
Can I use this as pizza sauce?
Yes, this would work as pizza sauce.
Can I use fresh herbs?
Yes, you can use fresh basil, thyme and oregano for a fresh flavor. I would add 2-3 tablespoons of basil and oregano, and one tablespoon of fresh thyme. Taste, then add more if needed.
Can I add more vegetables to my pasta sauce?
Yes! Add finely diced carrots, yellow onions, green bell peppers or even zucchini to this homemade pasta sauce.
How long does this last in the fridge?
Serve the sauce within 4 days of making it. Or you can freeze any leftovers.
How do I thicken spaghetti sauce?
You could add a tablespoon or two of tomato paste. Or you can simply cook longer over very low heat to allow the sauce to reduce and thicken.
Other Homemade Pasta Sauce Recipes