Homemade Apple Butter Recipe
Tastes of Lizzy T participates in affiliate advertising programs. We may earn a commission when you make a purchase through links on our site.
A simple Homemade Apple Butter recipe that you can make in the slow cooker. Use as a spread, a syrup or in your fall recipes! It's one of the best apple recipes to make during the fall.
Table of Contents
Is it officially fall yet? The leaves are not yet turning orange and red, but last week our whole house was filled with the aroma of baking apples and cinnamon. Who needs an official date? Fall was happening
Who needs an official date for it to be considered fall? Fall was happening a week ago on my radar.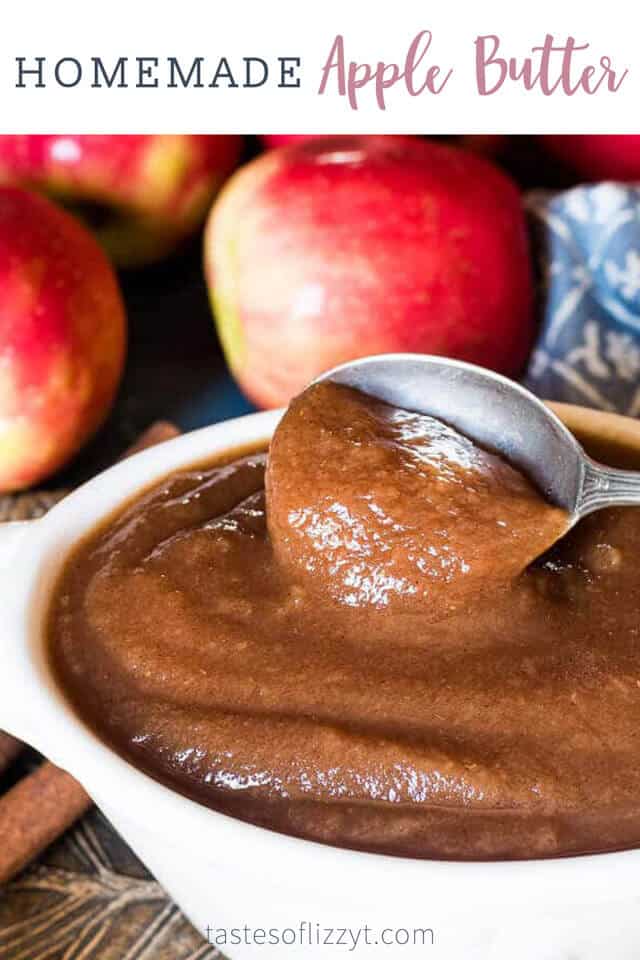 Fall is my absolute favorite time of year. You'll find me huddled around a campfire, drinking warm apple cider…what could be better than that?
Well, maybe this.
I really don't know what to say about this crockpot Apple Butter besides it's really easy and it is unbelievably good. It's one of those things that you take a spoonful of and say, "This could go in soooo many recipes!"
What is the difference between applesauce and apple butter?
Both apple butter and apple sauce are slow cooked apples and spices. Apple butter is cooked longer than applesauce which creates a thick, smooth, intense apple flavored spread.
What apples are best for apple butter?
For apple butter, we like to use Mcintosh, Fuji, Red Delicious or Gala because they are easy to find in our stores. Although Granny Smith are great for baking, they are not recommended for apple butter.
Also, some apples are sweeter than others. You can adjust how much sugar you use based on how sweet your apple is.
How to Make Apple Butter
To make homemade apple butter, all you have to do is stick some apples in a crock pot with brown sugar, white sugar, vanilla, cinnamon, and a dash of salt. Let it sit there all day, stirring occasionally, and BOOM! Apple Butter. It's really that easy.
How to Make Apple Butter Smooth
When your apple butter has slow-cooked all day, you can leave it slightly chunky, which is awesome for recipes, or you can put it through the blender (or use an immersion blender) and puree it until it is your desired consistency.
We made two batches. One we left chunky and made one batch perfectly smooth. You know…for those picky texture eaters.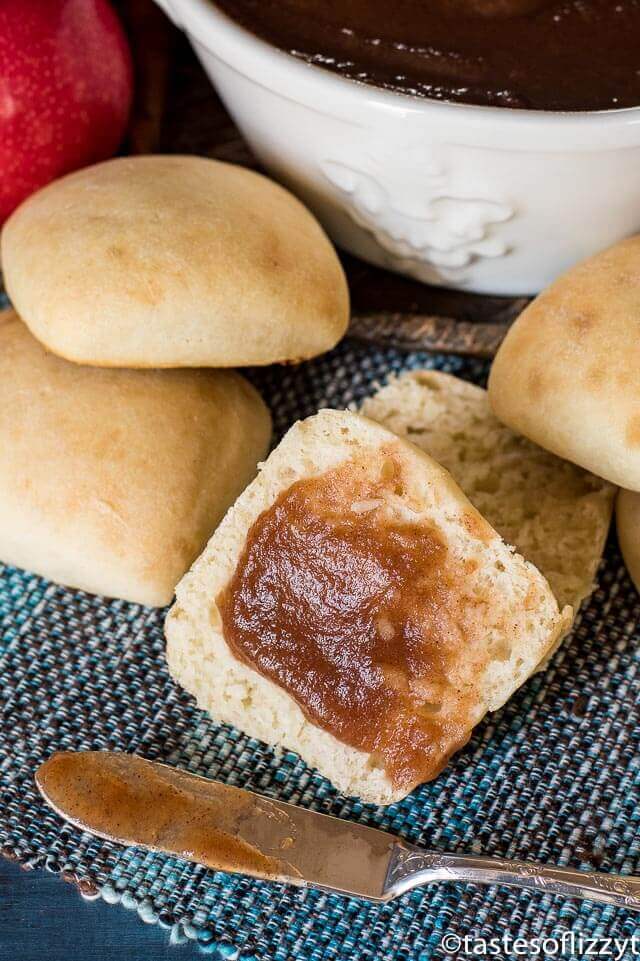 What do you do with apple butter?
My first bite reminded me of applesauce with a bit of tang to it. I love how when I put this homemade apple butter on a piece of white, fluffy bread or toast, it completely changes the flavor! Instant, fall-flavored bread. You can put it in muffins & biscuits.
I also like to put this homemade apple butter on custard ice cream. Warm it slightly in the microwave and use it as a syrup on ice cream or fluffy pancakes or waffles. You can even put a spoonful on top of yogurt or over oven baked pork chops. Because, why not?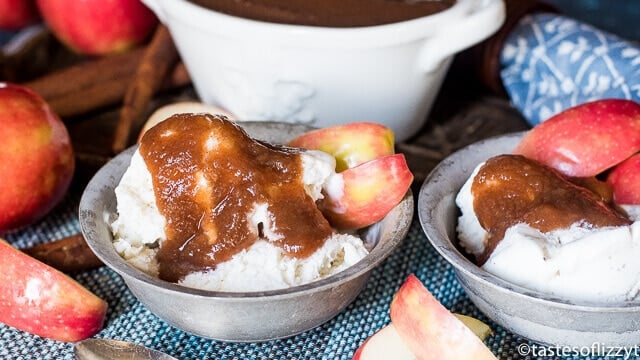 Storage Instructions
Refrigerate the apple butter in an airtight container after it has cooled.
I like to freeze my apple butter because I have plenty of freezer space. Just spoon it into small, 1-cup freezer containers and pull them out as you need them!
I've never canned this apple butter before, but if you know how to can, I'm sure it would work well.
How much does this recipe make?
This recipe ends up making between 2-3 pints of apple butter. The difference is how much you cook it down.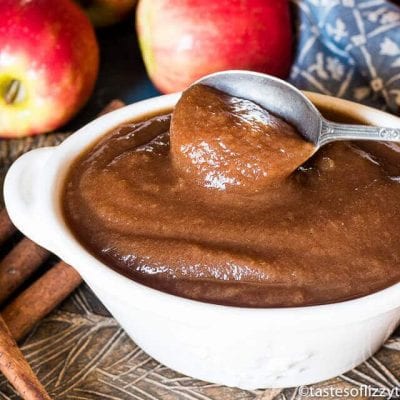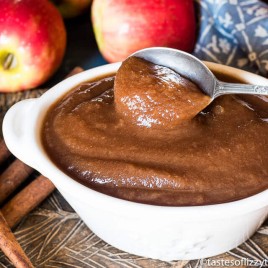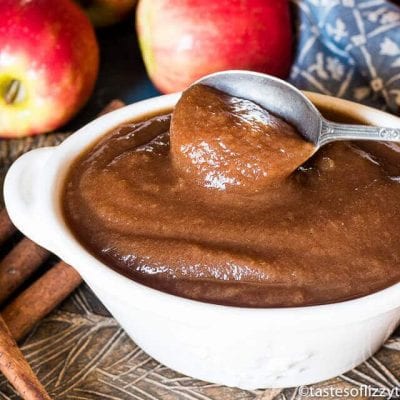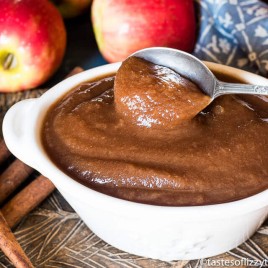 Homemade Apple Butter Recipe
A simple Homemade Apple Butter recipe that you can make in the slow cooker. Use as a spread, a syrup or in your fall recipes.
Total Time
10

hours
25

minutes
---
Ingredients
6 1/2

pounds

apples

peeled, cored and sliced

1/2

cup

granulated sugar

1/2

cup

packed brown sugar

1 1/2

tablespoons

ground cinnamon

1/4

teaspoon

salt

1

tablespoon

vanilla extract
Instructions
Place the apples in a slow cooker.

Add the sugars, cinnamon, salt and vanilla to the crockpot. Mix well.

Place the lid on the slow cooker and cook on low for about 10 hours, stirring every couple hours. The apple butter should be thick and dark brown.

If desired, use a blender to blend the apple butter into a purée until smooth.

Cover and store in the refrigerator for up to two weeks or freeze in small containers.
Notes
Adjust the sugar to your liking.
For different flavor variations, add ground cloves or ground nutmeg along wit the cinnamon.
Many people have left reviews that they leave the peels on the apples. Feel free to do that if you'd like. We prefer the apples peeled.
Nutrition
Calories:
120
kcal
|
Carbohydrates:
31
g
|
Sodium:
32
mg
|
Potassium:
167
mg
|
Fiber:
3
g
|
Sugar:
25
g
|
Vitamin A:
80
IU
|
Vitamin C:
6.8
mg
|
Calcium:
19
mg
|
Iron:
0.3
mg
Adapted from My Baking Addiction