Tastes of Lizzy T participates in affiliate advertising programs. We may earn a commission when you make a purchase through links on our site.
 Old-fashioned, comforting cornmeal mush recipe that you can serve as a hot porridge cereal for breakfast, or as a side dish to a main dish at dinner time.
Although Matt and I both spent our childhood days in Ohio, he was in the south and I was in the north. We've realized over the almost 20 years we've been married that these two parts of Ohio tend to be very different. Many things that he remembers from growing up, I never experienced.
And this cornmeal mush recipe is one of them. He's crazy for it.
A few weeks ago I showcased this on Instagram and so many of you call it grits. I'm not sure where the name "mush" comes from other than it looks like mush 😅 But with a little milk and real maple syrup, it's delicious!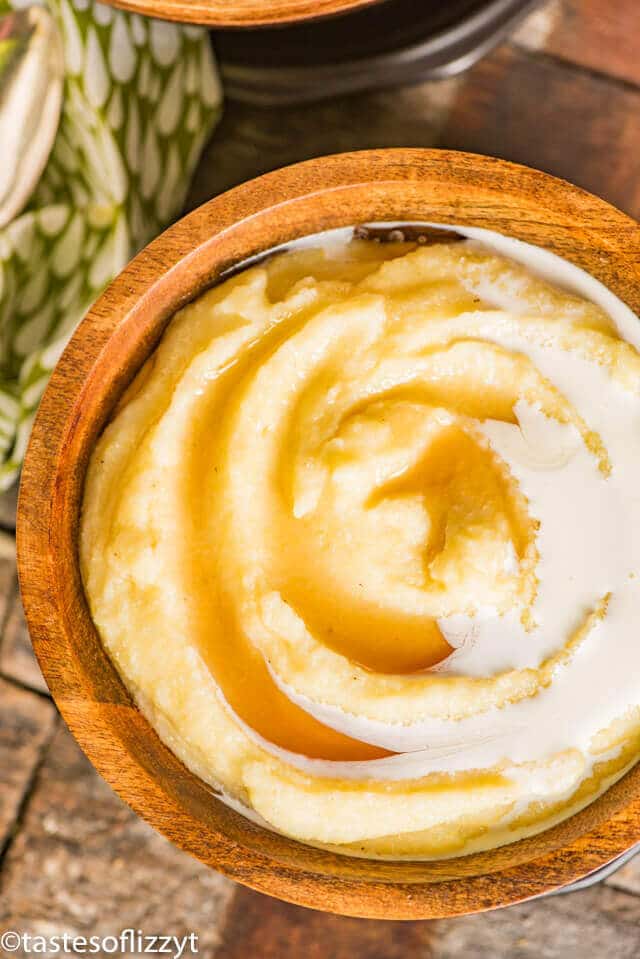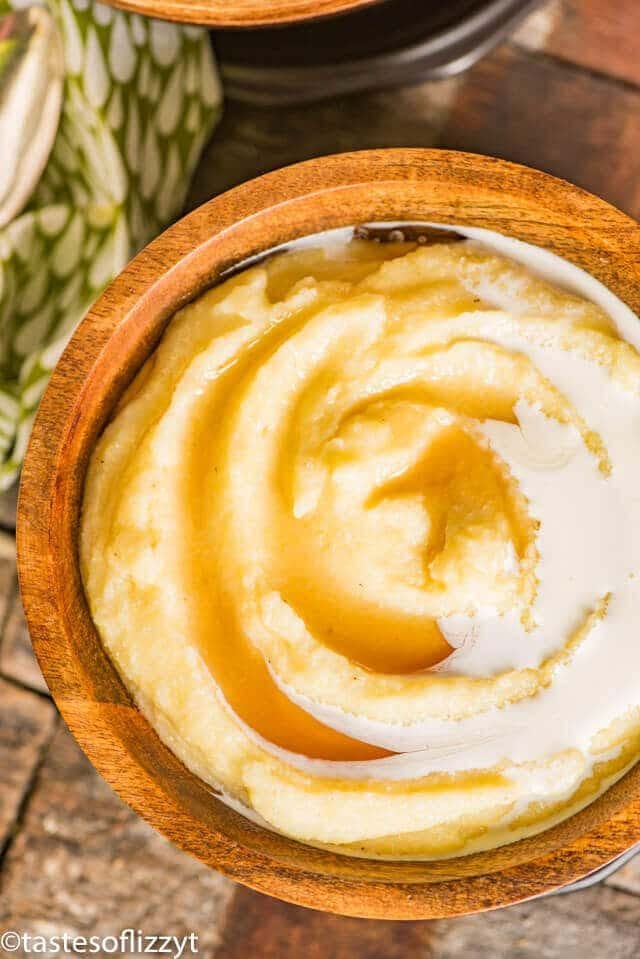 ⭐️ ⭐️ ⭐️ ⭐️ ⭐️  Reader Carl says, "Made this In remembrance of mom for mother's day breakfast. Creamy recipe and brought back memories of a warm kitchen and family early morning."
⭐️ ⭐️ ⭐️ ⭐️ ⭐️  Reader Elaine says, "So much better than you think would be possible. Wavering? Just make it!"
⭐️ ⭐️ ⭐️ ⭐️ ⭐️  Reader Charlie says, "I just made this 100% by the directions above. Poured some in a cereal bowl, added almost a tablespoon of butter, two teaspoons of beautiful old fashioned white sugar (I'm not a fan of corn syrup or maple syrup in my cereal) and milk. Delicious! But it takes 15 minutes at the stove. But over all I will do this again!"
About this Cornmeal Mush Recipe:
Flavor: Mush itself doesn't have much flavor except for a hint of cornmeal. The flavor comes with what you add on top. Syrup, brown sugar, honey, or even fresh fruit is delicious.
Texture: Except fo the slight cornmeal texture, this hot cereal is smooth and thick.
Method: This is made on the stovetop, so you'll need a big pot (or small pot of you're just cooking for two like we are now. )
Cornmeal Mush vs. Polenta? Or Grits?
Many times today this recipe is called cornmeal polenta. From my research It can be served at breakfast with a touch of cream and honey or maple syrup. Perfectly sweet.
Or it can be served as the side dish to meaty main dish with a bit of fresh salsa, your favorite herbs and even a touch of parmesan cheese. So savory and delicious.
Whether you serve it for breakfast or as a savory side dish, the warm texture of this corn mush will warm your belly on cold winter days.
Our recipe came from an old cookbook and is an Amish cornmeal mush recipe.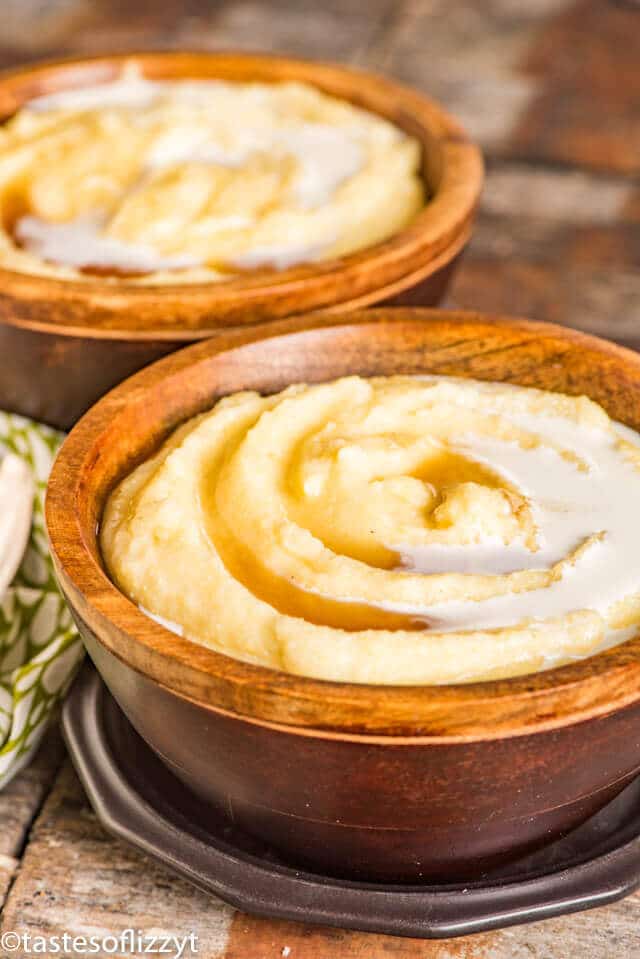 Corn Mush Ingredients
Cornmeal mush has simple ingredients that you most likely have in your pantry. It starts with boiling water, then you add cornmeal, milk, and a bit of salt.
That's it! 4 ingredients and you're on your way to a warm cereal.
How to Make Cornmeal Mush
To make mush, simply start 3 cups of water boiling.
In a separate bowl, mix together the cornmeal, milk and salt. It's important to mix this first in a separate bowl and not just add the individual ingredients to the boiling water. If you do, it will clump up and you don't want clumps!
Slowly pour the milk/cornmeal mixture into the hot water, stirring constantly.
Keep stirring the mixture until it comes to a boil again. Then reduce the heat to low and cook/stir the mixture for about 15 minutes until it has thickened to the consistency you like.
Simple as that! It takes about as long to make as if you were making oatmeal on the stovetop.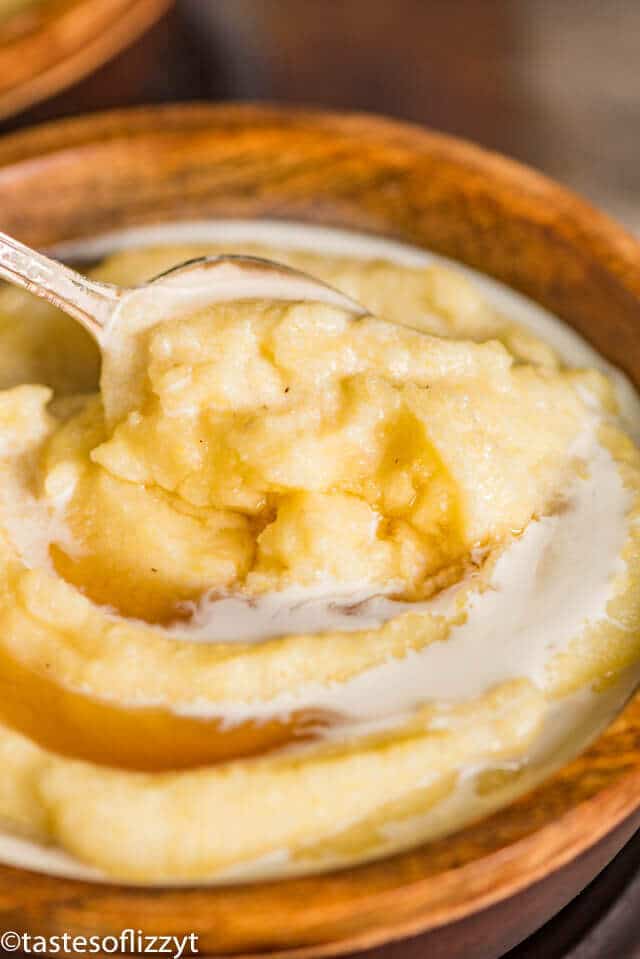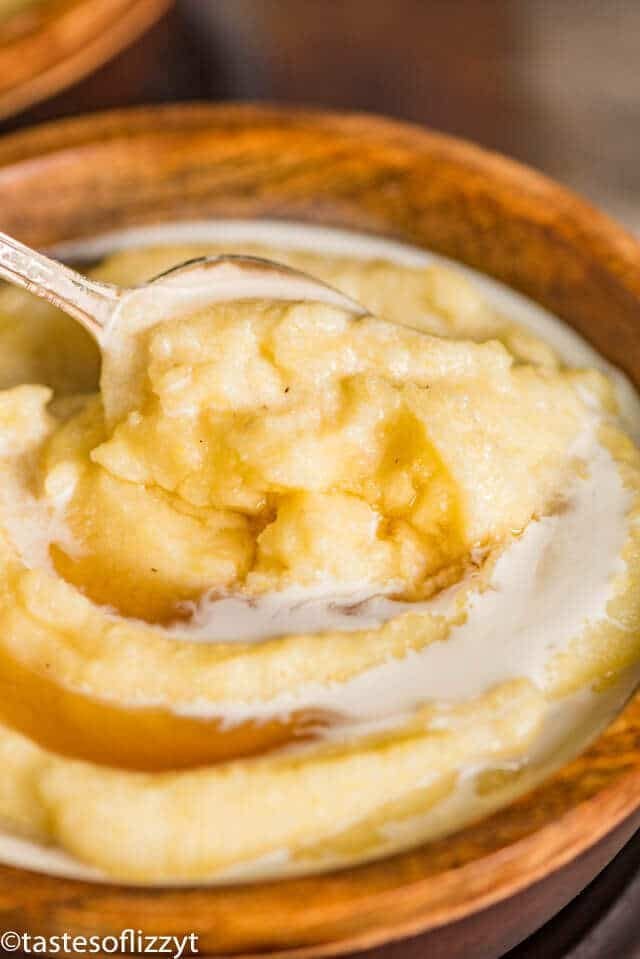 Make it a meal.
Serve this cornmeal mush with:
How to Make Fried Mush
Matt loves mush, but what he likes even more is fried mush. You can take this thick porridge, pour it into a loaf pan and let it set overnight.
The next morning, cut the loaf into ½ to 1-inch slices and fry it in oil in a skillet until golden brown.
Find our complete fried cornmeal mush recipe here.
Recipe Variations
Add raisins and nuts for a hearty breakfast.
Make it dairy free by using almond milk or oat milk.
This is gluten free if you make sure that your cornmeal is gluten free.
Try swirling apple butter into the top. It may just be my personal preference, but in the fall, it's better than my favorite syrup!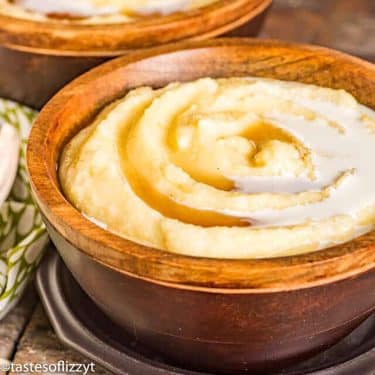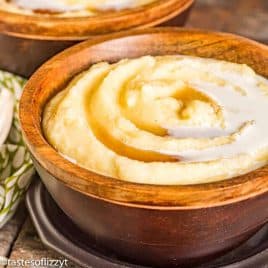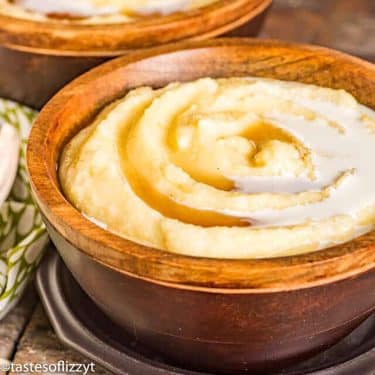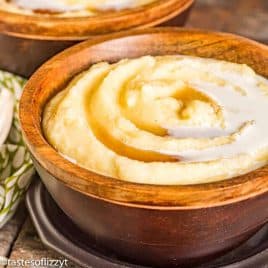 Corn Mush Recipe
Old-fashioned, comforting cornmeal mush recipe that you can serve as a hot porridge cereal for breakfast, or as a side dish to a main dish at dinner time.
---
Ingredients
3

cups

water

1

cup

yellow cornmeal

1

cup

milk

1/2

teaspoon

salt

to taste
Instructions
In a large saucepan, bring the water to a boil.

In a small bowl, mix together the cornmeal, milk and salt.

Slowly pour the cornmeal/milk mixture into the boiling water, stirring constantly.

Bring it to a boil again, then reduce heat and stir almost constantly (to avoid clumps) for about 15 minutes or until the mixture is thickened to the consistency you like.

Serve warm with cream and maple syrup.
Notes
Calories are based on a serving of 1 cup.
Nutrition
Calories:
151
kcal
|
Carbohydrates:
25
g
|
Protein:
5
g
|
Fat:
3
g
|
Saturated Fat:
1
g
|
Polyunsaturated Fat:
1
g
|
Monounsaturated Fat:
1
g
|
Cholesterol:
6
mg
|
Sodium:
259
mg
|
Potassium:
176
mg
|
Fiber:
3
g
|
Sugar:
3
g
|
Vitamin A:
79
IU
|
Calcium:
66
mg
|
Iron:
1
mg