Tastes of Lizzy T participates in affiliate advertising programs. We may earn a commission when you make a purchase through links on our site.
What to do with leftover cornmeal mush? Make fried mush, a delicious alternative to pancakes or waffles. Serve with maple syrup for a lightly sweet breakfast treat.
Fried cornmeal mush is a classic breakfast for Midwesterners. My husband and I both grew up in Ohio. He grew up in the Southwest part of the state and I grew up in the Northeast part.
Over the past few years I've learned that just because we both grew up in Ohio, that doesn't mean we had the same food traditions. Matt was crazy about this thing called "fried mush". I wasn't so sure…until I tasted a butter-fried, golden brown slice of cornmeal mush with a drizzle of 100% maple syrup. Life changed.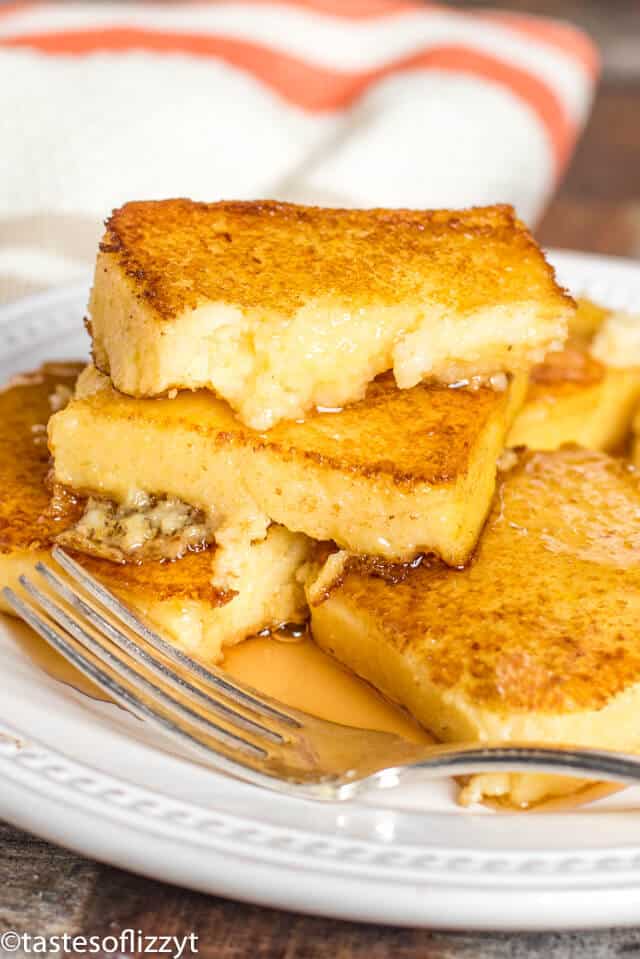 Have you ever tried this breakfast idea? Or do you have a unique topping? Leave a comment so we can try it!
Difference between Mush and Polenta
From what I understand, these recipes are very similar. Polenta tends to be used as a side dish and is often more savory, with cheese and spices added. Fried mush has traditionally been used more like a breakfast with a sweet topping. Both have corn meal as a base and both are delicious.
Fried Cornmeal Mush or Fried Polenta
You need to plan ahead if you'd like to make fried mush. You must start the day before by making cornmeal mush. This is like a thick porridge. Think traditional oatmeal…but with cornmeal instead of oats. (You can read all about how to make cornmeal mush here.)
Once you have that made, pour it into a 9×5 loaf pan that you've very lightly greased and allow it to cool to room temperature. Don't be tempted to cover and refrigerate right away. The steam will be trapped in the pan and your "loaf" will end up like soup. Don't ask me how I know this. 🙂
In order for the cornmeal mush to set up completely, that steam needs to escape, so let the pan cool completely, then cover it and place it in the refrigerator for at least 8 hours. I prefer to refrigerate it overnight so that the mixture is nice and firm.
How to Make Fried Mush
When you're ready to make fried mush, turn the cornmeal loaf out onto a cutting board. I cut the loaf into about 10 slices, then cut those slices down the middle so that I end up with about 20 squares. I find that by cutting the loaf this way, the squares cook more quickly and hold together better.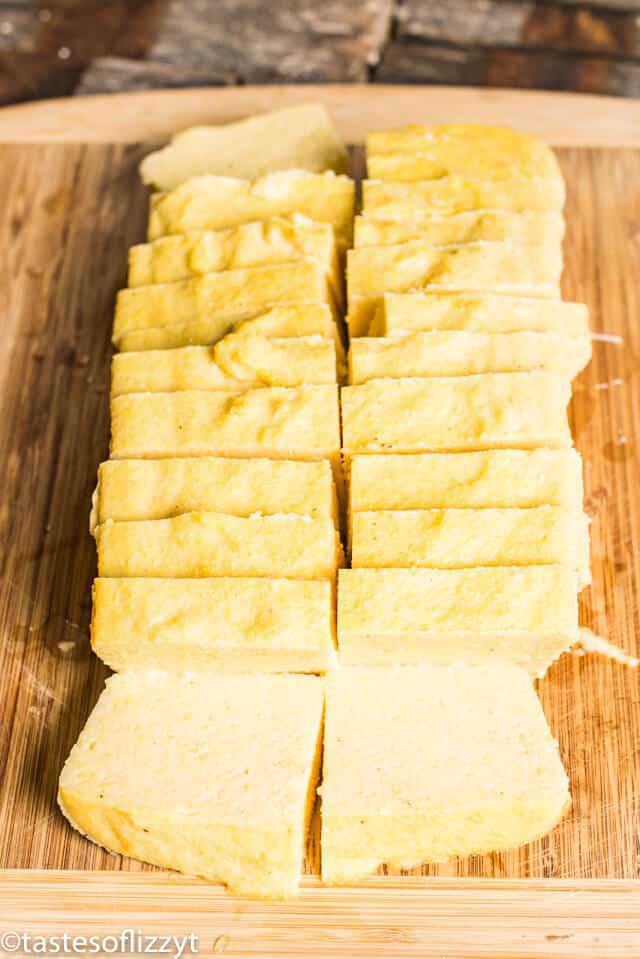 Heat a skillet over medium heat and allow the butter to melt in it. Place the cornmeal slices on the hot skillet and allow the first side to get golden brown. This takes 3-4 minutes on our skillet, but watch closely since each stovetop and pan are different. You don't want your fried mush to burn.
Once the first side is golden brown, then turn the slices and fry the other side. Add more butter to the skillet as needed if the cornmeal starts sticking.
What to Serve on Fried Mush
Cornmeal mush by itself can be rather bland. Some may like it that way, but I don't care for it. Think of this like cornmeal pancakes. We think a drizzling of maple syrup is all this breakfast needs. You could also drizzle with honey, strawberry sauce, raspberry sauce or even sausage gravy. Sprinkle with coconut if you have it available. Yum!
Serve alongside bacon, fried eggs or sausage for a complete breakfast.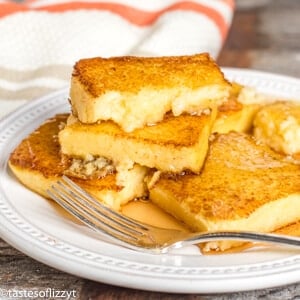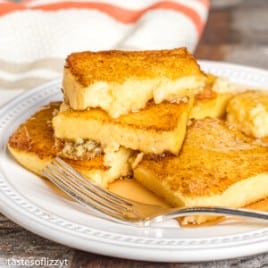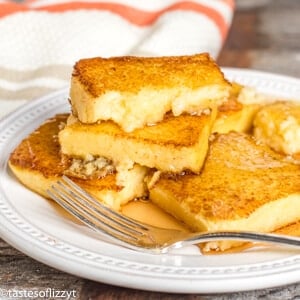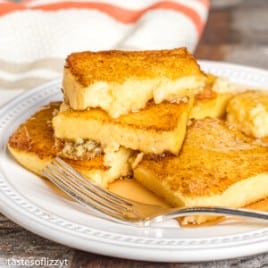 Fried Mush
What to do with leftover cornmeal mush? Make fried mush, a delicious alternative to pancakes or waffles. Serve with maple syrup for a lightly sweet breakfast treat.
---
Ingredients
3

cups

water

1

cup

yellow cornmeal

1

cup

milk

1/2

teaspoon

salt to taste

3-4

tablespoons

butter

(for frying)
Instructions
In a large saucepan, bring the water to a boil.

In a small bowl, mix together the cornmeal, milk and salt.

Slowly pour the cornmeal/milk mixture into the boiling water, stirring constantly.

Bring it to a boil again, then reduce heat and stir almost constantly (to avoid clumps) for about 15 minutes or until the mixture is thickened to the consistency you like.

Pour this mixture into a lightly greased 9×5 loaf pan and allow it to cool to room temperature.

Once the cornmeal has cooled, cover it with plastic wrap and place the pan in the refrigerator overnight or until the mixture has become firm (at least 8 hours).

Remove the cornmeal loaf from the pan and slice it into 1/2″ to 1″ slices. (We usually slice the loaf into 10 slices, then cut those slices in half so they cook more quickly and make smaller pieces.)

Heat the butter in a skillet over medium heat.

Once the pan is hot, add the slices and fry for 3-4 minutes on each side until they are golden brown and heated through. Watch them closely so they don't burn.

Serve immediately with maple syrup or honey if desired.
Notes
The calories shown are based on the recipe being cut into 20 pieces, with 1 serving being 1 slice. Since different brands of ingredients have different nutritional information, the calories shown are just an estimate.
Nutrition
Calories:
53
kcal
|
Carbohydrates:
6
g
|
Protein:
1
g
|
Fat:
2
g
|
Saturated Fat:
1
g
|
Cholesterol:
5
mg
|
Sodium:
22
mg
|
Potassium:
41
mg
|
Vitamin A:
70
IU
|
Calcium:
15
mg
|
Iron:
0.2
mg
Tools to Make This Old Fashioned Breakfast Recipe
9×5 Loaf Pan

: These are the pans I use for quick breads, yeast breads, fried mush and more!

The Best Pancake Griddle

: Get pancakes, fried mush and even potatoes done quickly on this non-stick pan.