Sugared Walnut Fruit Salad
Tastes of Lizzy T participates in affiliate advertising programs. We may earn a commission when you make a purchase through links on our site.
Walnuts baked in a sugar syrup give this Sugared Walnut Fruit Salad a sweet crunch. Use your favorite fruit in this simple recipe.

I have found a new love.
Nuts have never been my favorite, but maybe that's because I never thought they tasted like much. I liked peanuts, almonds, and pistachios, but that was about it. Last fall, a whole new door opened for me to try out different, new, candied nuts, but I decided just to stick with my favorites. For some reason, after almost two years of blogging, I am still not very adventurous with foods. When we made this fruit salad, though, I was determined to try it… with the sugared walnuts inside. And let me tell you, I've been missing out! The fruit salad was great on its own, because I love fruit. But that added sweetness and crunch of the candied walnuts makes the whole thing taste better! Plus the whipped cream…everything tastes good with whipped cream. 😉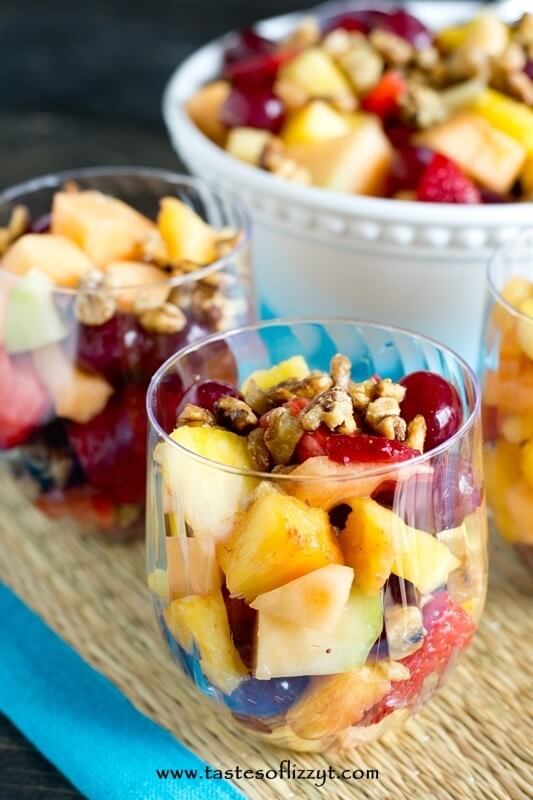 This simple fruit salad is thrown together with chopped strawberries, cantaloupe, pineapple, and grapes. The sugared nuts are easy-peasy, just a mixture of water and sugar stirred into the walnuts, baked at 350 degrees for 10-12 minutes. It would be a great spring picnic idea, or a colorful sweet snack for a lonely rainy day. Which are happening a lot where I live! This cheerful fruit salad will brighten your day, though, rain or shine!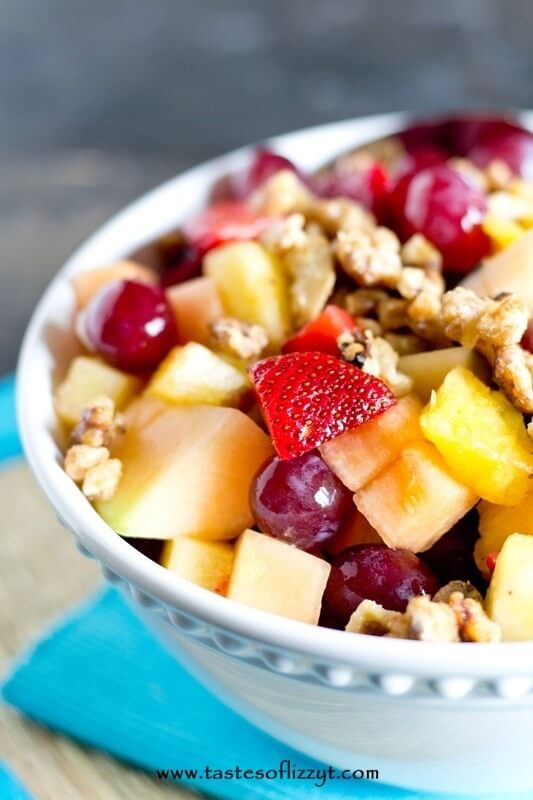 There are a few ways you can make this sugared walnut fruit salad recipe. If you don't like certain fruits in here, you can easily chop up your own favorite fruits and make your own combination. The candied nuts are optional, and leaving them out would make for a no-sugar-added fruit salad…but I honestly LOVE them in there. They really make it taste spectacular!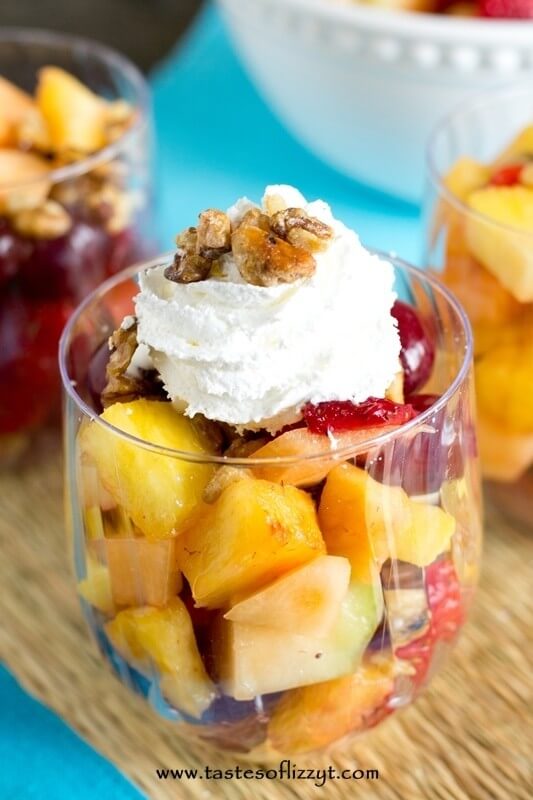 Have you ever dipped fruit in whipped cream? It's dangerous, trust me! I love chopping up an apple and dipping it into the whipped cream. I think it's about the best thing you can dip your fruit in. This salad tastes just like that, by adding a little whipped cream on the top of your bowl.
There. Now you've got the perfectly sweet springy recipe!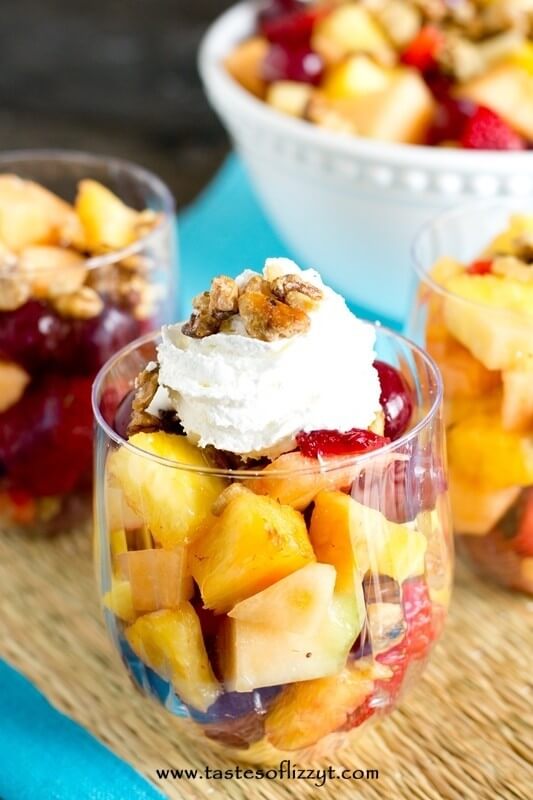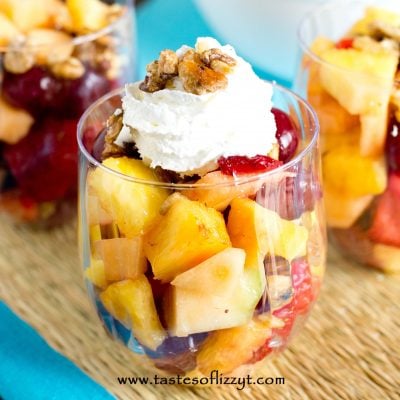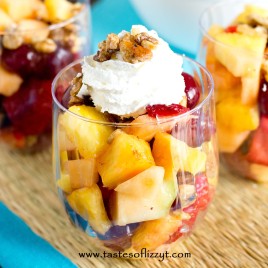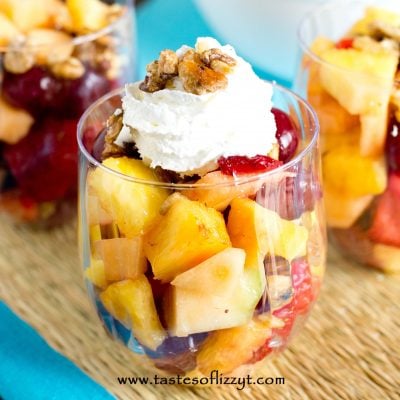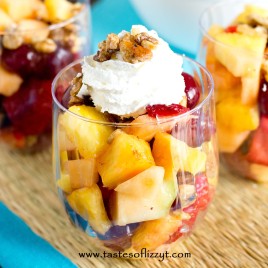 Sugared Walnut Fruit Salad
Walnuts baked in a sugar syrup give this Sugared Walnut Fruit Salad a sweet crunch. Use your favorite fruit in this simple recipe.
---
Ingredients
2

cups

coarsely chopped walnuts

1/4

cup

water

1/4

cup

white sugar

3

cups

chopped strawberries

3

cups

red grapes

3

cups

bite-size cantaloupe

3

cups

fresh pineapple chunks
Instructions
Preheat the oven to 350 degrees.

In a small bowl, combine the water and sugar. Stir in the walnuts, coating them evenly.

Cover a baking sheet with non-stick baking mat or aluminum foil sprayed with cooking spray.

Pour the walnuts on the prepared baking sheet and spread them out.

Bake at 350 degres for 10 minutes.

Remove them from the oven and stir them once or twice while they are cooling to prevent sticking. Allow the walnuts to cool completely.

In a large bowl, combine the chopped fruit and the cooled walnuts. Serve immediately.
Nutrition
Calories:
215
kcal
|
Carbohydrates:
25
g
|
Protein:
4
g
|
Fat:
13
g
|
Saturated Fat:
1
g
|
Sodium:
8
mg
|
Potassium:
364
mg
|
Fiber:
3
g
|
Sugar:
19
g
|
Vitamin A:
1405
IU
|
Vitamin C:
57
mg
|
Calcium:
38
mg
|
Iron:
1.1
mg
Creamy Frosted Cranberry Dessert