This homemade Italian Bread is a cool rise bread. It can be made in advance and put in the refrigerator for anywhere from 2-24 hours. It's great to bake just before guests arrive!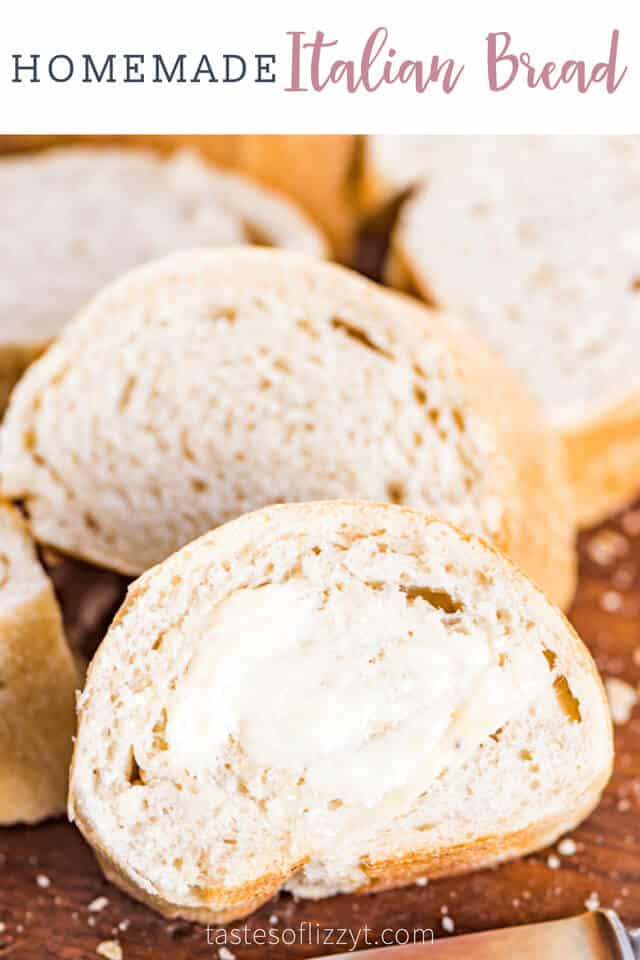 Thank you to Red Star Yeast for partnering with us for this recipe. As always, all opinions are our own.
Homemade Italian Bread
There are so many things to love about homemade Italian Bread. Especially this loaf.  This recipe is from an old-fashioned cookbook that my great-grandma gave to me. That's always a good sign that a recipe is doing to be good. And it didn't disappoint. If you're looking for an easy homemade bread with a chewy crust but soft inside, give this recipe a try!
What is Italian bread?
Italian bread is similar to white bread. Italian bread is known for having a moist and absorbent interior that is perfect for soaking up soups and sauces. Italian bread has a little bit of a chewy crust and is often round in shape, although we've shaped our Italian bread into loaves.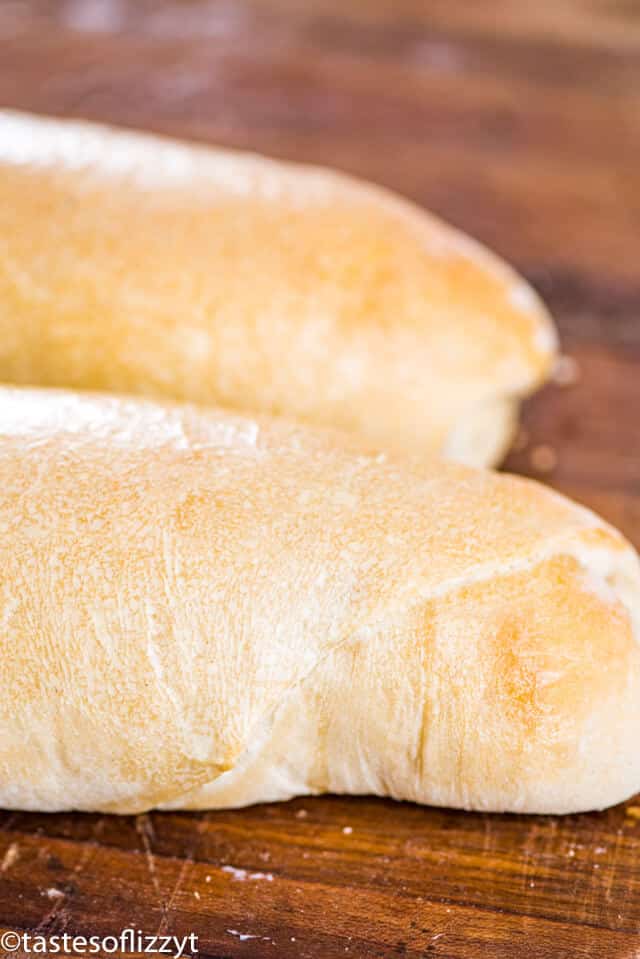 Italian Bread Loaf
This recipe is for a classic Italian bread with a simple flavor. It makes two loaves and is perfect to use as a side to your favorite Italian dinners, side salads or with soup. It's hard to resist fresh from the oven, but it's chewy exterior makes it perfect any time of the day!
What kind of yeast is used to make bread?
My favorite yeast is Red Star Platinum Superior Baking Yeast. It comes in packets and never fails to produce a great loaf of bread. If you are newer to bread making, I highly recommend this yeast for great results! Red Star Platinum Superior Baking Yeast is an instant yeast which means it does not have to be proofed first. Just add it into the flour and start mixing.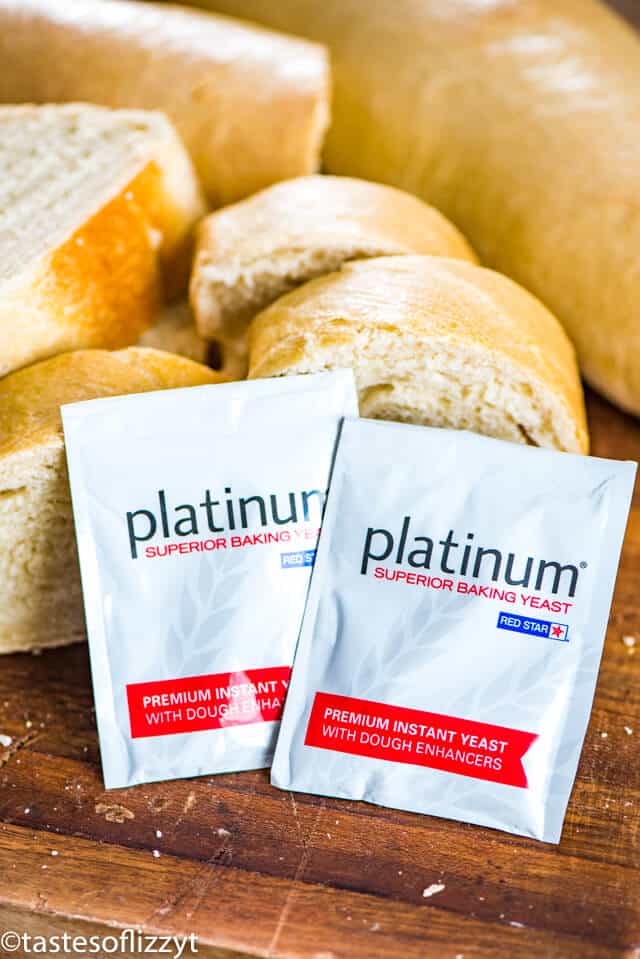 What is the best way to mix bread dough?
We use our stand mixer to knead bread dough, but if you don't have a stand mixer you can knead by hand.  If you happen to have a bread maker, you can use the dough setting and let the bread machine knead for you, which is the easiest method of all!
Cool Rise Bread Recipe
This bread is a "cool rise" bread.  That means you can let the dough rise in the fridge overnight and bake it fresh the next day.  It's the perfect bread for when you are having company over. The floury mess stays out of the kitchen the day you are having guests.
To allow your dough to rise, simply brush with oil and cover with plastic wrap. Pop the pan into the refrigerator overnight and remove it from the fridge the next day about 10 minutes before you want to bake it.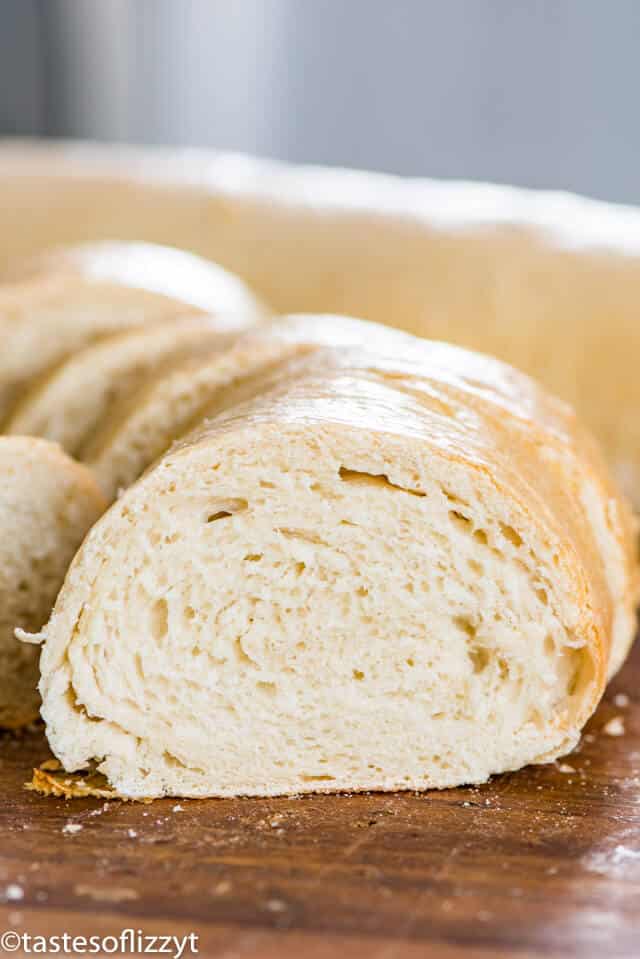 How do you make an egg wash for bread?
What gives this bread it's shiny exterior? It's an egg wash. Egg wash is simply 1 large egg white and 1 tablespoon of water. Use a fork to whisk the two together, then brush it overtop the loaves of bread after they've baked for 20 minutes. Brush on the egg wash, then bake for an additional 5 minutes. It helps give that delicious crust a beautiful look.
OTHER YEAST BREAD RECIPES
Having trouble? Read through our most frequently asked questions about bread baking.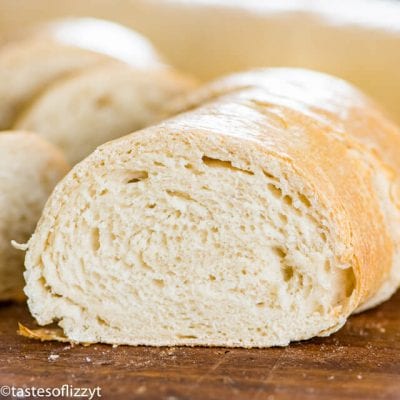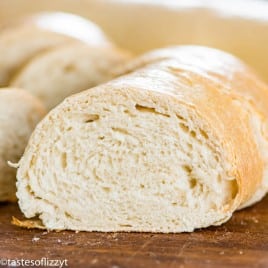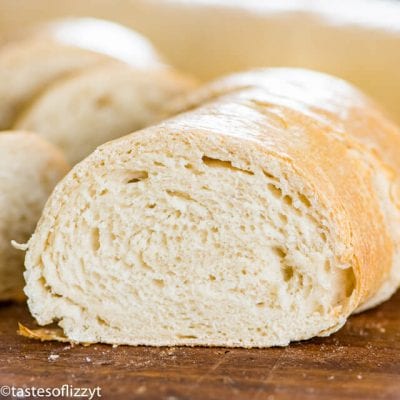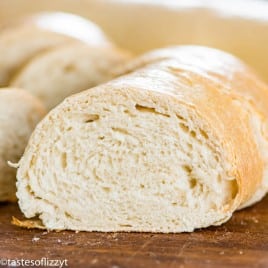 Homemade Italian Bread
This Italian Bread is a cool rise bread. It can be made in advance and put in the refrigerator for anywhere from 2-24 hours. It's great to bake just before guests arrive!
---
Ingredients
1

tablespoon

granulated sugar

2

teaspoons

salt

2

packages

Red Star Platinum Superior Baking Yeast

5

cups

all-purpose flour

(approximate)

1

tablespoon

butter

1 3/4

cups

water

2

tablespoons

cornmeal

(optional)

2

tablespoons

vegetable oil

1

large

egg white

1

tablespoon

water
Instructions
Start this recipe early in the day, or a day in advance of the day you need the bread.


In the bowl of a stand mixer, combine the sugar, salt, yeast and two cups of flour.


In a microwave safe bowl, heat the butter and water until it is very warm, but not hot (about 120-130 degrees). The butter does not have to be completely melted.


With the mixer on low speed with the paddle attachment, gradually beat the liquid into dry ingredients until just blended. Increase the speed to medium and beat for two minutes, scraping the sides of the bowl as necessary. Beat in the remaining flour to make a soft dough, scraping the sides of the bowl as needed.

Switch to the dough hook attachment and knead the bread for 5-7 minutes until the dough is smooth and elastic.

Turn the dough out onto a floured surface. Cut the dough in half; cover and let it rest for 20 minutes. Spray a large cookie sheet with non-stick spray and sprinkle with cornmeal (optional).


On a floured surface, roll one dough half into a 15x10" rectangle. Starting with the 15" side, tightly roll the dough jelly-roll style. Pinch the seam to seal. Repeat with the other half of the dough. Place the loaves, seam-side down on a cookie sheet and taper the ends. Brush with vegetable oil. Cover loosely with plastic wrap and refrigerate for 2 to 24 hours.


To bake, preheat oven to 425 degrees. Remove the loaves from the refrigerator, uncover and let stand 10 minutes. Cut 3-4 diagonal slashes on top of each loaf. Bake for 20 minutes.


In a small bowl, beat egg white with 1 tablespoon water. Remove loaves from the oven. Brush with th egg mixture. Return to the oven and bake for an additional 5 minutes.


Allow the bread to cool completely, then store in an airtight container.
Notes
The calories shown are based on each loaf of bread being cut into 10 pieces, with 1 serving being 1 slice of bread. Since different brands of ingredients have different nutritional information, the calories shown are just an estimate.
Nutrition
Serving:
59
g
|
Calories:
137
kcal
|
Carbohydrates:
25
g
|
Protein:
3
g
|
Fat:
2
g
|
Saturated Fat:
1
g
|
Cholesterol:
1
mg
|
Sodium:
242
mg
|
Potassium:
39
mg
|
Vitamin A:
15
IU
|
Calcium:
5
mg
|
Iron:
1.5
mg