Raspberry jam and cream cheese fill these soft, fluffy Raspberry Sweet Rolls. Top with cream cheese frosting for a delicious breakfast!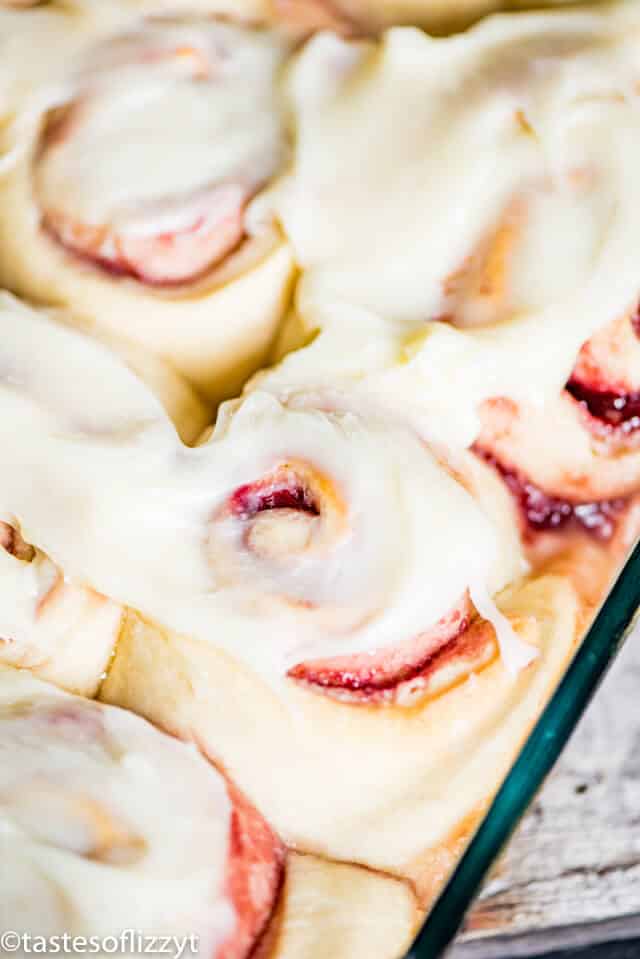 Raspberry Sweet Rolls Recipe
For as much as Matt is crazy for my homemade cinnamon rolls, there is one type of roll that makes him swoon even more. Raspberry Sweet Rolls with cream cheese inside and cream cheese frosting. He loves anything raspberry and has a weak spot for cheesecake also, so these breakfast buns are a match made in heaven.
This is our 5th sweet roll recipe that we're sharing. We've got Reese's rolls, traditional cinnamon, apple butter rolls and orange rolls. It was definitely time we shared our raspberry cheesecake rolls with perfect swirls.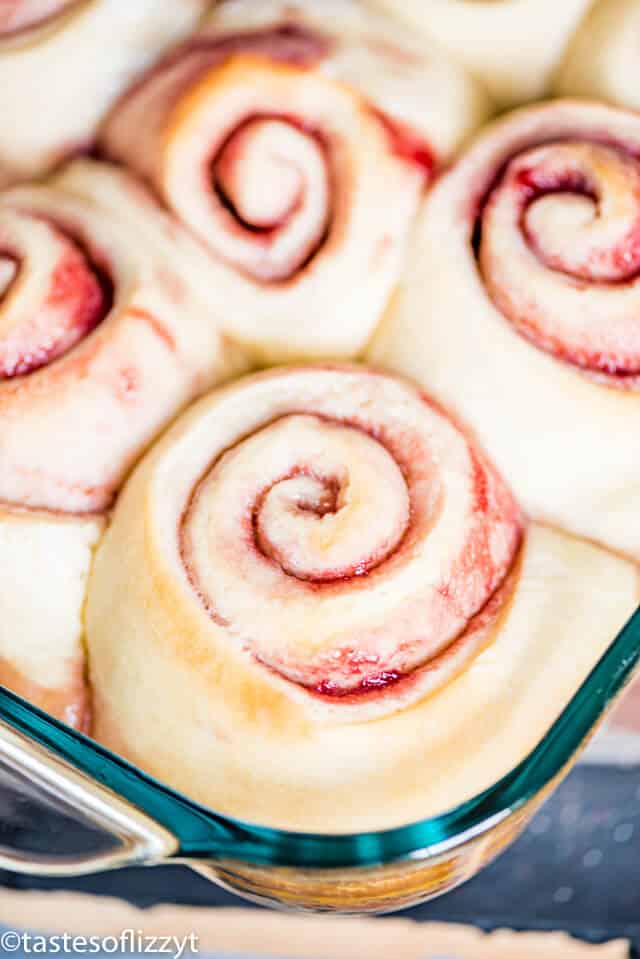 Sweet Roll Dough
One dough, many delicious recipes. That's how I feel about this sweet roll dough recipe. It's slightly sweet and buttery and makes the perfect base for any kind of sweet roll. In fact, we've even taken this dough and made it into dinner rolls before. Delicious!
We like to use a stand mixer to mix and knead the dough because it is mostly hands off and easy. If you don't have a stand mixer, you can knead the dough by hand. It is a very soft dough and is easy to knead. Don't be tempted to add too much flour if kneading by hand. You want the dough to be slightly stick so the rolls bake up soft.
Cream Cheese Filling
To get the cream cheese flavor, we simply soften cream cheese and spread it on the rolled out dough. If you'd like, you could mix in 1/4 or 1/3 cup of powdered sugar to the cream cheese before spreading to give it a little more sweetness. We find that with the raspberry jam and cream cheese frosting, that extra sugar is just not needed.
And of course, you could leave the cream cheese out if you'd like and use the raspberry filling!
Easy Raspberry Filling
I wanted to keep this recipe easy, so just used raspberry jam to spread on the rolls. No-fuss is good.
Homemade Raspberry Filling
If you're looking to use a homemade raspberry filling, you could use this homemade raspberry sauce recipe. Just make sure the sauce cools completely. It will be a little runnier than jam so may be slightly messy when you are rolling the dough up. But if you want from-scratch raspberry filling, that is a great option!
Secret Ingredient!
Just as with all of our other sweet rolls, we use warmed heavy cream to pour over the rolls after they have risen for the last time, right before baking. The cream soaks around the rolls and keeps them soft and gooey. My favorite type of roll. The dough will be soft without this step, but I recommend you give our secret ingredient a try!
Cream Cheese Frosting
The cream cheese frosting is easy to mix up and should be spread on the rolls after the rolls are mostly cooled. This frosting will melt in your mouth! Sprinkle the rolls with a few nuts if you'd like for a pretty contrasting look.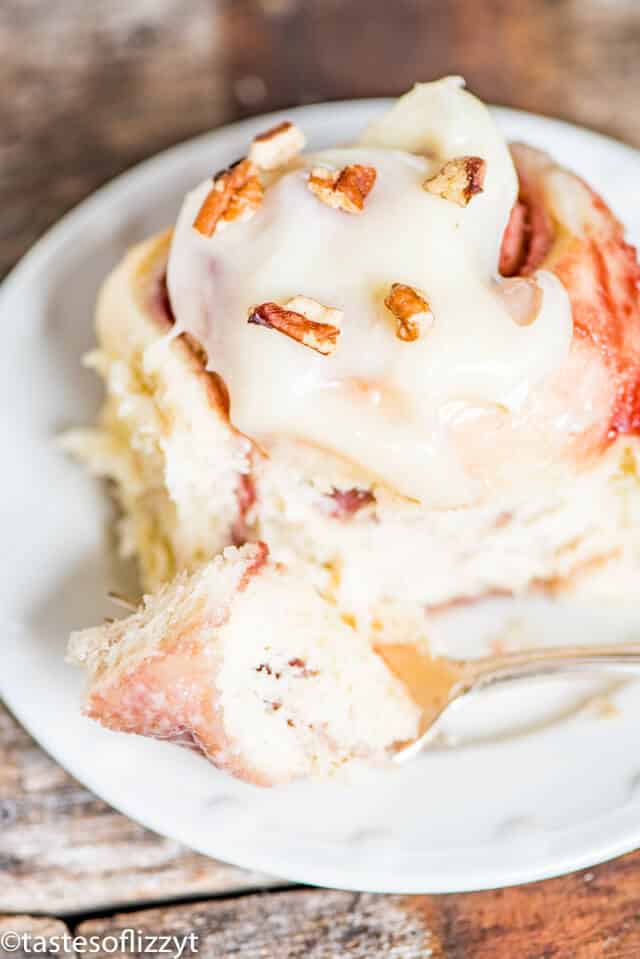 What You Need to Make Raspberry Sweet Rolls
Stand Mixer: Ok, you don't 100% need this, but it does make life easier.
Red Star Yeast: My favorite yeast! It's so forgiving and I have perfect baked goods, every time.
Pastry Mat: This makes clean-up a breeze.
Dough Cutter: I JUST got one of these. What have I done without it all these years? Works as a scraper too, to get stuck-on dough off surfaces.
Baking Pan 9×13 or 10×15, depending on what you need.
Raspberry Sweet Rolls
Raspberry jam and cream cheese fill these soft, fluffy Raspberry Sweet Rolls. Top with cream cheese frosting for a delicious breakfast!
Ingredients
For the Dough:
1

cup

warm milk

(105-115 degrees F)

2 1/2

teaspoons

instant dry yeast

(I like Red Star Platinum)

2

large

eggs

( at room temperature)

1/3

cup

butter melted

4 1/2

cups

all-purpose flour

1

teaspoon

salt

1/2

cup

granulated sugar
For the Filling:
8

ounces

cream cheese

softened

1 1/4

cup

raspberry jam

1/2

cup

warmed heavy cream

(to be poured over risen rolls)
For the Frosting:
6

ounces

cream cheese

(softened)

1/3

cup

butter

(softened)

2

cups

powdered sugar

1/2

tablespoon

vanilla extract
Instructions
Pour the warm milk in the bowl of a stand mixer and sprinkle the yeast overtop.

Add the eggs, butter, salt and sugar.

Add the flour and mix using the beater blade just until the ingredients are barely combined. Allow the mixture to rest for 5 minutes so the flour has time to soak up the liquids.

Scrape the dough off the beater blade and remove it. Attach the dough hook.

Beat the dough on medium speed for 5-7 minutes or until the dough is elastic and smooth. **The dough will be tacky and will still be sticking to the sides of the bowl. That's ok! Don't be tempted to add more flour at this point.

Spray a large bowl with cooking spray.

Use a rubber spatula to remove the dough from the mixer bowl and place it in the greased large bowl.

Cover the bowl with a towel or wax paper.

Set the bowl in a warm place and allow the dough to rise until double. I like to turn on the oven to the lowest setting for 1-2 minutes. Then turn off the oven and place the dough to rise in there. It normally takes about 30 minutes for the dough to rise. Do not allow the dough to rise too much or your cinnamon rolls will be airy.

Sprinkle a pastry mat generously with flour. Turn out the dough onto the pastry mat and sprinkle the top of the dough with additional flour.

Flour a rolling pin and roll the dough to about a 12x15" rectangle.

Use a rubber spatula to smooth the softened cream cheese and then the raspberry jam over the whole dough rectangle.

Starting on the long end, roll the dough up tightly jelly roll style.

Cut into 12-15 slices and place in a greased 9x13 baking pan.*

Cover the pan and allow the rolls to rise for 20 minutes or until nearly double.

Preheat the oven to 375 degrees.

Warm the heavy cream until the chill is off. Don't make it hot...you just don't want it cold. It should be warm to the touch.

Once the rolls have risen, pour the heavy cream over the top of the rolls, allowing it to soak down in and around the rolls.

Bake at 375 degrees for 17-19 minutes, until the rolls are lightly golden brown and the center rolls are cooked through.

While the rolls are cooling, prepare the cream cheese frosting.

In a large bowl, combine the softened cream cheese and butter using a hand mixer. Blend well.

Add in vanilla extract and the powdered sugar. Beat until combined.

Spread the frosting over the cooled rolls.

Store in an airtight container.
Notes
*For smaller rolls, cut the dough into 15 slices and use a 10x15" baking pan.
*The calories shown are based on the recipe making 15 rolls, with 1 serving being 1 slice frosted roll. Since different brands of ingredients have different nutritional information, the calories shown are just an estimate.
*The Calorie count shows the amount with ALL of the frosting used. There will be less calories in the rolls if you don't use all of the frosting at once.
Nutrition
Calories:
514
kcal
|
Carbohydrates:
72
g
|
Protein:
7
g
|
Fat:
21
g
|
Saturated Fat:
12
g
|
Cholesterol:
88
mg
|
Sodium:
341
mg
|
Potassium:
135
mg
|
Fiber:
1
g
|
Sugar:
37
g
|
Vitamin A:
785
IU
|
Vitamin C:
2.5
mg
|
Calcium:
67
mg
|
Iron:
2.1
mg