With cinnamon swirled cream cheese and a cinnamon roll crust, this Cinnamon Roll Cheesecake will quickly become your favorite dessert recipe (or even breakfast!).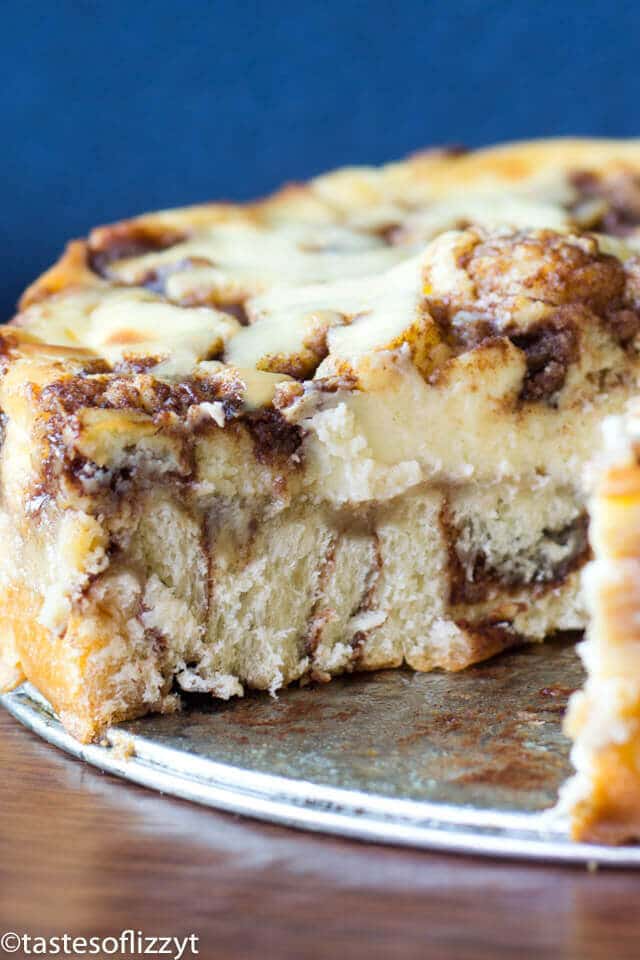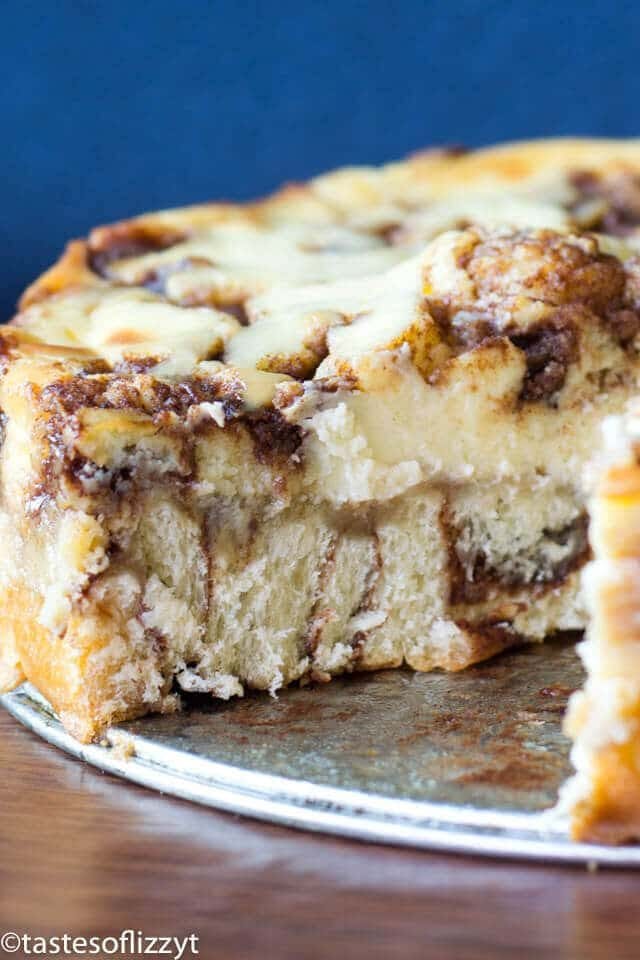 Cinnamon Roll Cheesecake
We love our cinnamon recipes around here.  You've probably noticed that with some of our other creations that have cinnamon….Upside Down Apple Pie, Cinnamon Roll Pancakes, and Cinnamon Buttercream Cupcakes.
I have to confess that I really wasn't sure about this creation mom had made while I was at my Grandma's house this summer. I am not a cheesecake fan. The only advantage to that is I don't crave cheesecake like my mom does.
I was willing to try this Cinnamon Roll Cheesecake, though, since it sat on top of cinnamon rolls.  I am so glad I did!
If you love cinnamon rolls and cheesecake, you're going to love this recipe.  It tastes like a gooey cinnamon roll with lots of cream cheese frosting on top!  One of my absolute favorite things!
No way was I about to let mom post this one on the blog. I wanted to be the one to share with you about it!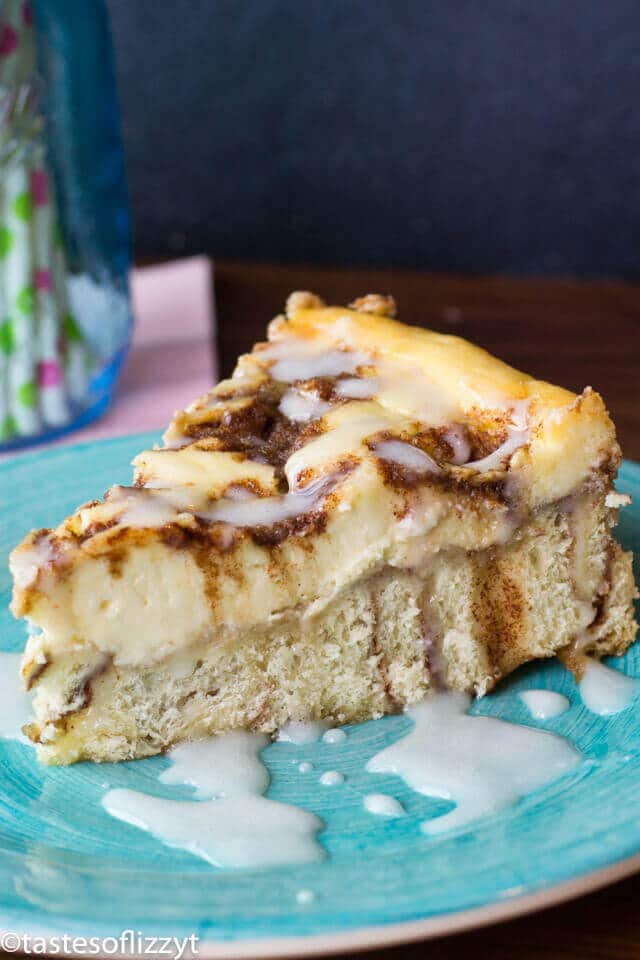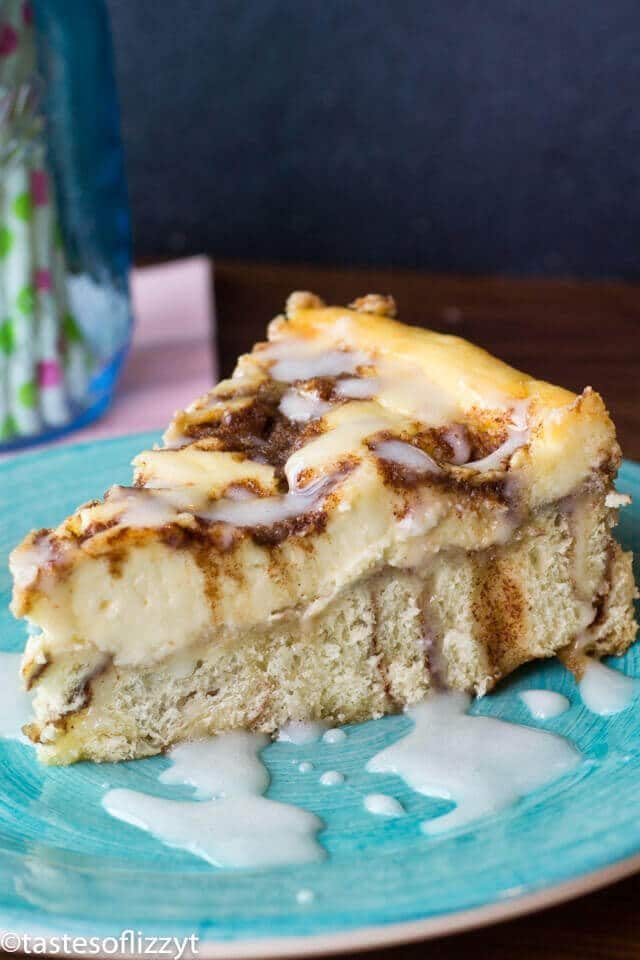 To start this amazing creation off, make your cinnamon rolls as normal, slice them thinly  and place them down in a springform pan. We love homemade cinnamon rolls, but if you are short on time, you can definitely use store bought unbaked cinnamon rolls for a shortcut.
Then comes the fun part. You get to put your hands in there and press those cinnamon rolls until they look flat. I love getting my hands all floury and sugary, but it isn't every day you get to squish a cinnamon roll!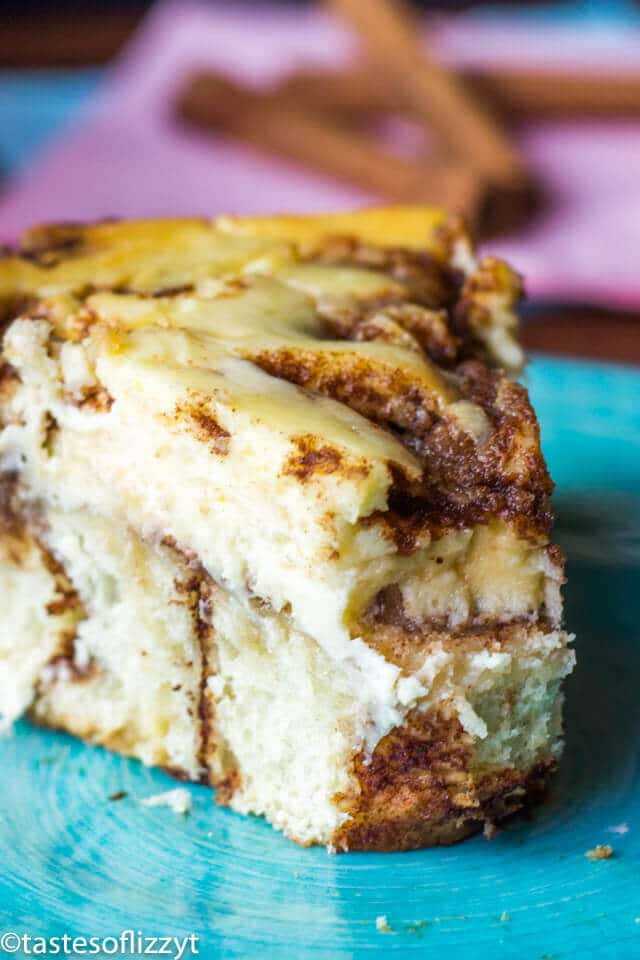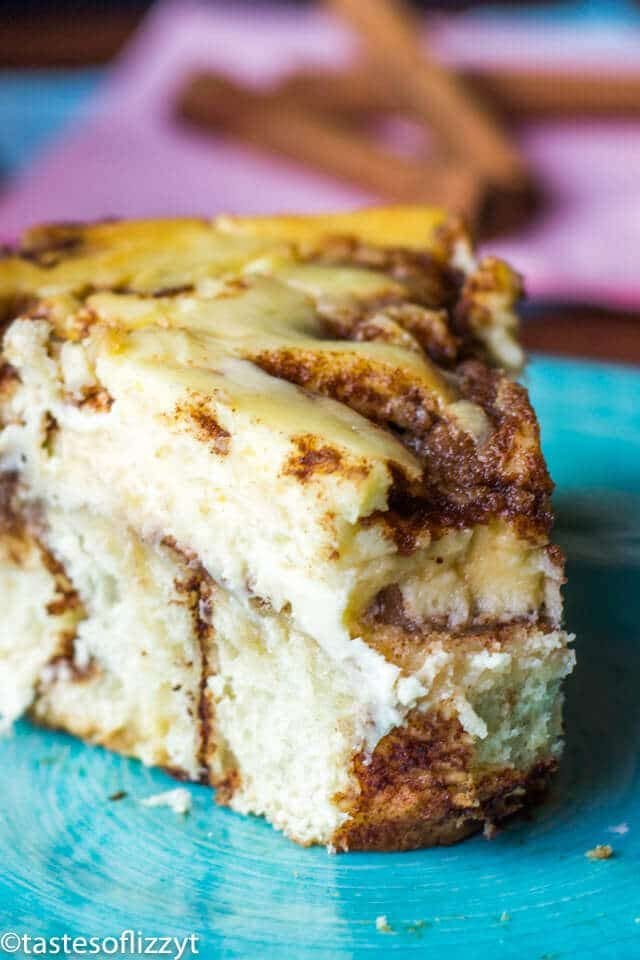 Next, make your cheesecake batter and cinnamon mixture. The cinnamon mixture is the same mixture we used for the Cinnamon Roll Pancakes!!
Pour half of the cheesecake batter on top of the cinnamon rolls, then drop half the cinnamon mixture on the top. Make these two layers again and then with a knife, make a few swirls within the cheesecake and the cinnamon. All you have to do now is bake it!
Oh yeah, then eat it.
That's the really fun part.
How are you going to eat it?  You're going to store this in the fridge, so you can eat it cold, like cheesecake…or you can warm it up a bit and it eat like you would a warm, gooey cinnamon roll.
When are you going to eat it?  Any time, of course.  Breakfast, for dessert, or anytime you need a smile on your face.
My dad should be credited for this recipe. He has some awesome baking ideas, but we all know he needs mom and I to pull it off:) We go to him for some of the creative parts of baking! Thanks, Dad!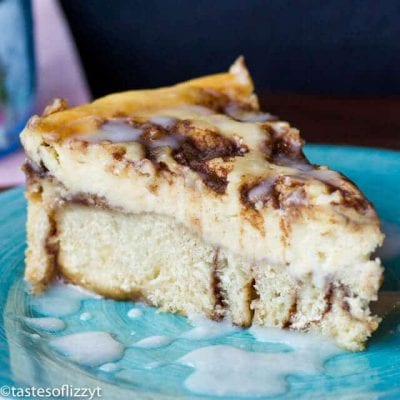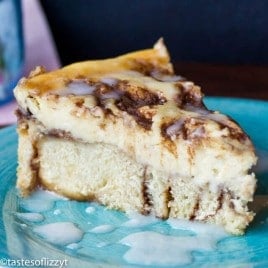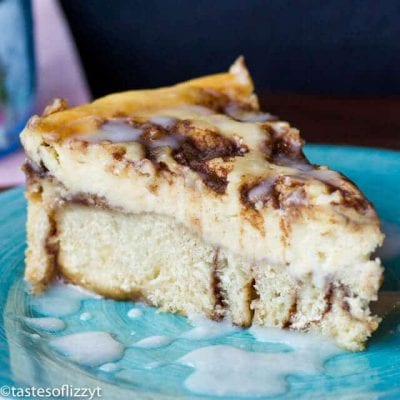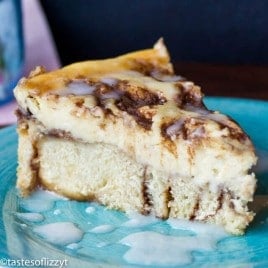 Cinnamon Roll Cheesecake Recipe
With cinnamon swirled cream cheese and a cinnamon roll crust, this Cinnamon Roll Cheesecake will quickly become your favorite dessert recipe (or even breakfast!).
Total Time
1

hour
10

minutes
---
Ingredients
Cinnamon Rolls:
1/2

cup

milk

1

large

egg

room temperature

3

tablespoons

butter

melted

2 1/4

cup

flour

1/2

teaspoon

salt

1/4

cup

sugar

1 1/4

teaspoons

yeast
Cheesecake:
16

ounces

cream cheese

softened

2

large

eggs

1/2

cup

sour cream

1/2

cup

sugar

1 1/2

teaspoons

vanilla
Cinnamon Filling:
1/4

cup

butter

softened

1/4

cup

+ 2 tablespoons brown sugar

1/2

tablespoon

cinnamon
Instructions
Add the warm milk and the yeast to a stand mixer bowl. Let it sit for about 5 minutes until yeast is activated. Add the egg, butter, salt, sugar and flour. With with dough hook, beat on low for 2 minutes until the dough is combined and forms a ball. Then let the dough hook knead the dough on medium speed for about 6-7 minutes. Cover the dough and let it rise in a warm place until doubled in size, about 20-30 minutes.

Roll out the dough into a 10x20 rectangle. Spread 3 tablespoons of butter over it. Sprinkle brown sugar and cinnamon over the top, then roll it up like a jelly roll. Cut it into about 1 inch slices and press them into the bottom of a 10.5 inch springform pan that is sprayed with cooking spray.

For the cheesecake: In a stand mixer, mix the cream cheese, eggs, sour cream, sugar and vanilla. Beat until smooth and creamy, about 3 minutes.

For the cinnamon filling: In a bowl, stir together the butter, brown sugar and cinnamon.

Layer half of the cheesecake batter in the springform pan on top of the pressed cinnamon rolls. Drop teaspoonfuls of the cinnamon filling on top of the cheesecake layer, using about half of the filling. Pour the remaining cheesecake layer over top, and add the last teaspoonfuls of cinnamon filling. Take a butter knife and gently swirl through the cheesecake & cinnamon filling layers.

Bake at 350 degrees for 50-55 minutes or until the cheesecake is set. Allow the cheesecake to cool to room temperature, then store it in the fridge.
Notes
Use store bought unbaked cinnamon rolls for a quick shortcut! Mix a little powdered sugar and milk for a glaze to drizzle on top.
Nutrition
Calories:
388
kcal
|
Carbohydrates:
38
g
|
Protein:
7
g
|
Fat:
23
g
|
Saturated Fat:
13
g
|
Cholesterol:
111
mg
|
Sodium:
309
mg
|
Potassium:
139
mg
|
Fiber:
1
g
|
Sugar:
19
g
|
Vitamin A:
855
IU
|
Vitamin C:
0.1
mg
|
Calcium:
79
mg
|
Iron:
1.5
mg