Upside Down Apple Dumpling Pie
Upside Down Apple Dumpling Pie is a delicious cross between apple dumplings and apple pie! The pie is loaded with apples and has a brown sugar pecan syrup baked into the crust. This is one of the best apple recipes to make during the apple picking season!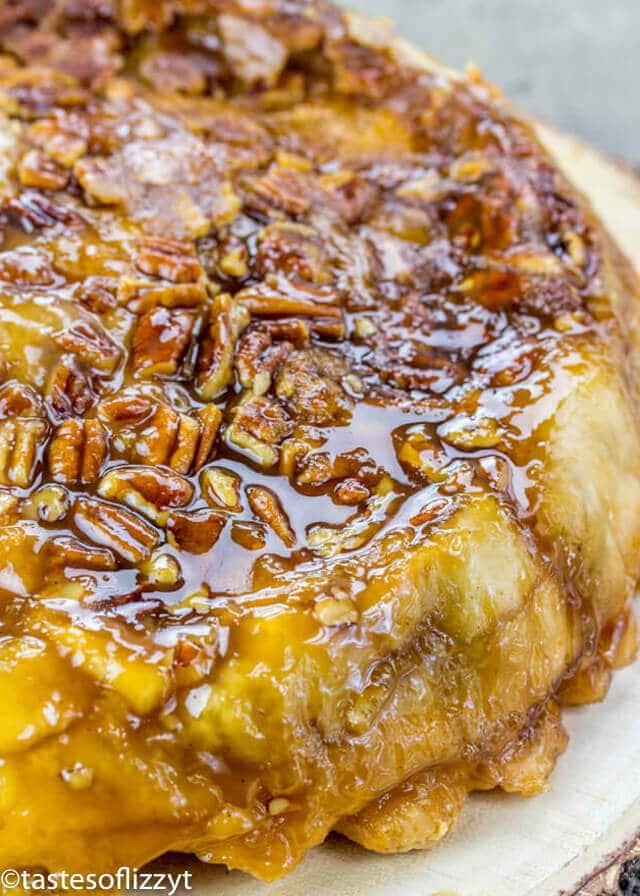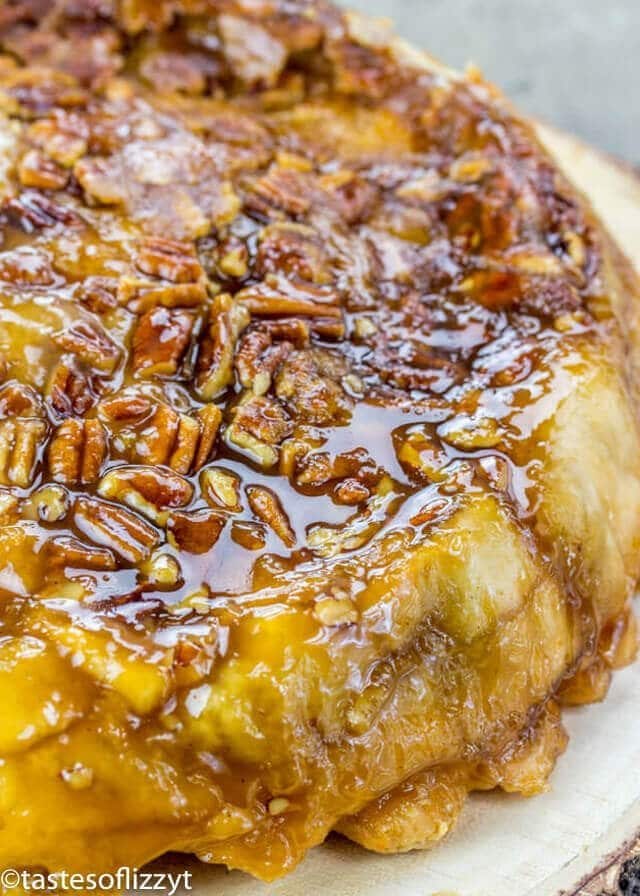 Upside Down Apple Dumpling Pie
It is always at this time of year that I start craving two things: Apples and Pumpkin.
Those two foods are probably my two favorite things about the fall season. I love anything made with apples or pumpkin. Breads…pies…cobblers…cookies…dumplings. Anything home-baked, really. And if it is freshly warm from the oven and has a scoop of ice-cold vanilla ice cream on top? It pretty much can't get any better than that.
We had a bunch of family in to celebrate my son's baptism. His dessert of choice was pumpkin pie. And since we needed more than just one dessert to feed the hungry crowd, I decided to make this Upside Down Apple Dumpling Pie that I found a picture of this summer. At the very first glance, I couldn't wait to get a chance to make this!
One of my absolute favorite ways to eat apples is in apple dumplings. After taking a bite of this pie, I realized that it tastes very similar to my Amish Apple Dumplings recipe.
And besides tasting like a slice of heaven, this was so much fun to make!
How to make an upside down pie
Here's what you do:
Line a pie pan with foil, and in the foil, you'll spread a mixture of melted butter, brown sugar and chopped pecans.
Make an apple pie recipe as normal, placing the bottom crust right on top of the brown sugar mixture.
Bake the pie, and when you pull it out of the oven, you'll have an upside down apple dumpling pie – she's a beauty!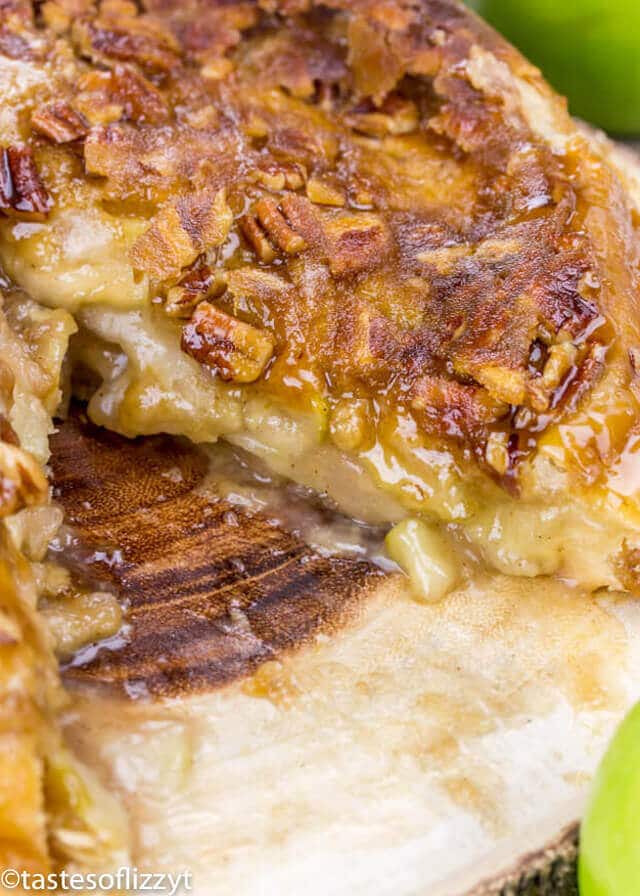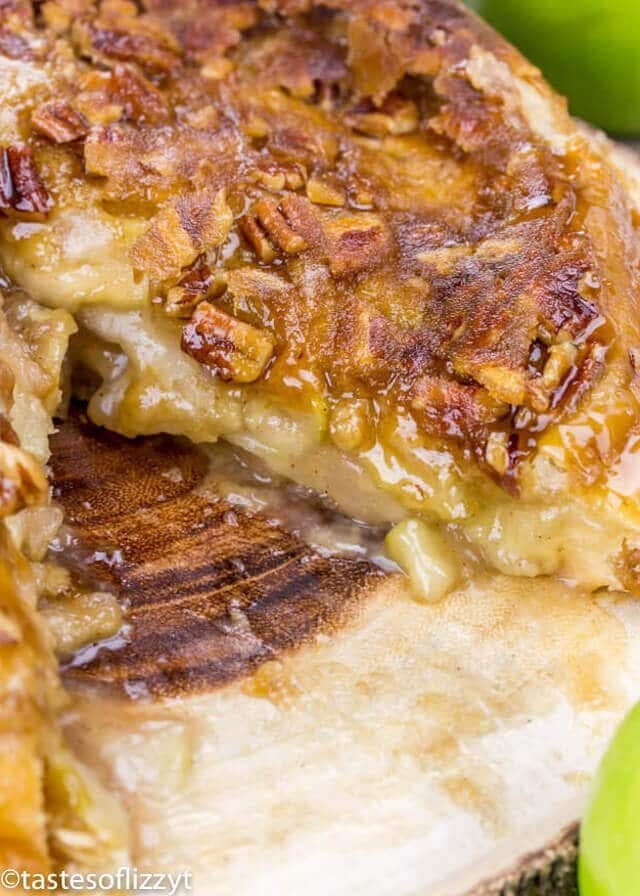 And although classic apple pie never fails, this recipe doesn't end here. You're going to flip the pie over onto a plate and peel off the aluminum foil, revealing what is now a upside down pie with a gooey brown sugar glaze over the top.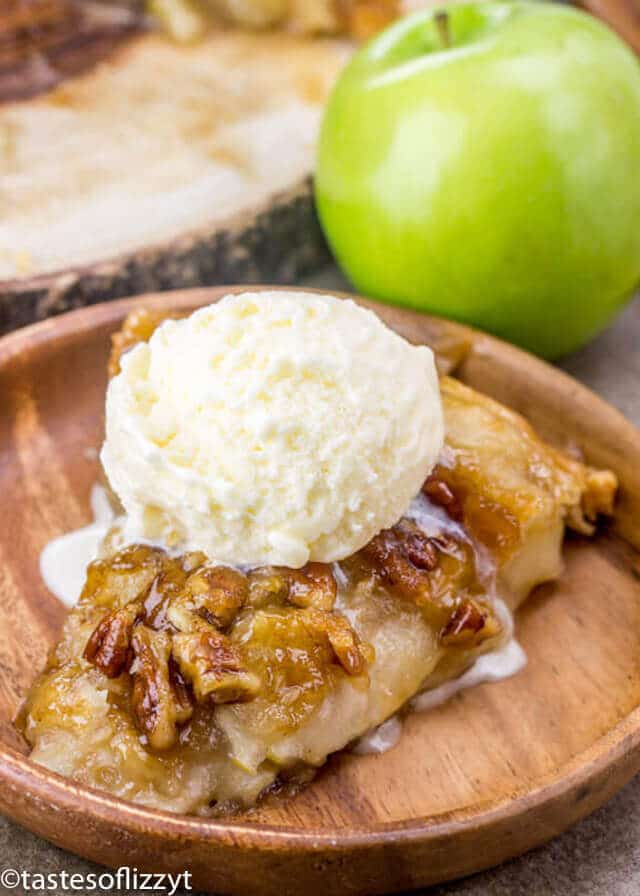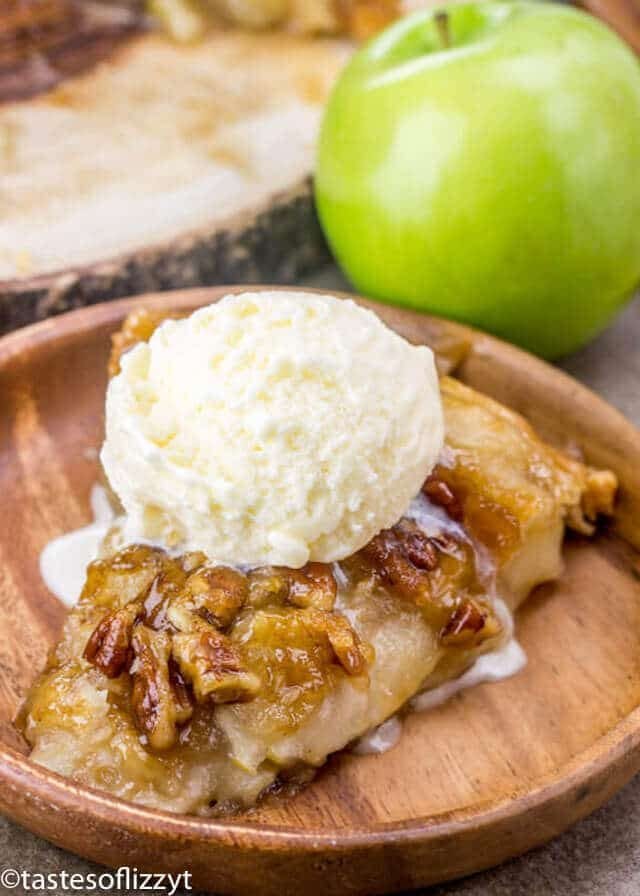 I wish I could claim credit for this amazing apple dessert recipe, but I can't. But really…whoever did think this up is genius!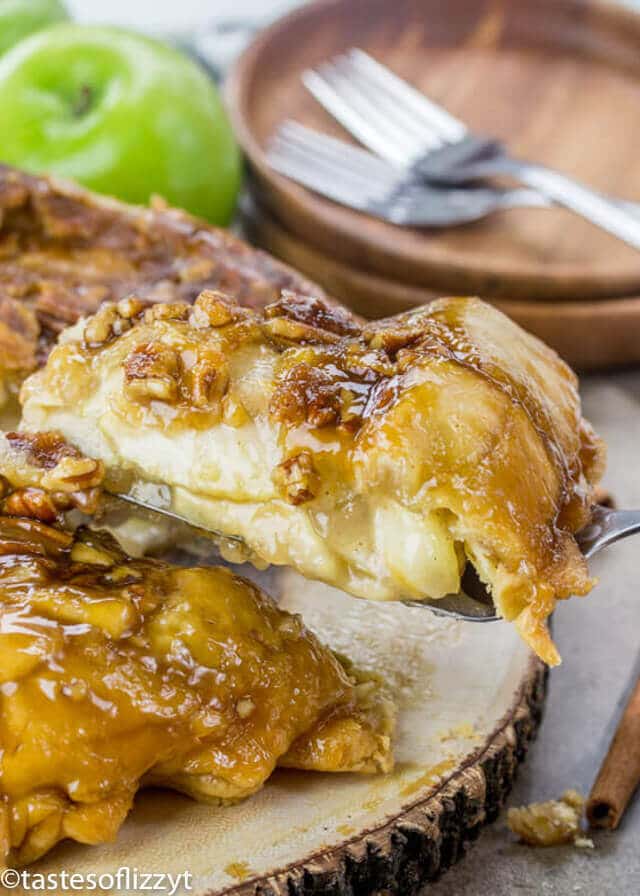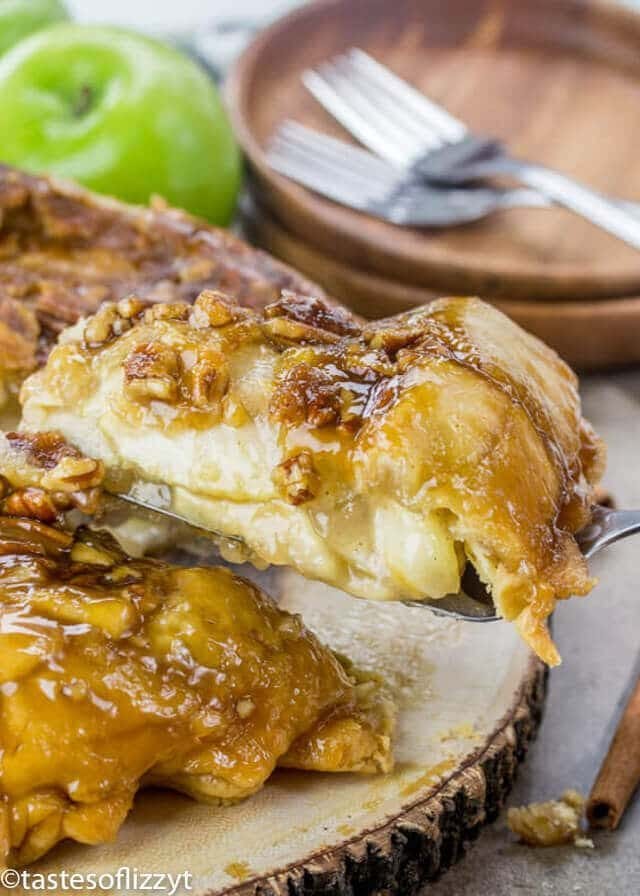 We shared this with family and friends that day and everyone thought it was unbelievable.
Eat this pie as is, or put a scoop of vanilla ice cream over the top. Whatever way you serve it, we know that your family and friends will love this piece of fall flavor!
More Apple Recipes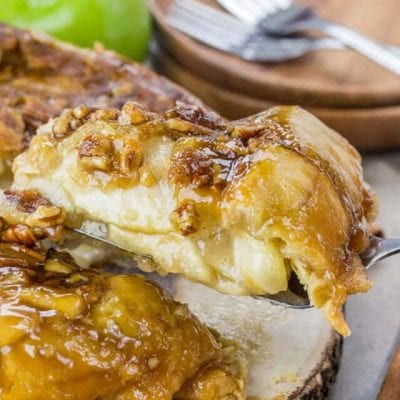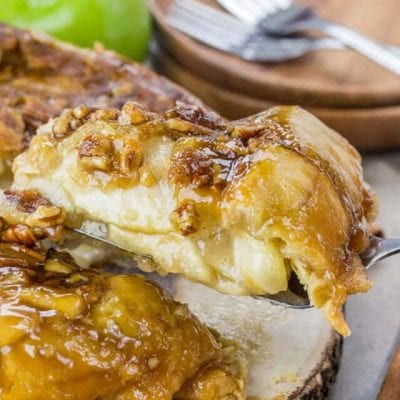 Upside Down Apple Dumpling Pie
A classic apple pie turned upside down tastes like gooey apple dumplings!
Total Time
1

hour
15

minutes
---
Ingredients
2

refrigerated pie crusts for 9 inch pies

or your favorite homemade pie dough
FILLING:
6

tablespoons

butter

melted, divided

1/2

cup

packed brown sugar

1/2

cup

chopped pecans

8

cups

peeled and thinly sliced apples

1

cup

granulated sugar

1/3

cup

all-purpose flour

1

teaspoon

ground cinnamon
GLAZE:
1/2

cup

powdered sugar

2 to 3

teaspoons

milk or water
Instructions
Line a 9-in. deep-dish pie plate with aluminum foil, leaving the extra foil hanging beyond the edge of the pan. Coat the foil with cooking spray. Combine 4 tablespoons melted butter, brown sugar and pecans; spoon into prepared pie plate.

In a large bowl, combine the apples, sugar, flour, cinnamon, and remaining butter. Mix together gently.

Place one pie crust over nut mixture, pressing firmly against mixture and sides of plate. Cut off excess pie dough, but leave about 1 inch of dough beyond plate edge. Fill the pie dough with apple mixture.

Place the remaining pie dough over the filling. Cut off the excess dough to ¼ an inch beyond pan edge. Fold the bottom crust over top crust; seal and flute edges. Cut four 1-in. slits in top crust.

Bake at 375° for 50-55 minutes or until apples are tender and crust is golden brown. If necessary, cover the edges of the pie with aluminum foil for the last 15-20 minutes to prevent them from getting too brown.

Cool the pie for 15 minutes on a wire rack. Invert it onto a serving platter and carefully remove the foil. Combine the powdered sugar and water, then drizzle the glaze over top the pie.
Notes
Use your favorite pie dough recipe for a perfect, homemade flavor! Eat this pie as is, or put a scoop of vanilla ice cream over the top. Whatever way you serve it, we know that your family and friends will love this piece of fall flavor!
Nutrition
Calories:
579
kcal
|
Carbohydrates:
89
g
|
Protein:
4
g
|
Fat:
24
g
|
Saturated Fat:
9
g
|
Cholesterol:
22
mg
|
Sodium:
254
mg
|
Potassium:
226
mg
|
Fiber:
4
g
|
Sugar:
58
g
|
Vitamin A:
330
IU
|
Vitamin C:
5.8
mg
|
Calcium:
37
mg
|
Iron:
1.8
mg