Whole wheat apple pie crepes stuffed with vanilla yogurt and topped with apple pie filling.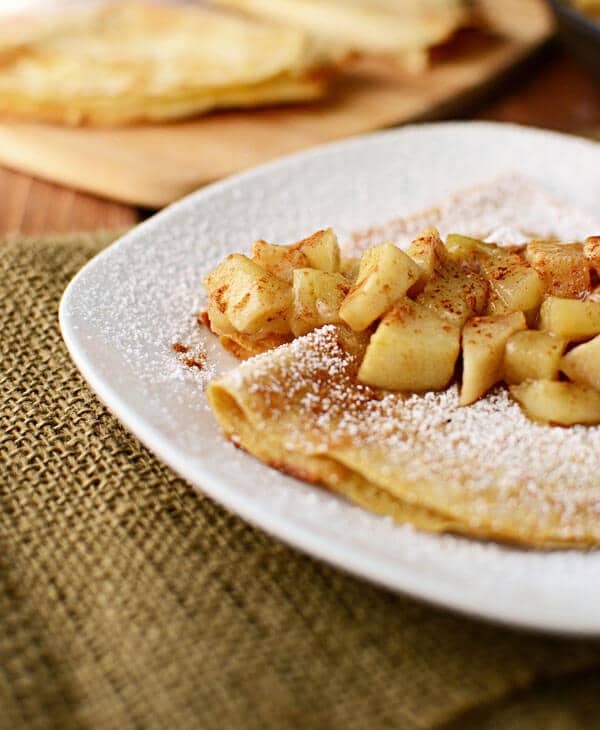 Apple Pie Crepes Recipe
I'm so excited that it is September! Fall is my favorite season, mostly because I love the crisp cool weather. We just did a big apple picking trip with our home school co-op, but on the day we went it was still pretty hot! We ran out of water, which turned into the perfect opportunity to get a gallon of fresh cider. I rarely enjoy apple cider chilled, as a warm mug of cider is hard to resist, yet it was surprisingly refreshing.
Although we picked 2 pecks, I suspect they will not last too long. Apples are an absolute favorite at our house. Besides just regular snacking, there are so many tasty treats to be had.

OUR LATEST RECIPES
Even though my son is impatiently waiting for pie, I decided to do something a little different, still using that same pie filling. The warm, buttery cinnamon filling went perfectly with yogurt stuffed crepes. I used a bit of apple cider in the crepes as well, which adds an additional subtle hint of apple flavor. The apples and cinnamon make this a perfect fall breakfast!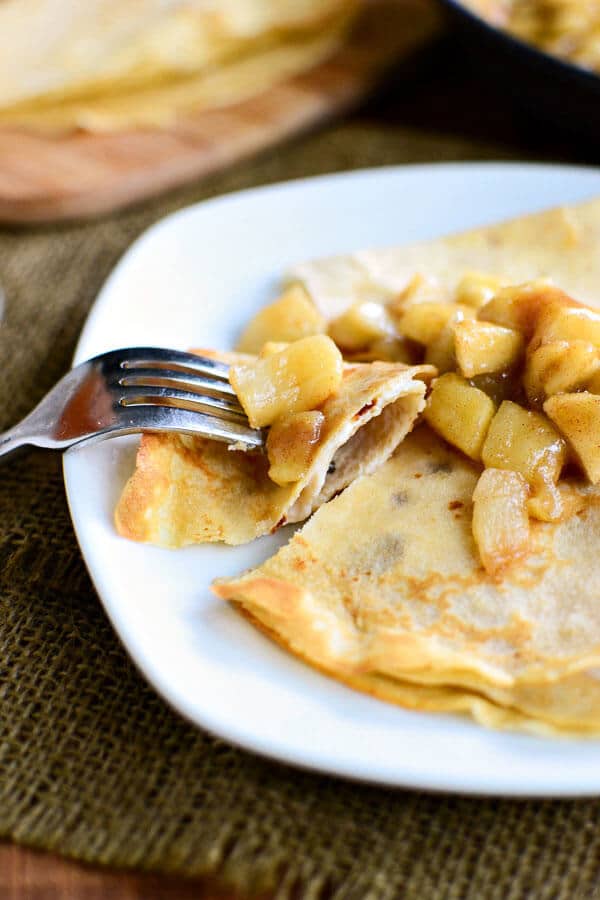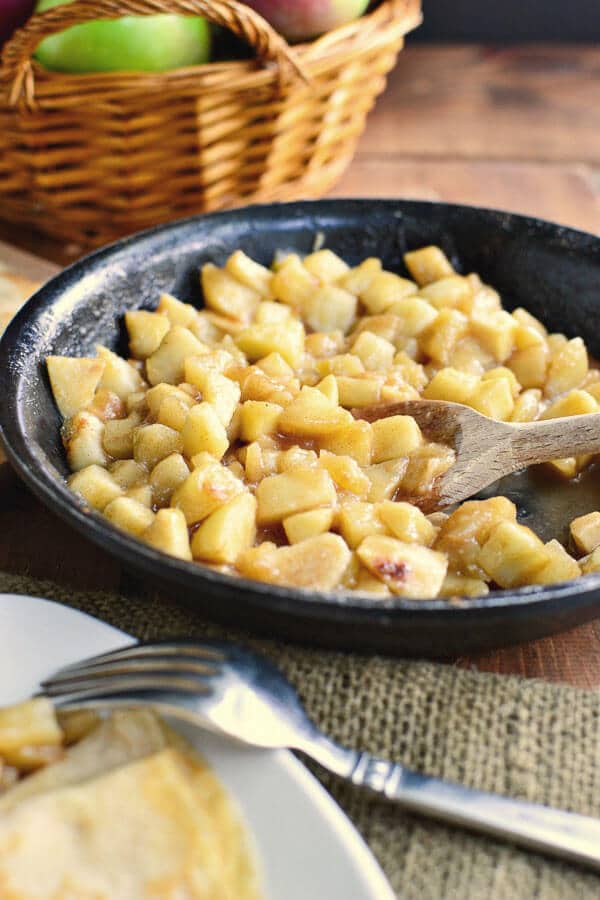 If you are new to crepe making, no worries because it is very simple. If you can make pancakes, crepes are just a very thin version. The thin batter is easily spread around the pan just by swirling the pan. I use an offset spatula to flip them. If they do not turn out perfectly round, it is easy to hide imperfections when folded for serving.
The recipe makes a generous amount of apple pie topping, so don't hold back on that sweet goodness. Need even more apple flavor? Apple butter would make a great substitute for the yogurt. Although I'm calling it a breakfast, it would not be out of place as dessert.
Speaking of desserts, it's time for me to start working on that pie 😉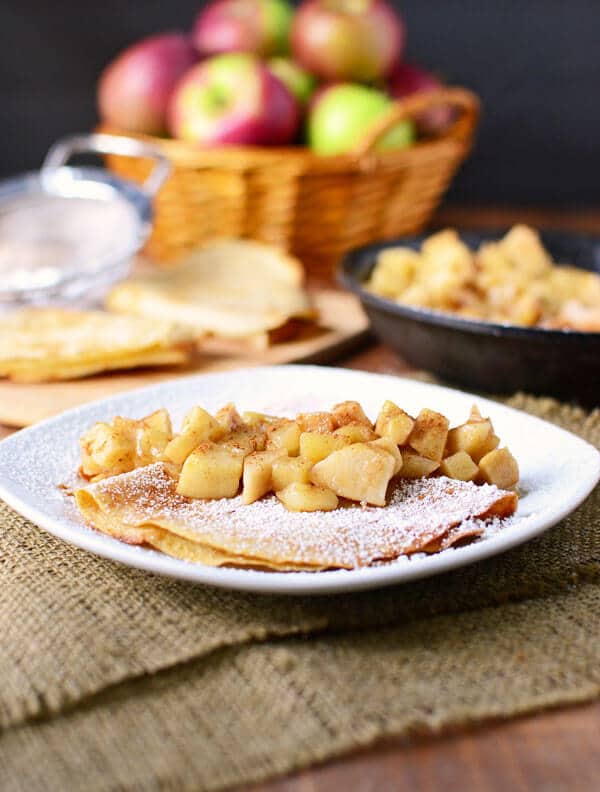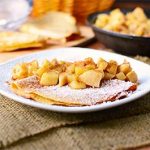 Apple Pie Crepes
Whole wheat apple pie crepes stuffed with vanilla yogurt and topped with apple pie filling.
Ingredients
For the Crepes
3/4

Cup

+ 2 Tablespoons

4 Ounces White Whole Wheat Flour

1/2

Cup

Apple Cider

1/2

Cup

Whole Milk

1/4

Teaspoon

Salt

1

Tablespoon

Sugar

2

Tablespoons

Butter

Melted

2

Large Eggs

Additional 1-2 Tablespoons Melted Butter for Cooking
For the Filling
3/4

Cup

Vanilla or Maple Yogurt

3

Tablespoons

Butter

6

Medium Apples

Peeled and Chopped

3

Tablespoons

Brown Sugar

1

Tablespoon

Flour

1

Teaspoon

Cinnamon

1

Teaspoon

Lemon Juice or Apple Cider Vinegar

2-3

Tablespoons

Apple Cider

Powdered Sugar for Serving
Instructions
For the Crepes
Add all ingredients to a blender and blend until well combined. Allow batter to sit, refrigerated, for an hour. (This step is optional but allows the bubbles to settle and makes the crepes easier to flip.)

The batter should be like a very thin pancake batter, if batter is too thick add 1 to 2 tablespoons additional cider.

Place a crepe pan or 8" non stick skillet over medium heat. Brush pan with butter, pan should be hot enough for butter to bubble up immediately. Pour approximately 1/3 to 1/2 cup batter into the pan, swirling the pan until the batter coats the bottom. Allow crepe to cook 1 to 2 minutes on the first side, flip using an offset spatula, then cook an additional 30 seconds on the other side. The crepe should have golden brown spots. Remove crepe to a plate. Repeat with additional batter. The crepes can be stacked on the plate.
For the Filling
In a medium skillet, melt the butter. Add in the chopped apples and stir. Add in the flour and stir until the apple pieces are coated. Stir in the sugar, cinnamon, lemon juice, and 2 Tablespoons cider. Cook just until the apples soften, about 5 minutes. Add an additional tablespoon cider if needed to thin the liquid.
To Assemble
Spread 1 Tablespoon yogurt onto each crepe. Fold in half, then half again. Alternatively, roll the crepes. Top with apple filling.
Recipe Notes
Apple butter can be used in place of the yogurt. The crepes can be made ahead. Place a piece of wax paper between each crepe, place into a ziploc bag then press out the air and seal. Refrigerate for 2-3 days or freeze.
Nutrition Facts
Apple Pie Crepes
Amount Per Serving
Calories 221
Calories from Fat 81
% Daily Value*
Total Fat 9g 14%
Cholesterol 55mg 18%
Sodium 160mg 7%
Potassium 211mg 6%
Total Carbohydrates 31g 10%
Protein 4g 8%
* Percent Daily Values are based on a 2000 calorie diet.