These apple pie bars start with homemade danish pastry with loads of apples baked inside. The almond glaze is a must on these apple pie bars. This is one of the best apple recipes to make for a weekend breakfast!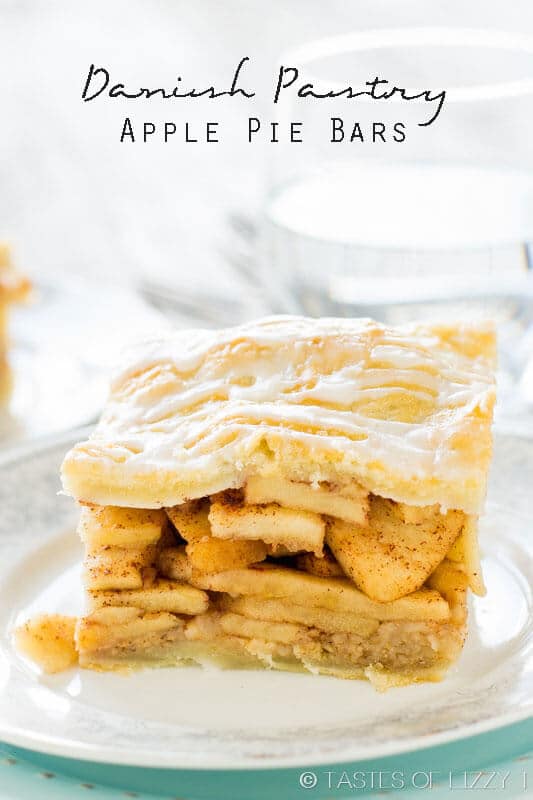 Danish Pastry Apple Pie Bars
One thing we always love about fall is apple picking. Thankfully, we never had to go far to pick apples, since my mom and dad have several apple trees in their yard.
This year, my parents had a bumper crop of apples. They picked as many as they wanted and still had 8 bushels to pass on to us.
We made apple butter and Upside Down Apple Pie, and lots of applesauce. No store-bought applesauce for us this year. I think we're set for awhile.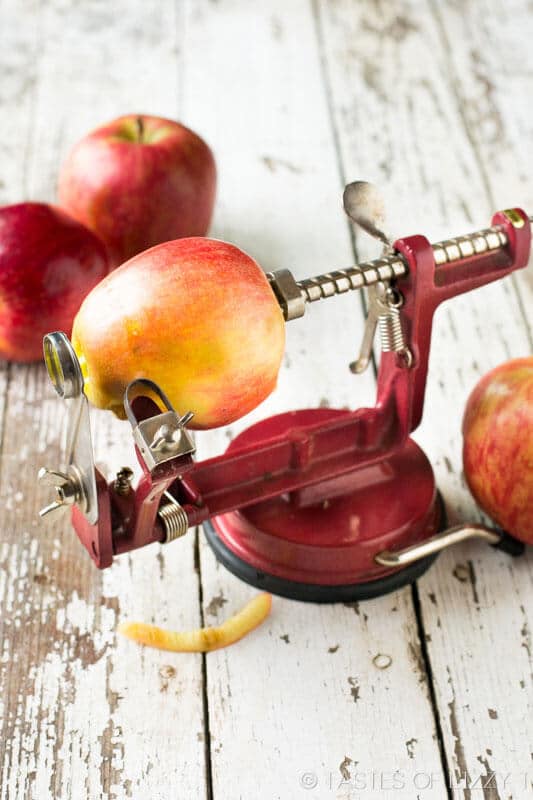 (Best.Invention.Ever: Apple Pie Peeler/Corer)
About 5 years ago, Matt and I planted a single apple tree at our house. It was just a small little twig of a tree back then, but we were so excited to have that little twig and had high hopes of soon having our very own apples.
Fast forward 5 years to this September. We had apples on our tree this year for the first time! We harvested a whopping 15 apples, but let me tell you…they were the best apples ever! We planted two more apple trees this summer. Some day our kids will come to us for their yearly harvest of apples.
Apple Slab Pie
One of our favorite recipes to make with apples are these Danish Pastry Apple Pie Bars. It's kind of like an apple slab pie, which is all the fun of apple pie in a rectangular shape. You'll love these little bars because they are easily made in a 9×13 pan. This makes them great to take to a potluck or family dinner when you need more than just 8 slices of a pie.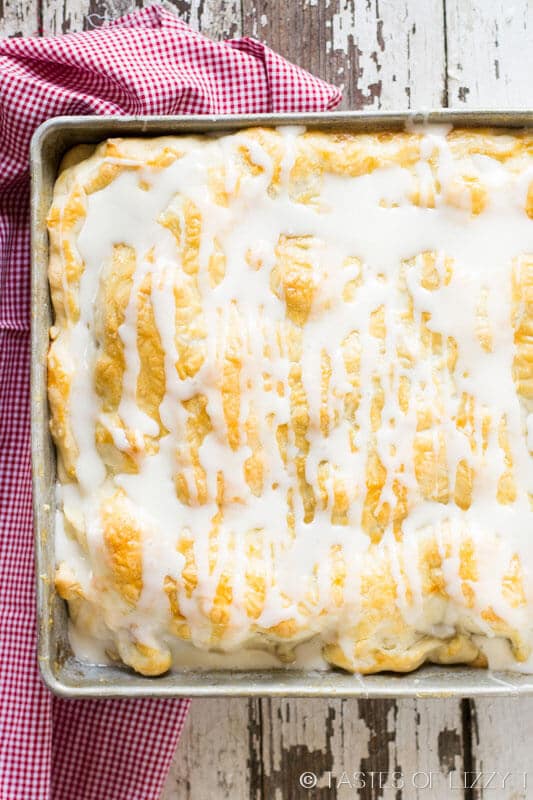 What are the best apples for apple pie?
You'll see that these apple pie bars are stuffed full of apples.
Granny Smith, Honeycrisp and Jonathan, all great apples for baking are commonly found in grocery stores. Braeburn and Winesap are delicious too!
We used 9 large apples to pile in the homemade crust. If your apples are smaller, the apple pie bars will still be good, but they'll be thinner. More apples = thicker bars!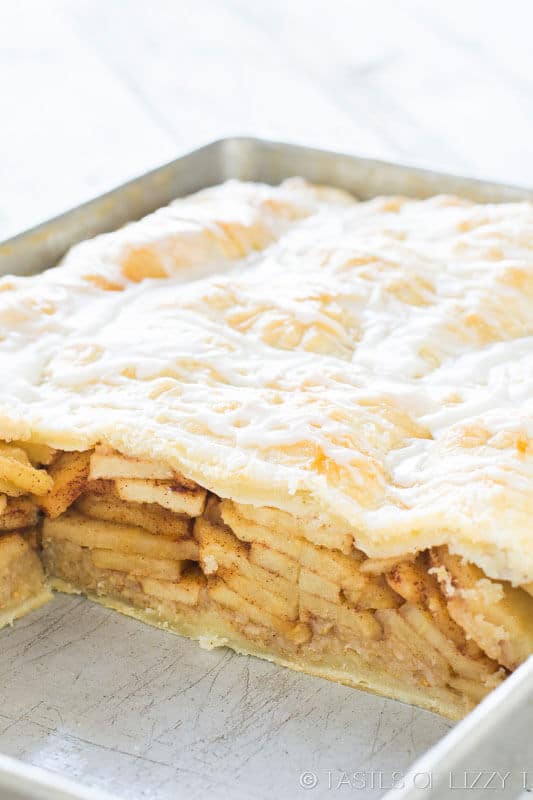 How to Thicken Apple Pie Bars
These bars have the unique addition of crushed cornflakes (you can also use oatmeal) over the bottom crusts. This helps some of the moisture from the apples to be soaked up, making the bars easier to slice and stay in a square. I was a little leery of doing this at first, but trust me…you won't taste the cornflakes!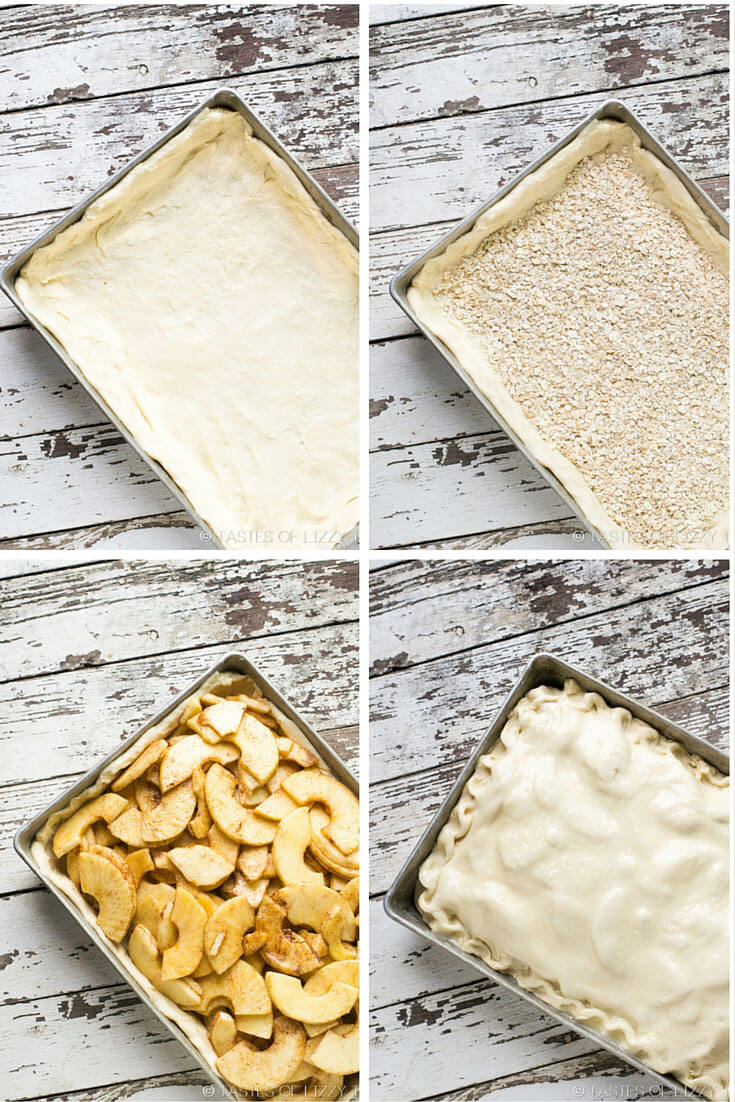 Apple Pie Glaze
And definitely don't skip the almond glaze over the top. It's a traditional powdered sugar glaze with milk and almond extract. You can use vanilla extract if you'd like. It is the perfect finish to these homemade apple pie bars.
Other Apple Recipes
Apple Pie Bars
Homemade danish pastry with loads of apples baked inside. The almond glaze is a must on these apple pie bars.
Ingredients
3 3/4

cups

all purpose flour

1 1/2

teaspoons

salt

1 1/2

cups

butter

1

large

egg

(separated)

1

cup

cold water

1

cup

cornflakes

(crushed)

10

apples

(peeled, cored and sliced)

3/4

cups

sugar

2

teaspoons

ground cinnamon

1/2

cup

powdered sugar

1

tablespoon

milk

1/2

teaspoon

almond extract
Instructions
Preheat the oven to 375 degrees.

In a stand mixer bowl, combine flour and salt. Cut in the butter until the mixture becomes coarse crumbs.

In a separate cup, beat the egg yolk, reserving the egg white until later. Stir the cold water into the yolk. Gradually add the egg mixture to the flour mixture until dough can easily form a ball.

On a floured surface, roll out half of the dough large enough to cover the bottom and sides of an ungreased 9x13 inch pan. Place the dough in the pan.

Sprinkle the crushed cornflakes over the dough in the pan.

Arrange apple slices over the top of the cornflakes. Sprinkle the sugar and cinnamon over the apples.

Roll out the second half of the dough to cover the entire pan with a little dough hanging over the edge. Lay over the filling and pinch the edges of the two crusts together.

Whisk the reserved egg white until foamy and brush onto the top crust with a pastry brush.

Bake the bars for 45 to 50 minutes or until golden brown.

To make the almond glaze, beat the powdered sugar, milk and almond extract until smooth. Drizzle the glaze over the warm apple pie bars.
Nutrition
Calories:
406
kcal
|
Carbohydrates:
56
g
|
Protein:
4
g
|
Fat:
19
g
|
Saturated Fat:
11
g
|
Cholesterol:
61
mg
|
Sodium:
415
mg
|
Potassium:
176
mg
|
Fiber:
3
g
|
Sugar:
26
g
|
Vitamin A:
685
IU
|
Vitamin C:
5.9
mg
|
Calcium:
23
mg
|
Iron:
2.2
mg
Recipe from Allrecipes.com