Tastes of Lizzy T participates in affiliate advertising programs. We may earn a commission when you make a purchase through links on our site.
If love apple crumble, you'll love these apple crumble danishes! This easy apple recipe uses puff pastry as a base, making it perfect for breakfast or brunch. You may also like our mini apple pies!
Apple Crumble Danishes Recipe
Homemade danishes. Flaky, buttery crust, powdered sugar glaze…and whatever filling you feel like for the day. Danishes have always been one of my downfalls, and these apple crumble danishes are no different. I love that these easy danishes use puff pastry, making them semi-homemade pastries easy enough for any morning!
BEST APPLES FOR BAKING
With over 7,500 varieties of apples grown across the world, you might think it would be difficult to determine what the best apples for baking are. In truth, it's pretty easy, because there are only 100 common types of apples commercially grown in the United States, and of those, 12 varieties have the perfect blend of sweet and tart flavors, plus firm flesh that won't break down during baking time. Those 12 varieties are:
Braeburn
Cortland
Granny Smith
Gala
Golden Delicious
Honeycrisp
Jonathan and Jonagold
Melrose
Northern Spy
Rome Beauty
Winesap
You can choose any of those for this recipe, but we chose Granny Smith…a classic baking apple!
What's the best way to peel an apple?
The easiest way to peel an apple is to use an apple peeler/slicer/corer. This kitchen utensil is my most-used kitchen tool this time of year! It makes making apple pies, cobblers and cakes a breeze. You can see us using this tool in the video on the top of this page.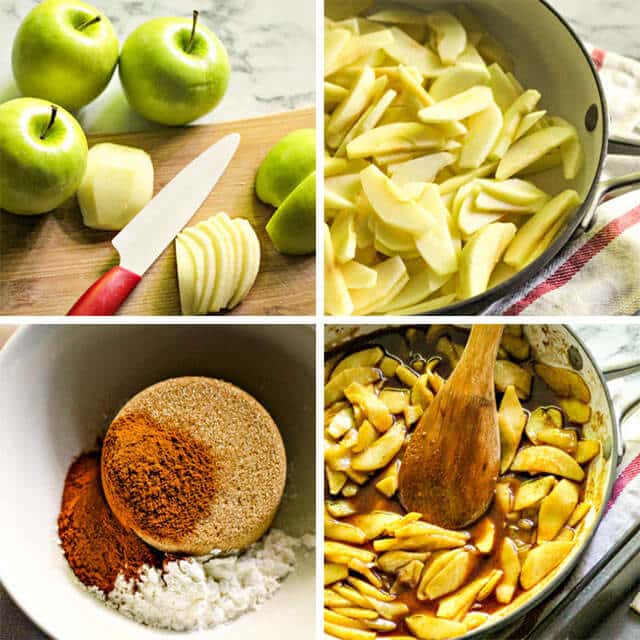 How to Make Apple Crumble Danishes
The first step to making the danishes are to prepare the apples. You'll cook them on the stovetop in a bath of brown sugar, cinnamon and a little cornstarch for thickening. Softening the apples this way helps them not have to be in the oven for too long.
The second step is to prepare the crumble. Use a pastry cutter (or two knives) to cut butter into flour and brown sugar. You'll end up with coarse crumbs like the picture below.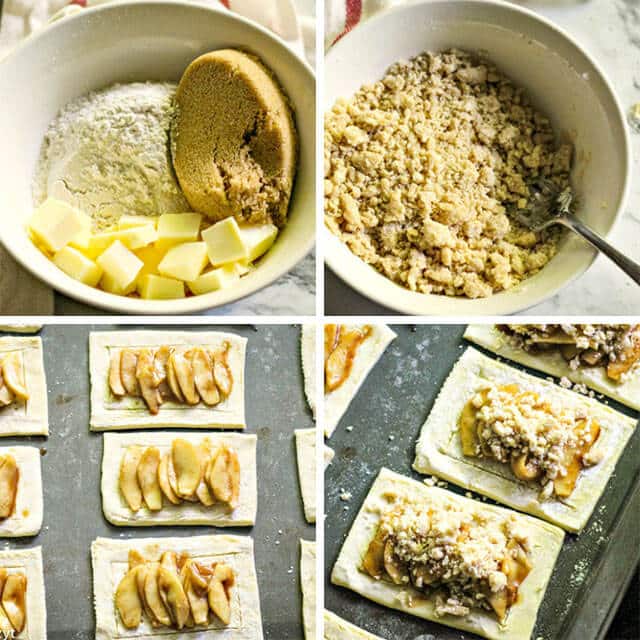 Working with Puff Pastry
I think puff pastry is one of the most fun ingredients to work with because of its versatility! You'll find it in the freezer section of the store. Defrost it according to package directions, then cut it into 12 equal rectangles.
Use a paring knife to lightly score a line 3/4″ from the edge of the pastry. You'll put the apples inside that smaller box. The scored line will help the edges to puff up and "hold" the apples in place.
Use a slotted spoon to drain most of the liquid off the apples before placing them on the puff pastry. That will ensure your danishes don't get too soggy. Add the crumble and they are ready to bake!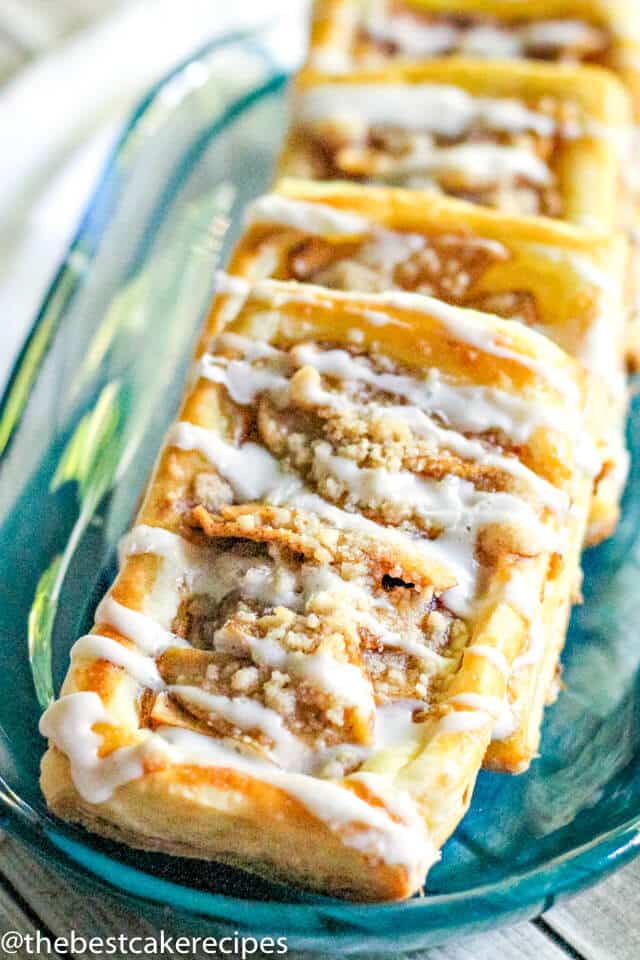 Easy Powdered Sugar Glaze
This recipe calls for an easy glaze of powdered sugar and heavy cream. Mix it together and drizzle it on the cooled danishes. Mmmm… 🙂
Other Apple Recipes
Tools to Make This Recipe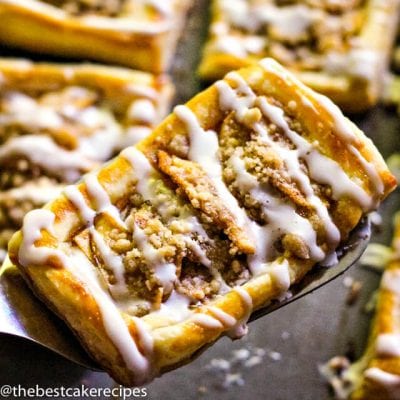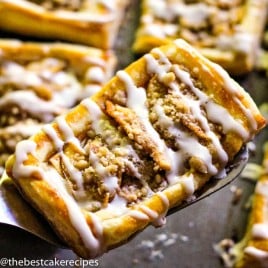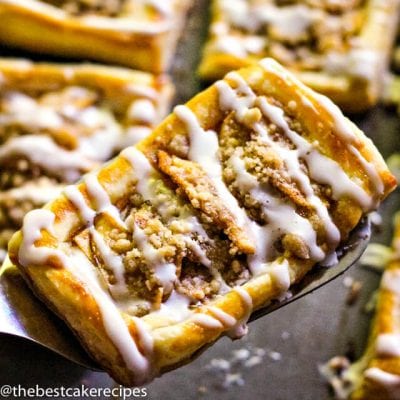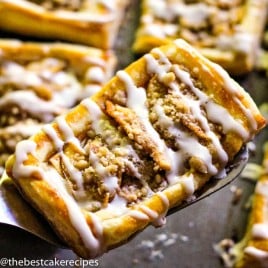 Apple Crumble Danishes
If love apple crumble, you'll love these apple crumble danishes! This easy apple recipe uses puff pastry as a base, making it perfect for breakfast or brunch.
---
Ingredients
For the Pastry:
17.3

ounces

puff pastry

(two sheets of pastry in the box, thawed according to package directions)

1

large

egg

1

tablespoon

water
For the Apples:
6

medium

Granny Smith apples; cored

(peeled and sliced thin)

1

tablespoon

butter

1/3

cup

brown sugar

3

tablespoons

cornstarch

1

tablespoon

cinnamon
For the Crumble:
3

tablespoons

brown sugar

2

tablespoons

butter

1/4

cup

all-purpose flour
For the Glaze:
1/2

cup

powdered sugar

2

tablespoons

heavy cream
Instructions
Preheat oven to 400 degrees Fahrenheit.

Melt 1 tablespoon of the butter in a medium frying pan over medium heat. Add the thinly sliced apples to the pan and cook for 5 minutes, stirring occasionally.

In a small bowl, whisk together the brown sugar, cornstarch, and the cinnamon.

Stir the mixture into the cooked apples and cook for an additional 3-5 minutes over medium heat until the apples are softened. Remove from the heat and set aside to cool to room temperature.

Unfold the puff pastry sheets and lay out on a flat surface. Use a knife to cut along the fold marks to create three equal sized strips. Cut each strip in half to make a total of 12 rectangles.

Arrange the puff pastry rectangles on a large, ungreased cookie sheet leaving at least 1 inch of space between each rectangle.

With a paring knife, lightly score a border around the entire edge of each pastry rectangle, about ¾ inch away from the edge. Use a fork to poke a few holes into the center area of each pastry. This process allows the outside border to rise and puff up while the center stays shorter and holds the filling.

Spoon the cooked apples onto each rectangle of pastry dough. Do not place the apple filling on the outside scored border of the pastry and do not add much of the liquid from the apples.

In a small bowl, use a pastry cutter to combine butter, brown sugar and flour. Mix until combined and crumbly in texture. Sprinkle the crumble topping over the apples.

In a small bowl, whisk the egg and water together. Use a pastry brush to apply a thin layer of the egg wash to the outside border of each pastry. Discard any leftover egg mixture.

Bake the pastries at 400 for 20 minutes or until they are golden brown.

In a small bowl, combine the powdered sugar and heavy cream; stir until smooth.

Cool the danishes on a baking rack for 10 minutes. Drizzle the frosting over the cooled danishes.

Store in an airtight container.
Notes
The calories shown are based on the recipe making 12 danishes, with 1 serving being 1 danish. Since different brands of ingredients have different nutritional information, the calories shown are just an estimate. **We are not dietitians and recommend you seek a nutritionist for exact nutritional information.**
Nutrition
Calories:
385
kcal
|
Carbohydrates:
49
g
|
Protein:
4
g
|
Fat:
19
g
|
Saturated Fat:
6
g
|
Cholesterol:
26
mg
|
Sodium:
137
mg
|
Potassium:
140
mg
|
Fiber:
3
g
|
Sugar:
23
g
|
Vitamin A:
195
IU
|
Vitamin C:
4.2
mg
|
Calcium:
28
mg
|
Iron:
1.5
mg