Cranberry Apple Dumplings
Tastes of Lizzy T participates in affiliate advertising programs. We may earn a commission when you make a purchase through links on our site.
Cranberry Apple Dumplings are made with a simple dough wrapped around apple slices and cranberry sauce, then baked in a brown sugar syrup. This is one of the best apple recipes to change up your traditional Thanksgiving dessert routine. Serve with a scoop of vanilla ice cream on top!

Cranberry Apple Dumplings
It's Christmas week, friends! The week everyone's been counting down to. Actually, in our house the guys were counting down to something different. Can you guess?
The Force Awakens. That's right…we're Star Wars nerds. Braden was so hyped up to see the new movie. He researched it and read reviews on it for at least 3 months in advance. Matt took the kids Saturday night to see it. I decided to stay home. I can't stay awake during a movie for anything, so I figured I'd save the $11 and see it another time.
I had a relaxing evening to myself. I watched Jane Eyre and worked on getting this most delicious recipe ready to share with you. Just look at these cranberry apple dumplings in all their glory. Wouldn't you rather spend an evening with these than in a cramped movie theater?!
Cranberry apple dumplings hold a special place in my heart. After Maddie was born, a woman from my church brought our family a meal with cranberry apple dumplings as a dessert.
That was 14 ½ years ago. I can still remember tasting that sweet dessert and thinking it was pretty much the best thing ever. Maybe it was because I was used to hospital food or so thankful it was a meal I didn't have to prepare. But I loved them. And I had been meaning to make them myself for years, but never did.
Remember our Amish apple dumplings? I finally decided to make a new twist on that recipe that we love so much. A cranberry twist with a dash of cloves. Those two flavors together give these Amish-style dumplings a can't-miss holiday flavor.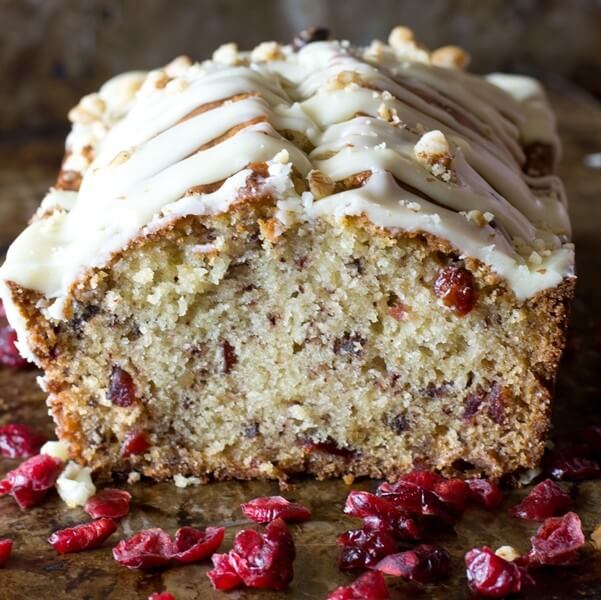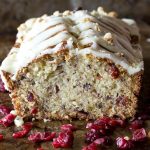 How to Make Cranberry Apple Dumplings
This simple 5-ingredient dumpling dough is the same dough that we use in our apple dumplings. It's just a few simple ingredients:
flour
baking powder
salt
butter and
milk
You'll mix this up and it will be similar to the texture of pie dough, just a little softer.
I wanted the cranberry apple dumplings to be a smaller than our apple dumplings (they fit a whole apple inside!), so I divided the dough into 8 pieces.
Core, peel and slice 3 apples using a handy apple peeler. If you don't have one of these wonderful kitchen gadgets, just peel an apple, core it and cut it into thin slices with a knife.
Roll each piece of dough on a floured surface into a 6-7″ circle.
Spoon a heaping tablespoon of whole cranberry sauce in the center of the dough, then top it with 5-6 apple slices.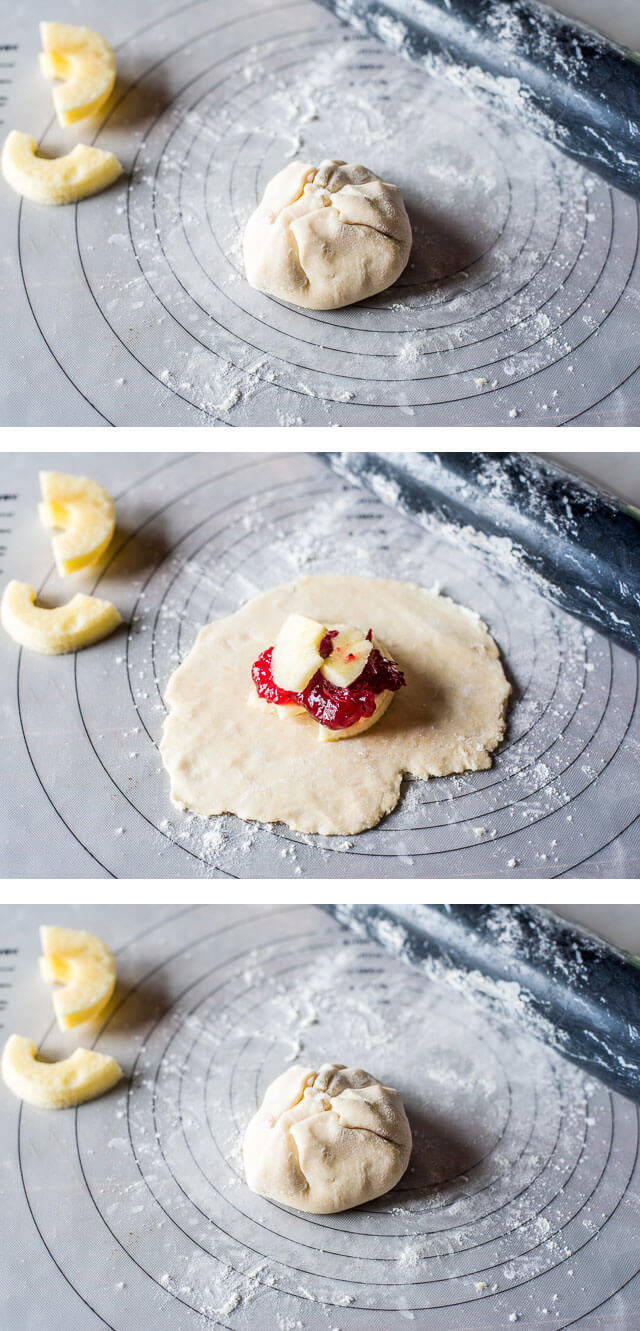 Fold the sides of the dough around the apple slices and press gently to seal. Place all of these dumplings in a greased 9×13 pan and set to the side.
Sugar Syrup for Apple Cranberry Dumplings
The sauce is the most delicious part of the cranberry apple dumplings.
The ingredients are simple. It's just:
brown sugar
water
butter
cinnamon and
ground cloves.
To make the sauce:
Cook the mixture in a saucepan on the stove top, just until boiling.
Pour the syrup over the top of the dumplings.
Recipe Note: I'll warn you that the recipe makes a lot of syrup. The poor little dumplings are going to look like they are almost drowning. The sauce will slightly bake down and thicken just a bit as it cooks. This is the sauce that makes the dumplings so soft and gooey and is most delicious when you pour it over ice cream. If you find the sauce to be too much for your liking, you can cut the sauce ingredients in half.
Bake the dumplings at 350 degrees for 30 minutes.
Then enjoy them in all their glorious ooey gooeyness.
Top with ice cream? You betcha.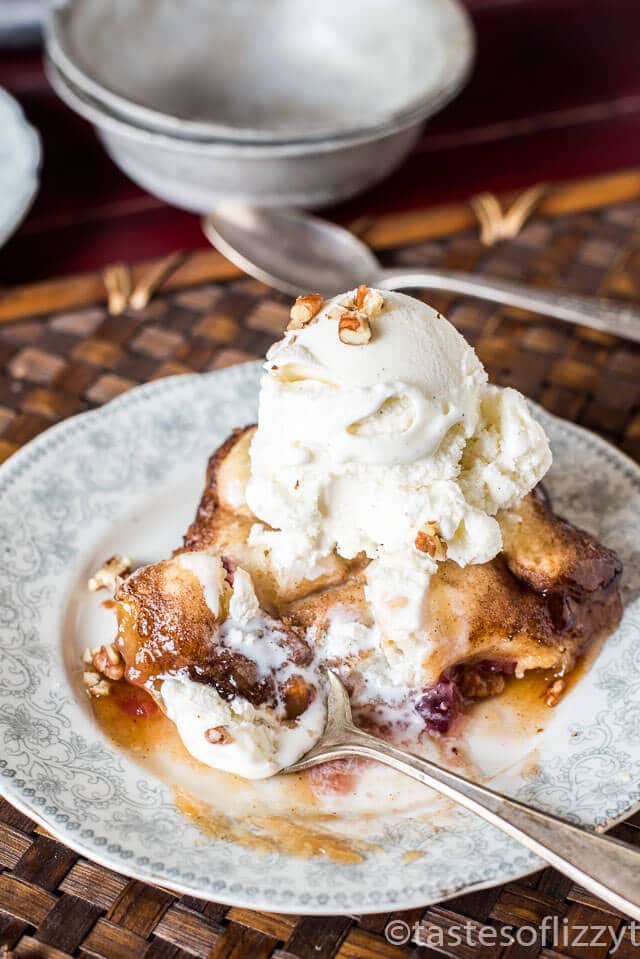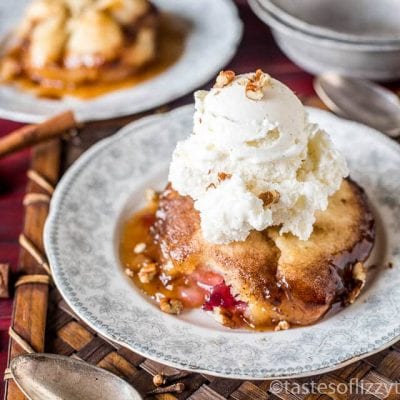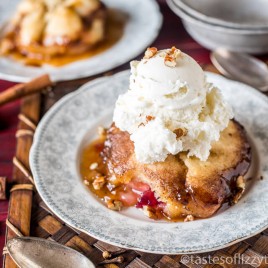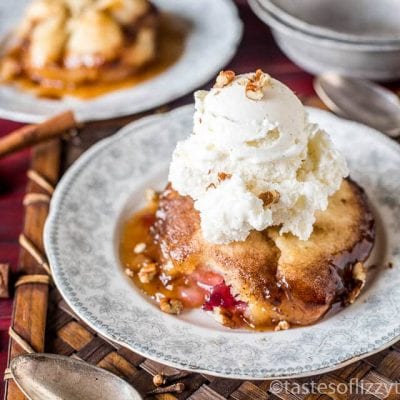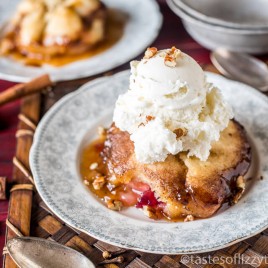 Cranberry Apple Dumplings Recipe
Cranberry Apple Dumplings are made with a simple dough wrapped around apple slices and cranberry sauce, then baked in a brown sugar syrup.
---
Ingredients
2

cups

all-purpose flour

267 grams

21/2

teaspoons

baking powder

1/2

teaspoon

salt

2/3

cup

butter

softened

1/2

cup

milk

2-3

apples

peeled, cored and thinly sliced

7

ounces

whole cranberry sauce

2

cups

brown sugar

2

cups

water

1/4

cup

butter

1/2

teaspoon

cinnamon

1/4

teaspoon

ground cloves
Instructions
In a medium size bowl, combine the flour, baking powder and salt. Mix in the butter, then add in the milk and mix until a soft dough forms. Split the dough into 8 balls. Roll out each ball of dough to a circle about 6-7 inches in diameter.

Spoon 1 heaping tablespoon of cranberry sauce in the center of each circle.

Place 5-6 apple slices over the cranberry sauce.

Fold the dough around the apples and press it together gently to form a ball.

Set the dumplings in a 9x13 pan that has been sprayed with cooking spray.

In a small saucepan, combine the brown sugar, water, butter, cinnamon and cloves. Heat it just until it barely starts boiling, stirring often. Pour this mixture over the dumplings and bake them at 350 degrees for 30 minutes, or until the apples are soft and the dough is golden brown.

Serve warm with ice cream.
Notes
The calories shown are based on the recipe making 8 dumplings, with 1 serving being 1 dumpling plus syrup. Since different brands of ingredients have different nutritional information, the calories shown are just an estimate.
Nutrition
Calories:
585
kcal
|
Carbohydrates:
97
g
|
Protein:
4
g
|
Fat:
22
g
|
Saturated Fat:
13
g
|
Cholesterol:
57
mg
|
Sodium:
369
mg
|
Potassium:
716
mg
|
Fiber:
2
g
|
Sugar:
68
g
|
Vitamin A:
710
IU
|
Vitamin C:
2.6
mg
|
Calcium:
306
mg
|
Iron:
2.4
mg