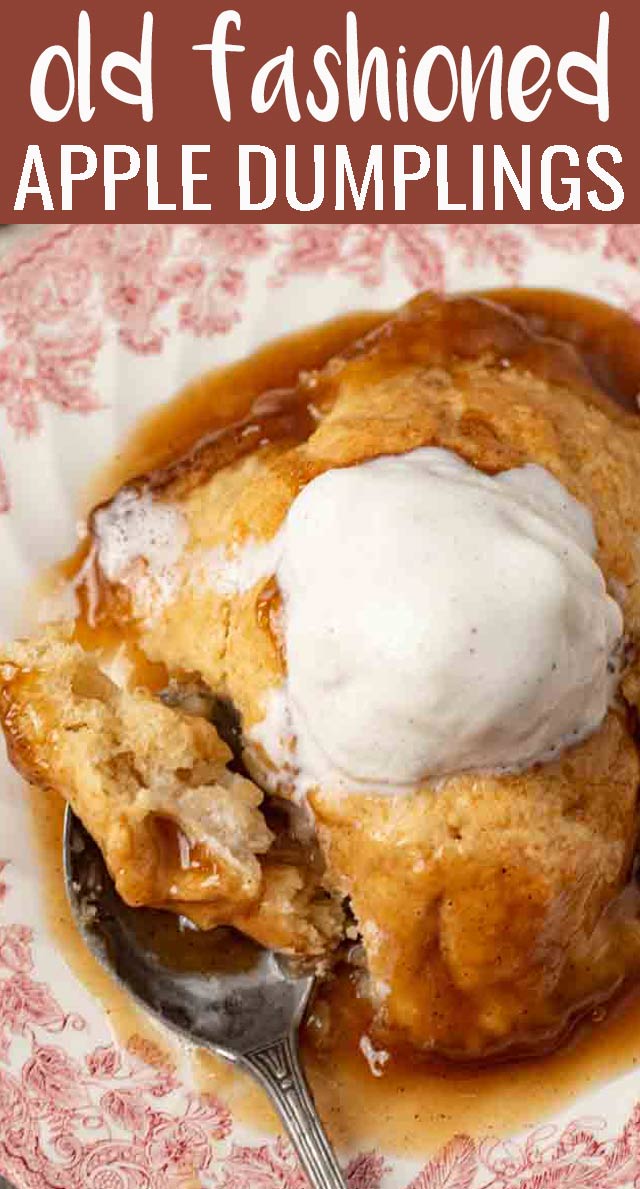 Amish Apple Dumplings are apples wrapped in a buttery, homemade dough and baked in a cinnamon-brown sugar syrup. One of the best apple recipes to make for a delicious fall dessert!
My mom and dad have been eating healthy for 30 days. No grain, dairy, processed foods, and no fun! They were initially going to do 60 days, but this milestone called for a cheat day. What did they want?
Amish Apple Dumplings. So today we share with you the best apple dumpling recipe.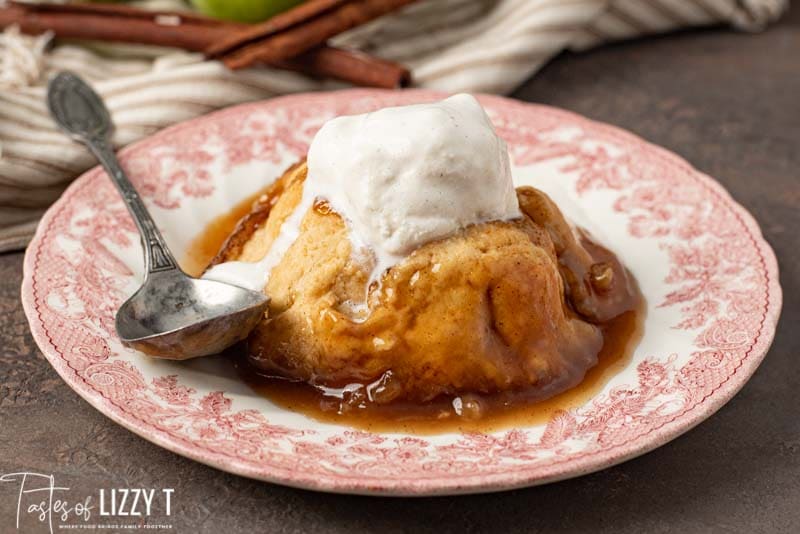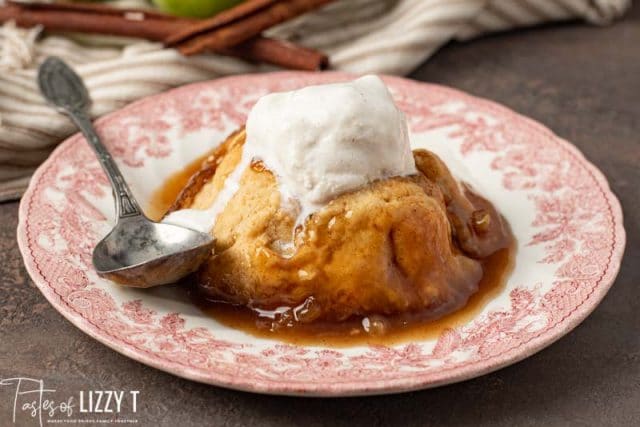 Why you'll love this recipe:
It's a traditional Pennsylvania Dutch recipe eaten for breakfast (brilliant) or a dessert.
Soft homemade dough.
Sweet syrup that pairs well with a tangy apple.
Delicious served warm with a scoop of ice cream.
How to Make Amish Apple Dumplings
There are three main parts to this recipe. Your apple (of course!), the syrup and the crust.
What type of apple is best for apple dumplings?
Choose any type of apple that is good for baking such as Granny Smith, Honeycrisp, Jonathan and Gala. Granny Smith will stay firmer in the dumpling. Galas will soften up a bit more.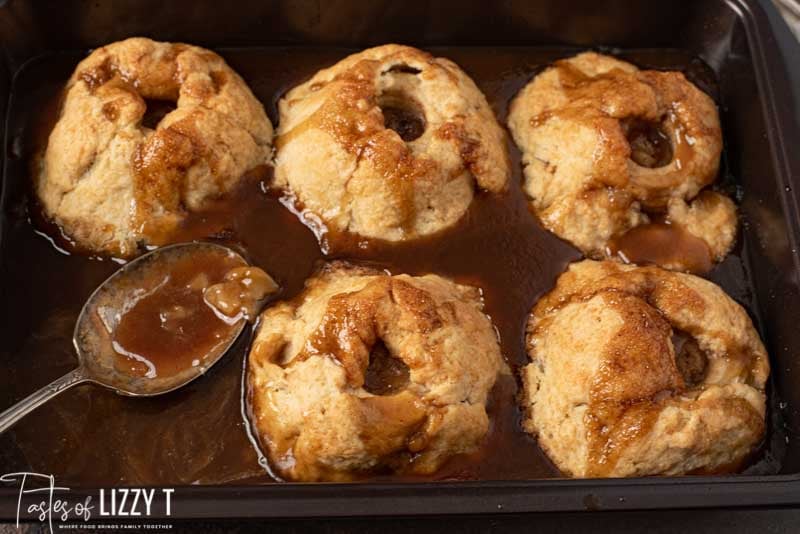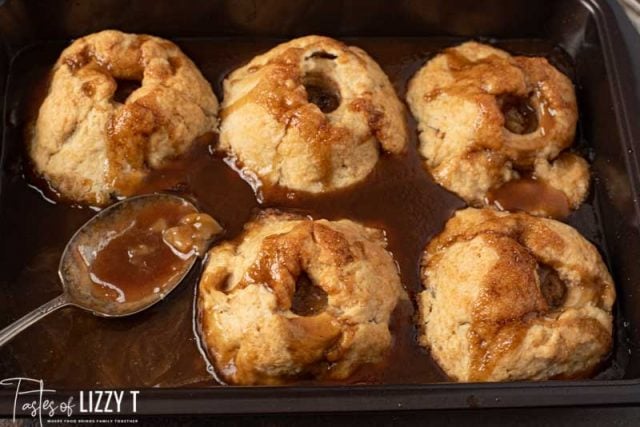 Apple Dumpling Sauce
The wait is well worth it. Once you have that warm apple dumpling on your plate, there are two things you need to do.
We love a lot of syrup on our dumplings and ice cream, but if all that syrup is too much for you, it's easy to cut the recipe in half.
But even if you do half the recipe, you will end up with your dumplings in a puddle of warm, sugary, syrup that bakes into the crust.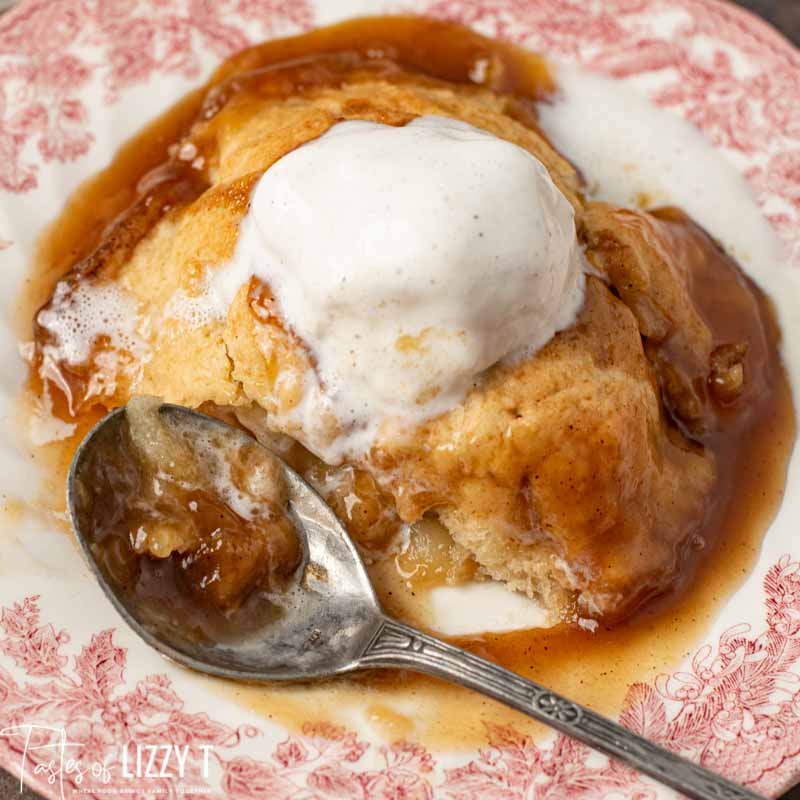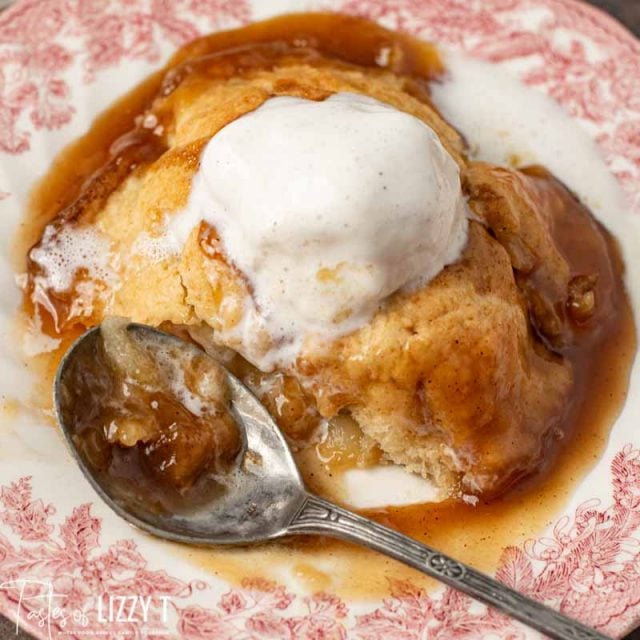 Apple Dumpling Dough
How do I describe the crust in this recipe? It's not just any old pie crust because it has baking powder inside.
The baking powder leavens the crust just a little bit to help it get nice and airy. The crust on the outside is firm, but the inside is soft and light. And it all melts right into your mouth like butter.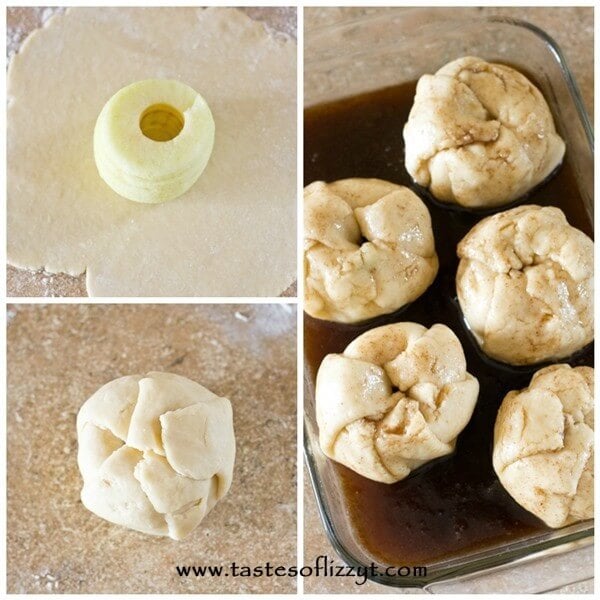 To make these delicious treats, there are three steps after you have the dough, apples, and syrup ready.
Roll out the dough and put a cored and peeled apple in the middle.
Fold the sides of the dough around the apple.
Put the dumplings in a 9×13 pan and pour all that syrup on top. I even pour some in the little holes of the dumplings, too!
Note: This makes large apple dumplings. If you'd like them smaller, use half an apple. You'll get double the amount this way.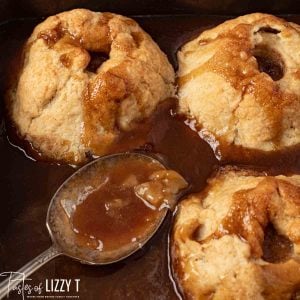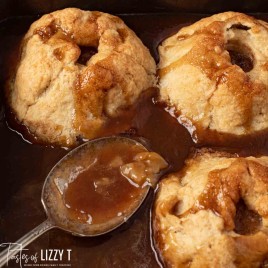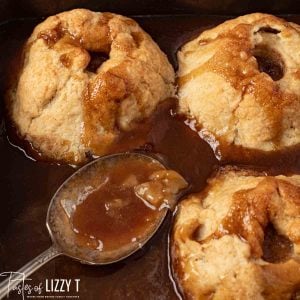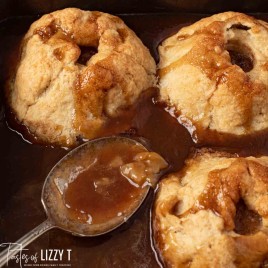 Amish Apple Dumplings
Amish Apple Dumplings. Apples wrapped in a homemade dough and baked in a cinnamon-sugar syrup. The best way to eat an apple!

---
Ingredients
For the dough:
2

cups

all-purpose flour

267 grams

2 1/2

teaspoons

baking powder

1/2

teaspoons

salt

2/3

cup

butter

softened

1/2

cup

milk
For the apples:
6

apples

peeled and cored
For the sauce:
2

cups

brown sugar

2

cups

water

1/4

cup

butter

1/2

teaspoon

cinnamon
Instructions
Make the dough:
In a medium size bowl, combine the flour, baking powder and salt.

Mix in the butter, then add in the milk and mix just until a soft dough forms.

Divide the dough into 6 balls.
Assemble the dumplings:
Roll out each ball of dough on a floured surface.

Place an apple in the center of each piece of dough.

Fold the dough around the apple and press it together to form a ball.

Spray a 9×13 pan with cooking spray.

Place the dumplings in the prepared pan.

Preheat the oven to 350 degrees Fahrenheit.
Make the sauce:
In a small saucepan over medium-low heat, combine the brown sugar, water, butter and cinnamon. Heat it just until it barely starts boiling, stirring often.

Pour this mixture over the dumplings.

Bake at 350 degrees for 30-40 minutes, or until the apples are soft and the dough is golden brown. You can baste the dumplings with the syrup several times during baking if you'd like.

Serve warm with ice cream.
Notes
You can make these dumplings any size you'd like. If you'd like smaller dumplings, use only half an apple and less dough. If you'd like a thinner layer of dough around the apples, peel and core two more apples, make 8 dough balls and roll the dough thinner.
Nutrition
Calories:
788
kcal
|
Carbohydrates:
130
g
|
Protein:
5
g
|
Fat:
29
g
|
Saturated Fat:
18
g
|
Cholesterol:
76
mg
|
Sodium:
479
mg
|
Potassium:
538
mg
|
Fiber:
5
g
|
Sugar:
91
g
|
Vitamin A:
1000
IU
|
Vitamin C:
8.3
mg
|
Calcium:
184
mg
|
Iron:
2.8
mg
How long do apple dumplings last in the fridge?
Apple dumplings will last in the fridge about 4 days. Be sure you store them in an airtight container. We also prefer to warm them in the microwave before eating them.
Can you freeze apple dumplings?
Yes! These freeze for up to two months in an airtight container. Allow them to defrost fully in the container before reheating.