Tastes of Lizzy T participates in affiliate advertising programs. We may earn a commission when you make a purchase through links on our site.
Amish Apple Dumplings are apples wrapped in a buttery, homemade dough and baked in a cinnamon-brown sugar syrup. One of the best apple recipes to make for a delicious fall dessert!
Apple Dumplings. Although we often share with you our best "grandma" recipes, this is unfortunately not one of those. But it is every bit as good and deserves to be passed on to the next generation.
Apple dumplings are fresh apples that have dough wrapped around them, then baked in a sweet sauce. If you've never had one, drop what you're doing and try one today. They are my favorite apple dessert.
This recipe came from my favorite Amish Cooking cookbook that I got the year I was married (from my grandma! 😊).
Table of Contents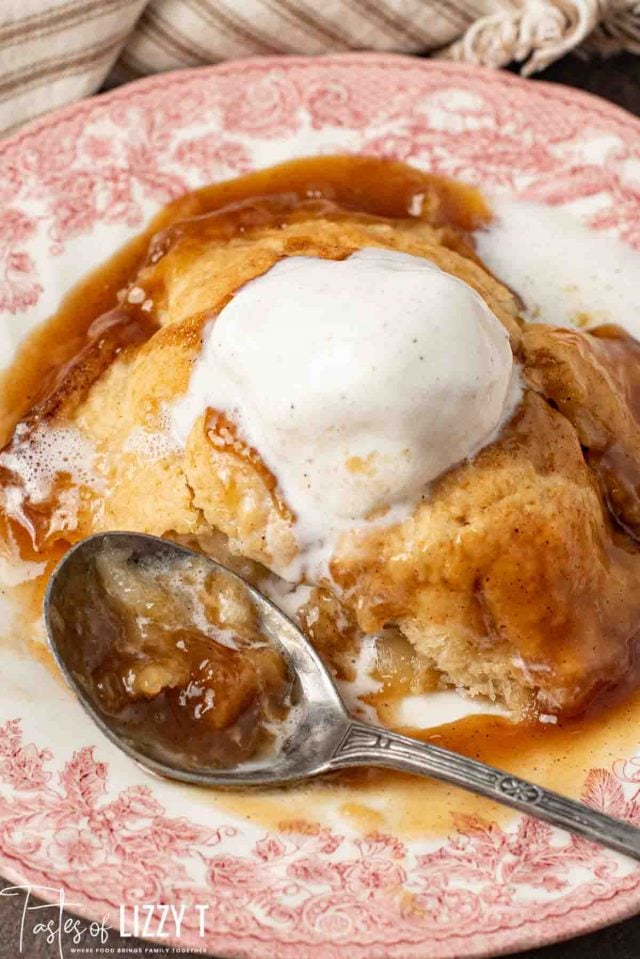 ⭐️ ⭐️ ⭐️ ⭐️ ⭐️ Reader Kim says, "Hands down match to the real deal. Followed the recipe EXACTLY. I live in Lancaster county, pa and know Amish food. Do not change anything to the dough. I got six smaller Apple dumplings out of the recipe."
⭐️ ⭐️ ⭐️ ⭐️ ⭐️ Reader Janet says, "I've made this recipe several times, with RAVE REVIEWS!! I sell my baked goodies, and Apple Dumplings are 1 of my best sellers. I use ½ an apple to make 6 Dumplings, since my apples were larger. They are fun to make too!!"
⭐️ ⭐️ ⭐️ ⭐️ ⭐️ Reader K Vernon says, "WOW and WOW! These are truly amazing. My 10 year old said this is one of the best desserts he's ever had, and we eat a lot of dessert around here. Thank you for sharing!"
Why you'll love this apple dumpling recipe:
It's a traditional Pennsylvania Dutch recipe eaten for breakfast (brilliant) or a dessert.
Soft homemade dough.
Sweet syrup that pairs well with a tangy apple.
Delicious served warm with a scoop of ice cream.
What are the best apples for apple dumplings?
Choose any type of apple that is good for baking such as Granny Smith apples (which we love for their tartness), Honeycrisp, Braeburn, Jonathan and Gala. Granny Smith will stay firmer in the dumpling. Galas will soften up a bit more.
How to Make Amish Apple Dumplings
There are three main parts to this recipe. Your apple (of course!), the pastry dough and the syrup.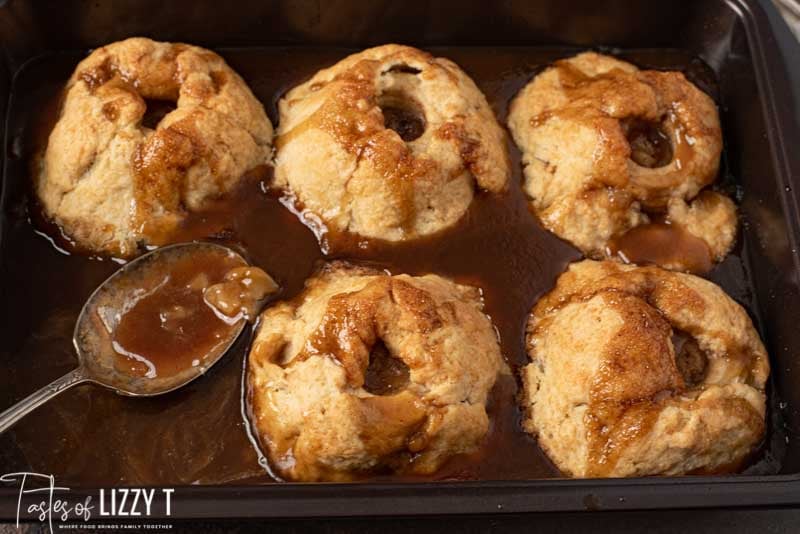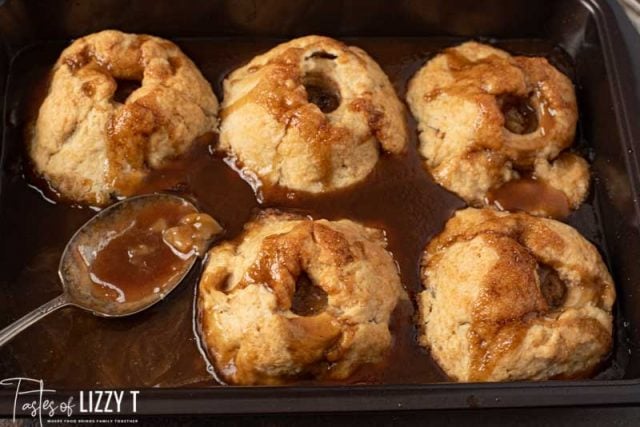 Prepare the Apples
I use a a peeler/slicer/corer tool to quickly prepare the apples. I use a whole apple which makes 6 large dumplings. You can use half an apple and get 12 smaller dumplings if you'd like.
Do you have to peel apples for dumplings? You definitely want to get the core and stem out, but you may not have to peel them if you don't mind the peel. I don't like the peel in my apple baked goods, so I peel them.
Make the Apple Dumpling Sauce
We love a lot of syrup on our dumplings and ice cream, but if all that syrup is too much for you, it's easy to cut the recipe for this sweet sauce in half.
In a small saucepan over low to medium heat, combine the brown sugar, water, butter and cinnamon. Heat it just until it barely comes to a boil and stir often.
Pour this mixture over the dumplings.
BAking tip
Some have mentioned they wait until half way through baking to pour the syrup over the dumplings. Read the reviews and choose which method you'd like. We pour it all on at the beginning of baking.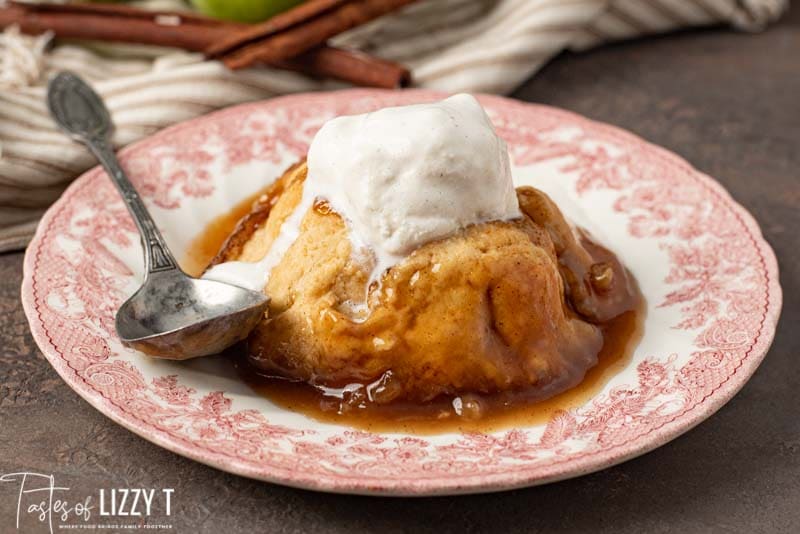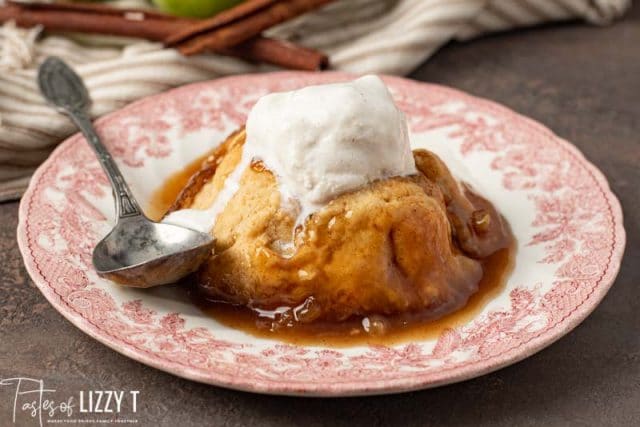 Apple Dumpling Dough
How do I describe the crust in this recipe? It's not just any old pie crust because it has baking powder inside.
The baking powder leavens the crust just a little bit to help it get light and airy. The crust on the outside is firm, but the inside is soft and tender. And it all melts right into your mouth like butter.
In a medium size bowl, combine the flour, baking powder and salt.
Mix in the butter, then add in the milk and mix just until a soft dough forms.
Need a shortcut?
If you don't want to make homemade pastry dough, use store bought pie dough instead. You can also try crescent roll dough, although I recommend using just a few apple slices to make small dumplings if you choose this. (And remember the small dumplings won't take as long to bake. Check them at 20 minutes.)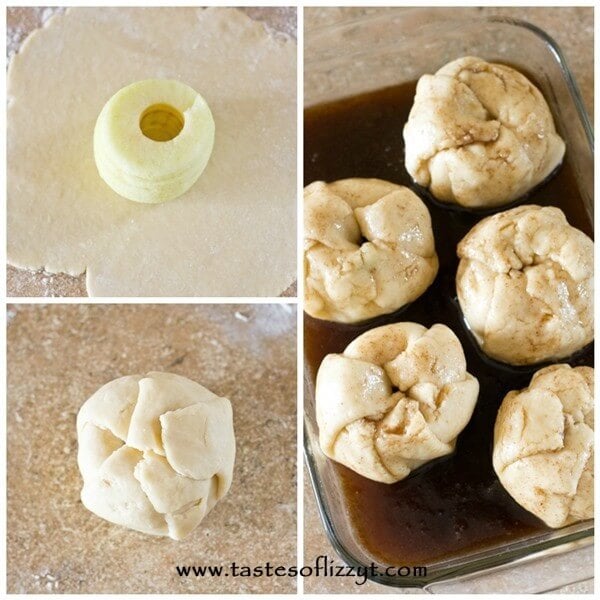 Assemble the Apple Dumplings
To make these delicious treats, there are four steps after you have the dough, apples, and syrup ready.
Roll out the dough into 6 circles (or rectangles…either work) and put a cored and peeled apple in the middle. If you are using half an apple, place the apple slices in the center of the dough.
Fold the sides of the dough around the apple and press to seal.
Put the dumplings in a 9×13 baking dish and pour all that syrup on top. I even pour some in the little holes of the dumplings, too. For a little extra sparkle, sprinkle coarse sugar on top of the unbaked dumplings. Just a little bit will do.
Then bake. Ours take about 40 minutes to bake. Cover the top of the pan loosely with foil if they look like they are getting too brown.
Do you eat apple dumplings cold or hot? I'm sure you could do either, but I recommend hot apple dumplings with vanilla ice cream on top.
Storage Instructions
Room temperature: Do not store the apple dumplings at room temperature.
Refrigerator: Apple dumplings will last in the fridge about 4 days. Be sure you store them in an airtight container. We also prefer to warm them in the microwave before eating them.
Freezer: These freeze for up to two months in an airtight container. Allow them to defrost fully in the container before reheating. Once the apple dumplings are thawed, reheat them in the microwave.
For a quicker recipe, try our crescent roll apple dumplings with soda (like Mountain Dew) poured over the top.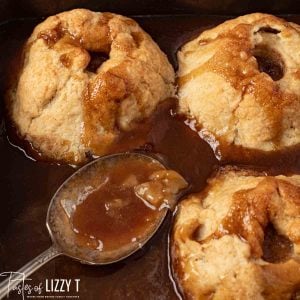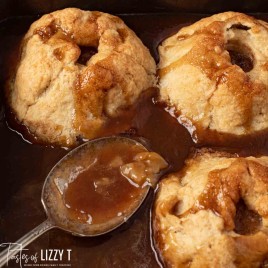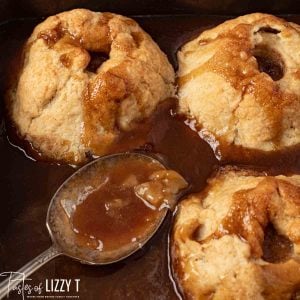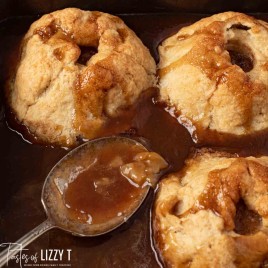 Apple Dumplings
Amish Apple Dumplings. Apples wrapped in a homemade dough and baked in a cinnamon-sugar syrup. The best way to eat an apple!

---
Ingredients
For the dough:
2

cups

all-purpose flour

267 grams

2 1/2

teaspoons

baking powder

1/2

teaspoons

salt

2/3

cup

salted butter

softened

1/2

cup

2% milk

4 ounces
For the apples:
6

apples

peeled and cored
*For the sauce:
2

cups

brown sugar

400 grams

2

cups

water

16 ounces

1/4

cup

salted butter

2 ounces

1/2

teaspoon

ground cinnamon
Instructions
Make the dough:
In a medium size bowl, combine the flour, baking powder and salt.

2 cups all-purpose flour

,

2 ½ teaspoons baking powder

,

½ teaspoons salt

Mix in the butter, then add in the milk and mix just until a soft dough forms.

2/3 cup salted butter

,

½ cup 2% milk

Divide the dough into 6 balls.
Assemble the dumplings:
Roll out each ball of dough on a floured surface.

Place an apple in the center of each piece of dough.

6 apples

Fold the dough around the apple and press it together to form a ball.

Spray a 9×13 pan with cooking spray.

Place the dumplings in the prepared pan.

Preheat the oven to 350 degrees Fahrenheit.
Make the sauce:
In a small saucepan over medium-low heat, combine the brown sugar, water, butter and cinnamon. Heat it just until it barely starts boiling, stirring often.

2 cups brown sugar

,

2 cups water

,

¼ cup salted butter

,

½ teaspoon ground cinnamon

Pour this mixture over the dumplings.

Bake in the preheated oven for 30-40 minutes, or until the apples are soft and the dough is golden brown. You can baste the dumplings with the syrup several times during baking if you'd like.

Serve warm with a scoop of vanilla ice cream.
Notes
*Want to add spices to the sauce? Try a dash of freshly grated nutmeg or apple pie spice.
*Try this recipe with peaches for peach dumplings.
You can make these dumplings any size you'd like. If you'd like smaller dumplings, use only half an apple and less dough. If you'd like a thinner layer of dough around the apples, peel and core two more apples, make 8 dough balls and roll the dough thinner.
Refer to the article above for more tips and tricks.
The calories shown are based on the recipe making 6 large dumplings, with 1 serving being 1 apple dumpling. Since different brands of ingredients have different nutritional information, the calories shown are just an estimate. **We are not dietitians and recommend you seek a nutritionist for exact nutritional information. The information in the nutrition box are calculated through a program and there is room for error. If you need an accurate count, I recommend running the ingredients through your favorite nutrition calculator.**
Nutrition
Calories:
785
kcal
|
Carbohydrates:
131
g
|
Protein:
6
g
|
Fat:
29
g
|
Saturated Fat:
18
g
|
Polyunsaturated Fat:
1
g
|
Monounsaturated Fat:
7
g
|
Trans Fat:
1
g
|
Cholesterol:
76
mg
|
Sodium:
455
mg
|
Potassium:
542
mg
|
Fiber:
6
g
|
Sugar:
91
g
|
Vitamin A:
985
IU
|
Vitamin C:
8
mg
|
Calcium:
186
mg
|
Iron:
3
mg
Apple Recipes You'll Love
During apple season, you might find you want a new apple recipe to enjoy. Here's a few we love!