Apple Crumble Cinnamon Rolls
Tastes of Lizzy T participates in affiliate advertising programs. We may earn a commission when you make a purchase through links on our site.
Move over, donuts. Apple crumble cinnamon rolls combines two classic desserts in one and are perfect for breakfast, brunch or dessert.
Table of Contents
Last month we shared our peach crumble cinnamon rolls. As soon as we posted a video on Instagram, everyone cried out for an apple version. And I was happy to oblige!
Cinnamon and apples are a naturally indulgent combination that goes together perfectly, and these apple crumb cinnamon rolls are the ultimate example of that. With a deliciously sweet filling and a buttery cinnamon roll exterior, these are the perfect answer to your fall dessert dreams. You can even serve them with a scoop of vanilla ice cream like you would for apple pie.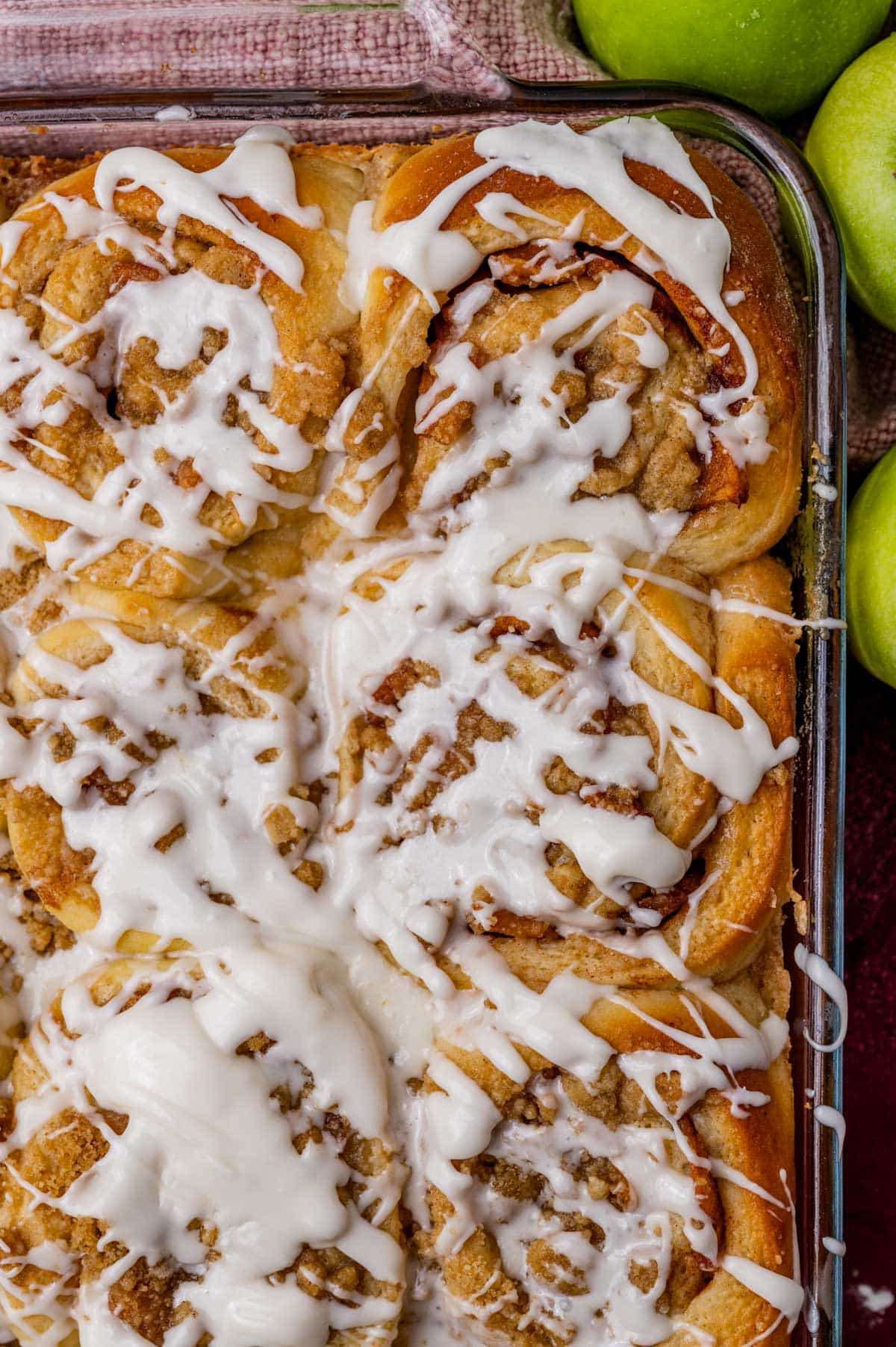 About Apple Crumble Cinnamon Rolls Recipe:
Flavor: Apples and cinnamon take center stage. You'll have pieces of cinnamon fried apples baked inside the buttery cinnamon roll dough, plus a sugary crumb streusel and vanilla glaze on top.
Texture: Our apple cinnamon rolls are gooey and soft. They are tender if you use all-purpose flour, but have more of a sturdy, chewy exterior if you use bread flour.
What apples are best for baking?
Granny Smith apples are perfect for baking because they have a tart flavor that pairs well with the sweet sugar. They also are a firmer apple that hold their shape well during baking.
If you don't like Granny Smith apples, try Gala, Pink Lady or Honeycrisp.
Do you have to peel apples for baking?
Yes, peeling apples is best. The peel can separate from the apples during cooking or baking which can create a strange texture. It takes just a few minutes to peel, slice and core apples with an apple peeler.
Filling for Apple Cinnamon Rolls
My goal with this cinnamon roll recipe was to have the apples soft and cooked through. And I knew that could be tricky in the short time the cinnamon rolls were in the oven.
So to ensure a soft apple, I first made fried apples on the stovetop. Fried apples are apples that are diced, then sautéed in butter, sugar and cinnamon. This softens the apples, making them perfect for rolling up in the cinnamon roll dough.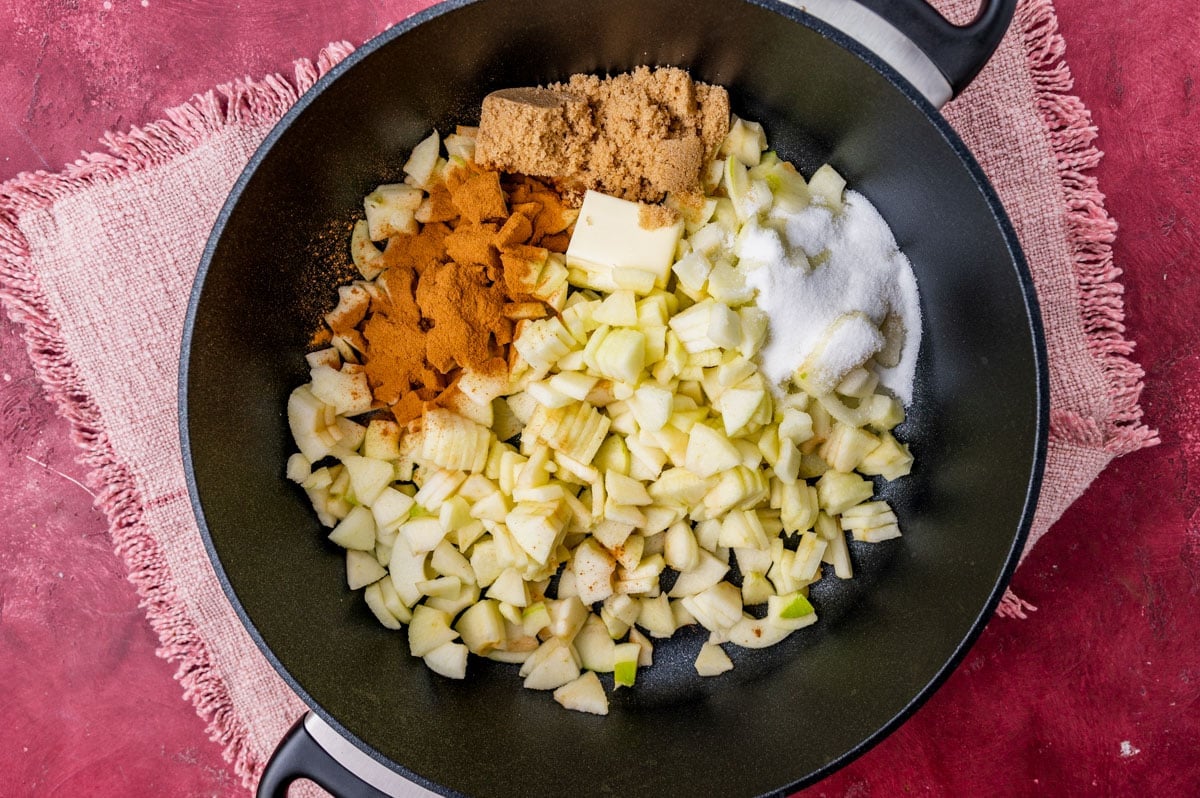 Need a shortcut?
Use canned apple pie filling. Chop the apples into small pieces if you choose this method so the cinnamon buns roll up nicely.
Tips for Making Apple Crumble Cinnamon Rolls
I like to use instant yeast for cinnamon rolls and most of my other baking, too. With instant yeast, you do not have to proof the yeast. Mix the yeast into the other dry ingredients and add to liquids that are 120-130ºF. If you have active dry yeast, proof the yeast in the milk. The milk should be about 110ºF so that it does not kill the yeast.
There are three different ways you can make this dough: knead by hand, use a stand mixer or make the dough in a bread machine. I use my bread machine when I can because it is easy and I can get other things done while the dough mixes and rises, but all three methods work.
Be sure that your milk is warm to activate the yeast, but not too hot so that it kills the yeast (about 120-130ºF degrees Fahrenheit is good for instant yeast). You'll also want to warm the butter so it is soft and mixes in easily. But again, the butter should not be over 130º Fahrenheit. I use salted butter, but unsalted butter works well too.
Choose bread flour or all-purpose flour. Bread flour will make your rolls sturdier and a little chewier which is a common cinnamon roll texture. All-purpose flour keeps the roll soft and tender.
Start with 4 cups of flour and add a little more if needed. if you add too much flour, the dough will be tough and the rolls will be dry. The dough should be tacky to the touch.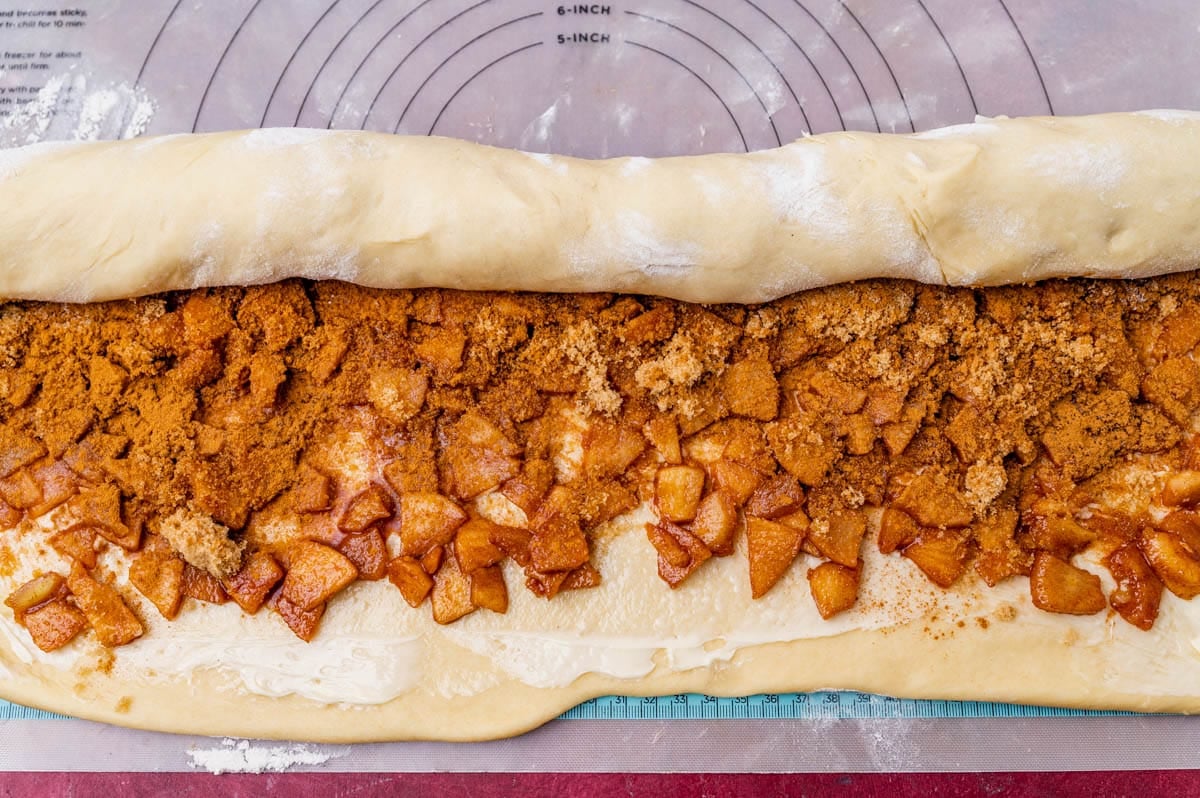 This dough rises twice…once right after kneading and then again after you roll the cinnamon rolls. The second rise only takes 20 minutes, which you can do while the oven is heating. If the rolls don't rise much, it's ok. They'll rise in the oven. You can read our tips on all about how to get dough to rise.
Pour heavy cream over the rolls after they rise and before they are baked. This is our secret ingredient for the best cinnamon rolls ever. You'll need ½ cup of heavy cream. Pouring heavy cream over the rolls may sound strange, but it keeps the rolls soft, gooey and creates a delicious cinnamon caramel sauce on the bottom of the rolls.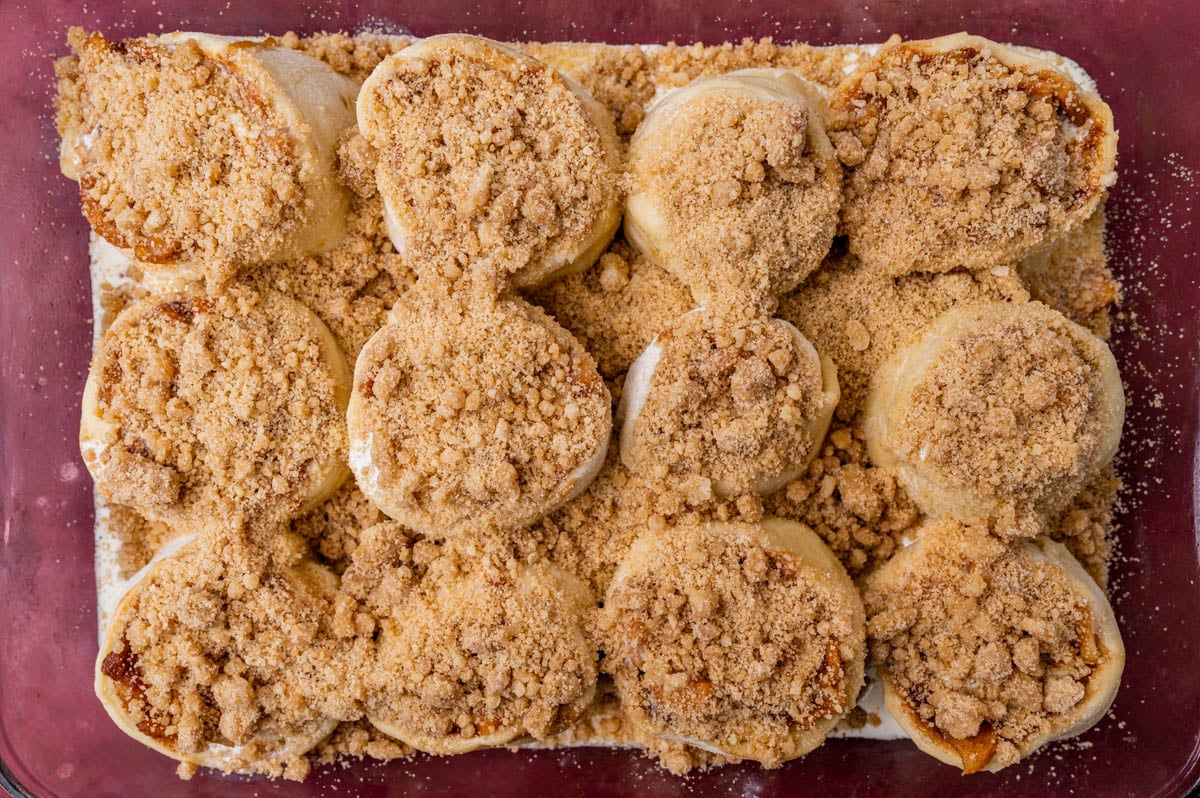 The streusel on these apple rolls makes them taste like apple crisp. You can make the rolls without the streusel and they'll be good, but the crumble topping makes them extra special. Add pecans or oats for a little bit of crunch to the topping.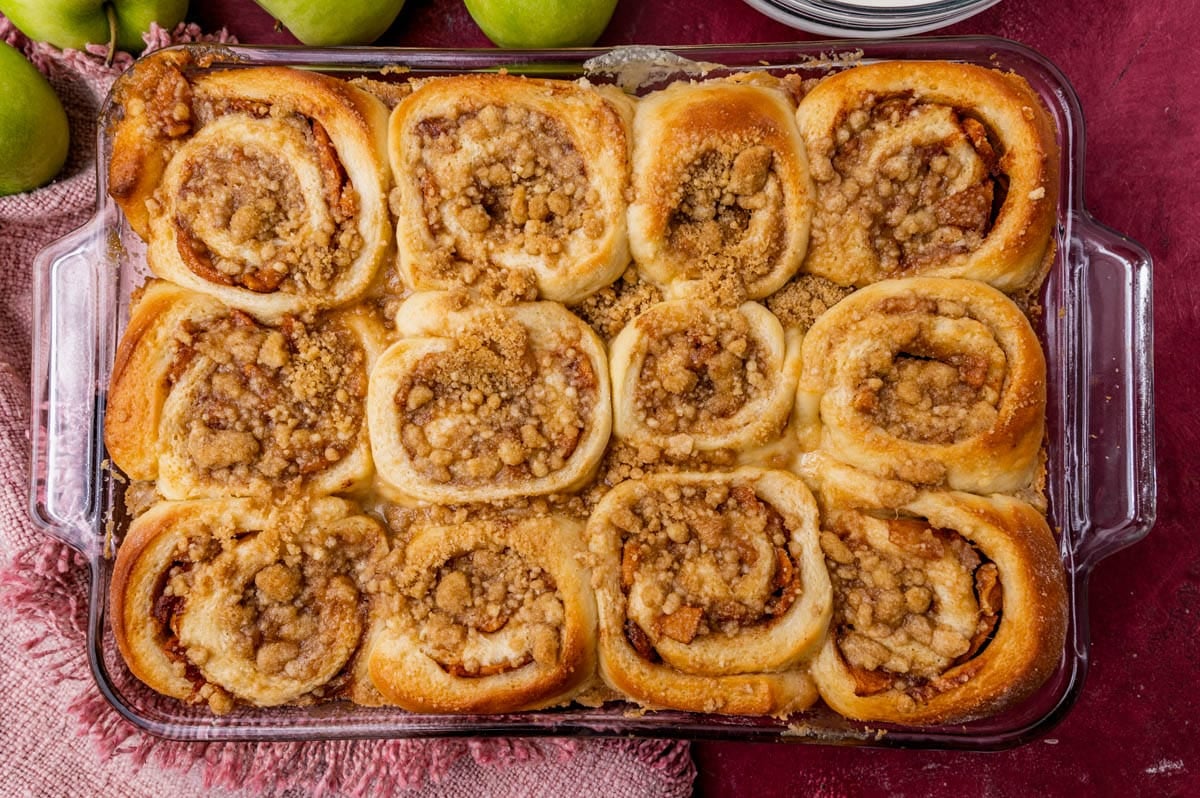 Rather than a thick cream cheese frosting, a simple vanilla glaze is all that is needed in these decadent sweet rolls.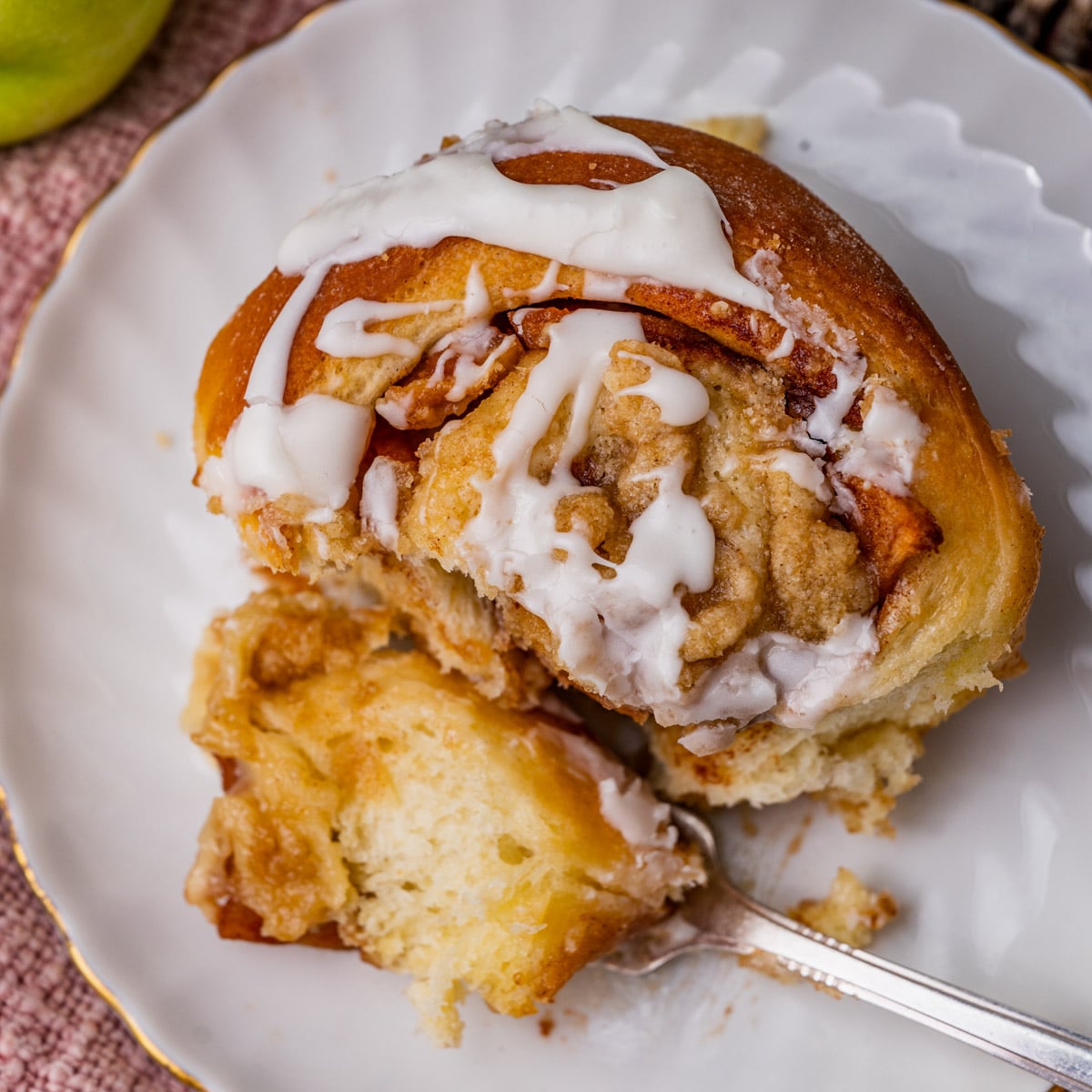 About the Baking Time
Bake for 27-30 minutes, until the rolls are lightly golden brown and the center rolls are cooked through. Note…the time will vary based on how big the rolls are, what type of pan, how close the rolls are packed, etc. They could take up to 35 minutes.
Check the rolls at 20 minutes. If they are getting too browned, cover loosely with foil for the remaining baking time.
To test the rolls, pull up on an edge of one of the center rolls to make sure the dough is cooked through.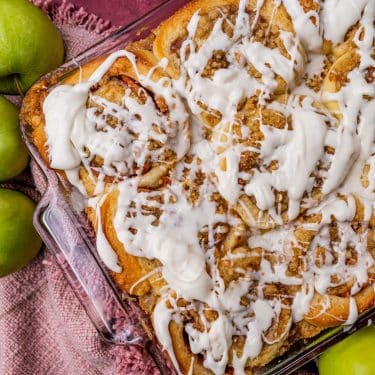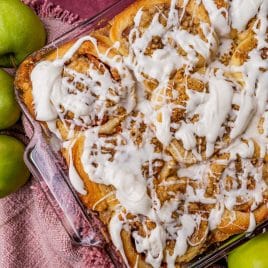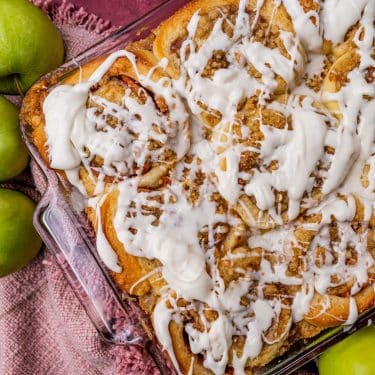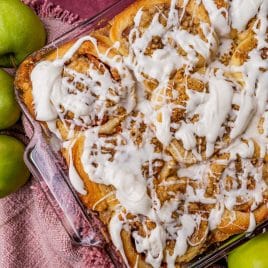 Apple Crumble Cinnamon Rolls
Move over, donuts. Apple crumble cinnamon rolls combines two classic desserts in one and are perfect for breakfast, brunch or dessert.
---
Ingredients
For the dough:
1

cup

warm milk

about 115 degrees F, 8 ounces

2 1/2

teaspoons

instant dry yeast*

I like Red Star Platinum Baking Yeast

2

large

eggs

at room temperature

1/2

cup

salted butter

Melted, but make sure it isn't over 110º Fahrenheit. Just softened is fine. 4 ounces

1/2

cup

granulated sugar

100 grams

1

teaspoon

salt

6 grams

4 1/2

cups

all-purpose or bread flour

divided, 585 grams
For the apples:
8

large

Granny Smith Apples

peeled, cored and diced (about 6 cups)

3

tablespoons

salted butter

42 grams

1/3

cup

light brown sugar

70 grams

1/3

cup

granulated sugar

67 grams

1 1/2

tablespoons

ground cinnamon

12 grams
For the filling:
5

tablespoons

salted butter

almost melted, 70 grams

3/4

cup

packed light brown sugar

150 grams

1

tablespoon

ground cinnamon

8 grams

1/2

cup

heavy cream**

for pouring over the risen rolls
For the crumble:
¾

cup

all-purpose flour

98 grams

½

cup

light brown sugar

100 grams

¼

teaspoon

ground cinnamon

¼

cup

salted butter

melted, 2 ounces
FOR THE GLAZE:
1

cup

powdered sugar

130 grams

3-4

tablespoons

heavy cream

1/2

teaspoon

vanilla extract
Instructions
Make the dough:
Pour the warm milk in the bowl of a stand mixer and sprinkle the yeast overtop. (See note below if you are using active dry yeast instead of instant yeast.)

Add the eggs, butter and sugar. Mix until combined.

Add in salt and 4 cups of flour (save the other ½ cup and add only if you need it) and mix using the beater blade just until the ingredients are barely combined. Allow the mixture to rest for 5 minutes so the flour has time to soak up the liquids.

Scrape the dough off the beater blade and remove it. Attach the dough hook.

Beat the dough on medium speed, adding in up to ½ cup more flour if needed to form a dough. Knead for 5-7 minutes or until the dough is elastic and smooth. **The dough should be tacky and will still be sticking to the sides of the bowl. That's ok! Don't be tempted to add more flour at this point. We generally add about 4 ½ cups, but start with 4 cups.

Spray a large bowl with cooking spray.

Use a rubber spatula to remove the dough from the mixer bowl and place it in the greased large bowl.

Cover the bowl with a towel, plastic wrap or wax paper.

Set the bowl in a warm place and allow the dough to rise until nearly double. I like to turn on the oven to the lowest setting for 1-2 minutes. Then turn off the oven and place the dough to rise in there. It normally takes about 30 minutes for the dough to rise. Do not allow the dough to rise too much or your cinnamon rolls will be airy.
Prepare the apples:
Peel and core apples. Chop into bite-sized pieces.

In a pan with high sides (or a cast iron skillet), melt butter and add sugar and cinnamon. Add apples and cook over low-medium heat for about 12-14 minutes, stirring often, until the apples are softened.

Set aside so that the apples cool.
Assemble the cinnamon rolls:
Sprinkle a pastry mat generously with flour. Turn out the dough onto the pastry mat and sprinkle the top of the dough with additional flour.

Flour a rolling pin and roll the dough to about a 24×15″ rectangle. (the size of the rectangle can vary…it does not have to be exact!)

Use a rubber spatula to smooth the butter over the whole dough rectangle.

Spread the cooled apples over the butter. Then sprinkle with brown sugar and cinnamon.

Starting on the long end, roll the dough up along the long side tightly jelly roll style.

Using a sharp knife or dough cutter, cut into 12 slices and place in a greased 9×13 glass baking dish.***

Cover the pan and allow the rolls to rise for 20 minutes.
PREPARE THE CRUMBLE:
In a small bowl, mix together the flour, brown sugar, cinnamon and melted butter.

As the butter hardens, you'll be able to create little "crumbles" of the mixture.

Preheat the oven to 375ºF.

Warm the heavy cream until the chill is off. Don't make it hot…you just don't want it cold. It should be warm to the touch.

Once the rolls have rested for 20 minutes, pour the heavy cream over the top of the rolls, allowing it to soak down in and around the rolls.

Then sprinkle the crumb topping over the unbaked rolls.

Bake for 27-30 minutes, until the rolls are lightly golden brown and the center rolls are cooked through. Note…the time will vary based on how big the rolls are, what type of pan, how close the rolls are packed, etc. They could take up to 35 minutes. Check the rolls at 20 minutes. If they are getting too browned, cover loosely with foil for the remaining baking time.

While the rolls are cooling, prepare the glaze.

When the rolls are cool, whisk together the powdered sugar, heavy cream and vanilla. Whisk until smooth. Drizzle the glaze over the cooled rolls.

Store in an airtight container at room temperature for up to 24 hours. Refrigerate any leftovers. Leftover rolls are best if you warm them slightly in the microwave.
Notes
*Different yeast calls for slightly different proofing methods. Please check your yeast packet to see what temperature the milk should be at.
**If you don't have cream, use half and half, coffee creamer, evaporated milk, whole milk or coconut cream. Any of these will work. Even 2% milk will work, but we prefer a higher fat milk.
***For smaller rolls, cut the dough into 15 slices and use a 10×15″ baking pan. The larger pan will also allow the rolls to rise more evenly.
Overnight Instructions
We often make the cinnamon rolls and get them to the point of the second rise (when they are rolled out, cut up and put in the pan). Cover and refrigerate until morning.
The morning you want to bake them, pull them out of the refrigerator. They may have doubled in size in the fridge overnight. If they have, let them sit for 30 minutes to get the chill off, then bake.
If they did not rise in the fridge overnight, allow them to rise at room temperature. Plan about at least an hour for this. Then pour on the cream and let them bake.
Refer to the article above for more tips and tricks.
The calories shown are based on the rolls being cut into 12 pieces, with 1 serving being 1 glazed roll. Since different brands of ingredients have different nutritional information, the calories shown are just an estimate. **We are not dietitians and recommend you seek a nutritionist for exact nutritional information. The information in the nutrition box are calculated through a program and there is room for error. If you need an accurate count, I recommend running the ingredients through your favorite nutrition calculator.**
Nutrition
Calories:
722
kcal
|
Carbohydrates:
116
g
|
Protein:
9
g
|
Fat:
27
g
|
Saturated Fat:
16
g
|
Polyunsaturated Fat:
2
g
|
Monounsaturated Fat:
7
g
|
Trans Fat:
1
g
|
Cholesterol:
99
mg
|
Sodium:
380
mg
|
Potassium:
322
mg
|
Fiber:
6
g
|
Sugar:
69
g
|
Vitamin A:
953
IU
|
Vitamin C:
7
mg
|
Calcium:
103
mg
|
Iron:
1
mg
Apple Recipes You'll Love
During apple season, you might find you want a new apple recipe to enjoy. Here's a few we love!