Peach Crumble Cinnamon Rolls
These peach crumble cinnamon rolls are sure to become a breakfast favorite. They're made with fresh peaches, a crunchy streusel topping and glaze.
Table of Contents
Two of my favorite sweet desserts are cinnamon rolls and fruit crumbles & crisps. The recipe I'm sharing today is a mashup of these two favorites….Peach Crumble Cinnamon Rolls.
This is a great recipe to make when you have a few fresh peaches on hand. It only takes about 4 or 5. You'll end up with a showstopper of a cinnamon roll that would be perfect for a breakfast treat, brunch or with vanilla ice cream for a dessert.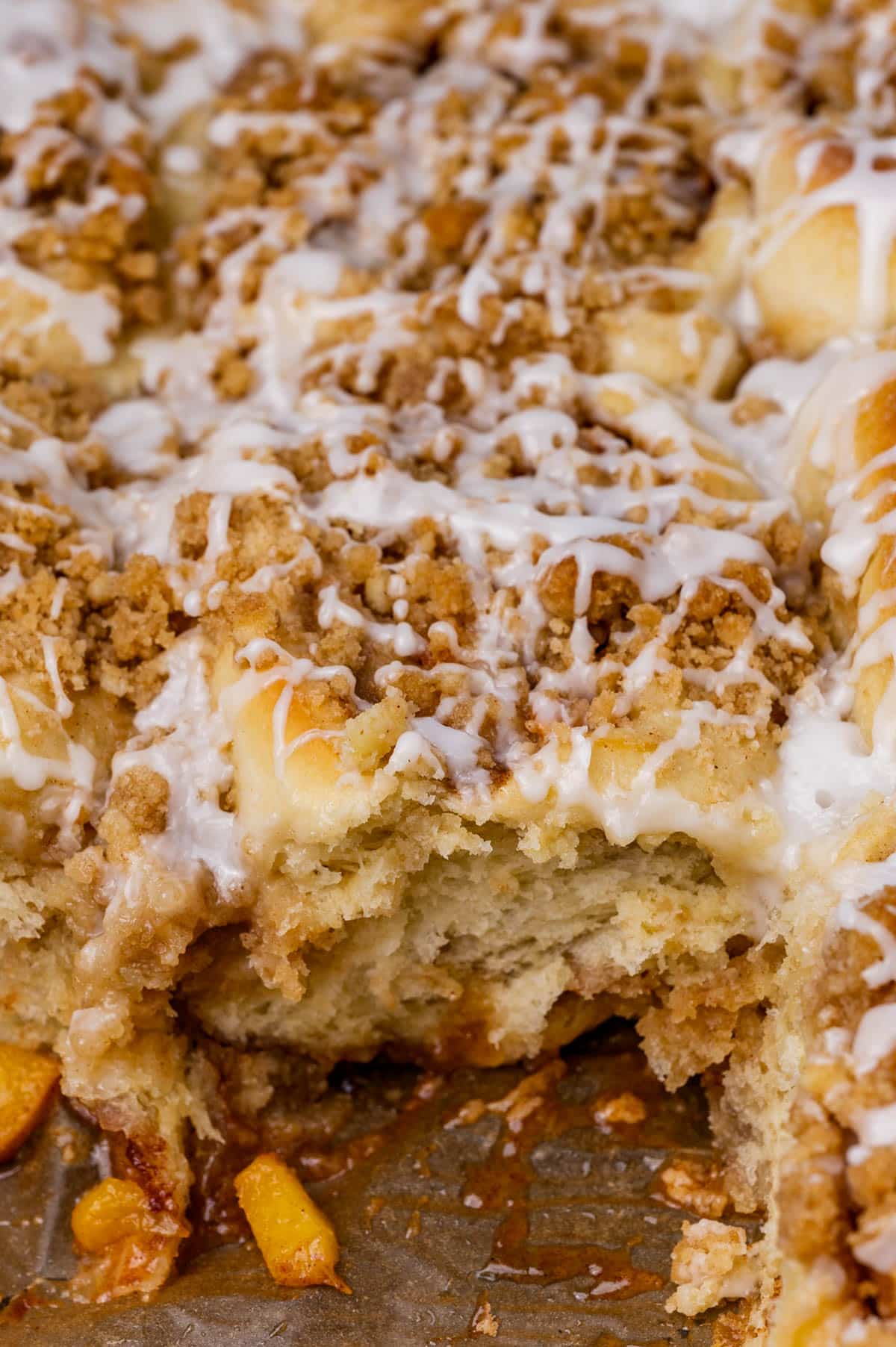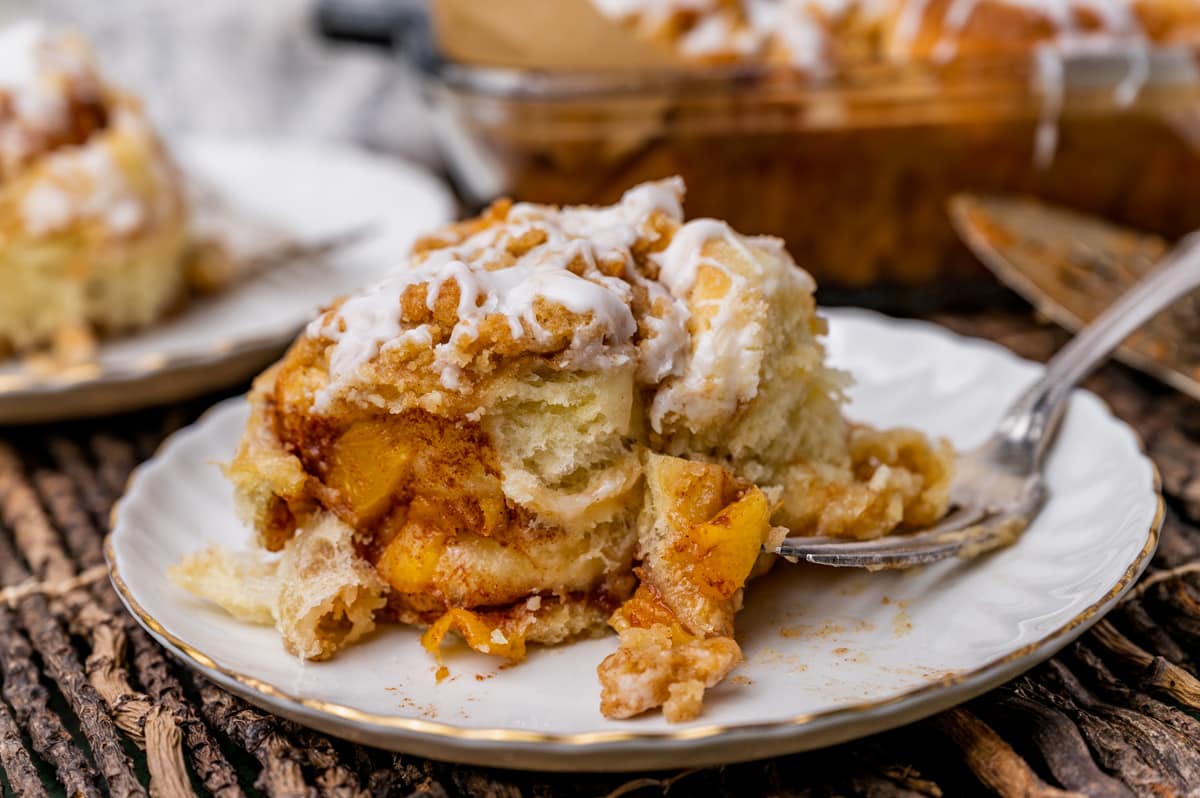 Does cinnamon and peach go together?
Yes, they sure do. Just as apples and cinnamon are inseparable, so are peaches and cinnamon. Most peach cakes, our peach cobbler recipe and peach crisps all have cinnamon in them.
Cinnamon brings a warmth to the sweet peach flavor so it works well together.
Do you have to peel peaches for baking?
You don't have to peel peaches, but I 100% recommend it. I'm ok with eating fresh peaches with the peel, but for the best flavor and texture of the pie, take the extra few minutes and peel the peaches.
To easily peel the peaches, put a large pot of water on to boil. Once the water is boiling, drop the fresh peaches into the water and allow them to boil for 30 seconds.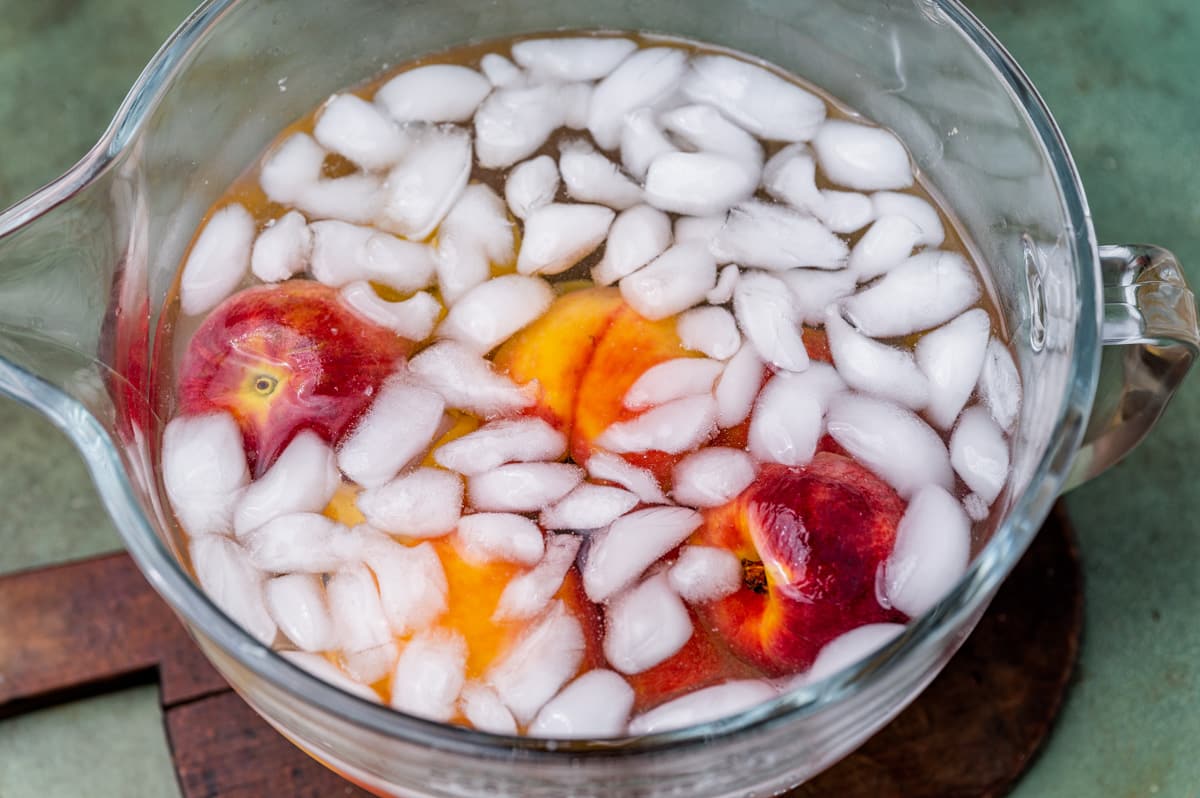 Take the peaches out of the boiling water and immediately plunge them into a bowl of ice cold water. This will stop the cooking process, help the skin loosen and allow you to handle the peaches easily to remove the skin.
You can then cut peach slices and dice them into small pieces for baking. If the peaches have a lot of juice, let them drain before putting them in the cinnamon rolls.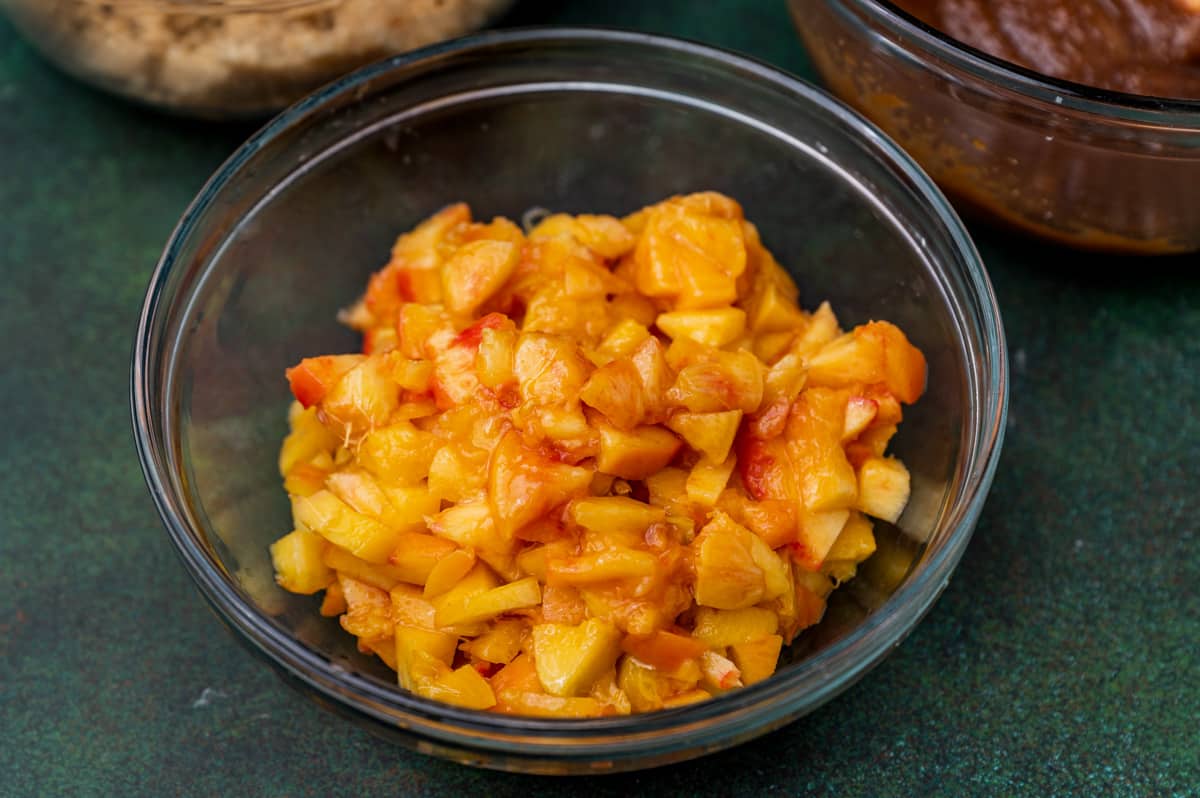 What yeast is best for cinnamon rolls?
There are two general types of yeast you can buy in the store: active dry yeast or instant yeast. I like to use instant yeast for cinnamon rolls and most of my other baking, too. With instant yeast, you do not have to proof the yeast. Mix the yeast into the other dry ingredients and add to liquids that are 120-130ºF.
If all you have is active dry yeast, sprinkle the yeast over the warm milk, but if the yeast goes right on top the milk, the milk should be about 110ºF so it doesn't kill the yeast. Allow the yeast to froth for 5 minutes, then continue with the recipe (making sure the melted butter isn't over 110ºF either).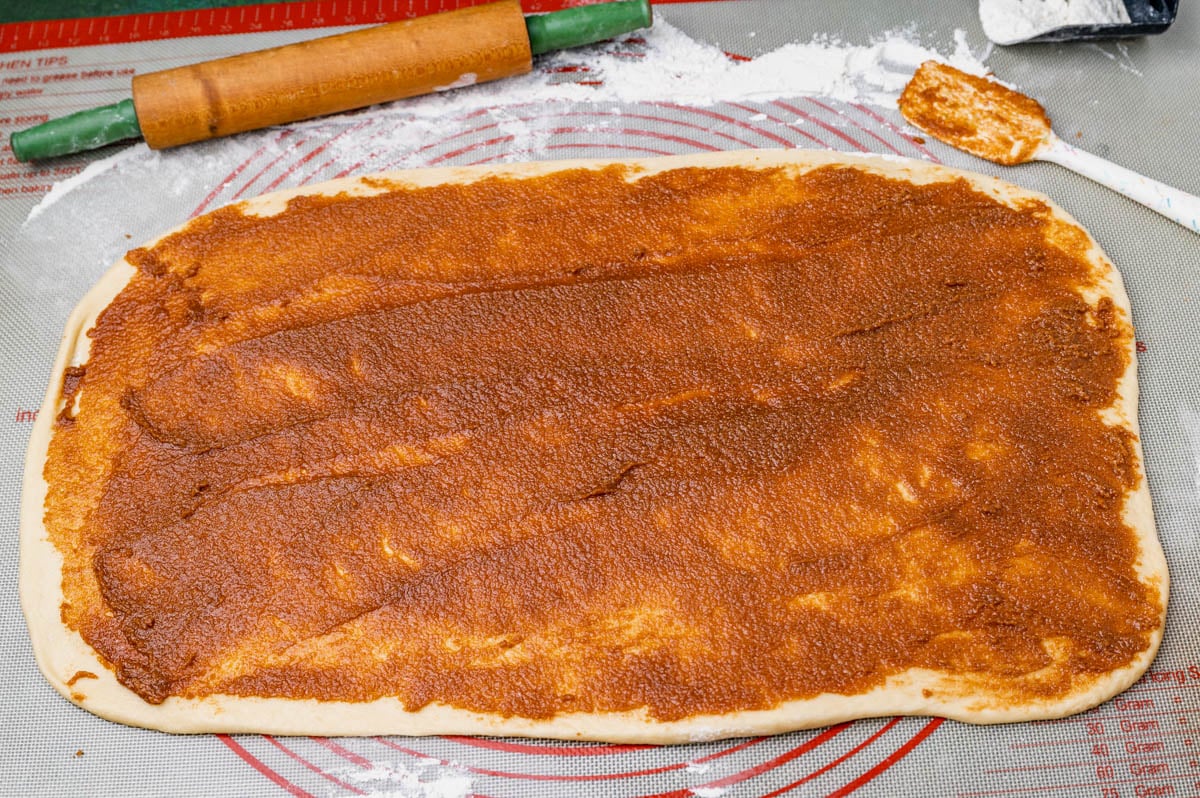 Tips for Making Peach Crumble Cinnamon Rolls
There are three different ways you can make this dough: knead by hand, use a stand mixer or make the dough in a bread machine. I use my bread machine when I can because it is easy, but all three methods work.
Be sure that your milk is warm to activate the yeast, but not too hot so that it kills the yeast (about 120-130ºF degrees Fahrenheit is good for instant yeast). You'll also want to warm the butter so it is soft and mixes in easily. But again, the butter should not be over 130º Fahrenheit. I use salted butter, but unsalted butter works well too.
Start with 4 cups of flour and add a little more if needed. if you add too much flour, the dough will be tough and the rolls will be dry.
This dough rises twice. Once right after kneading and then again after you roll the cinnamon rolls. The second rise only takes 20 minutes, which you can do while the oven is heating. You can read our tips on all about how to get dough to rise.
Pour heavy cream over the rolls after they rise and before they are baked. This is our secret ingredient for the best cinnamon rolls ever. You'll need ½ cup of heavy cream. Pouring heavy cream over the rolls may sound strange, but it keeps the rolls soft, gooey and creates a delicious cinnamon caramel sauce on the bottom of the rolls.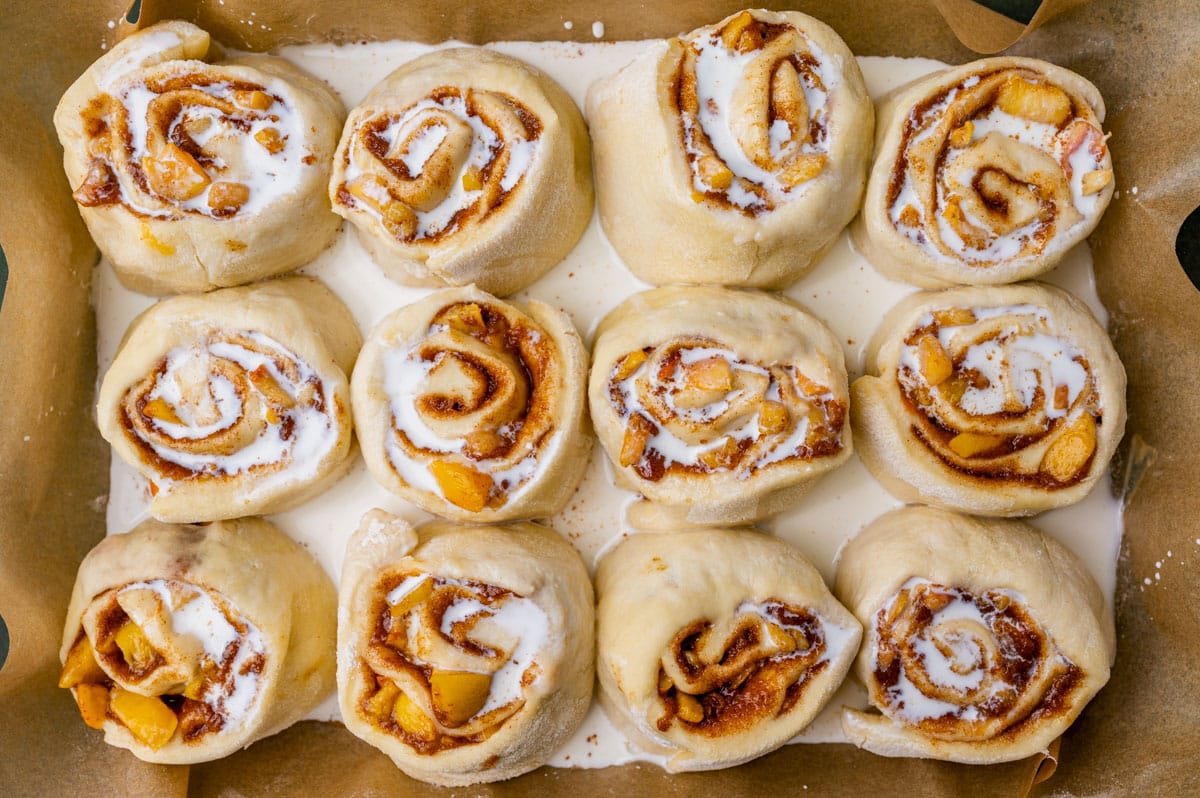 The streusel on these rolls makes them taste like a peach crisp. You can make the rolls without the streusel and they'll be good, but the crumble topping makes them extra special.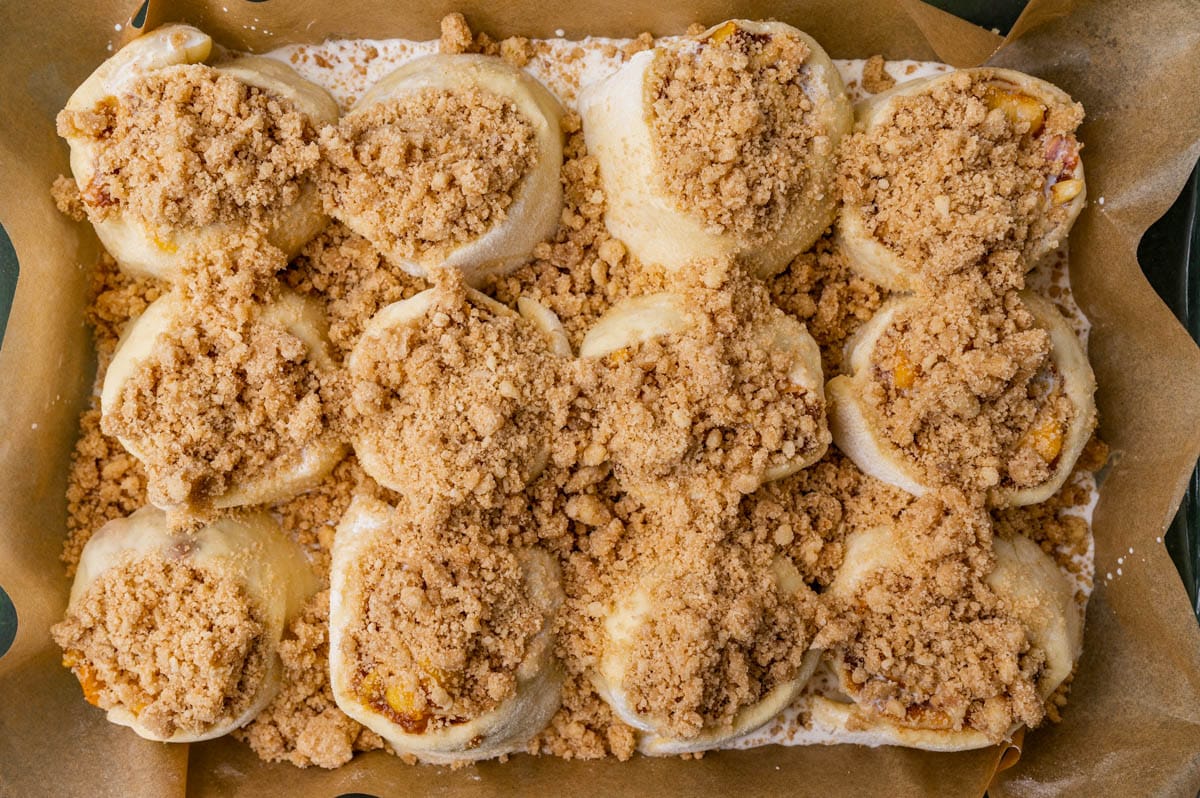 Recipe & Ingredient Variations
Use all-purpose flour for a soft roll. Use bread flour for a cinnamon roll that is a little chewier and sturdier. They are both good, just differently textured.
Add chopped pecans to the streusel topping.
Make this recipe quicker by using pre-made cinnamon roll dough. A loaf of frozen bread dough will work great for this.
For a different variation, leave off the streusel and glaze, but top with a melt-in-your-mouth cream cheese cinnamon roll frosting.
You can use vegan butter and dairy free milk in the dough.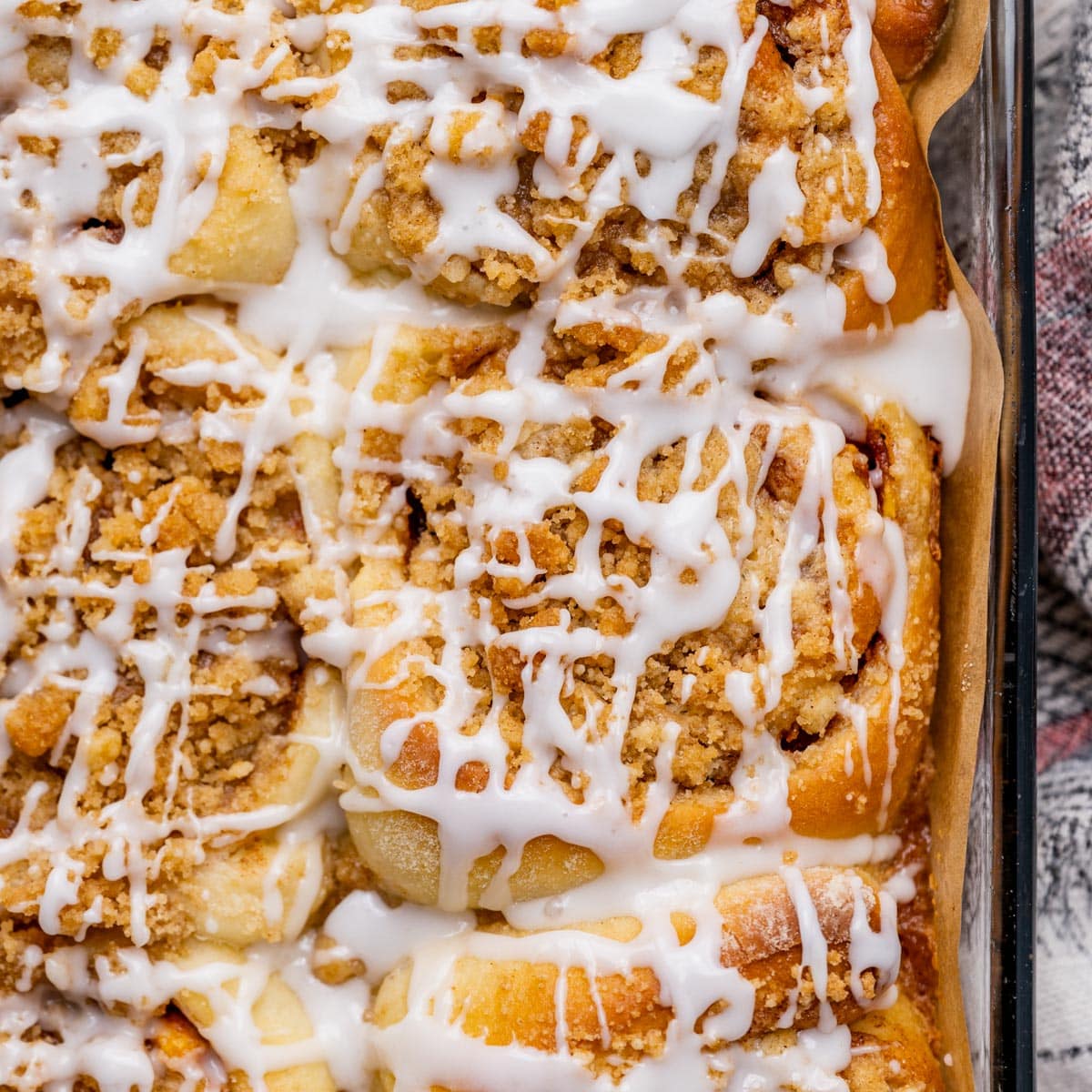 Storage Instructions
The peach crumble cinnamon rolls should be stored in an airtight container. You can keep them at room temperature for up to 24 hours, but then refrigerate. Store leftovers in the fridge for up to 3 days or freeze for up to 6 weeks.
Love cinnamon rolls? Try one of our recipes.